Do-it-yourself (DIY) projects have become quite the popular hobby these days. Why is that? Well, there are a few reasons surrounding the uptick.
For starters, a lot of DIY projects cost less money than it does to buy a finished product or even pay someone else to do the project. People like to save money, and DIY gives them an avenue to do so. On the other hand, DIY projects are simply fun. Some individuals like a challenge and a nice DIY home project presents one. DIY projects can also give you a chance to use something old that you may have otherwise thrown out.
Today, we're going to help you tackle your kitchen cabinets by showcasing some awesome DIY kitchen cabinet plans. These plans take kitchen renovation to the next level, guiding you through your cabinet project step by step. Plus, these DIY kitchen cabinet plans are free.
Important Details to Consider When Building a Kitchen Cabinet
Before we dive into kitchen cabinet DIY plans, there are a few important considerations we need to discuss to help you pick the right plan for your kitchen.
Kitchen and Kitchen Cabinet Size
The first thing you need to do before starting your kitchen renovation is measure the space. The size of your kitchen plays a critical role in determining the size of the cabinets.
Once you have measured the walls in your kitchen, you can start sketching out the type of cabinets you want and what size you want them to be. Remember, larger cabinets will mean fewer of them, while smaller cabinets will get you more.
Types of Materials to Use
There are tons of different woods to choose from at your local hardware store, so take your time on this part and find the lumber you like best. The most popular (and best) options are listed below.
Maple
Oak
Walnut
Cherry
Alder
And this is just to name a few. Some wood can be a bit pricey, so it's important that you consider the cost against your budget.
You will also need other materials like a drill, screws, wood glue, and hardware. Most of that is easy to choose, so make the wood your most important decision. Typically, this makes building your own cabinets cheaper than buying or having new ones installed.
Kitchen Cabinet Location
Do you want cabinets over your kitchen sink, or would you prefer to put shelves there? Are you looking to install cabinets over the refrigerator? What size cabinets do you want and where?
A key component to having success during your cabinets project is to have a plan. Decide where you want your cabinets to go, how you want them aligned, and what type of cabinets you want and where.
Having a plan can save you a lot of trouble in the long run, so hammer out these details before you start building.
Free Kitchen Cabinet Plans to Consider
Without further ado, let's take a look at some free kitchen cabinet plans for you to consider following. These easy kitchen cabinet projects will guide you through your DIY project.
DIY Cabinet Beginnings
Domestic Imperfection is a blog that does a great job walking you through the cabinet building process including installation. It showcases clearly drawn plans that work best for a large kitchen and takes you through step by step.
Kitchen Base Cabinets Plan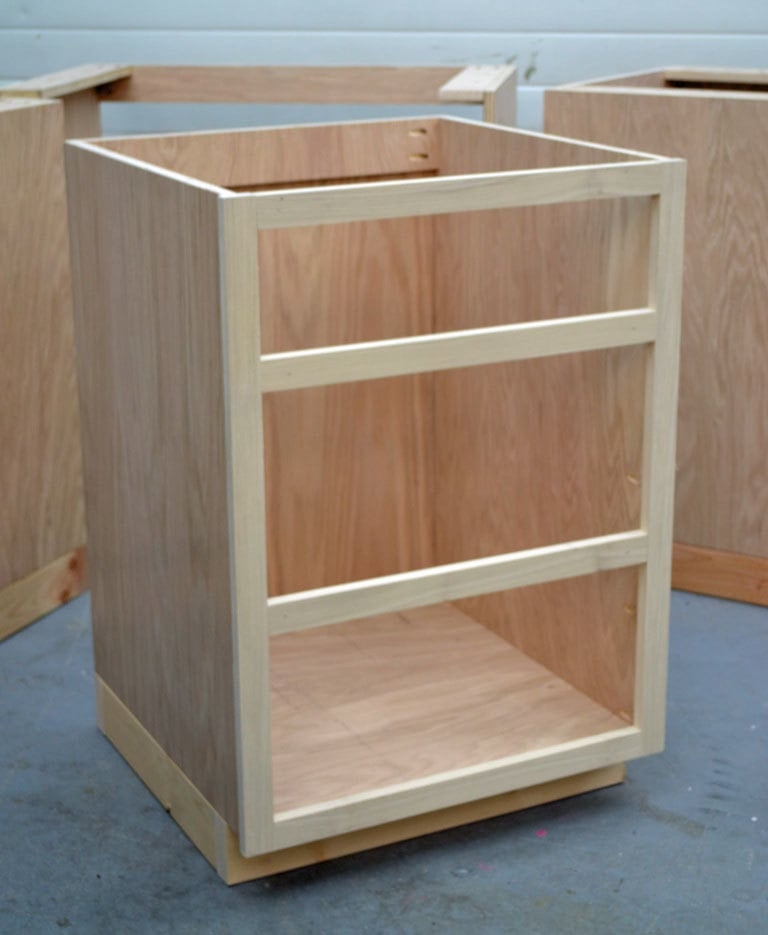 Ana White has a passion for building and sharing DIY projects and has been doing so for over ten years, so we love sharing her projects with our readers. Ana's kitchen base cabinets tutorial walks you through the steps of constructing a base cabinet for your kitchen. The plan uses clear diagrams and even takes you through terminology so you can understand what she's talking about the whole time.
Up-to-Ceiling Cabinet Plan
The Thrifty Decor Chick, Sarah, offers a DIY plan that lets you build your cabinets all the way to the ceiling, rather than leaving that gap of space up there. The project includes a header piece along with some upper molding to tie everything together.
Barn Wood Style Cabinet Plan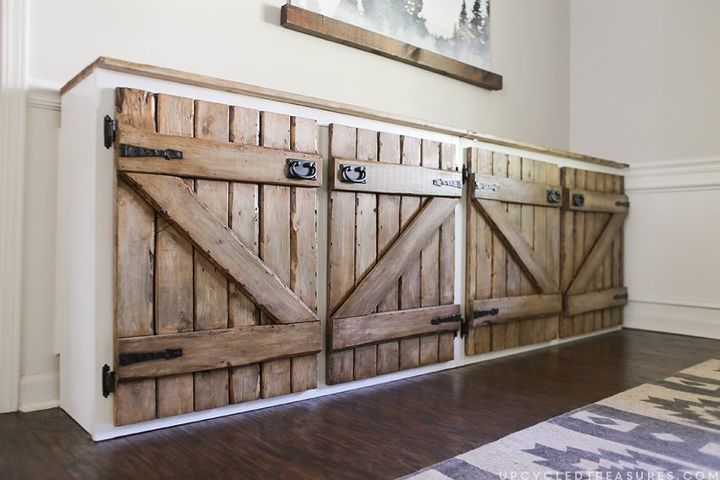 Mountain Modern Life gives us an excellent tutorial on how you can transform any old cabinet into a beautiful barn wood design. Not only can you repurpose old wood for this project, you can give your kitchen a serious upgrade on a budget. This is a great project plan for anyone who's not looking to completely rebuild and install new cabinets and would rather upgrade their existing ones.
Related Post: Salvaged Kitchen Cabinets
White Cabinets Plan
This Hometalk blog by GrandmasHouseDIY walks us through a kitchen cabinet project that lets one person do it all on their own. These simple cabinets don't have a lot of personality to them, but they're easy for beginners and only require two-by-fours, one-by-fours, beadboard plywood, and the paint and hardware of your choice.
Fridge Enclosure Cabinet Plans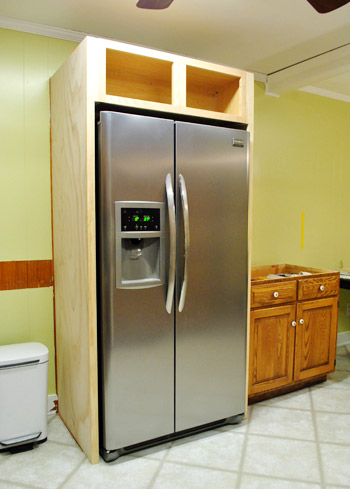 Young House Love shows readers a great way to include your fridge during the cabinet building process. With this plan, you can build an enclosure around a bulky fridge, making it blend in more. Plus, you can also add a cabinet on top for extra storage space using plywood and pine trim.
Pull-Out Shelves for Kitchen Cabinet Plans
Who doesn't like functional storage? This step by step plan shows you how to remove your old shelves and build and install new, pull-out shelves. While this project is a bit more advanced in the world of kitchen cabinets, it does break things down quite well.
Wall Kitchen Corner Cabinet Plans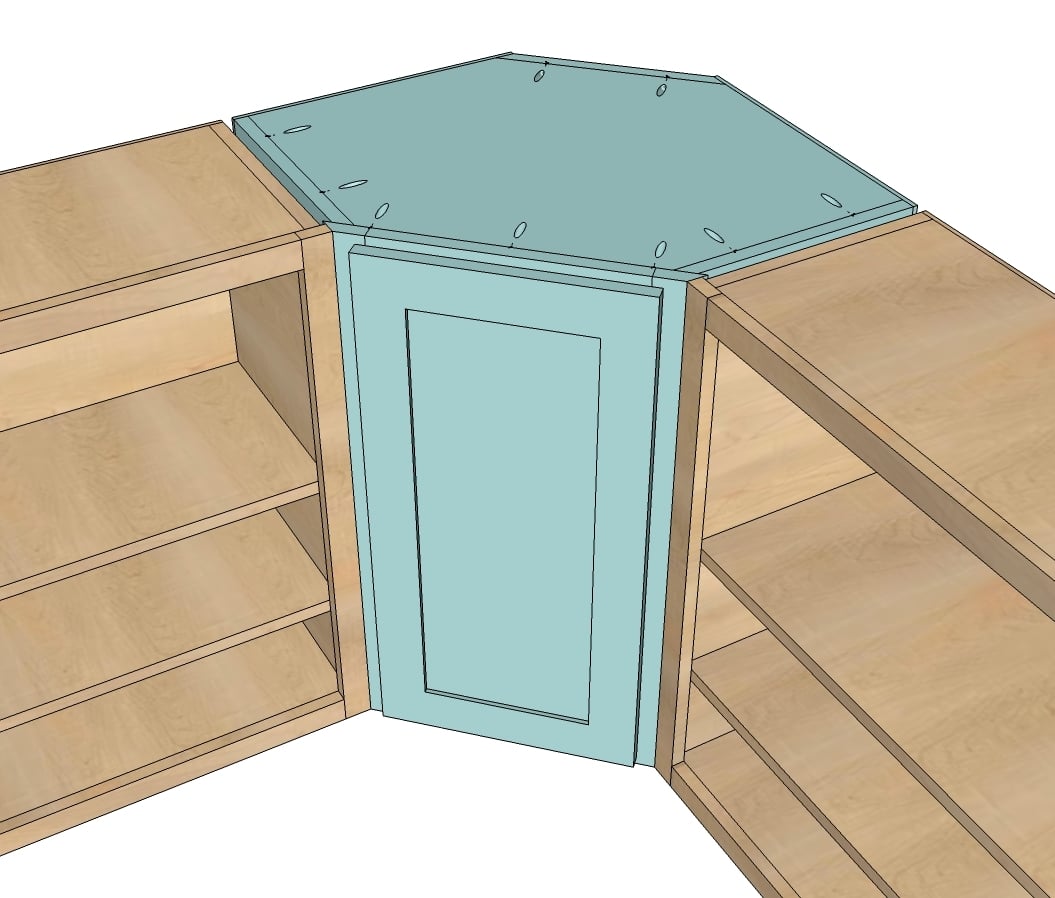 We're back again with some more Ana White content (we did say we love sharing her stuff). This time, we're looking at a plan to construct your own wall kitchen corner cabinet.
This plan works best with wall cabinets that use 11¾-inch width plywood rips so the face frames will match up perfectly. In true Ana fashion, it has detailed diagrams and clear instructions, so it's a great free plan to check out.
Lower Cabinet Rollouts
Is your goal to increase your kitchen storage? This DIY plan adds convenient space using simple rollout bins that you can make yourself. It shows you how to size your rollouts, choose your materials, cut your pieces, assemble your boxes, and install them — all in one place.
Open Shelving with Crate Cabinets
You can use crates in your home for a wide range of projects from decor to functional pieces. This Instructables plan shows you how to create beautiful, rustic open shelving.
Easy-to-Follow Cabinet Plans
If you want a simple, straightforward plan on constructing kitchen cabinets, this is the one to choose. Wood Magazine shows you everything from measuring and planning to materials to the actual building process. Everything you need to know is in this plan.
18-Inch Kitchen Cabinet Drawer Base Plans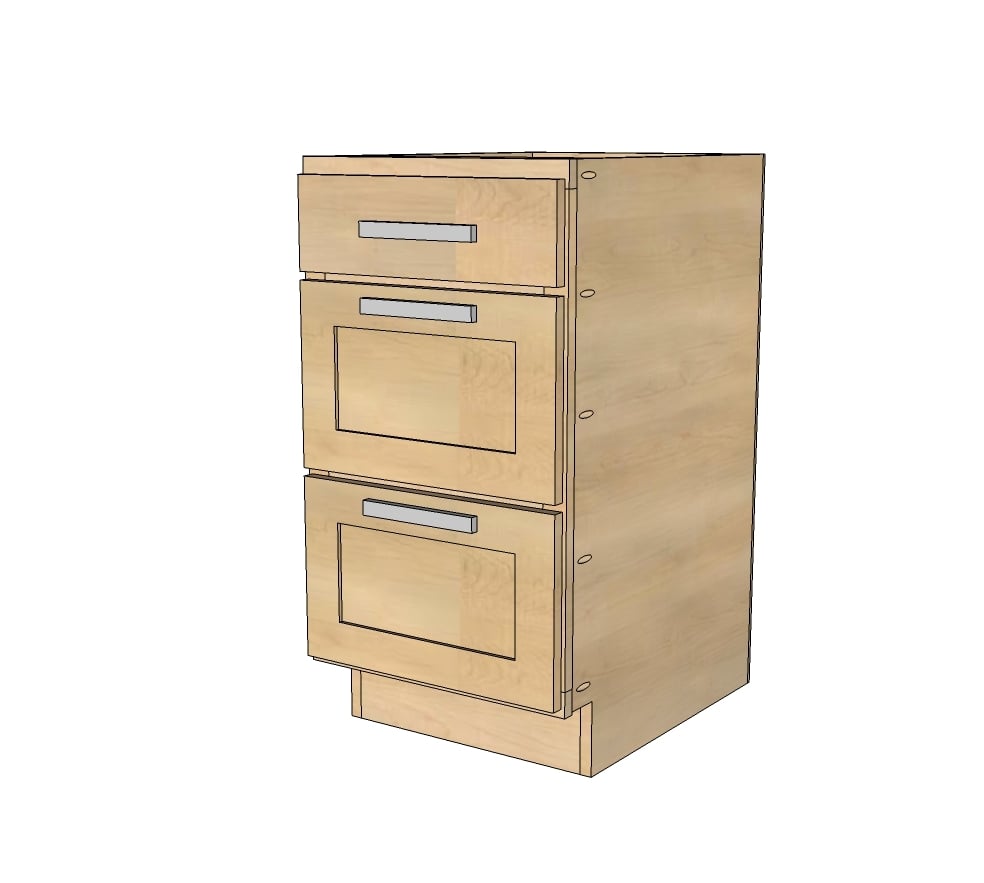 Apparently, you can just never have too much Ana White! The DIY queen herself delivers another superb kitchen cabinet plan with a focus on cabinet drawer bases. This advanced plan walks you through building an 18-inch cabinet drawer base using mainly plywood.
Shelves Above Cabinets Plans
The Family Handyman shows you how to make every inch of kitchen space count with their plan for shelves above cabinets. With an 18-gauge finish nailer, a cordless drill, miter saw, and nail set, you can utilize that empty space for an easy upgrade to your kitchen.
Ready-to-Assemble Cabinet Plans
True DIYers might find ready-to-assemble cabinets cheating, but the truth is, it's a nice middle option between building from scratch and paying a contractor. This plan gives great steps to guide DIYers as they build their ready-to-assemble cabinets.
Corner Kitchen Cabinets
Corner cabinets can be a bit tricky, and there are several ways to tackle them. This plan from Designs By Studio C gives you a comprehensive list of supplies and materials, along with clear steps and straightforward diagrams to follow.
Standard Base Cabinet Plans
You can never learn too much about designing and building base cabinets. This plan explores a wide range of cabinet styles in great detail before jumping into the actual project. We find the attention to detail extremely helpful, and the installation diagram at the bottom is ideal.
Kitchen Cabinet Sink Base Plans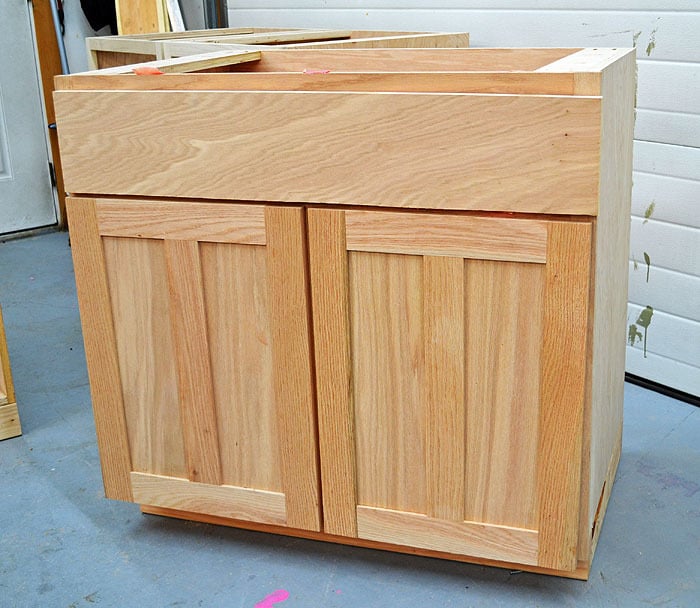 What better way to wrap things up than with one last Ana White recommendation? This final plan comes with the signature Ana diagrams and instructions, and also includes a 3D model upload to further help you build kitchen cabinets specifically for your sink base.
Related Post: Mission Kitchens