Thinking about renting out your goats? You should understand both the good and the baaaahd of this possible revenue source.
My husband and I ran a goat rental business from our farm, The Mushroom Hut @ Fox Farms.
Our goat herd was the only part of the farm that wasn't in the black. Our goat herd was a work in progress. Our initial plan for the goats was to get the herd Animal Welfare Approved and then try to get approved for a micro-dairy.
Well, as things often go it was going to take time and money to get our milking parlor up to par. We were Animal Welfare Approved and audited yearly. During this time our herd of dairy goats grew. We were also keeping the wethers. We were practicing rotational grazing for the health of our goats as well as staying up with our AWA requirements.
I looked at the growth of the herd. It was hard to believe we weren't making money considering how much we spent on them. What else could we do to bring money in?
The answer hit me when I decided to apply for a grant through AWA: goat rentals!
It was the perfect solution: we could take the wethers out to provide the rotational grazing they needed without using our own pasture. We'd also help someone clear out brush, weeds, and overgrowth, or help another farmer get pasture ready for planting. We'd leave enough pasture for the dairy herd to be moved around more, and our own land wouldn't face as much pressure. Plus, we'd get the revenue that would make our herd profitable. We knew it would be a win-win!
Applying For A Grant
So, I worked up a plan and submitted it for the Animal Husbandry grant. I was so excited.
Well, I waited and I waited…finally, I got an e-mail! I opened it up and it said:
"We're sorry."
That was all I read. I was disappointed, but I knew we had this. We decided to forge ahead.
Promoting Our Rental Service
Advertising was the next issue. Advertising had to be free starting out. When starting any new venture, we try to stay small and low-expense until we see where it takes us. We don't want to sink too much money into anything before we know it's going to earn us significant revenue back. We advertised in Rent a Goat, which lists rentals by state for free.
We utilized the Appalachian Sustainable Agriculture Project free classifieds, our Facebook page, and our online store through Local Harvest.
We were held workshops on goat ownership. Those classes also worked as free, word-of-mouth advertising.
We started getting calls—from out of state. We added in mileage and the rental rate. Some people were willing to pay, but I wanted to contact our state Agriculture Department to see what permits we had to acquire before we went across state lines.
Safety, Rules, and Permits
Why is it nothing to do with farming is ever simple?
The state vet told me we would have to acquire a health certificate for all the goats going out. And we would have to have a vet in the destination state certify the goats before we brought them home. I don't know if all states have this requirement, but I suggest checking with your state department of agriculture before you move livestock across state lines.
If you rent out your goats, make sure you scout out each rental site for anything that might endanger your goats' safety. Make sure they're safe from predators and plant toxins. Make sure that their feeding, veterinary care, and shelter are all set up in advance. Draw up a written contract with the other farmer that clearly lays out who is responsible for what.
If you are taking a job that is inside city limits you may need a temporary permit for the goats. The property owner can check on this. Make clear in your contract that it is their responsibility to have the correct permits.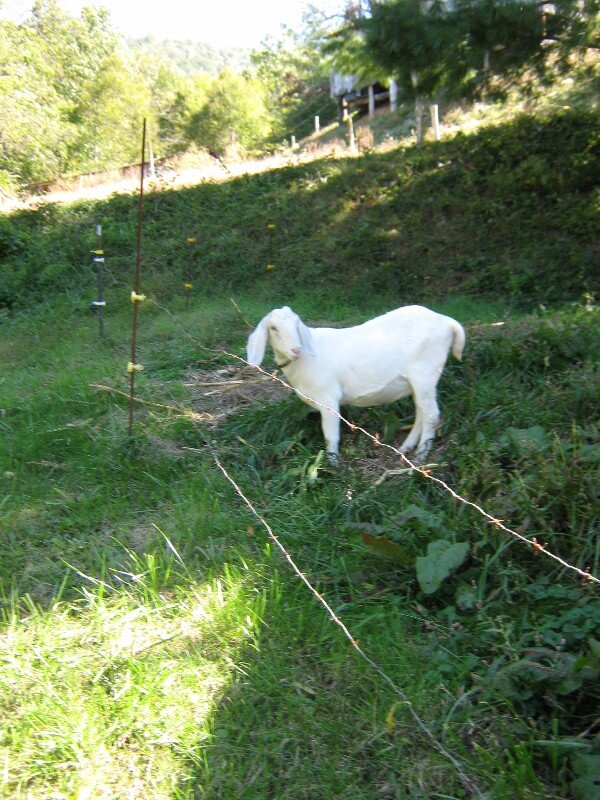 When you are deciding how you will run your business you may want to look at these options.
You can take jobs that are close enough you can do day trips. Or you can take larger jobs that take weeks to finish. For longer trips, you need to decide if you want to camp with your herd or if you want to make arrangements to check on them periodically.
Investigating The Job Site And Preparing An Estimate
Always make an initial visit to the property before taking the goats. You need to walk around the area that will be cleared. Here's what to look for:
Make sure there are no toxic plants that the goats can eat.
See if the property already has fencing.
Does the property have accessible water for the goats?
Ask about predators, like coyotes or neighboring dogs.
Does the property have shelter?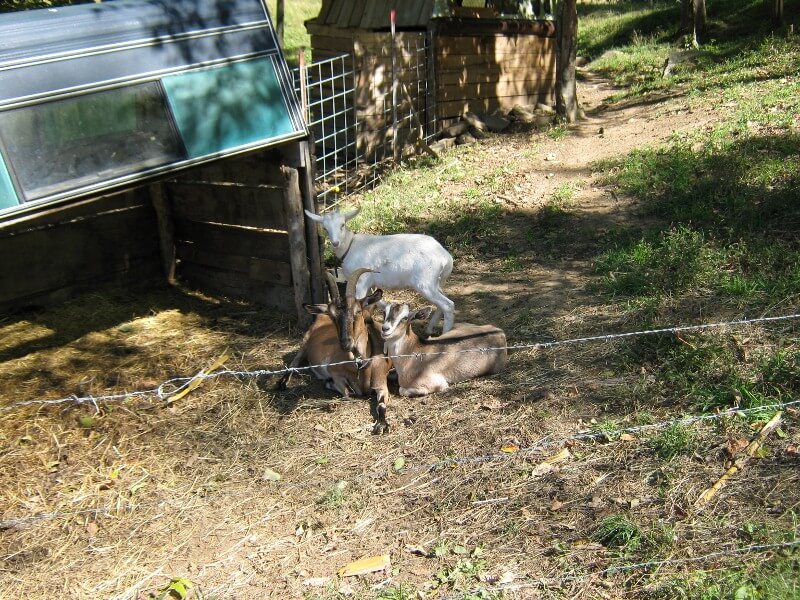 After the walkthrough, you'll know how many goats you need and supplies you'll need to take. With this info, you can also give an estimate of your total fee.
Preparing For The Job
You will need a vehicle/trailer for hauling your goats. Whatever you haul the animals in needs to be covered. You will need temporary fencing. Premier 1 is a good source for fencing needs. If the area is remote, you may need a solar charger.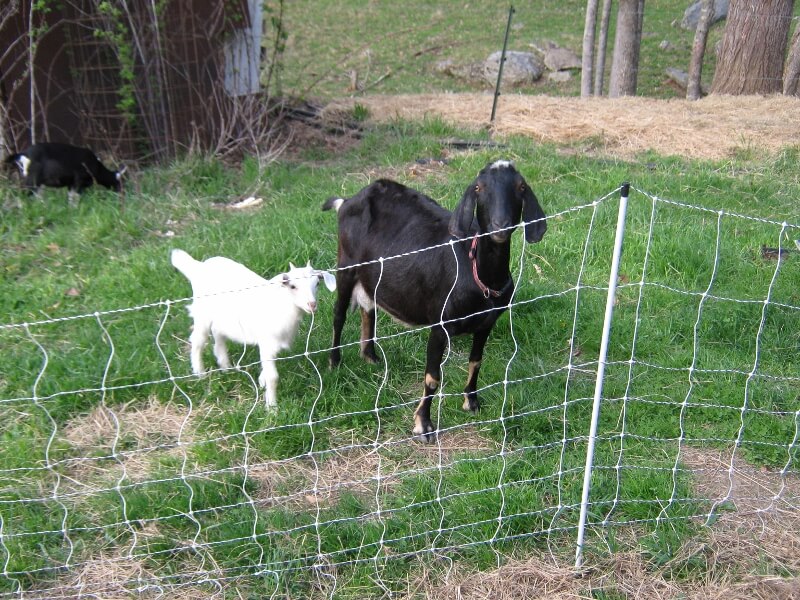 Your job may require temporary shelter. There are animal huts available at FarmTek. You may also need watering containers for the goats while they are away.
What Goats Should You Take Out?
I would suggest wethers for this type of work. Do not use does in milk or very young goats. You can take unbred does if you must.
I would not suggest intact bucks: it could prove dangerous.
The number of goats you take out depends on the amount of acreage they will need to clear, and the amount of time they'll have to do it.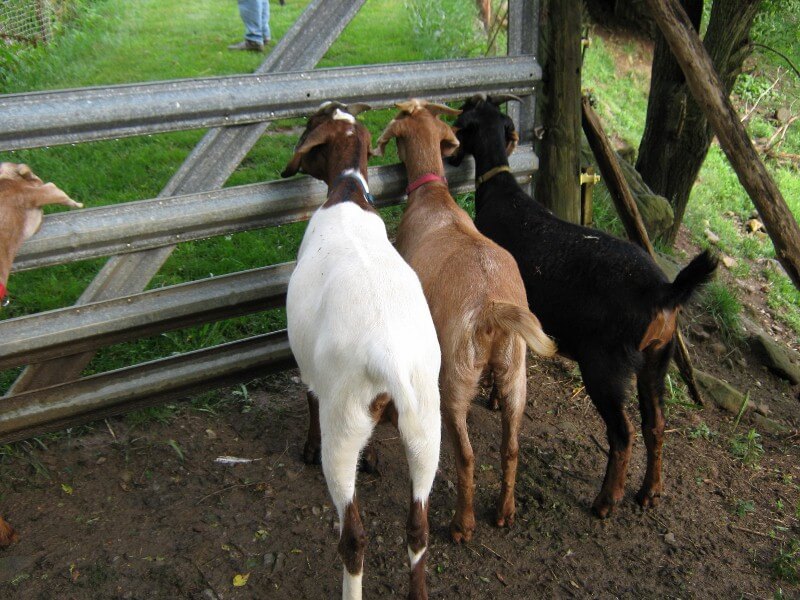 For instance, if you are clearing an acre, you would need 3-5 goats. This would probably take about three weeks for the goats to eat it down.
If you're doing day trips, you can stay with the goats and you won't need to worry about shelter. Some people cannot spare the help to be away from the farm that long and let the customer manage the goats' care. If you're leaving the goats, make sure you check on them at least once a week. Anything could go wrong, and you may be liable for any damage if they happen to get out while you're not there.
Again, drawing up a strong contract is important to protect your goats and your money. It's worth hiring a lawyer to make sure your goats are safe and well cared for.
Sample Goat Rental Pricing
Your Cost
Clearing one acre requires three goats for three weeks. Their feed costs about $125 per week. Your set-up fees, primarily fencing, will cost $100. You should also be reimbursed for transportation.
Pricing
I require a $100.00 deposit when the job is scheduled, another $100.00 to be paid when goats are delivered, and $125.00 at the end of each week the goats stay.
You can adjust prices based on the job. If you do adjust your rates from your posted price, make sure the terms are clear and in writing for the renter. Always make sure they've signed that rental contract.
Most of our goats' work comes from out-of-state. The permitting requirements meant that goat rentals weren't financially feasible for us.
Related Post: Raising Boer Goats
In some cases, the cost of vet charges for health certificates could exceed the total income of the project. Eventually we were able to follow through on our initial plan to have a micro-dairy. We shut down the goat rental business and started up our Micro-Dairy for Farmstead Aged Cheeses.
Even though we no longer offer goat rentals, I wanted to give people who are interested renting out their goats an idea know how to go about it, without making the same mistakes we did. Get out there and put those goats to work!
Susan Tipton-Fox, along with husband Alan Fox, continues the farming and preserving practices passed down to her by her family. She runs on-farm workshops and overnights in Yancey County, North Carolina. Follow her on Facebook: The Mushroom Hut @ Fox Farms.