Many new cabinets are made from particle board, which contains formaldehyde, a toxin that can cause eye, nose and respiratory irritation, and even cancer. Solid wood cabinets may be safer but are expensive. Consider the green option: Building around salvaged kitchen items like these.
10 Magnificent Ideas For Salvaged Kitchen Cabinets
1) Reclaimed Furniture
These kitchen cabinets are reclaimed furniture pieces (chests-of-drawers, buffets and display cases) painted black. Note the cabinets to the left of the sink. You can see more at kitchenbuilding.com.
2) Scorched Cabinets
Salvaged wood cabinets painted a dark color, then while the paint was still wet, the doors were scorched using an acetylene torch. By designer Gloria Frame, and discussed at apartmenttherapy.com.
3) Cabinet From The Early 20th Century
Placed above a white counter top, this piece is stunning. The antique-style softens the appearance of the kitchen, making it that much more welcoming.
4) Vintage Decor
Shelves and countertops are made of galvanized metal and the cabinetry is made from old fencing. Vintage truck springs, used as stools, were found at Artefact Design & Salvage. Designer and owner of the house Ken Fulk spotted the vintage industrial pendant lights at the Paris flea market. You can see more ideas for your kitchen at housebeautiful.com.
5) Re-Used Wood
Reclaimed wood ceiling and cabinet. The different colors of the island give this kitchen a rustic style. Go to wernerstraube.com to see more of this photographer's beautiful work.
6) Metal Cabinet
Salvaged cabinet, wood walls and lighting fixtures. Originally found at "hintoftruth.com/2011/03/11/new-lighting-fixtures-kitchen-mini-and-simple/salvage-lighting-fixtures-kitchen/".
7) Nothing Out Of The Ordinary
A great reminder that some paint, and hard work, can transform an old cabinet into looking like new!
8) Old Wood Cabinets
Old wood cabinets by Piet Hein Eek. The photo was found on pietheineek.nl.
9) Large Cabinet
This salvaged cabinet has a great rustic vibe. The distressed decor in the room harmonizes the old with the new.
10) Renovations With Salvaged Cabinets
Salvaged wood cabinets. Almost every piece of furniture was made from wood salvaged from the renovation of the house. The backsplash is made of bricks from the basement; the sink is set into an old gardening table. You can find out more about this house on countryliving.com.
Salvaged Kitchen Supplies
If you build with salvaged materials in your kitchen, or if you just want that salvaged look, check out eBay for hardware, parts, and full cabinet sets.
Salvaged Kitchen Islands
Old wooden beams hold up a sheet metal covered island. Countryliving.com has more ideas and examples like this on their website.
Old Barnwood Kitchen Island. The distressed look on this island truly brings out the rustic vibe. Feel free to visit countryliving.com for more information.
Salvaged wood island. Note pull out metal carts.
Related Post: Mission Kitchens
The design combines both modern and rustic style, additional photos can be found at desiretoinspire.net.
Salvaged kitchen cabinets, primitive teak tables, chalkboard paint as backsplash. Via: remodelista.com
Anchored by a stock island customized with oversize corbels, the room features almost entirely second-hand (or third- or fourth-hand) finds. Love the chandelier. Lots of tips here: thisoldhouse.com
Planked cabinet doors with wood bars for handles. Go to Better Homes & Gardens for more inspiration on how to transform your kitchen.
Reclaimed cabinets. Started with a walnut cabinet from the Rebuilding Exchange, then added various aged lumber that they locally accumulated- douglas fir floor joists, cedar fencing, walnut doors and panels, pine shelving, both natural and painted white. To preserve the color of the wood, the cabinets were coated with wax. This photograph was originally found at "dilettantestudios.org/projects/kitchen-as-composition/".
Reclaimed wood cabinets. By Gianpaolo Zandegiacomo. This picture is from zandegiacomo.it.
What to do with those old cabinets. Metal cabinets turned into a woodwork shop. More information can be found at garagejournal.com.
Dilettante Studios, their work was originally found at "dilettantestudios.org/projects/kitchen-as-composition/".
Plants really brighten up old metal cabinets. Cabinets have library pulls. More inspiration can be found at marieclairemaison.com.
Cool Recycled and Upcycled Kitchen Ideas
Recycled kitchen. Corrugated sheet metal never looked so good…
Old wooden crates as cabinets. This picture was found at "www.fancyhouseroad.com/2010/04/20/reclaim-your-decor-style/".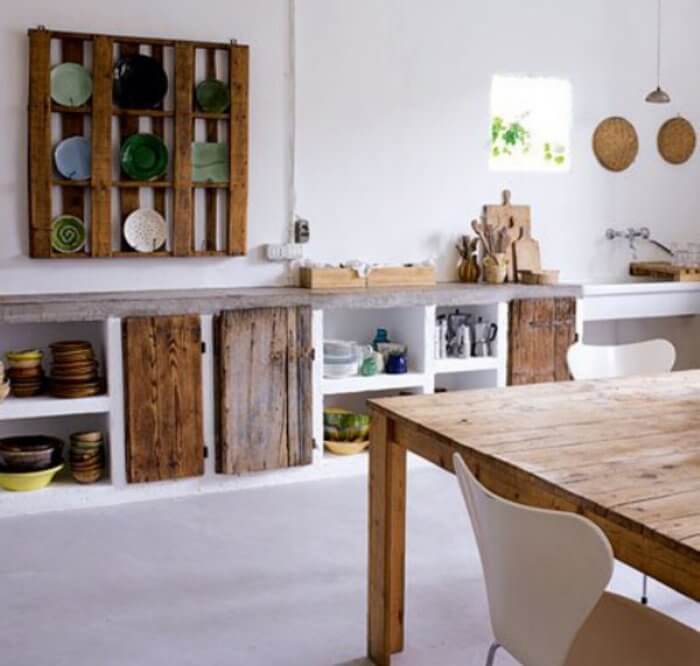 German designer Katrin Arens, who lives in Northern Italy, blends old pallets and ancient wood with stone and white paint. More images can be found at katrinarens.it.
Barnwood kitchen. This kitchen uses Ikea frames, the doors and drawer fronts of planks from an old barn. (Yes, you can buy Ikea frames without the doors.) The worktop is cast in concrete. Kitchen Building has more information on their site.
Pallet wood kitchen cabinets. New Moon Cottage Long Beach Island, NJ. Designed by: Richard Bubnowski Design LLC. Photo: Sam Oberter Photography
A salvaged marine metal bouy as island base. The table rolls. By Peter Reiquam on The Seattle Times website.
Reuse kitchen. Stainless restaurant sink and counter. Old lockers. For more photographs go to remodelista.com.
Industrial finds, more chalkboard paint. A great idea from kitchenbuilding.com.
Old restaurant counter as island, stainless steel cabinets. This picture was found at desiretoinspire.net.
Russell Bloomfield shows off his kitchen made of reclaimed items sourced from building salvage yards. Go to dailymail.co.uk for the full article.
Small efficient fridge, old cupboard, white board walls, rag rug. This photograph is from eatlivewear.tumblr.
Old table and chair/bench. Simple Ikea-like cabinets, stainless counter, a shelf and lots of jars = nice look. Visit housetohome.co.uk for more information.
Salvaged barn wood kitchen. Via: atticmag.com
Over the top large, not a 99% kitchen, but at least they used recycled elements! Salvaged wood island, unhoned slabs of stone for countertops, inexpensive local stone back splash and salvaged wood doors. Found on Houzz.com, you can find more pictures for inspiration on their site.
Using Chalkboard Paint in Your Kitchen
Chalkboard paint comes in many colors these days… For more amazing ideas go to jeanierhoades.com.
Chalkboard paint, white shelves and old wood. The entire gallery can be found at countryliving.com.
Buying Salvaged Kitchen Items
Green Demolitions of Fairfield, New Jersey and Greenwich, CT receive donations and consignments of pre-owned kitchens and showroom displays from all over the U.S. and then resell those kitchen and baths at deeply discounted prices. Donation proceeds benefit Recovery Unlimited, whose mission is recycling, creating jobs, providing affordable kitchens (and various other items), and funding 501(c )(3) charitable outreach programs. To donate or buy, see: greendemolitions
As for the west coast, ReFind Kitchens of San Diego, California finds luxury kitchens and baths that are going to be demolished, salvages everything, and converts them into a showroom for clients to peruse. Once customers find what kitchen they want, ReFind packs it all up and brings it to their home for installation. ReFind Kitchens also offers a free configuration service and full design services to ensure that the kitchen will fit aestetically and functionally in the home's current space.
Also look at flea markets, antique stores, architectural salvage stores, and Habitat for Humanity ReStores.