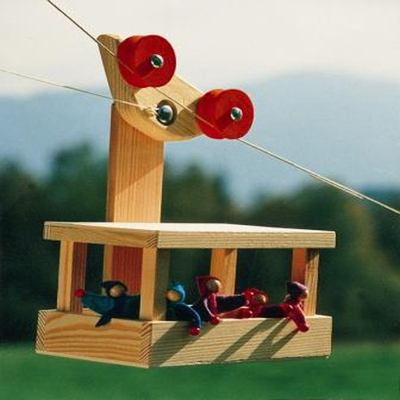 Wooden Jumbo Cable Car Exploration Kit
Once assembled and set up, this cable car can travel across a room, between two trees, up a hill, down into a valley, etc, etc! Load up the cable car with favorite dolls or toys (not included) and then let the journey begin as the car is pulled as quickly or slowly as desired. Includes two 65 ft. lines of string. Other building kits available: Paddle Boat, Water Wheel, Basket Cable Car, Mini Cable Car, Solar Carousel and the Gravity Car. Made in Germany. Ages 9 and up.
www.hazelnutkids.com, $40.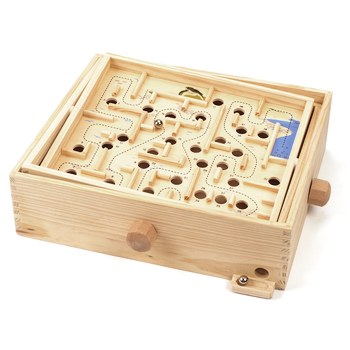 Turtle Tunnels Maze
Hape International. A game of balance, precision and patience based on a Labyrinth. Made of FSC Plywood. Small metal balls not appropriate for young children.
www.hape-international.com or a smaller Bamboo Labyrinth www.schylling.com, $8.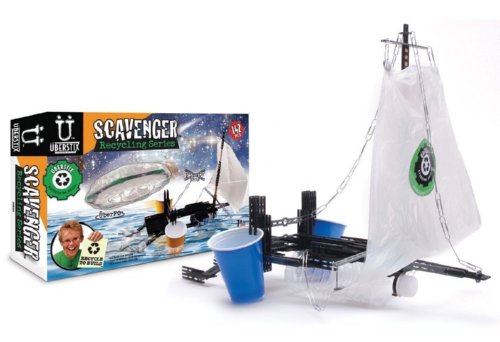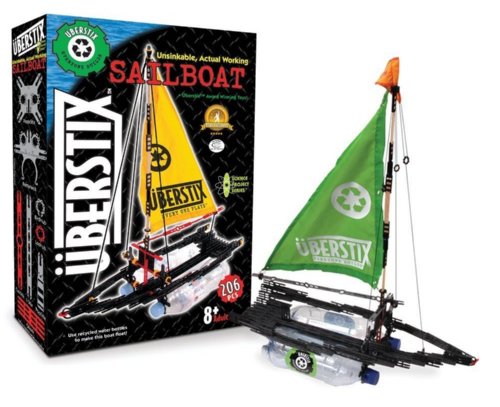 Uberstix Sailboats
The Uberstix Scavenger Recycling Series are toys that reward kids for recycling and offer a fun approach to teaching kids about green living at an early age. Creating the PirateShip, for example, the builder is tasked with securing flotation devices, a mast, sail and lines; a.k.a. plastic water bottles, wood ice cream sticks, cups, rubber bands, paper clips and plastic bag. A real working pirate ship ready for the high seas is the reward. The journey begins with a hunt for a list of recyclable components from an included scavenger list. The series includes the uberstix outrigger, pirate ship and uberfo and landsailer. Ages 7 and up.
www.uberstix.com www.amazon.com, $15.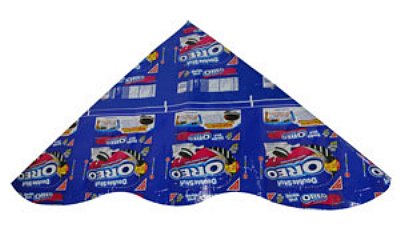 Oreo Wrapper Kite
Every year millions of non–recyclable cookie wrappers and packaging end up in our landfills. TerraCycle™, Nabisco®, and Keebler® are working together to change that by launching the Cookie Wrapper Brigade to collect used cookie wrappers. As an eco–friendly innovator, TerraCycle converts pre and post-consumer cookie wrapper waste material into cool new upcycled products. Terracycle is currently low on Oreo wrappers—product to be replenished and available shortly.
M&Ms and Skittles kites available as well…
www.terracycle.net, $8.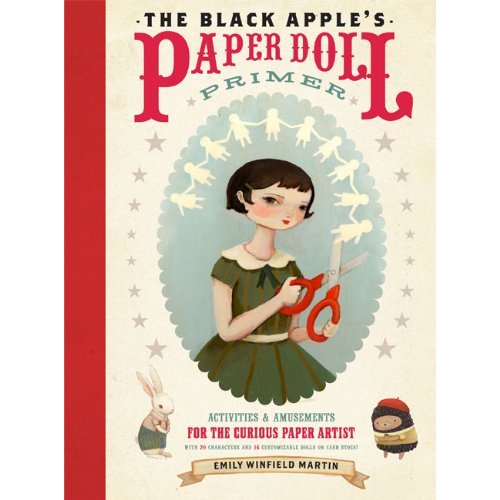 The Black Apple's Paper Doll Primer: Activities and Amusements for the Curious Paper Artist [Paperback] 2010, By Emily Martin.
Inside this book you'll find 21 sweet, mysterious characters with clothes and accessories all their own—from a busy beekeeper's daughter to a bird-loving librarian. You'll also find 16 dolls ready to be designed and brought to life by you! Emily will show you how to draw, paint, and personalize your way to a little paper replica of anyone you'd like. People love this book. Ages 8 and up.
www.amazon.com, $16.53

Artterro – Art Dolls Kit
Have fun making four of your own flat dolls with this colorful kit. Includes four 100% felted wool dresses, handmade paper, glass beads, a needle, and thread. Then use them as bookmarks, scrapbook art, decorations, or turn them into pins to wear! (pins not included). Ages 7-8 up.
www.hazelnutkids.com, $15.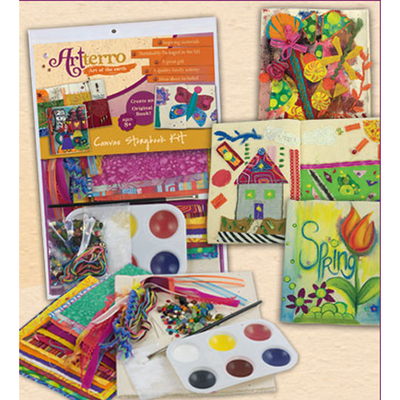 Artterro – Canvas Storybook Kit
Make your own storybook! Watch your story come to life with this beautiful kit. Includes hand-dyed batik, solid cotton fabric, ribbons, beads, and artist quality acrylic paint. Ages 7-8 and up.
www.hazelnutkids.com, $23.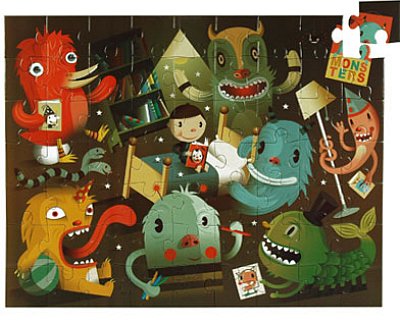 Monsters Puzzle from Mudpuppy
This puzzle just goes to show why kids shouldn't be afraid of monsters when they go to sleep at night; the monsters just want story time! Charmingly illustrated by Christian Turdera, this entertaining puzzle depicts all sorts of googly-eyed monsters, gathering around for a late night read. This exciting 63-piece puzzle comes in a reusable cardboard cylinder with a rope handle. Printed with non-toxic soy-based inks on 90% recycled cardboard with 70% recycled paper packaging.
www.oompa.com, $14.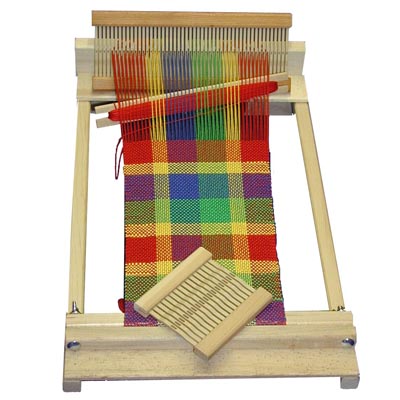 Beka's Children Weaving Loom
For the beginning weaver. This loom features Beka rigid heddles which provide the weaver with an easy and reliable method of weaving. Both simple and complex techniques may be done with this loom. Made of hard maple, Beka's Children Weaving Loom comes fully assembled with a pre-warped heddle. A basic project is started on the loom, ready for weaving. The instructions move through the rest of the project, then go step-by-step through planning and starting another project. Enough yarn is included so the weaver can get started as soon as the loom is out of its box. Weave projects up to 10″ wide X 3 yards long. The assembled loom comes with one shuttle. The started project uses a 4″ wide heddle for a narrow band of fabric. A 10″ wide heddle is included.
www.heirloomwoodentoys.com, $65.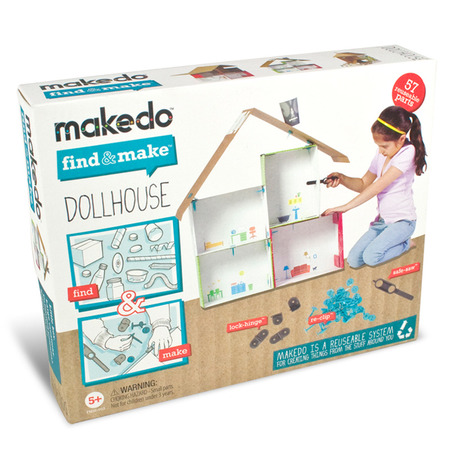 Make Do!!!
A brilliant idea! Find and make. Find materials from around the home and make your very own robot, dollhouse, car using guided instructions. Decorate it with the included stickers and enjoy playing with your one of a kind creation. Includes parts, guided instructions and an inspiration poster. From Australia. Ages 5-12.
https://makedo.com.au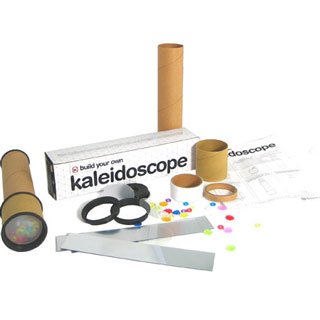 Build Your Own Kaleidoscope by NPW-USA
A box full of tubes, mirrors, beads, lenses and instructions. It takes a short while to assemble a very satisfying kaleidoscope with a rotating chamber. Various coloured beads are included, but the chamber can also be filled with buttons, petals or anything else to view different effects.
www.amazon.com, $12.50.

What Can You Do with a Paper Bag? Book
The 21 hats, wigs, and masks in the book all began with an ordinary paper bag and a little imagination. Designs inspired from ancient Egyptian sculpture to twentieth-century fashion in the galleries of The Metropolitan Museum of Art. Simple step-by-step instructions show readers how to make a golden crown, a curly Baroque wig, Perseus's winged helmet, a pharaoh's headdress, George Washington's wig, a Japanese geisha hairdo, an African mask and sixteen other imaginative designs. More designs for girls then boys. Ages 5 and up.
https://store.metmuseum.org, $16.

Cap it off Jewelry Kit
Bottle-cap jewelry – necklaces, earrings, bracelets. Includes 15 bottle caps, 106 stickers, 29 jewelry findings, 15 clear stickers, glass beads, 6 bracelet loops, 5 buttons, 5 satin cords, elastic cords, fabric glue, 3D shapes, and easy instructions. Ages 7 and older.
https://store.metmuseum.org, $32.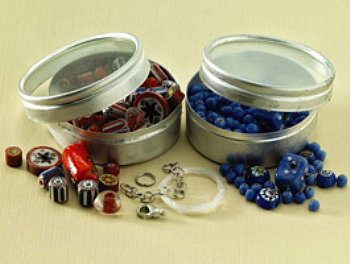 Sharma Primary Hues Necklace Bead Kit -Fair Trade
Two mix-and-match sets of handmade glass beads with a cord and clasp to make your own unique necklace. Case is 2 in. diameter x 1 in. high.
worldofgood.ebay.com , $12.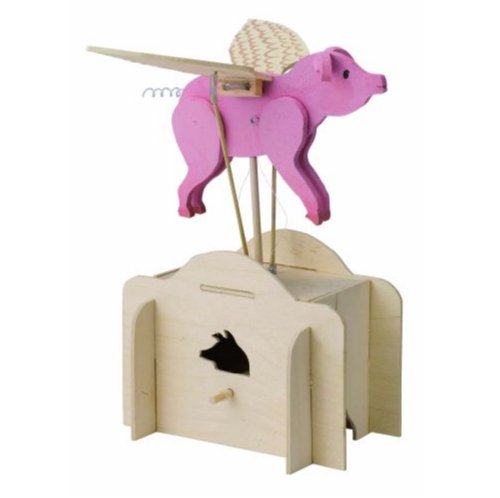 Pathfinders Automata Flying Pig
Automata are mechanical toys that move with cams, levers and linkages. This incredible Flying Pig is engineered using a minimal number of parts yet produces dramatic movement. Turn the crank and the pig "flies"! Made of untreated, natural pine and can be painted or decorated. The Pig's wingspan is 9″ and it stands 10″ tall when assembled. Comes with complete instructions. Requires only white glue (included), scissors and a ruler for assembly. Recommended for ages 9 and up.
www.heirloomwoodentoys.com, $17.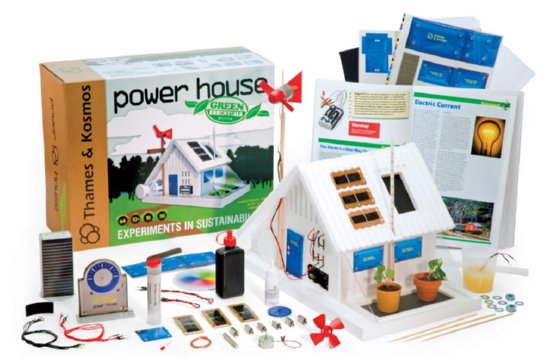 Power House: Green Essentials Edition
In this kit, you can learn about alternative energy and sustainable living by conducting experiments and building energy-related models. Thirty of the best experiments and the ten most important building projects from the original Power House kit are presented in this new Green Essentials Edition. The ten building projects include: the power house itself, a greenhouse, a solar cell array, a passive solar collector, a solar oven, an air conditioner, a refrigerator, a hydrometer, a lemon battery, and a wind power generator. Ages 10 and up.
www.amazon.com, $56.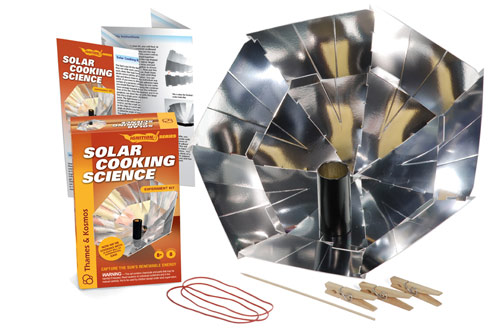 Solar Cooking Science
Construct a parabolic solar cooker with 14 interlocking foil pieces that reflect and focus the sun's radiation on a small cooking container. Heat water or melt chocolate to make an environmentally friendly fondue. Learn about solar thermal energy, a powerful and promising source of renewable energy. Ages 8 and up.
www.thamesandkosmos.com, $14.

European Expressions Music Maker
Just slide a songsheet under the strings and pluck the string above each note. Includes pick, tuner, wire and 12 songs (using real musical notations). Songs are a mix of classical, folk songs, lullabies and children's songs. Made in Belarus/India. 15″ x 8″.
www.heirloomwoodentoys.com, $35.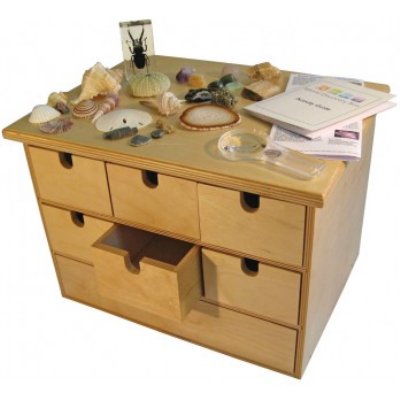 World Discovery Box
A collection box with lots of drawers to collect scientific and natural items. A starter set of collectible items is included with over 30 items of more 15 different varieties of rocks, fossils, shells and insects. Furniture-quality, constructed of durable wood and finished with a smooth varnish. 15 x 10.5 x 10.25 – 15lbs.
www.worlddiscoverybox.com, $139 for medium size box.