When you think of heating with fire, the first image that might leap to your mind is a crackling wood stove, the mainstay of cozy homesteading living rooms everywhere.
But despite it's current ubiquity in back-to-the-land imagery, the wood stove is a relatively recent invention, having been invented by Benjamin Franklin in 1742. If you really want to know about true homely coziness, the way humans have enjoyed it for millennia, not merely a handful of centuries, then you need to go further back in time and get to know the Masonry Heater.
What is a Masonry Heater?
At the risk of being too obvious, a masonry heater is a heating device that is made out of some sort of masonry. This can be as simple as an oven made out of mud (that is then dried and hardened), or as complicated as a many-chambered floor-to-ceiling structure made out of brick. Many have a door that can be closed during firing, while others don't.
All masonry heaters are heavy, or more accurately, massive. They are made to be as massive as possible so that they can absorb all the heat that is produced within its firing chamber and then release that heat slowly over the course of hours or even days (depending on the size of the heater).
History of the Masonry Heater
It is not possible to say where the first masonry heater was used or who came up with the idea to use one. I would guess that there actually isn't a single origin. People have certainly always known that stone was good at holding heat; I mean, even lizards and snakes know this. So, it probably didn't take people long after learning how to make fire to figure out that it was a good idea to enclose this fire in masonry of some kind. Over time, as housing and heating units became more and more complex, the heaters eventually came to resemble modern masonry heaters.
As I already mentioned, I figure that the masonry heater originated in multiple locations across the colder regions of the globe. This is supported by the fact that we see masonry heaters all over the world today, and they have all sorts of different shapes, sizes, and complexities. Some were, by external appearances, simple stand-alone units; a few were made to heat the floor, like the Roman hypocaust; while others integrated a bed or sitting area around the heater. Germany, Russia, China, Sweden, and many other countries have a long history of masonry stove construction each with their own particularities and design specifics.
How does a Masonry Heater Work?
The most important concept to understand when trying to grasp how masonry stoves work is THERMAL MASS. Thermal mass is a measure of the heat storage capacity of something. Think of thermal mass as a battery, but one that stores heat energy rather than electric energy. Simply put, something with a high thermal mass can store a lot of heat.
This is the exact reason why masonry stoves are so massive. The more mass that you can put into the heater, the more heat the it can store and the longer it will give off heat. This is why such massive materials – stones of various sorts, mud, brick, and tile – are used in the construction of these heaters. They can all absorb a great amount of heat energy and then release it over a long length of time.
At this point, I should mention that it is very common for people to confuse thermal mass with insulation. They are very different. Materials that are very good insulators have very low thermal mass, and things that have high thermal mass aren't the best insulators (although they do have some insulating potential). Think of your generic pink fiberglass insulation. It is made of many fiberglass strands that are loosely woven together in a thick mat. This allows for a lot of air to be trapped in those spaces. This makes it very lightweight with a low density (and therefore a terrible material for thermal mass).
The whole point of insulation is to prevent the transfer of heat from one area to another, while thermal mass is used to hold onto heat. As far as masonry heaters go, you want to build them out of materials with thermal mass, and then save the insulating materials for the outside of your home to prevent the heat from escaping.
Basic Masonry Heater Design
As already mentioned, masonry heaters are constructed in place from massive materials like stone, brick, mud, and/or tile. They are literally constructed from the ground up. Being so massive, they all start with a very strong base that will be capable of supporting a few thousand pounds. Trying to construct one in your average home with normal stick frame construction would be a bad idea. It should either be constructed on a concrete pad that rests on the earth itself within the house, or you will need to add some serious bracing underneath where it will be constructed. It could be a good idea to consult a structural engineer in such a case.
Concerning the actual heater itself, the designs are myriad and varied. Trying to go through every different design would take a book rather than an article, so I will not endeavor to do such a thing. Instead, I will try to highlight what all masonry heaters have in common.
The design starts with the firebox. This is the compartment where the fire is actually contained. It should be located on a convenient part of the heater (usually the front). The most efficient designs will include a door that can be shut tightly. This door will either be solid metal or metal with a heat-resistant glass viewing window. They should come with a frame that is set directly into the masonry work.
The firebox must be lined with a special sort of brick called firebrick. The firebrick can withstand the repeated high temperatures to which it is routinely exposed. Typical brick found in your local hardware store will not be able to stand up to this sort of treatment. Many of those bricks are made of concrete and are liable to explode when they are in such a high temperature environment. It is well worth the extra expense to get these firebricks.
The next part is the most difficult part of the design. From the firebox, you will have a series of passages that will wind through the body of the heater. The simplest designs have only a single channel, while the most complex (and efficient) will have multiple channels through which the gases will travel. The point of these passageways is to suck out as much heat as possible before the gases actually escape through the chimney. This is central to efficient masonry heater design.
The final part is the chimney – the chimney connects the masonry heater to the outside air. All of the flue gases, now deprived of their heat, must exit the home. This can be through an existing brick chimney, if your home has one, or through a newly installed system. Many of these will be thin-walled metal pipes. The most common system is composed of single-walled black pipe with a 6" diameter for those portions on the interior of the home and double or triple-walled stainless steel pipe for the exterior portions. These two parts are connected together at the exterior wall or roof with a specifically designed thimble that ensures that the pipe meets minimum clearances to combustibles.
How do Masonry Heaters Compare with Modern Metal Wood Stoves?
While they are both devices designed to heat a home using wood, they do so in very different ways. I wouldn't say that either is better or worse than the other – it all depends on how you wish to use it and how your home is designed. So, let's go over a few of the major differences of the two.
Masonry heaters are generally more expensive
A small metal wood stove can be bought for a couple hundred bucks. They even sell cheap conversion kits that can convert a metal barrel into a wood-burning stove. However, an EPA-certified metal stove designed to heat a home of 2000 sq. ft. will start at around $700 (not including all the required accessories like stove pipe and whatnot). Of course, you could build a dirt-cheap masonry stove from mud that would certainly be cheaper than even a low-cost metal stove, but most professionally-built masonry stoves are going to be priced in the many thousands of dollars.
Masonry heaters are more difficult to install
Installing either a metal stove or a masonry stove is probably beyond the purview of the average DIYer. In either case you have to make sure the floor is strong enough, the clearances to combustibles is adequate, and the flue and chimney are up to snuff. That being said, a masonry stove is just more difficult on almost all accounts. First, it has to be built in place literally from the ground up, while a metal wood stove is fully assembled when purchased. In a masonry unit, the fire box, the chambers that the gases pass through the unit, and the external structure must all be assembled by someone proficient in working with masonry.
Masonry heaters are slower to heat up
All of that mass take a long time to heat. In a metal wood stove, you can begin to feel the heat almost as soon as the fire starts. That is because you are only working with a few hundred pounds of metal. It heats up fairly quickly and can then give that heat off to the room. However, with a masonry stove, you might not feel any of the warmth for a good long while. That is because you have to heat up all that masonry before it begins to give any warmth to the room.
Masonry heaters are more efficient
By their design, masonry stoves are meant to be heated by a high heat fire for only a few hours a day – yes, one time a day. By contrast, a metal stove needs almost constant feeding of wood during the day (and night in especially cold weather). You can buy the most efficient metal wood stove and it will not even come close to the efficiency found in a well-designed masonry stove of appropriate size.
Masonry heaters are more aesthetically pleasing
While a fire crackling away in a metal wood stove is admittedly a thing of beauty on a cold winter's day, during the time that it is not in use, a large hunk of black metal is not something all that nice to look at. However, whether or not there is a fire in a masonry stove, it is a work of art. It will function as the centerpiece of your home, and will certainly be a focal point of conversations with guests.
Masonry heaters are safer (especially for children)
The surface of a metal wood stove can reach upwards of 700 degrees F. This is hot enough to cause instant burns on anyone who accidentally touches it. In contrast to this, a masonry stove with a 6" thick wall will barely get to 140 degrees F on the outside surface with a 900 degree F fire on the inside. And this pleasant heat is why beds and chairs are often incorporated directly into the design of many masonry stoves.
Masonry Stoves are naturally off-grid since they predate the electrical grid by a few thousand years or so! However, despite their ancient technology, they are as relevant–and perhaps, even more so–today as they were when they warmed our ancient ancestors around the world.
35 Amazing Masonry Heater Inspirations
Here are some of the best masonry heater ideas out there.
Kachelofen
Masonry heater – new stove based on an old design. A Kachelofen is a ceramic tiled wood stove which has mazelike, masonry channels within. The meandering exhaust gas warms the surrounding masonry which then slowly radiates its heat. A small windowless door allows the fire to burn very hot inside the heater. High heat and the addition of a second combustion chamber, burns up the polluting volatile gases and efficiently turns them into heat. For more examples go to biofireinc.com.
Kachel Tiles
Tiled Kachelofen by biofireinc.com. Special 'kachel' tiles surround the internal fire brick.
Stucco And Tile
Stucco and tile masonry heater. Additional information can be found at fliesen-ofen-ritter.at.
Old-Fashioned Heater
Old fashioned masonry heater clad in stucco and tile. Fliesen+Ofenbau Ritter GmbH, have additional information on their website.
Rustic Masonry Heater
With a black trim, this masonry heater adds a touch of class to any room.
Asian-Influenced Heater
Tiled masonry heater with Asian influence. Only special 'kachel' tiles can touch the inner firebrick, all other tiles must be spaced away from the inner masonry, otherwise they will crack. Additional images can be found on fliesen-ofen-ritter.at.
Heater With Stucco
Stucco and tile masonry heater. biofireinc.com The small door keeps the heat inside, so high combustion temperatures are reached more easily.
Finnish Masonry Heater
Tiled masonry heater in Finland. The Finnish government encourages the use of masonry heaters with tax incentives, the program has been so successful that 90% of new homes have masonry heaters. More photographs like this can be found at contura.eu.
Heated Bench
Brick masonry heater with heated bench in Denmark. A heater with a façade thickness of 3-4 inches, gives a moderate heat transfer, not too fast, not too slow. By Lars Helbro. Originally found at stenovne.dk
Mountain Heater
A masonry heater can be a great way to keep a cabin or mountain home heated. Not only do these heaters provide an eye-catching centerpiece, but they are efficient.
Cozy Reading Nook
Brick masonry heater in Denmark by Lars Helbro. For additional ideas visit stenovne.dk.
Heating Wall
This masonry heater acts as a wall between two rooms in Quebec, Canada. By maconneriegillesgoyette.
Reclaimed Brick Heater
Brick masonry heater made with reclaimed brick, sand and lime mortar, lilac bluestone and a Heat-Kit heater core. By William Davenport, turtlerockheat.com. To reduce stress, masonry heaters in North America are usually built with a double-wall system; a refractory core including firebox and channels or baffles, and a separate, unattached masonry veneer. Otherwise the heat of the firebrick might crack the façade, although brick is least likely to be stressed.
Carsten Homestead
Masonry Heater with wrap around heated bench, direct fire oven (on kitchen side), and wood storage by Carsten Homstead of Massachusetts. Originally found at homespunworks.com.
Rustic Heater
This masonry heater in Burlington, Vermont has a bake oven on the kitchen side. Masons: William Davenport, Spencer Blackwell, Norbert Senf. Turtle Rock Heat has more information and ideas on their website. Originally found at turtlerockheat.com
Heater With A Core
Stone masonry heater with a heatkit core. If there is too much façade mass, 5″ or more, the mass can slow down the heat exchange. An efficient heater should produce heat at the same rate as the heat is emitted. The firebox size should also match the size of the heater and home.
Indoor Heat
It is not efficient to put your heater on an exterior wall. When on an exterior wall, that portion of the masonry facing toward the outside, will simply be heating the outside air. This heater is an interior wall. Vermont masonry heater by smithandvansant.
Heater From Canada
A masonry heater's chimney can be ceramic or metal. Large fireboxes reduce combustion efficiency and generate higher emissions. Keeping the window small means the heat gets absorbed into the masonry. Canadian heater by bien-o-chaud-portail-poeles-et-foyers. Originally found at bien-o-chaud-portail-poeles-et-foyers.com
Soapstone Heater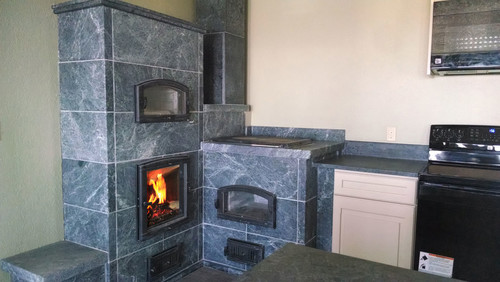 Soapstone tiles give a modernized style to this masonry heater.
Brick Heater
Brick masonry heater. There is no reason why some heaters can't be low and long. There is a wood fired cookstove on the opposite side of this heater. More images can be found at stenovne.dk. Originally found at stenovne.dk
Centralized Location
Masonry heaters are best positioned in the center of the home. The kitchen side of this heater is faced in brick. Massachusetts heater by Steve Bushway, ultimateridgehook. Core by heatkit.
Slate Heater
Local slate covers this masonry heater in Vermont by William Davenport. The heater has doors on both sides. Turtle Rock Heat has more information on their website. Originally found at turtlerockheat.com
Heater With Concrete
Masonry heater that extends to room on other side of wall. Custom concrete slabs, steel, black walnut wood box top, bluestone, lilac bluestone. Originally found at turtlerockheat.com/charlotte.html
Tulikivi Heaters
Soapstone masonry heaters come in all sorts of shapes and sizes. Soapstone has thermal properties that exceed all other stone, brick or stucco. These Tulikivi heaters are at the virginiaradiant showroom. Pictures of a Tulikivi being put together: mha-net.org
Heater With A Window
Masonry heater with large see-through windows. A large firebox reduces combustion efficiency and generates higher emissions. See-through heaters also increase the amount of heat escaping the firebox and therefore lowers combustion temperature and generates higher emissions. Visit brunner.de for additional information.
Heated Bathroom
Masonry heater in a bathroom by peacedesign. If the distance from the core to the surface of the stove is very thick (5″ or more) or complicated (many layers), the heat will radiate out very slowly. An efficient heater should produce heat at the same rate, as the heat is given off (emitted). A massive heater will also be much slower at responding to changes in temperature.
Mosaic Heater
Stucco and mosaic masonry heater. Core is by Heat-kit. More information is available at mha-net.org.
Heater In New York
Grey colored tiles have a clean appearance, making them great for a modern style.
Masonry Heater For A Two-Story Home
In a two story home, this is one of the best locations for a masonry heater. A complete gallery of this heater is available on erdwerk-keramik.at.
Miodula Hotel
Masonry Heater in the Via Miodula Hotel, Poland. You can find more images at villamiodula.pl.
French Stove
Masonry stove in France by poele-cuisiniere.fr.
Heater With Earth-Clay Plaster
This masonry heater is veneered with the same earth-clay plaster used on the walls of the main floor. A heated bench topped with sandstone makes for a warm perch on winter days. By Gimme Shelter Construction. More photographs and descriptions can be located on gimmeshelteronline.com.
Masonry Heater Build Guides
Masonry Heater Resources
For further information, check out the following resources:
Chinese Kang Bed-Stove: https://en.wikipedia.org/wiki/Kang_bed-stove
German Kachelofen: http://www.stovemason.com/kachelofen/
Ancient Roman Hypocaust: https://www.unrv.com/articles/roman-hypocaust.php
Deer Hill Masonry: https://www.ultimateridgehook.com/deerhill/recentprojects.html
The Masonry Heater Association of North America: https://www.mha-net.org/html/gallery.htm
Missouri-Designed Masonry Stove: https://archive.org/details/masonrystove
An original version of this post was written by Kieren Fox.