Over 1 billion tires are manufactured annually, made of synthetic rubber, natural rubber, carbon black, polyester fabric, and steel wire. Tires stay in the environment a long time. Green-thinking artists are doing something with them.
The Best Tire Art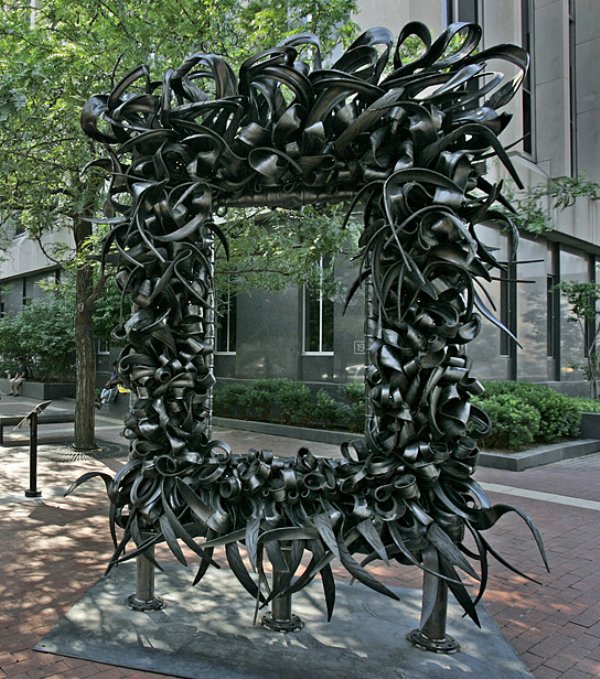 Tire Frame by Chakaia Booker
Pic: newcambridgeobserver.com
chakaiabooker.com

Male Torso that left his path
by Chakaia Booker, 1992-1995.
chakaiabooker.com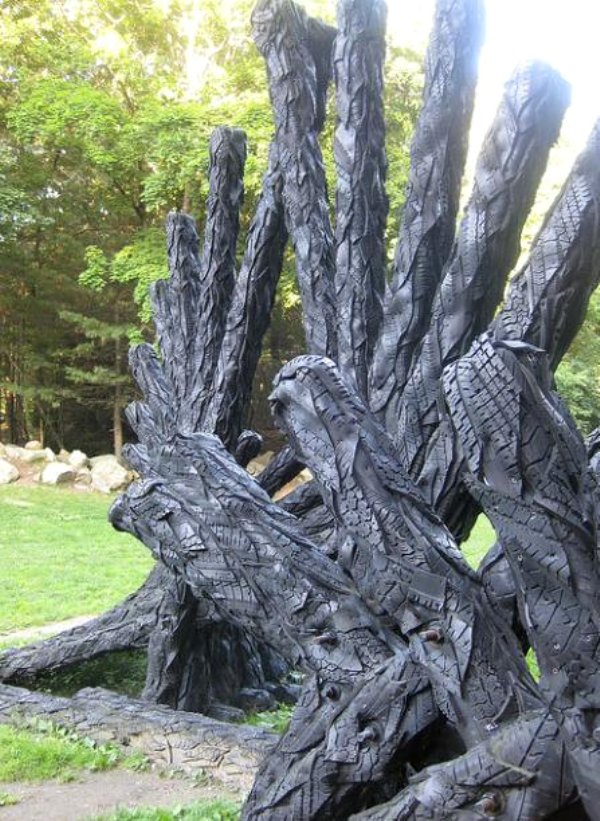 Industrial Perpetuosity, 1997
By Chakaia Booker
chakaiabooker.com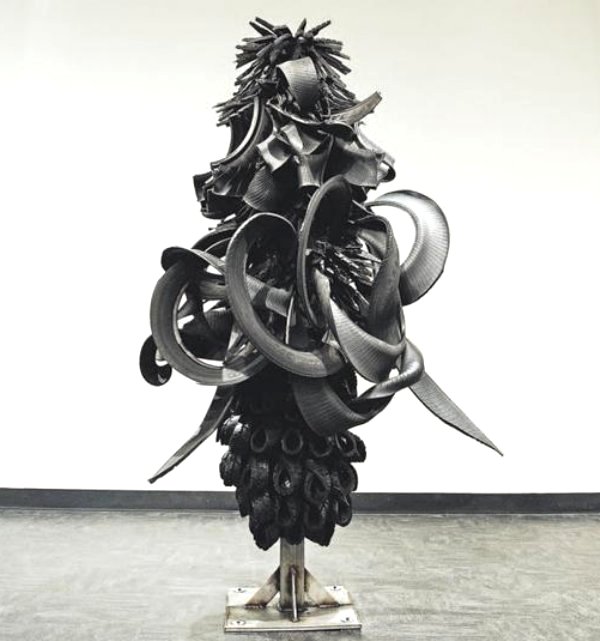 Meeting Ends
By Chakaia Booker
chakaiabooker.com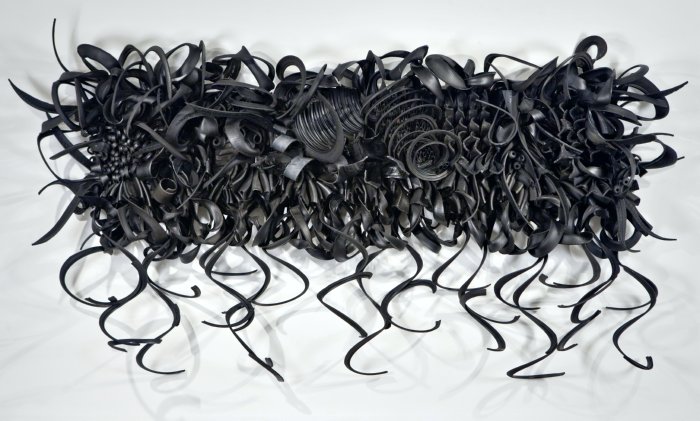 Vacancy
By Chakaia Booker
Photo: artscriticatl.com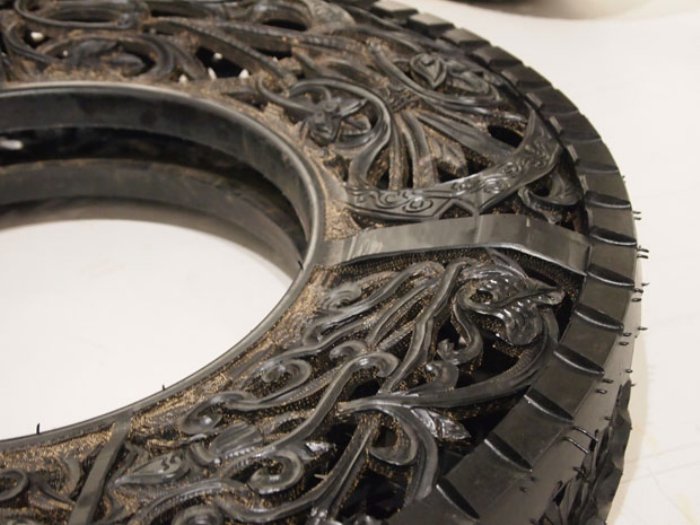 Pneu by Wim Delvoye
wimdelvoye.be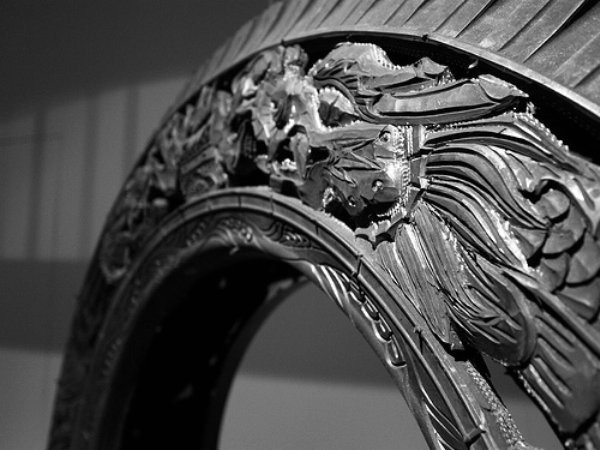 Pneu by Wim Delvoye
wimdelvoye.be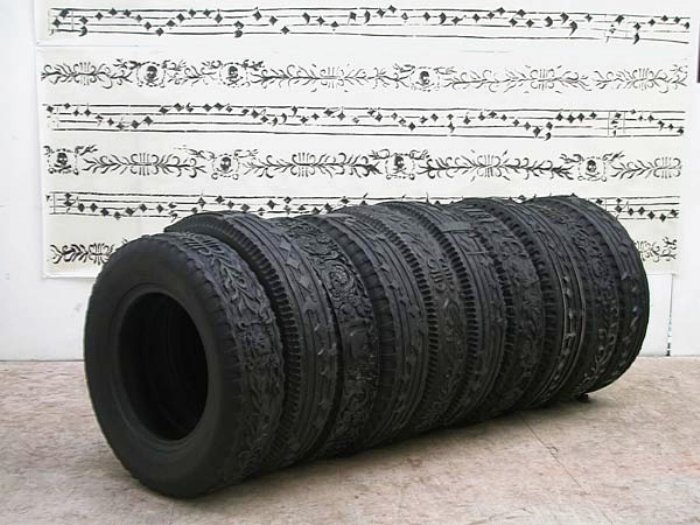 Requiem by Betsabee Romero Carve and then roll…
She was born in Mexico City in 1963.
arte-mexico.com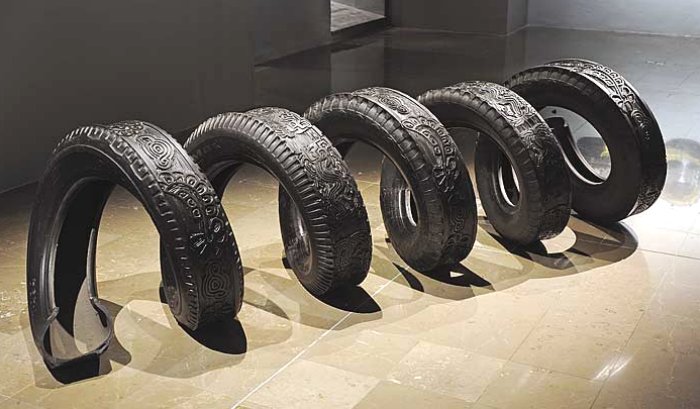 Espiral Sin Fin by Betsabee Romero
5 llantas grabadas
arte-mexico.com/betsabee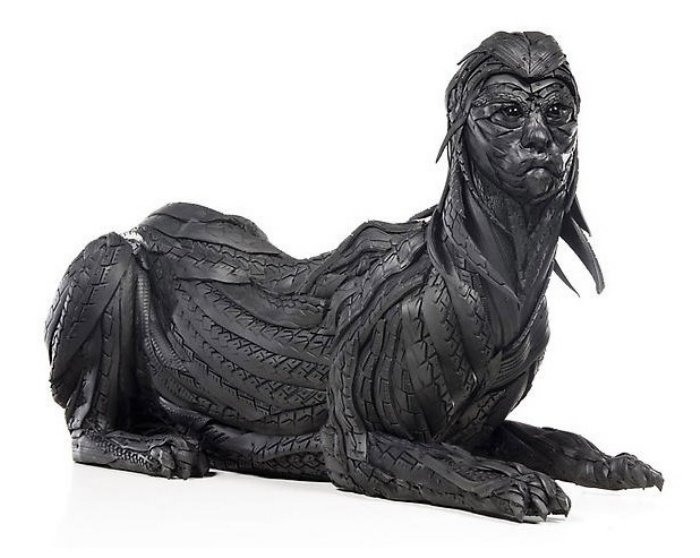 Lion Woman 1 by Yong Ho Ji
2007, 120 x 50 x 75 cm, used tires, synthetic resins.
yonghoji.com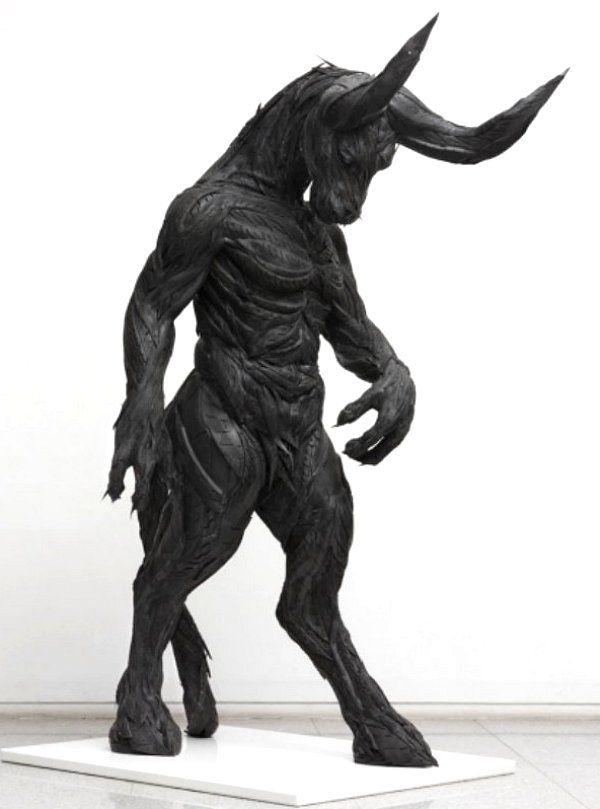 Bull Man 4 by Yong Ho Ji
2010, 100 x 150 x 200 cm (6′ 7″)
More pics: yonghoji.com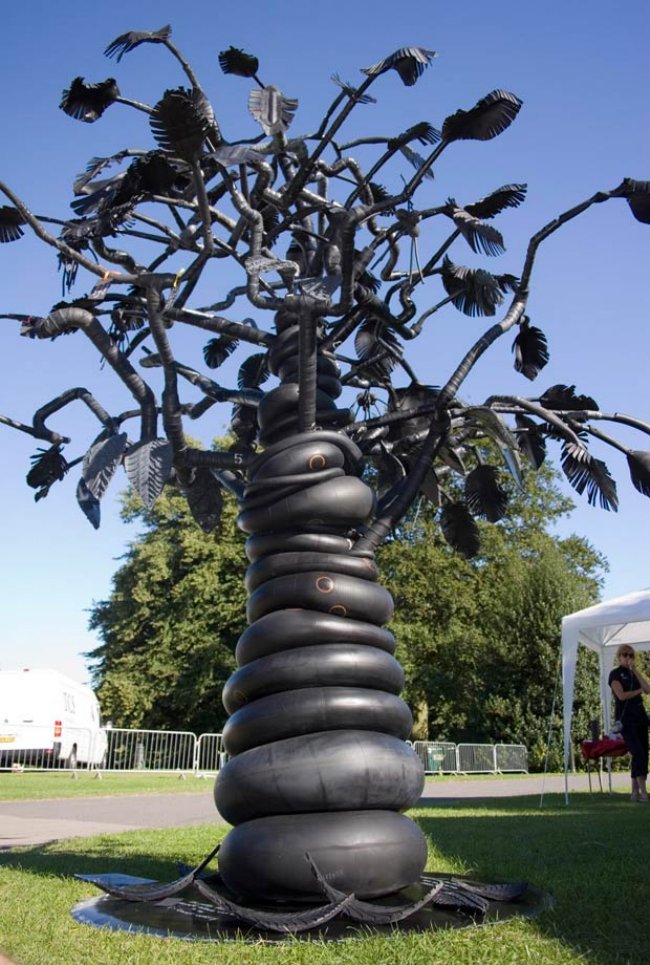 Ficus Elastica Robusta
By Ann Carrington
Commissioned by Seeds of Change
Hampstead Heath, London
6m x 9m x 5.5m
anncarrington.co.uk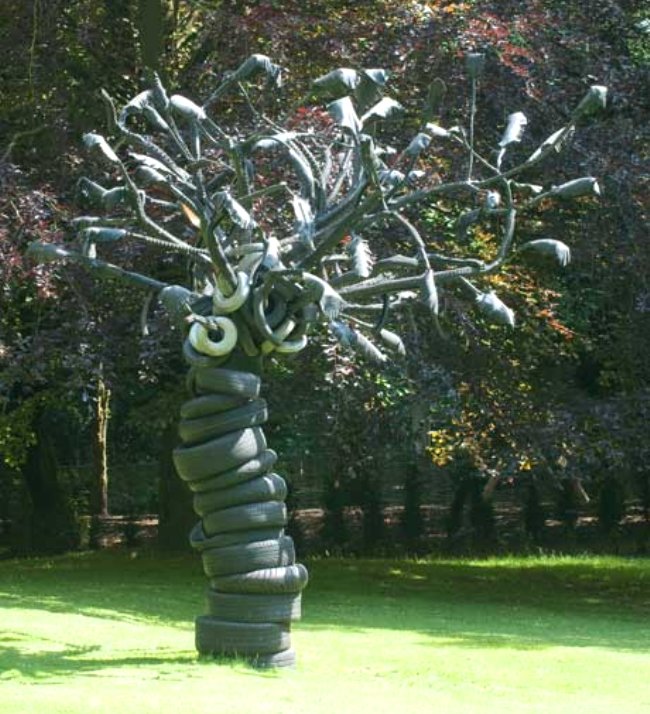 Ficus Elastica Decora
By Ann Carrington
Commissioned by Rothschild Estate, Waddesdon Manor, Buckinghamshire
6m x 8.5m x 5.2m
anncarrington.co.uk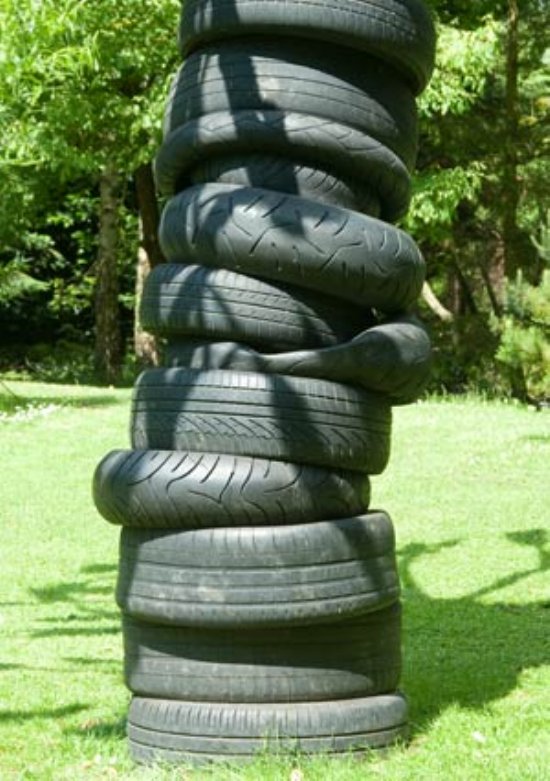 Ficus Elastica Decora
By Ann Carrington
anncarrington.co.uk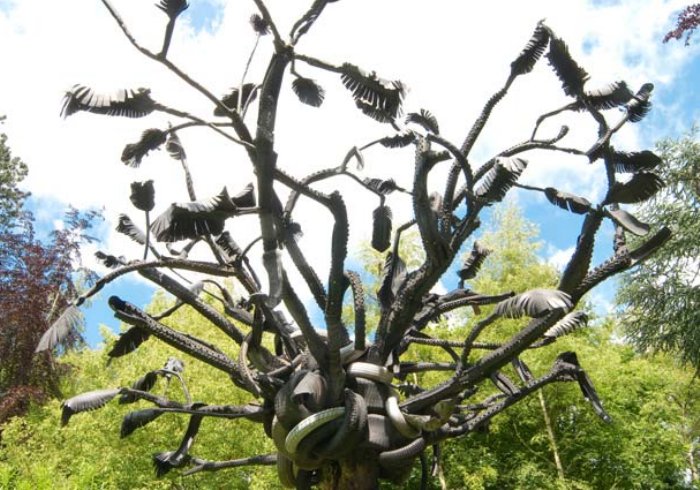 Ficus Elastica Decora
By Ann Carrington
anncarrington.co.uk

Douglas White
Dazed and Confused
sculpture.org.uk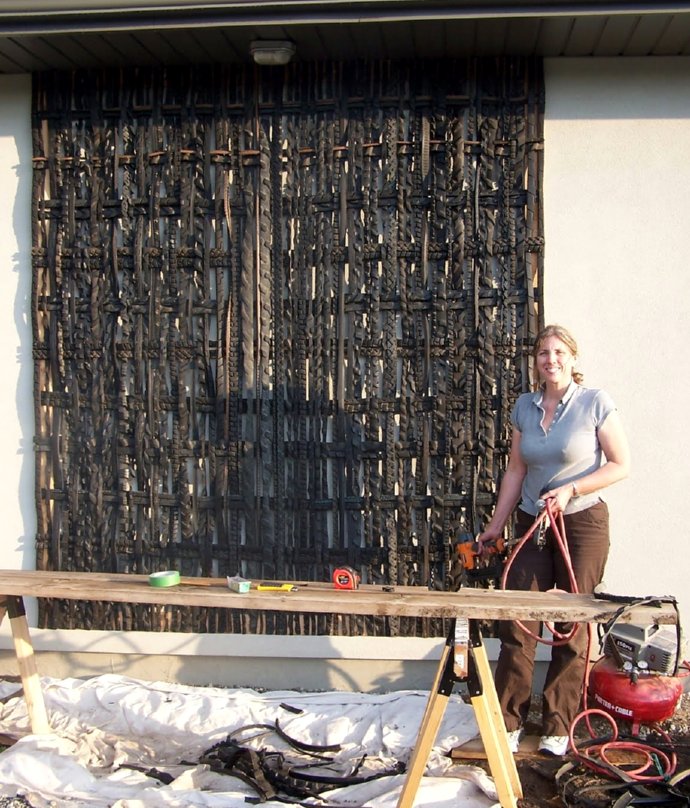 Carolyn Butts Tire Tapestry
See her site for more designs…
bon-eco.com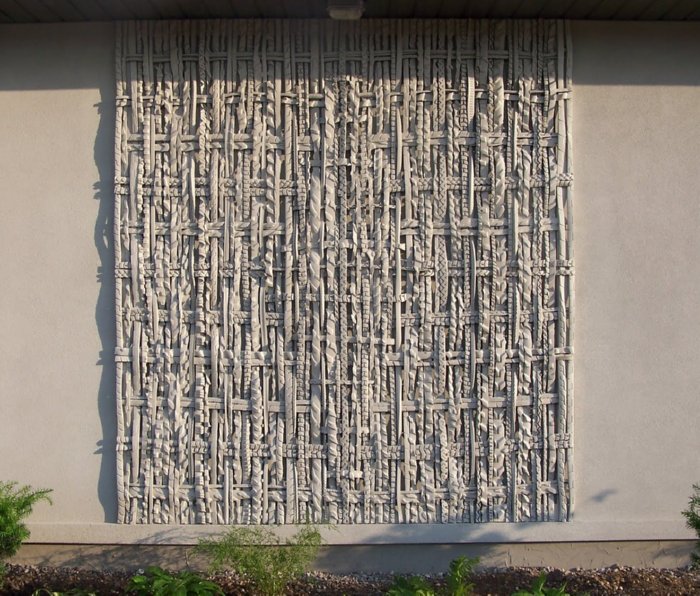 Carolyn Butts Tire Tapestry
Painted white
bon-eco.com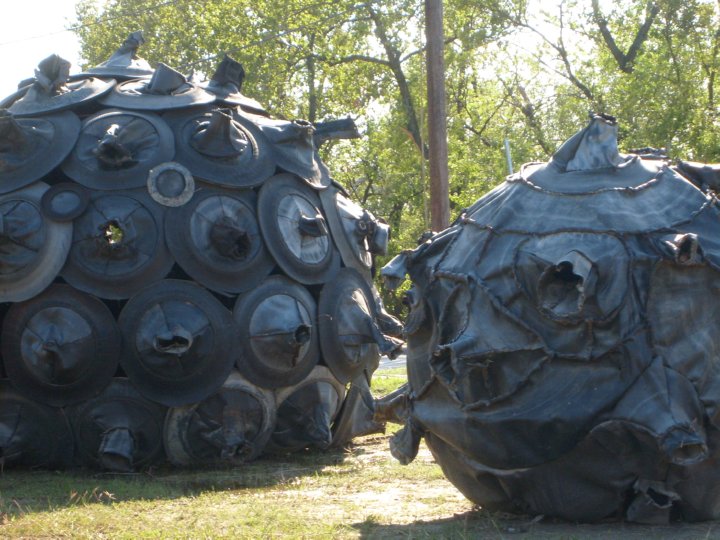 "Suckling is Continuous" three large spheres shrouded in found tire elements
By Kathy Kelley Buffalo Bayou Art Park
Photo Maorlando flickr.com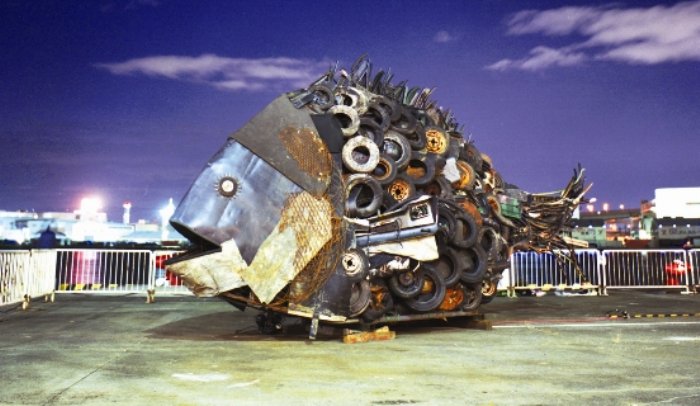 "Chinu – the black sea bream of Osaka Bay" 2007 about 8m long.
By 2 persons collectively known as Yodogawa Technique who create art works from rubbish from the river Yodogawa area in Osaka where they are based.
yukariart-contemporary.com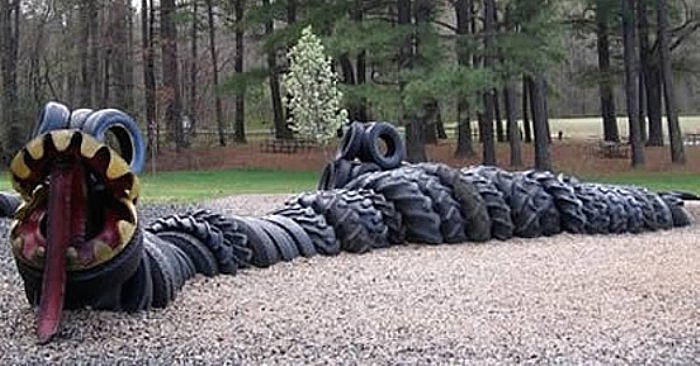 Tire-Serpent by Mirko Siakkou-Flodin
oddee.com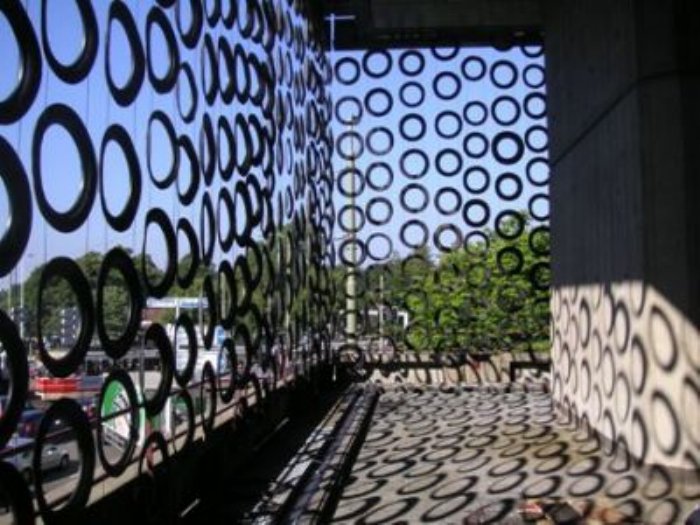 Decogomme Screen
Den Haag, Dutch Ministry, Netherlands, june 2006
millegomme.com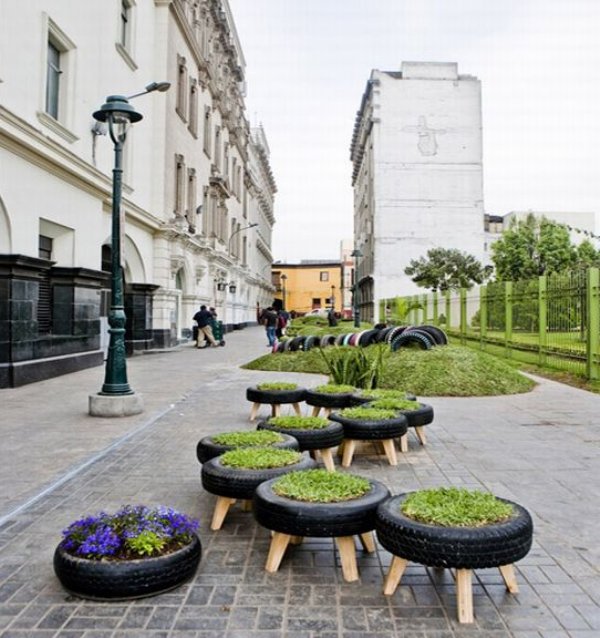 Tire Chairs and Planter
Green Invasion Lima, Peru
via Treehugger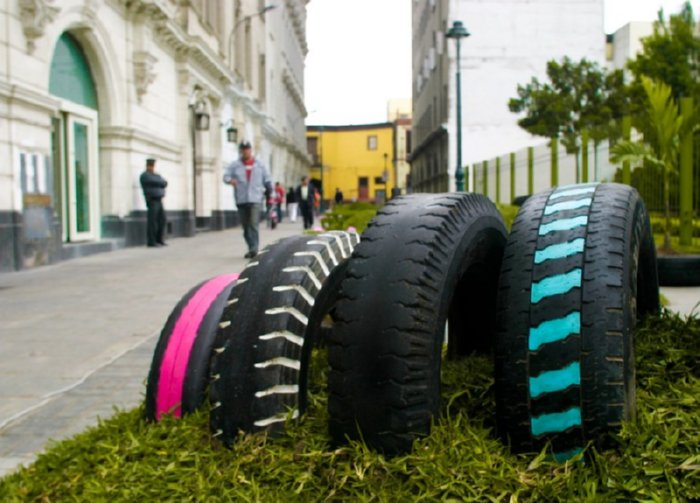 Walkable Tire Sculpture
Green Invasion Lima, Peru
Treehugger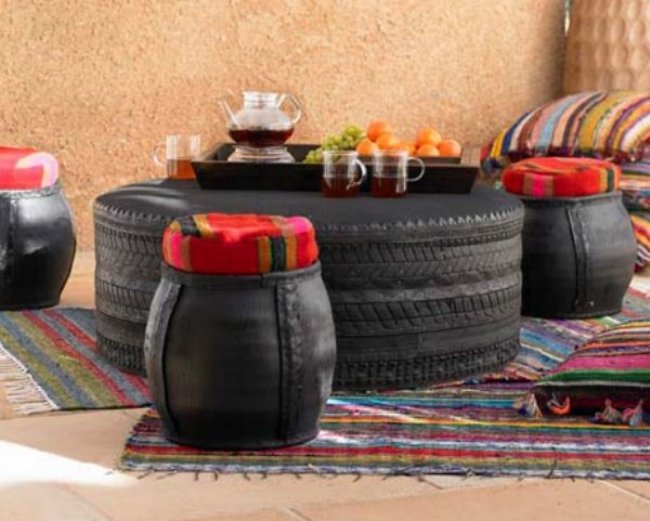 Recycled Truck Tire Ottoman and Stools
Via keetsa.com


Bon Eco – marble top, tires rubbed with ochre.
Carolyn Butts, Ontario
bon-eco.com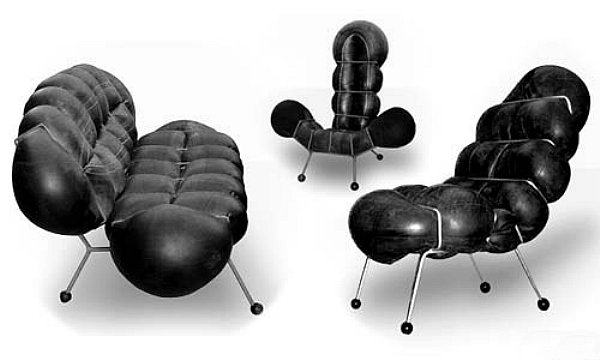 Tire Tube Chairs & Setee by Nir Ohayon
Handmade metal frames with inflated tubes stuffed in.
See more pics here: recycoool.com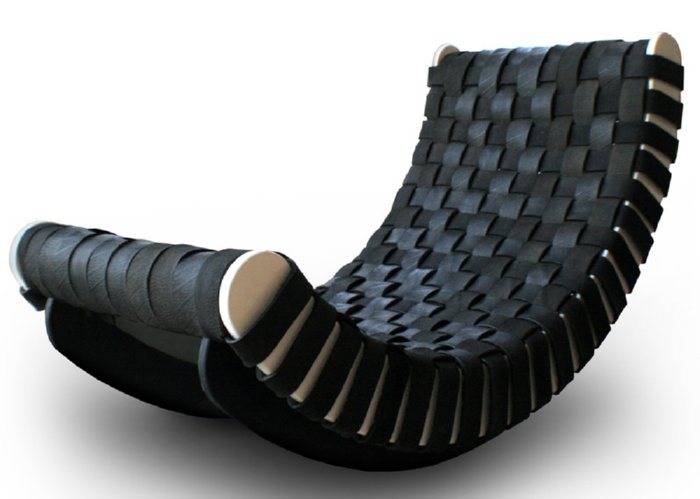 Tired Lounge
By Leo Kempf
360seegallery.com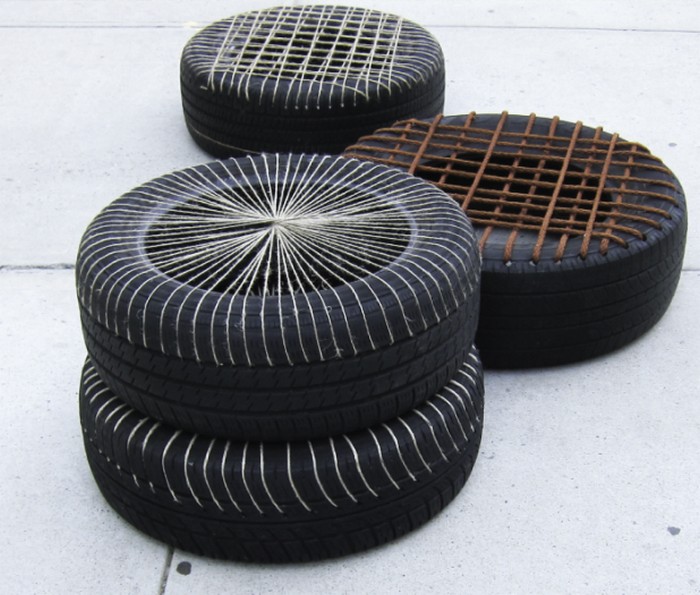 Tire chair
Happy Hardcore
by Fernanda Fajardo
coroflot.com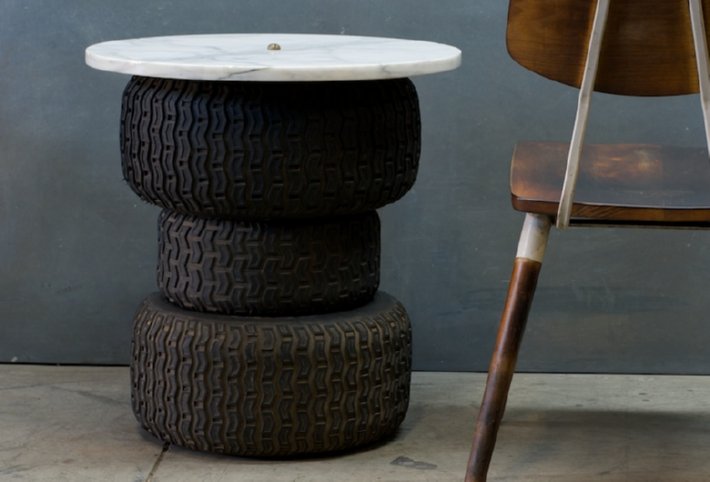 Jean-Michel Basquiat Marble Cafe Table
by Dino Paxenos
Mediascapegoat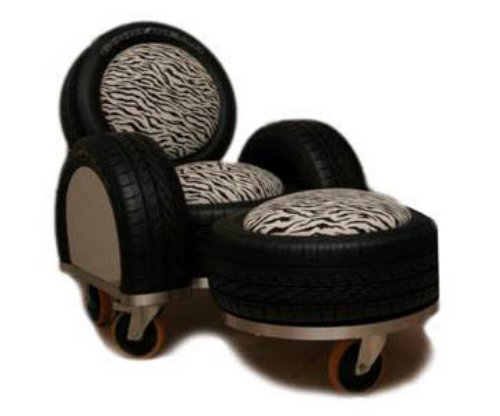 Tire chair
Only suitable for Basements!
By Italian designer Zak – RunOnFlat Goodyear tires.
gadgetblog.it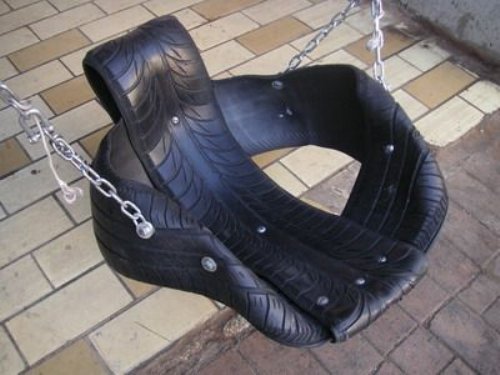 Tire chair
Fairly Easy to Make Swing
See more pics: millegomme.com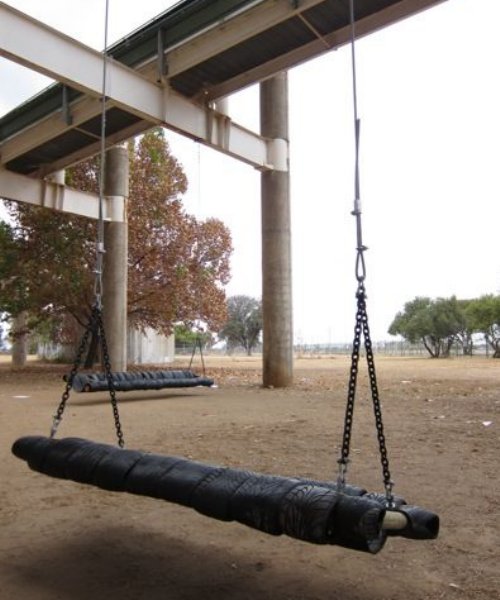 Gravity Passengers
Mafikeng South Africa, June 2010
Multi-Person Tire Swings
See more pics: millegomme.com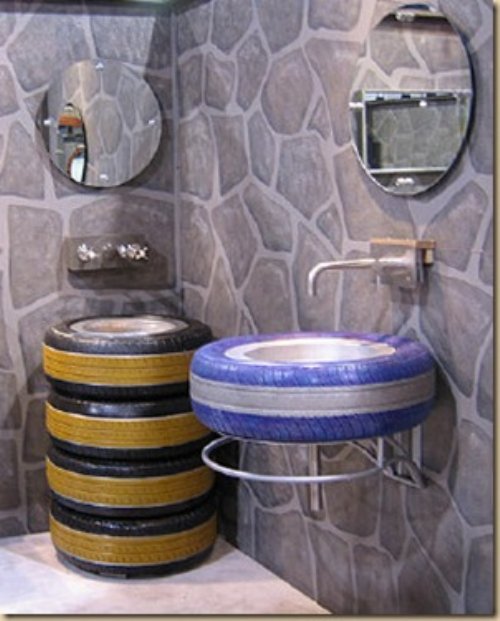 Recycled Tire Sinks
Bristol and Bath Second Chance Collection
cft411.com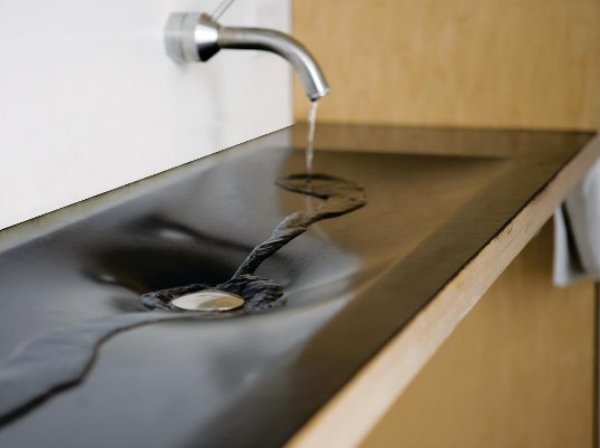 Recycled Rubber Sink by Minarc
Melted old tires
interiordesign.net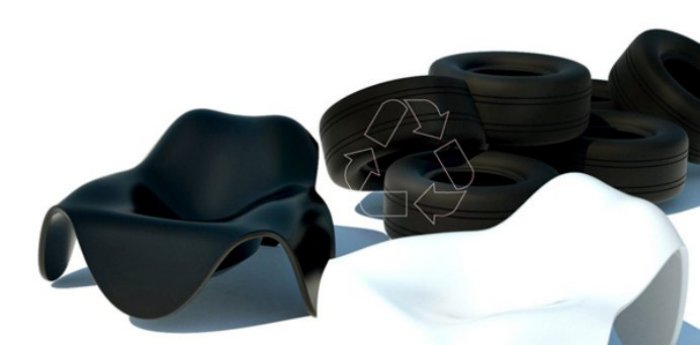 Tire chair
Hermit Crab Chair
Molded ceramic that slips on top of a tire!
The tire is your cushioning and base.
yankodesign.com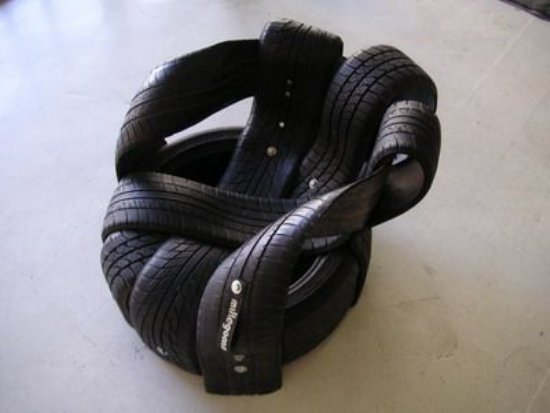 Tire chair
Millegome Chair
millegomme.com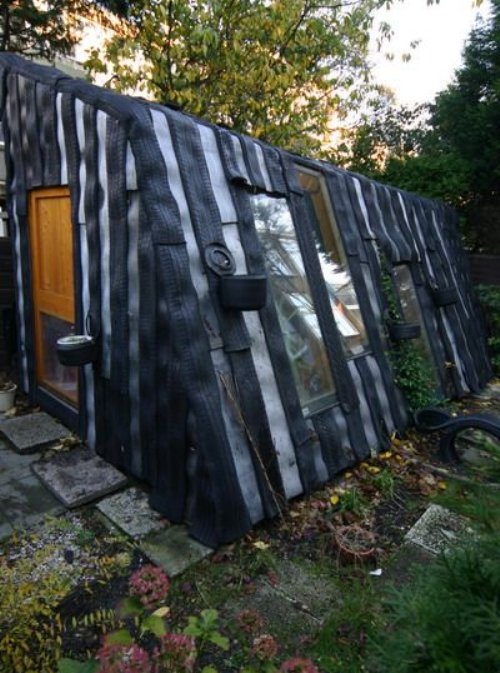 Maison Gomme
By Den Haag, july 2005.
Not the best look but scratch resistent!
More pics here: millegomme.com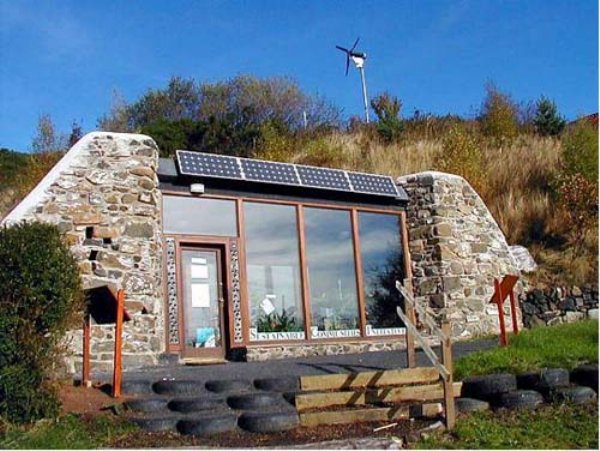 Tire Foundation, Patio and Stairs
More pics: ventasalud.com

Off to a sturdy start
An Earthship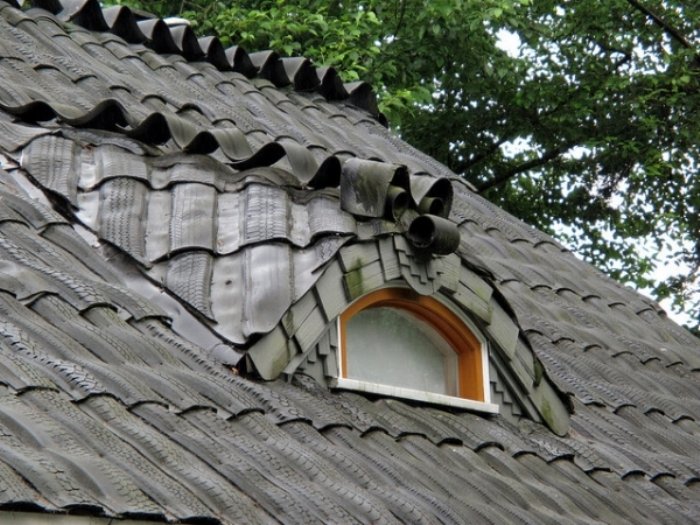 Tire Roof, Vancouver, BC.
Photo by Jennifer Loring
flickr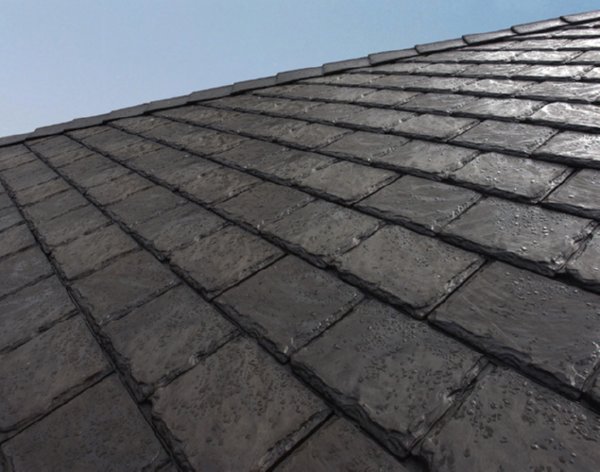 Euroshield
Recycled car tires molded into roofing
euroshieldroofing.com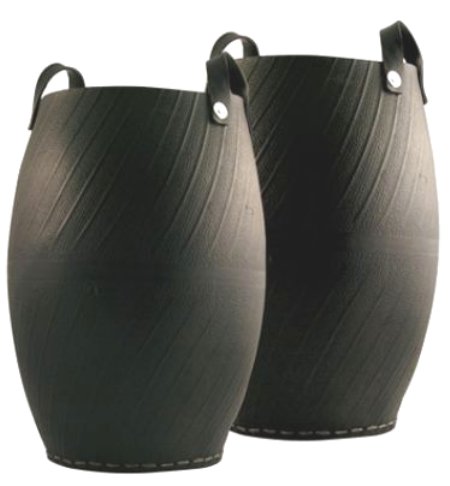 Tade Barrels
Pics: be.com
tade.fr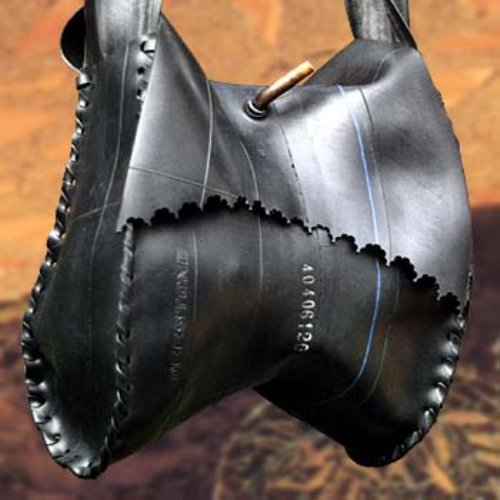 Car Inner Tube Tire Handbags (note the valve)
zuss.com
neumaticanet.com.ar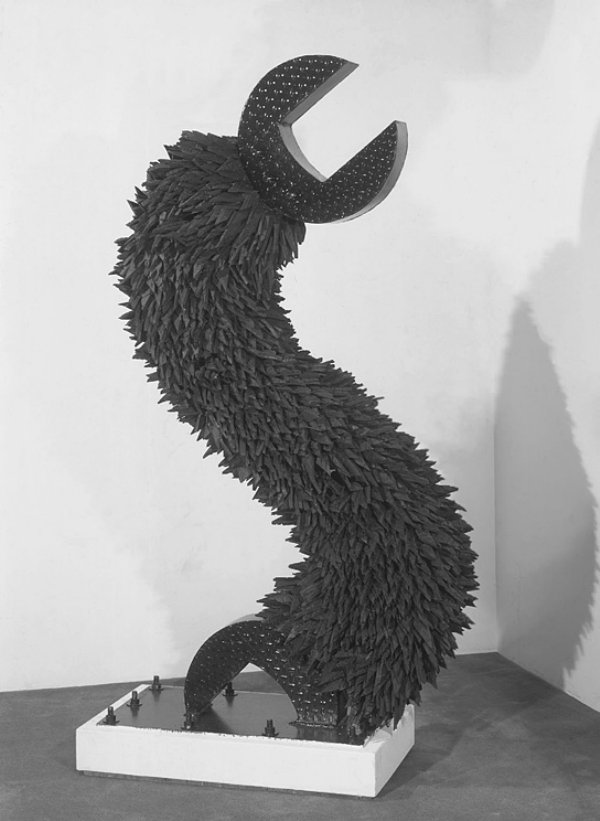 Wrench II By (the very talented) Chakaia Booker, 2001.
The Most Famous Tire Art Piece Of All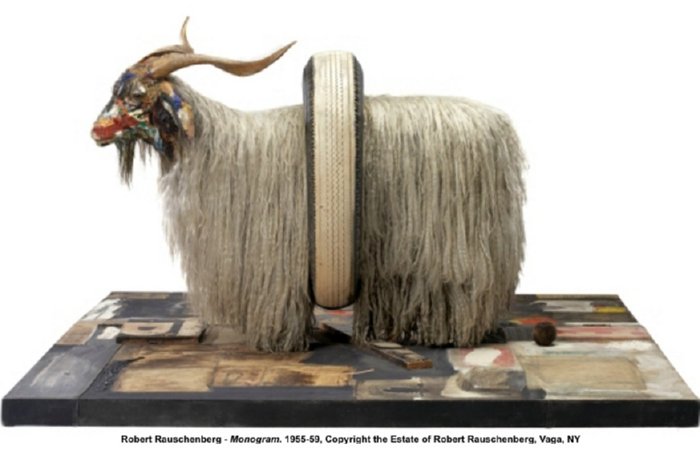 Robert Rauschenberg (American, 1925-2008). Monogram, 1955-59. Angora goat, tire, tennis ball. 42 x 63 x 64 in. Moderna Museet, Stockholm. © Robert Rauschenberg / Adagp, Paris, 2006
Tire Art: Much Better Than Burning Them
Today a typical tire consists of about 28 percent natural rubber, 28 percent synthetic rubber (made from oil), and 28 percent carbon black filler—a material produced by the incomplete combustion of heavy petroleum products. Anywhere from 15 to 38 liters of oil is used to make a standard tire. The remaining 16 percent of the tire is composed of different functional agents such as Softeners (hydrocarbon oil, resins), Antidegradants (para-phenylenediamine, paraffin), Curatives (sulfur, sulfemamides) and Activators (zinc oxide, stearic acid).(1) If tires burn, it is an extremely toxic coctail, both for the atmosphere and nearby groundwater. Hopefully, the future holds promise, as manufacturers are now testing more sustainable ingredients.
The use of scrap tire chips for landscaping has become controversial, due to the leaching of metals and other contaminants from the tire pieces. Tires can concentrate (up to 2% by weight) zinc to levels high enough to be extremely toxic to aquatic life and plants. (2,3)
Michael Reynolds, who has been constructing Earthship Homes for 35 years using rammed earth tires, said he has never had one complaint of offgassing. Most likely because the tires are plastered and protected from the elements. It is believed a large percentage of the offgassing happens when the tire is new. earthship.com
1) ecosystm.org
2) ardeacon.com/pdf
3) puyallup.wsu.edu