Nothing adds that je ne sais quoi to a dish like basil. Whether you use it as a garnish, a dried seasoning, or in pesto, basil is delicious. And lucky for us, it's not hard to grow! Here are some tips and tricks for growing basil.
There are dozens of types of basil, from culinary to ornamental, all with a unique flavor profile. Try ordering a few different varieties of seed and doing a taste comparison after you have grown them. You'll find much more variety in seeds than you are likely to ever find at the grocery store or even at the farmer's market.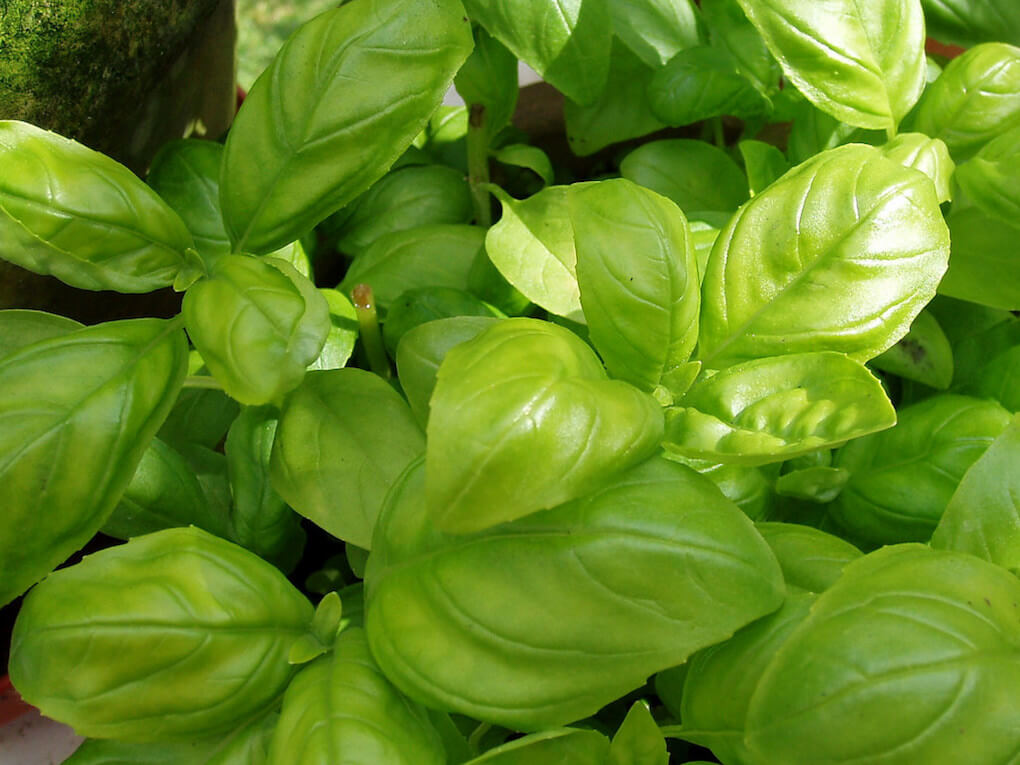 One of my favorite parts of the growing season is going through seed catalogues in the winter and dreaming of the garden season. Be sure to place your orders early in the season, because seed companies sometimes run out of popular varieties by mid-spring.
Indoor Vs. Outdoor Growing
Since basil is a small, but productive plant, and also needs warm temperatures, many people choose to grow basil inside. This is a great option in a cooler climate, or if you don't have garden space.
Growing Basil Indoors
Basil doesn't need a very large container, which makes it an ideal indoor plant. It also gives off a gentle basil smell and has delicate white flowers when it goes to seed.
However, if you want large quantities of basil, or to plant several successions, you will quickly run out of space on your window sills. In that case, growing basil outdoors would give you more space and flexibility.
If you are growing indoors, you can start your basil in the pots that will be their forever home. Several sprigs of basil can share a six-inch pot. Once the basil has germinated, you can thin the sprouts for fuller production, but you don't have to. The basil will grow well either way.
Put the pots in a sunny window and be sure to keep them watered. They like moist but not wet soil. Put a tray under the pots to allow great drainage while also protecting your windowsills!
Growing Basil Outdoors
In many warmer climates, basil grows very well outside without any support other than weeding and watering. However, if you live in a cooler area, basil will benefit from some help staying warm. You can plant it in a hoop house, or use black plastic over the soil to help capture heat and retain moisture.
Growing From Seed Or From Starts
If you are growing indoors, or in a warm climate with a long growing season, basil will do best direct-seeded into the ground or a pot, so that its roots won't be disturbed transplanting.
However, in a cool, damp temperate climate like western Washington, where I live, greenhouse starting and transplanting is the only option to get your plants growing soon enough.
Basil is not cold tolerant, and it grows best in hardiness zones 5-10, but with some love and care it can be grown nearly anywhere in the continental US, and in many other temperate to moderately tropical climates throughout the world.
Growing From Seed
Follow the seeding directions on the seed packet. Plant your seeds about six weeks before outdoor temperatures warm to 50 degrees F at night. Consider planting successions to ensure continued production. Plant a new batch of seeds every three to six weeks to replace older basil plants when they go to seed. (That's also called bolting.)
Basil Starts
You can also buy basil starts at any garden store in the spring. Buying starts is always a great way to catch up on the season if you are running behind in seeding, or to save yourself the hassle of starting plants.
Sometimes grocery stores sell "living basil," but those plants will not thrive if transplanted. By the time they are sold, the plants usually are too old to transplant.
Also, most of them are hydroponically grown and have never seen soil in their lives. That means their root structures and the microbial communities living on the roots will not adapt well to soil. If you want an established basil plant, buy a start that's intended for planting.
Planting And Transplanting
When planting or transplanting outside, space your basil about 6 inches apart. Basil is sun-loving, and needs at least six hours of full sun to thrive, so plant it into a garden bed that gets direct sun all day.
If you are using black plastic, put the plastic down first, and cut slits in it where you want to put a seedling. This is a technique used when transplanting in cooler climates – if you direct seed into the ground under black plastic, the most of the seeds won't germinate even if you cut slits. They just won't be able to find the sun!
Black plastic is used by many organic farmers because it blocks weeds and helps retain heat and moisture in the soil. That will make your basil grow faster. However, plastic is not reusable. You'll have to throw it away at the end of the season. For a more sustainable option to help your basil in cool climates, consider building a hoop house. It also requires plastic, but is reusable.
Basil is not drought tolerant. It likes moist but not wet soils. Be sure to water it regularly, but watch for yellowing or black spots, which are early signs of downy mildew, a disease which is common on basil in wetter climates.
Harvesting Basil
One of the best things about basil is that you can harvest leaves off it for several weeks and it will continue producing. In fact, regular trimming will help it stay productive longer. Pinch the leaves at the base or use a pair of scissors. Leaves bruise easily, so if you are worried about presentation, be gentle. But if it's all going into pesto, who cares?
To make basil bushy and productive, top it. Once the plant is well established and has reached nearly a full height for its variety (check your seed packet) you can pinch off the central, growing stem. That tricks the plant in to redirecting its energy into side shoots and leaves, making your basil bushy and full, rather than tall and leggy. This is the same principle used in pruning apple trees and tomato plants.
Unlike most leafy greens, basil doesn't like to be refrigerated, so store it at room temperature. A plastic bag will help retain moisture and keep it from wilting, or plucked basil can be put in shallow water like a bouquet to keep it fresh on your counter.
Once the plant starts to flower, leaf production will decline. It is time to move to your next succession.
Whether you have a farm, a garden, or an apartment window, basil is a productive, delicious and easy addition to your kitchen. Be sure to give it enough sun and water, and watch it thrive.
Paleo Pesto Cauliflower
Going grain-free or trying to eat more vegetables? Eating nothing but meat and veg can get really boring (trust me, I speak from experience) but the secret to spicing up a basic diet is toppings and sauces—like pesto!
This is a quick and easy alternative to the classic zucchini noodle pesto, because, let's face it, zucchini noodles are kind of a pain.
Heat the oven to 350F.
Coarsely chop cauliflower and put in an oil-coated pan. Sprinkle with salt, pepper and garlic powder and put in the oven for about 30 minutes or until fork tender and browning at the edges.
In a pan on the stove, fry diced onions and mushrooms with meat until browned. (I like shredded chicken or ground pork sausage, but you could use any kind of ground or chopped meat or tofu.)
To make the pesto, use one half pound of basil to a half cup of pine nuts or walnuts, and a quarter cup of olive oil.
Add fresh garlic, salt, pepper and lemon juice to taste. Optionally, add a quarter cup of parmesan or romano cheese.
Serve with the cauliflower on the bottom and pesto on top. Yum!