Whether you've been blessed with a grand wrap-around porch or you're looking to glam up a tiny front stoop, there are countless front porch ideas to add some style to your space. From seasonal decorations to simple enhancements that boost curb appeal, adding decor to the front of your home doesn't have to break the bank. A few details make all the difference, and a fresh paint job or cleverly styled accessories can change the area from shabby to gorgeous.
Why bother decorating your front porch? For some, a front porch is a prime place for socializing. Those with larger porches can use the space for hanging out and spending time with family and friends. And who wants to chill in a spot that's dingy and unappealing?
Some key front porch details can help you create an inviting space for you and yours. Here are 25 front porch ideas to turn your porch into a welcoming space for all — mail carrier included!
String Lights
String lights are the perfect way to boost ambiance in any outdoor space. They're functional because they provide plenty of bright light for socializing or reading, but they're also incredibly pretty.
Rocking Chairs
With its soothing motion and simple aesthetic, rocking chairs are a must-have for wrap-around porch decor. Even if you don't have time to sit in them!
Privacy Curtains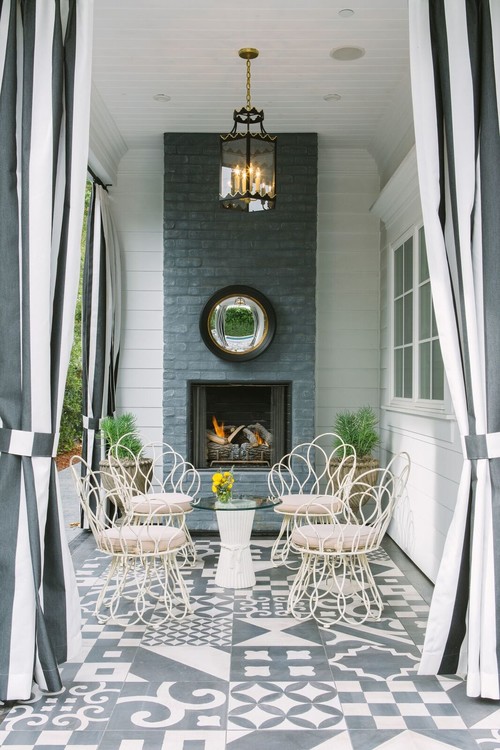 If you have a large front porch but live close to nosy neighbors, add some curtains for a bit of privacy. The curtains don't just shield you from curious onlookers. They also add a romantic touch.
Sitting Area
A roomy porch can comfortably accommodate a sitting area that's the perfect spot for enjoying post-dinner coffee. Choose comfortable furniture, and you'll have a great place to read your next library loan.
Fresh Flowers
Who says cut flowers are just for indoor spaces? Add a beautiful touch to your porch by decorating it with a vase filled with fresh blooms. Treat your porch like an indoor living space and take care of it the same way.
Greenery
I'm a fan of using plants to decorate my front stoop. I'm not blessed with a substantial front balcony or porch, but I still make it a point to add beauty to my little step by adding plants.
Screened-In Porch
One of the more luxurious front porch ideas on this list, a screened-in porch keeps the bugs away and provides an extra layer of privacy. No need to worry about sitting outside on a rainy day either.
Simple Wreath
Need some quick front porch ideas to add oomph to your entryway? A wreath is a quick and easy option. Make your own or purchase one readymade. Switch them out seasonally with festive options.
Upgrade Your House Number
Another low-effort front porch idea is to switch out your house number. I love this sleek rounded plaque with a retro vibe. Etsy has a wide selection of unique, handmade house numbers.
Add A Bright Doormat
I rotate doormats because I keep buying cute ones on sale. There are so many welcome mats on the market from funny, snarky models to bright, upbeat designs like this one.
Install Hanging Planters
Even the barest porch looks fancy with hanging planters. Bright flowers add color, but if you're a fan of leafy green-type plants, ferns are a viable alternative.
Related Post: Hanging Planters Perfect For Flowers And Succulents
Just be sure to keep those plants well-watered!
Monochrome Color Scheme
Pops of color aren't a necessity for a sophisticated front porch look. This black-and-white space appears put together and mighty classy.
Wooden Planters
DIY some wooden planters or buy them ready-made and add a natural touch to your porch. Regardless of porch size, a planter on both sides makes any front door look put together.
Painted Door
Liven up your front porch and boost curb appeal with a fresh coat of paint on your door.
Porch Swing
No space for a reading nook inside? Or maybe you're bored of your go-to indoor reading spot?
Related Post: Porch Swings
Install a large porch swing and dive into a good book while you listen to the sounds of chirping birds. It also creates a romantic setting to end a low-key date night.
Lanterns
I've had great luck sourcing lanterns at the dollar store. They often pop up during springtime. Tea lights are a great low-cost alternative to expensive pillar candles. If the thought of lighting candles sounds annoying, opt for solar-powered LED lanterns with sensors that turn on the device as soon as it starts to get dark.
Go Dark
People frequently choose light paint colors for their home and front porch (which makes complete sense) so who knew how amazing a dark color scheme would look? The dark paint used in this front porch is a bold and dramatic choice.
Adirondack Chairs
These classic chairs are super comfortable and sturdy. They also have a rustic style that blends well into most outdoor areas.
Simple Autumn Decor
How adorable is this autumn-inspired front porch? Some people love to switch out decor every season. When stuff isn't in use, make sure it's stored safely in a waterproof bin and clearly labeled for easy reference later.
Shelving
Add storage space to your front porch — for decor or practical use — with the addition of a small shelving unit.
Succulent Garden
As a crazy plant lady, I'm a sucker for anything plant-related. This succulent planter is a neat front porch decor idea that's attractive and low maintenance (since succulents don't need as much care as edibles or flowering plants).
Word Art
Add a bit of inspiration to the front exterior walls of your home. Buy word art that's ready to mount, or stencil the words yourself.
Wooden Crates
Wooden crates are such a versatile decor item. I use them frequently on my front stoop to elevate items like pumpkins in the fall and flower pots in the summer. Paint them, stack them, or use them as shelving.
Spring Wreath
Nothing says spring more than tulips! This lovely, bright wreath is a gorgeous front door decor piece and a way to enjoy this beautiful flower long after those in your garden wilt.
Rustic Look
This front porch shows how just a few changes can make a significant impact. A rustic-style front porch utilizes natural wood elements, a dramatic black door, black lighting fixtures, a friendly welcome mat, and wooden barrels. Set plants on top of those barrels in spring for extra visual interest.