We've been looking for a good option for raised planters that were taller than some of our raised garden beds made with wood.
After plenty of scrounging around on the internet, we ended up deciding to use galvanized water troughs, also known as round end tanks, to fill these spaces in our yard. Check out how awesome these look in the garden:
We looked at buying them at the local hardware store but the markup was fairly high. After a bit of research, we found the following options online with free shipping and much better pricing:

123-gallon water trough is shown – $157 when we last checked, with free shipping. Showed up at our door in about 2-3 days.
The other one we purchased was a round version:
These arrived in a few huge boxes, which would be good for sheet mulching if you need them. I busted out my tools and drilled plenty of holes in the bottom for drainage, and placed them around the yard.

We ordered 3 tanks total – 2 oval and 1 round.
Here's what the empty trough looks like on our patio
We filled it with some compost, branches (for a lazy hugelkultur bed), aged chicken manure, and towards the top mixed in a couple of inches of potting soil.
15 Stunning Galvanized Water Troughs
Here are some more photos from around the web of awesome troughs and stock tanks in action:
1) Nice Placement of Galvanized Water Troughs
3 troughs in a row. Not much going on with the plants in these, but the placement looks great. Photo by Kane Jamison.
2) Galvanized Water Troughs Among Other Planter Types
Planter spotted outside of Seattle Tilth's demonstration garden. Photo by Kane Jamison.
3) Galvanized Water Trough With Succulent Plants
https://www.instagram.com/p/BIygXeRhNff/?tagged=galvanizedmetal
This galvanized trough is filled with small succulent plants. The metal acts as an insulator, keeping the plant roots warm.
4) Tri-Level Galvanized Water Trough Planter

One of A Year In The Yarden's 15 tips for trough planters is to build up, not out. Taking advantage of the vertical space in your garden is always a good idea, both for productivity and for the health of your back.
5) Galvanized Water Trough Planters For a Clean Look

The folks at GardeningInRaisedBeds.com also recommend metal troughs. This example shows how troughs could fit really well in a modern, clean-looking garden, set alongside stone pavers. One advantage of metal beds over wood or stone is that metal is going to be easier to wipe clean or even pressure wash. (Until the galvanized coating rubs off, and it starts to rust.)
6) Adding Galvanized Water Troughs To An Urban Farm
These standing galvanized water troughs create a welcoming atmosphere for this sitting area. The tubs are round making the plants easier to access.
7) Galvanized Water Trough Planter Beds Raised Even Higher

Erica at Northwest Edible Life asks if this garden in Williams, Oregon, is the most attractive veggie garden ever. These troughs sit on concrete blocks. This brings the soil closer to waist height for easier maintenance. Raising the beds onto concrete also keeps them from marinating in standing water after steady rain, which is all-too-common in the Pacific Northwest. If troughs sit in water too often, the bottoms could rust faster, though they'll still last for many years.
8) Flowers Looking Terrific

The reflections off this planter give the flowers a little extra pop, to my eye. Like any raised bed, these troughs will bring your flowers closer to eye level, which is where you really want them, right? Via Two Men and a Little Farm.
You Can Paint Galvanized Troughs
Andrea Crawford at CoutureHouseInteriors.com is one of the only people we've seen who has painted their troughs using Rustoleum's metal paints and it looks insanely good. When I found this on Pinterest I nearly hit 'order' on the paint on Amazon before I decided that the copper wouldn't fit well with our yard's style. But dang – hard not to get jealous of her garden looking through the photos.
9) An Alpine Garden

According to Matt Mattus of Growing with Plants, troughs were first used in Victorian England as a way to grow alpine plants in lowland gardens. Alpine plants can thrive if planted in shady areas where they won't get too much sun. If you're worried about the container getting too heavy, try filling it with empty plastic jugs at the bottom.
10) A Salad in a Trough

Shayla Groves, a graphic designer and homesteader in the tiny mountain town of Basalt, Colorado, bought this trough at a feed store and turned it into a small veggie garden. Once the tomatoes ripen, she can harvest a full salad right from the trough.
11) Small Flower Pot From A Galvanized Trough
https://www.instagram.com/p/BUxmsNoFs6A/?tagged=galvanizedmetal
This galvanized trough is the perfect size for a small planter. You can place galvanized troughs within larger garden beds to separate and prevent crawling plants from taking over your garden.
12) Trough Planter in a Parking Lot

Jean McWeeny of State by State Gardening wrote about urban folks and apartment dwellers using troughs as planters. This is outside an artist's studio; the artist wanted a splash of color. You can see why. McWeeny's piece also mentions that some people put water trough planters on their apartment balconies for easy access to cooking herbs.
13) Trough Planters as a Water Garden

The designers of NeoTerra, a passive-solar house in North Georgia, list a bunch of design concepts on their how-to page, including using metal troughs for a water garden. Many people use troughs for fish ponds, and why not? After all, with their durability, they're meant to hold water.
14) The Eclectic Landscape's Galvanized Troughs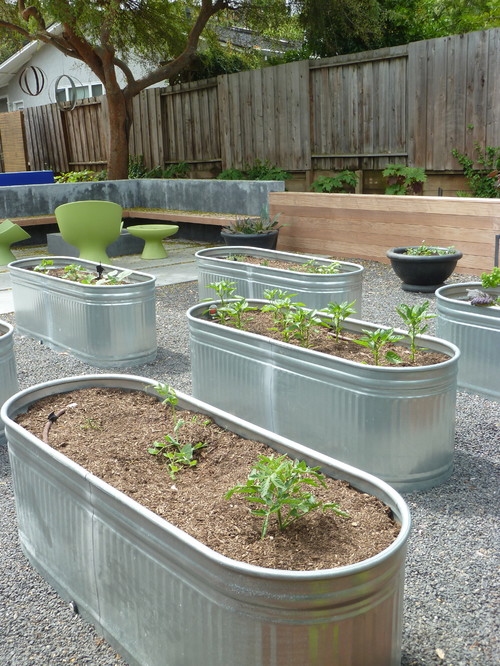 Designed for a family at Menlo Park in California, these trough containers are a perfect place for gardening. The designs and explanation of the project can be found on their page here.
15) Another Behlen Tank Customer

Hey, those look familiar—Andrea of Blueberry Hill Crafting bought the same tanks I did for her trough experiment. She bought nine of them and points out one really good benefit for people with rodent issues: the metal base of the trough will keep moles from devouring your plants. That's also of huge in Coastal areas like Seattle, where rats are common.
What Is Galvanized Metal Anyway?
It's pretty simple, just metal dipped in a solution of zinc (here's a cool 1:20 video of the galvanization process). The zinc prevents rust. It was probably first used on metal armor—a case in which rust protection was literally a matter of life or death.
https://www.instagram.com/p/BVz07H7A6bB/
Later, galvanized steel pipe replaced lead pipe in water systems, which probably saved plenty of lives too. Now, plastic is used, and builders recommend replacing galvanized pipes due to the risk of rust.
Though galvanized metal isn't used for pipes anymore, most metal products that are going to be exposed to the elements undergo galvanization. This includes ladders, balconies, and outdoor metal benches, among others.
Galvanized Metal Troughs Won't Last Forever
You can't stop the aging process for a metal planter anymore than you can for other types of metal. The galvanized coating will eventually wear off and the tank will start to rust. When this will happen is going to depend on factors like your climate, the chemical composition of your air and water, and the acidity in your soil. Some people report rusting after three years, some people say their tanks lasted 10 years or more. This chart gives an estimate of galvanized metal water trough lifespan based on climate zone:
The best cities for galvanized metal survival are those in rural areas with little to no air pollution. The worst are those in heavily-industrial areas. The American Galvanizers Association provided example cities for each area.
This message thread at HomesteadingToday has ideas about refinishing metal troughs. If you want a trough-esque planter or container that's going to last longer than that, you'll have to invest in a porcelain tub, or stainless steel. But, while your trough will begin to rust, that doesn't mean it's going to immediately collapse. There's a good chance some light rusting will look charming in your garden and have a longer lifespan.