Much of the glass we throw out is not recycled because different glass has different melting points and recyclers only melt the most common containers. Artists use old and new glass to create unique pieces of home decor.
Glass Bottle Windows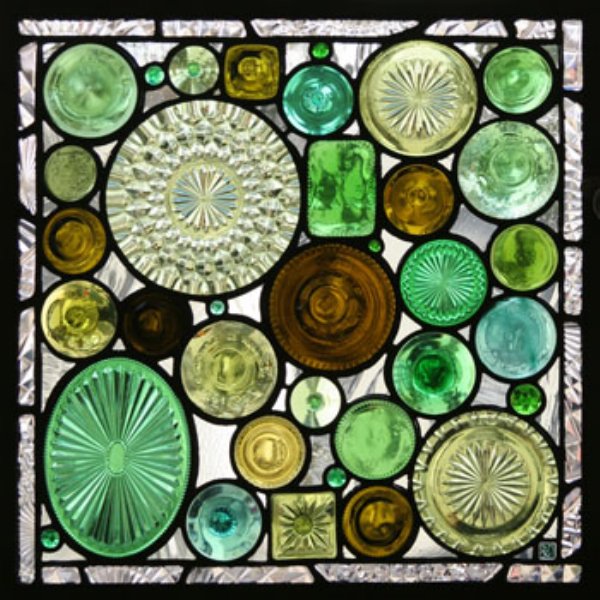 Hanging window composed of serving plates, wine bottle bottoms, stemware bottoms and faceted stained glass jewels. The background is a variety of textured handblown glass and the border is composed of several different patterns of pale lavender Depression glass serving plates.

The window is comprised of highly textured bottle, vase, serving plate and stemware bottoms along with a variety of antique pressed glass jewels and objects. The background is a variety of clear textured glasses and the border is composed of pale lavender "Depression Glass" plates. 26″ x 25″, $3,000.

This "Green Bottoms" window is installed in a home on Simmons Island, GA. To personalize the window, the client requested the inclusion of "sea glass" they found at the local beach. The addition of greenish blue plate fragments and jewels in the border give the window's color range an ocean feel.

Several medicine bottle remnants are blended into more typical food themes in this Massachusetts' kitchen window. The medicine bottles refer to this couples' careers in the health provider industry. The window is installed in a door that blocks the view of a brightly lit mud room.

Bottle bottoms and more… "Each panel contains vintage/antique glass from chandeliers, lamp parts, you name it. I am always scouring the antique stores and flea markets. I then foil each and every piece with copper foil and solder the panel on both sides. I use old window frames that I've also collected and replace the glass with the artwork I create."
Glass Bottle Art For Sale

Stained Glass Light Up Wine Bottles With Lights, handpainted by The Bottle Art Company, Santa Ana, California.

Handmade Stained Glass Window by Pieces of Home Mosaics in Baker City, Oregon. Uses stained glass, tumbled glass, and bottles.

A sold Gorgeous Stained Glass Panel from Recycled Bottles by Holli Boyle Stained Glass in Gary, Indiana. Made from recycled beer and soda bottles. "First, you have to drink the beer," says the artist 🙂 She still has other pieces of art for sale.
Recycled Glass Bottle Panels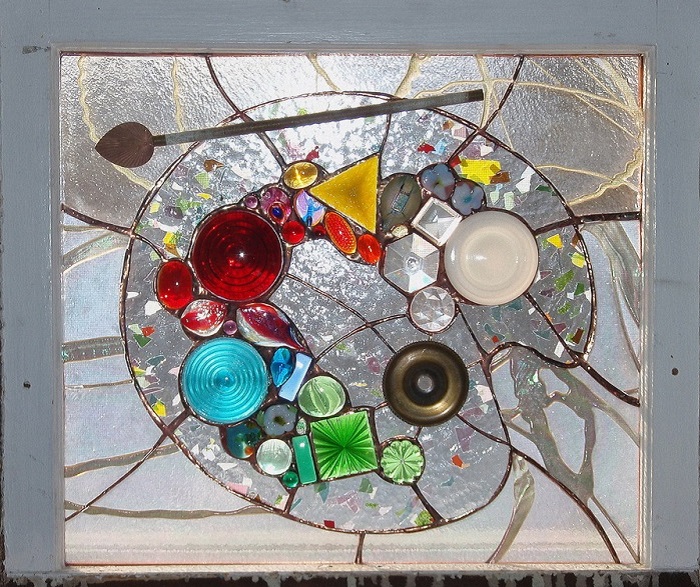 Alison sells work in numerous shows throughout the central states, check her website for show schedules. alisonsstainedglass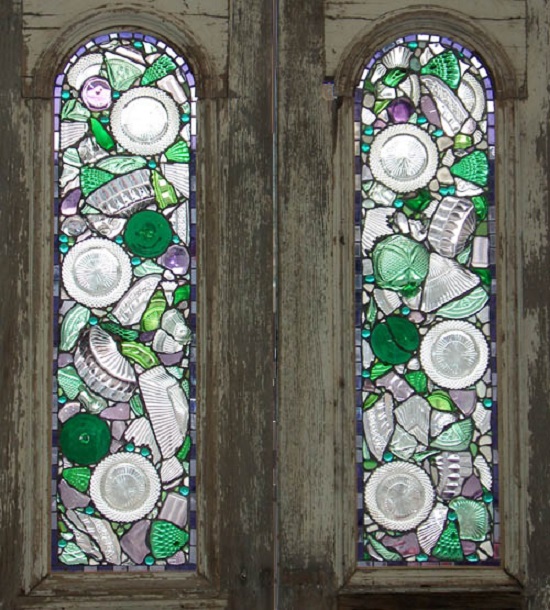 Recycled glass panels. By Kent Sandy Larsen. Similar pieces by Kent can be found on the Ear Of The Wind website.
21 Amazing Pieces Of Recycled Glass Bottle Art
1) Glass Bottle And Dish Tree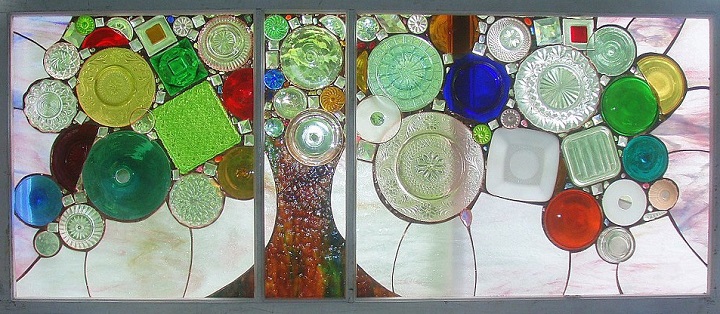 Glass Bottle and Dish Tree by Alison Fox, Illinois. Found at alisonsstainedglass.com.
2) Green Bottle Bottoms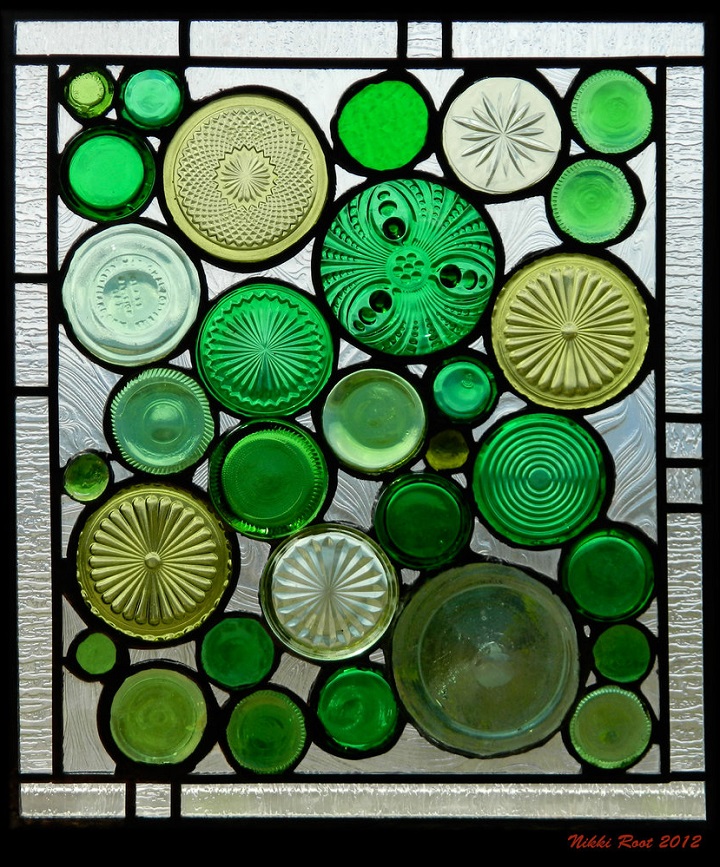 Green Bottle Bottoms by Nikki Root, Utah. Custom Glasswork: By Nikki showcases other unique recycled pieces of art.
3) Rainbow Ammonite Paperweight
This paperweight has a beautiful combination of orange and yellow glass. The slight hint of blue also helps to contrast the warmer colors.
4) Bottle Bottom Transom


A recycled piece named Bottle Bottom Transom by Nikki Root.
5) Mixed Bottle And Plate Bottoms

Mixed Bottle and Plate Bottoms by Nikki Root, Utah.
6) Bottle Bottoms In Blue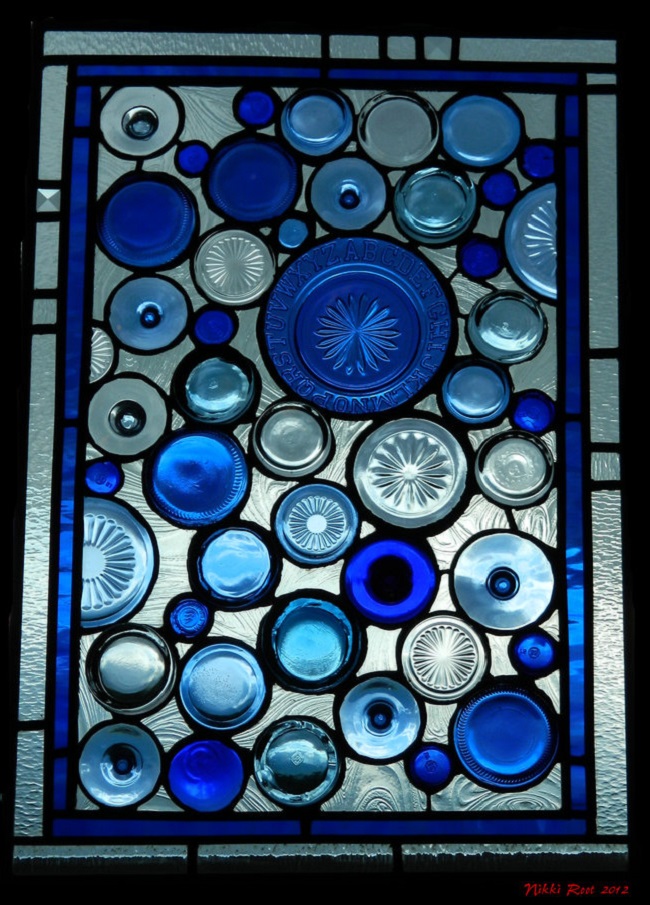 Bottle Bottoms In Blue by Nikki Root, Utah.
7) Recycled Milk Bottoms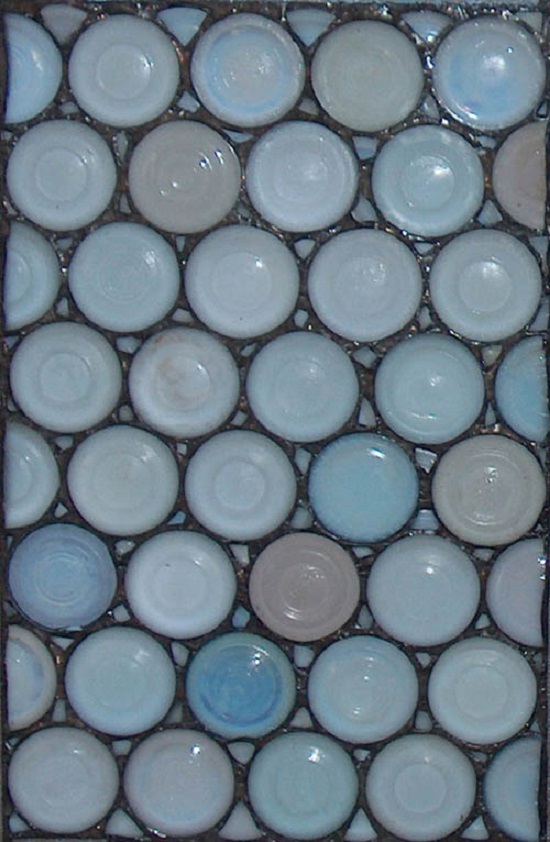 Recycled milk bottoms. By Kent Sandy Larsen. Originally found at earofthewind.com, you can look at more art by Kent here.
8) Glass Bottle Wall Art
Recycling both glass and wall paneling, this artist is beginning a piece with glass "leaves."
9) Recycled Glass Window


Three dimensional recycled glass window, 47 x 14″
"The sharp edges of the glass are ground down, copper foil is wrapped around the ground edges, and then the pieces are fit together and soldered. After the bulging form is designed and soldered, the window is anchored into the frame, flipped over, and the glass is built out and soldered in the opposite way to give it the undulating surface. Installed in Joshua Tree, CA. By Kent Sandy Larsen.
10) Window From Glass Beads And Bottles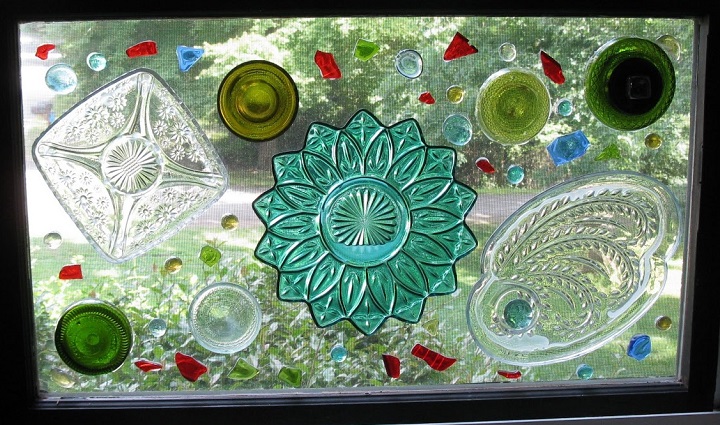 Recycled bottle bottoms, glass beads, sanded glass pieces and decorative glass pieces glued with E600 craft glue onto an old single pane window. By Teena Stewart. Was available to purchase at Marketplace.
11) Glass Window By Teena Stewart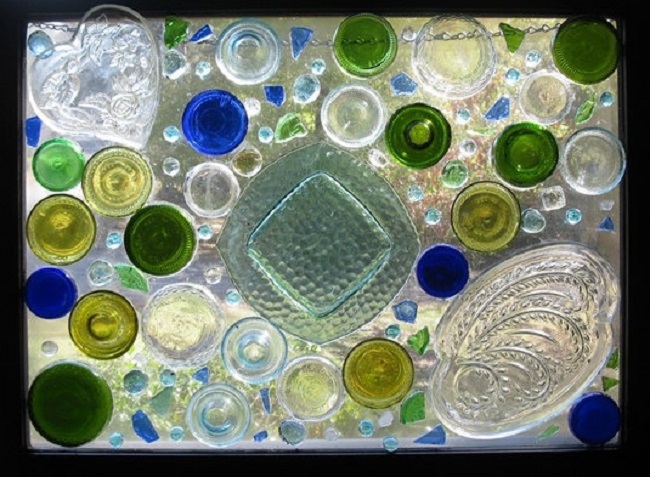 Recycled bottle bottoms, glass beads, sanded glass pieces and decorative glass pieces glued with E600 craft glue onto an old window. By Teena Stewart. You can purchase other work by Teena at Amazon.
12) 'Light Box' Table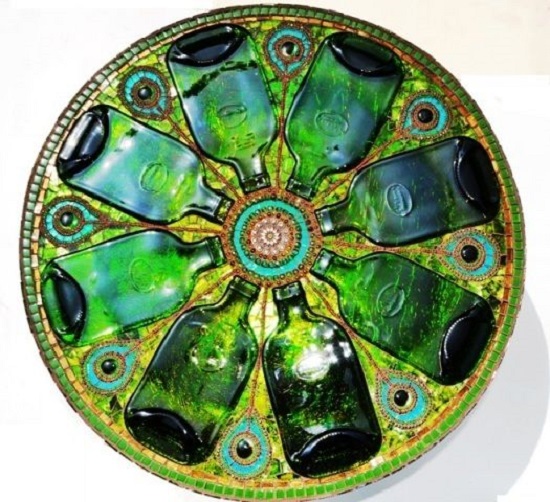 Mosaic, 'light box' table, with 'St Peters organic Ale, kiln fused, green bottles, 61cm wide. Antique, up-cycled wood table & recycled glass panel inlay, four LED strip lights, illuminate the Central panel and gems around the edge, very effective at night, magical!! By Nikki Ella Whitlock. To see more of her work go to nikki-ella-whitlock.co.uk.
13) Psychedelic Rose Window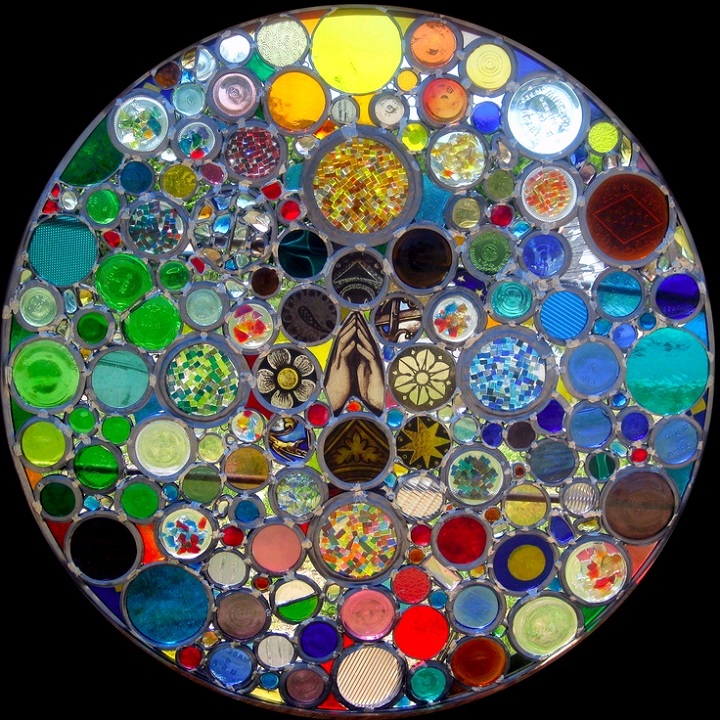 Recycled glass bottles and traditional stained glass form a four foot rose window. By Justin Tyner, Philadelphia. Some of his artwork can be found on Glass Artists.org.
14) Old Bottles #2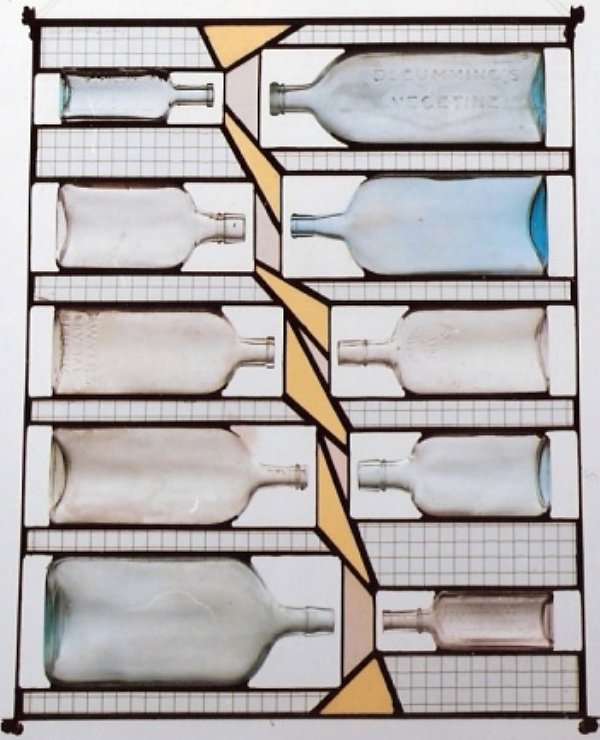 Old Bottles #2, 1992. Bottles, brass, 25″h x 20″w. By John Bassett, basglas.com.
15) Three Stalks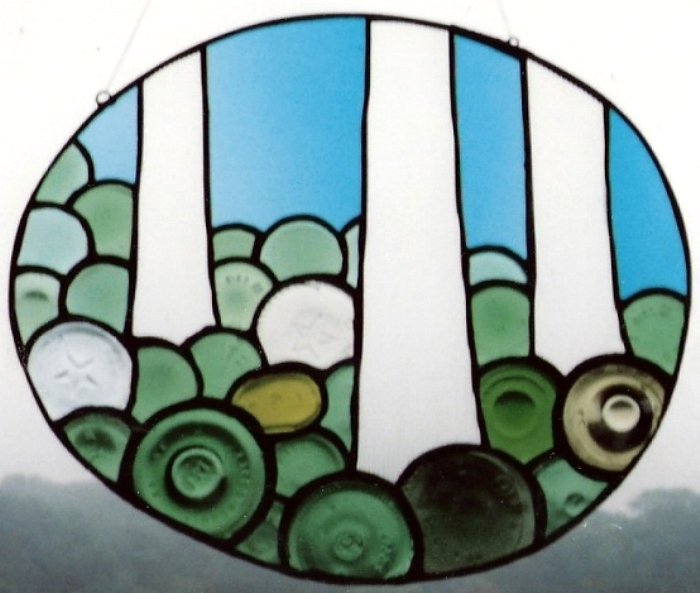 Three Stalks, 1981. Glass, brass, 15″h x 18″w. By John Bassett, also found on basglas.com.
16) Melted Glass Bottles
Melted glass bottles by Erwin Timmers. ecoglassart.com
17) Glass Bottle Border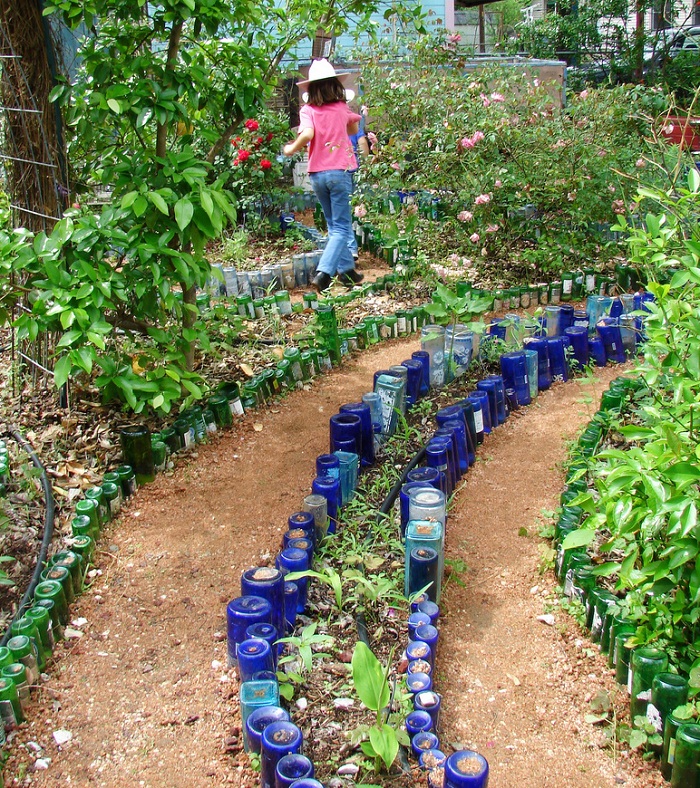 Glass Bottle Border at the Mano Poderosa Jardin. Image by Dee Kincke. flickr.com
18) Up-Cycled Glass Bottle Garden Edging

Glass Bottle Border in garden! More pictures here: thegreenbacksgal
19) Small Glass Sculpture
Blue and white pieces of glass combine in this beautiful piece by Tony Cavallero.
20) Beer Bottle Walkway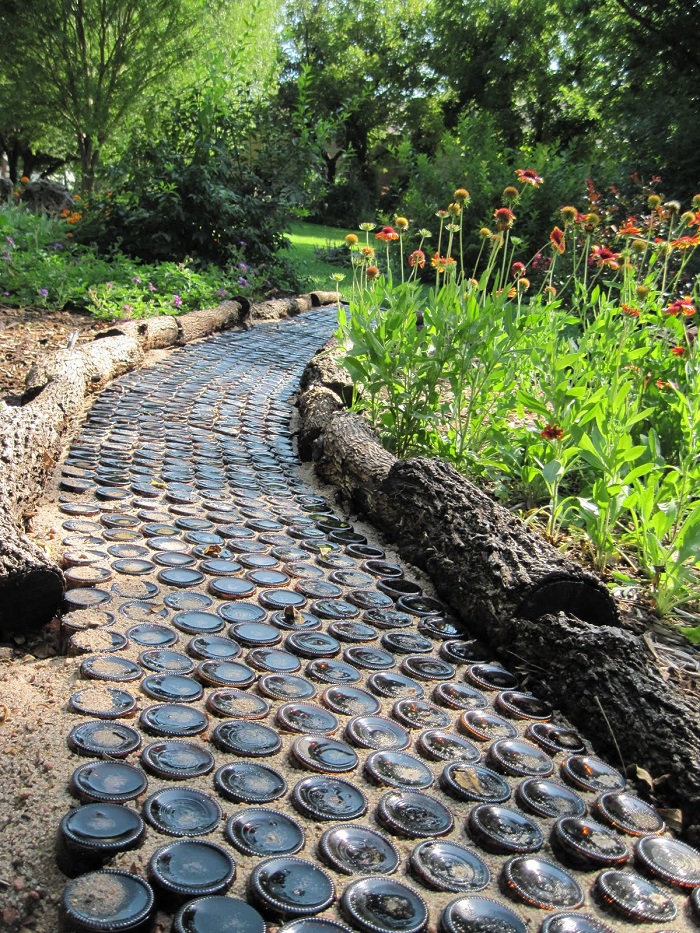 Beer Bottle Walkway by pammiejoandfriends, Kansas. 750 bottles created 15 feet of path. pammiejoandfriends.blogspot.com
21) Hanging Flower Vases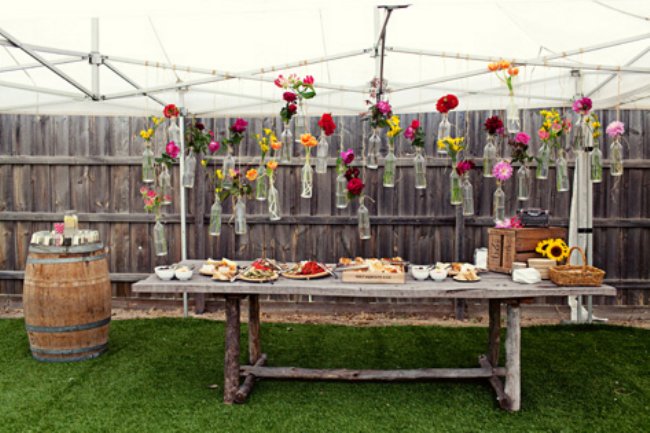 Hanging glass bottle flower vases. Super wedding decoration idea. See: www.eatdrinkchic.com
Recycled Glass Bottle Lamps

Recycled glass lamps (note the upside down wine bottles) by Whimsical Wonders: Darla Murray and Bridget Smith via: almosteveryword.blogspot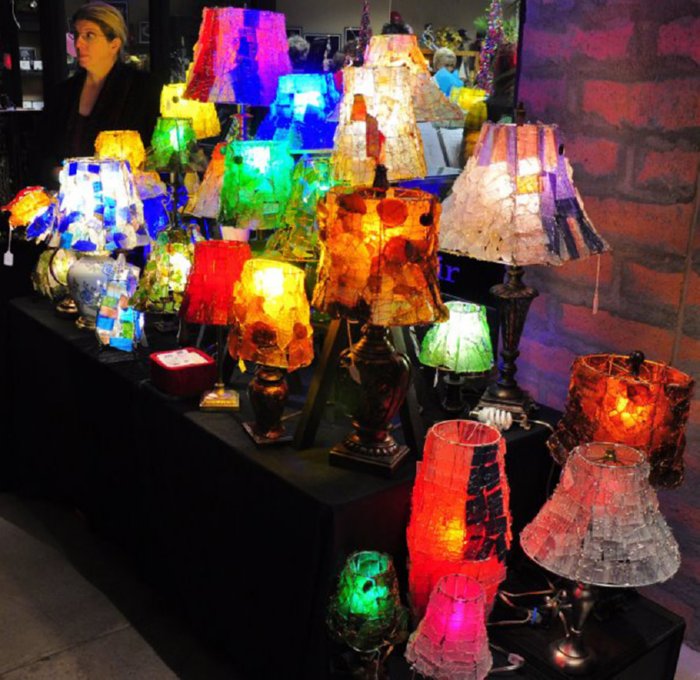 "Relite" lamp shades made from recycled glass, stained glass and or, fused glass.
The glass is broken up and put in a rock tumbler and/or kiln to get the effect.
Light blubs are CFL or LED. They were $35 – $90. Now you can view or contact the creator Mellony Ballard at berriecreative.com

'Relite' recycled glass lamp shades on reuse bases. Other projects by Berrie Creative can be found on their FaceBook page here.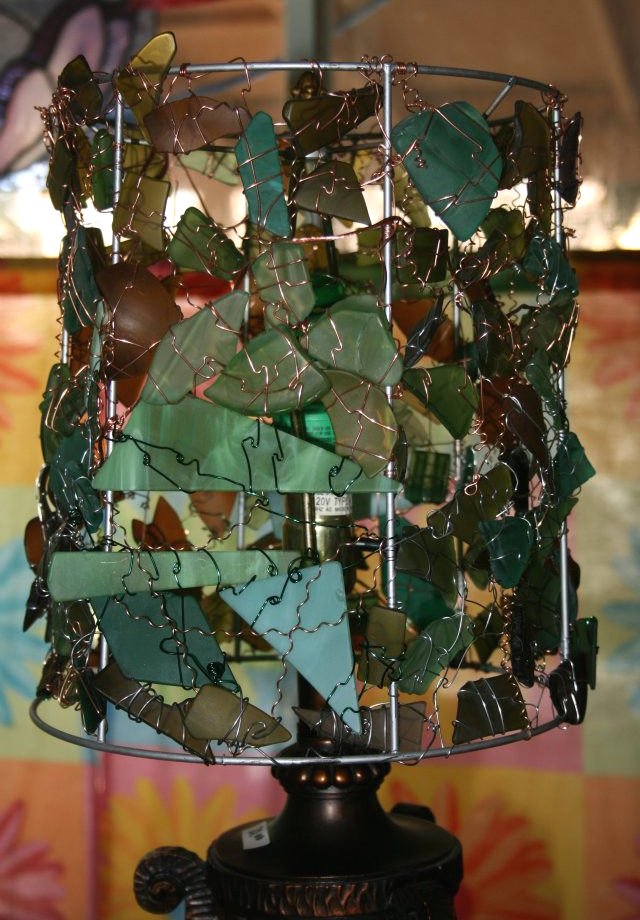 Close-up of a Berrie 'Relite' – Love it! As seen on facebook.com/berriecreative.

Recycled hanging glass lamp by Wolf Art Glass & Pottery,
Austin, Texas: wolfartglass.com. You can find similar lamps on Etsy.
---
Recycled Glass For Your Garden: All 5 Stars On Etsy
Hand-Painted Hummingbird Feeder

This specific rain catcher is sold, but Storm Dancer Designs has others available here.

Recycled Bottle Air Plant Holder (style may vary slightly)

---
Recycled Glass Bottle House

Manuel Rapoport has built a house in Bariloche, Patagonia, Argentina with 100% recycled ingredients. Tin cans for roofing and siding and merged whiskey bottles as windows. designopatagonia.com
Recycled Glass Videos
How to make bottle cheese plates
The bottles are carefully put in a kiln, slowly heated to temperatures around 1400 degrees, cooled, and turned into cheese boards, spoon rests, etc. glassbyerica.com
How to make a glass cup from a bottle
Although the video maker used a torch and electric grinder, you can do it with just a glass scorer and sandpaper.
Glass Bottle Lamps. How to: instructables.com
The Best Recycled Glass Books
Sculpture and Design With Recycled Glass by Cindy Ann Coldiron, features 40 artists and 125 sculptures in an exploration of the use of recycled glass as a medium for sculpture and creative design.
Recycled Bottle Lamps: Instructions, Project Ideas and Inspirations by Nicholas Jager and Silke Jager.
Why Use Recycled Glass?
Glass recycling turns used glass products back into "new" glass products. By some estimates, recycling glass uses 40% less energy than creating new glass from silica sand, lime and soda ash. Recycled glass also creates about 20% less air pollution and 50% less water pollution.
Glass recycling is a much more efficient process than plastic recycling, since plastics are usually "downcycled" into a lower-quality form of plastic. Plastic water bottles, for example, cannot be recycled into new plastic bottles, but glass containers can be recycled indefinitely into new glass containers.
When glass is recycled, it is cleaned and separated by color. All other items, including plastic and metal caps, are also removed. Recycled glass is then crushed into a mixture called cullet, which is then sold back to glass manufacturing facilities.
Recycling glass:
Saves raw materials – Over a ton of natural resources are conserved for every ton of glass recycled.
Cuts CO2 emissions – For every six tons of recycled container glass used, a ton of carbon dioxide, a greenhouse gas, is reduced. From: gpi.org
Glass That Is Not Recyclable
Window glass, mirrors, glass cups or tumblers, ceramic, Pyrex, colored glass (other than green and the amber that beer bottles usually are), light bulbs (hardware stores may take light bulbs), windows and windshields, aren't generally accepted by local recycling centers. That's because these different glass products have a different melting point from container glass, so that your local recycling center may not recycle them.
Yet, some recycling centers send their glass to cement producers, where the glass is crushed and used as filler in cement products. One needs to contact one's local recycling center to find out what kind of glass it recycles.