Outdoor thermometers have been a staple in gardens and backyards for years. Not only are they functional and helpful, but they are a beautiful addition to your outdoor decor. There are both vintage and modern options, all of which can bring your own personal touch to your backyard.
Moon Phase Outdoor Thermometer
With this thermometer, you're really getting three in one! Tell time, temperature, and moon phases with this clock that is created for indoor or outdoor uses. Even better, this clock is made out of recycled plastic bottles, so this is a sustainable purchase, too!
Find it at ashortwalkltd On Etsy
Vintage Coca-Cola Outdoor Thermometer
Rewind to the 50s with this classic Coca-Cola outdoor thermometer. Ideal for collectors and garden enthusiasts alike, it's a medium-sized thermometer at 12 inches in diameter and is made out of tin and metal.
Find it at NineTenthLiquidation On Etsy
1960s Vintage Indoor-Outdoor Thermometer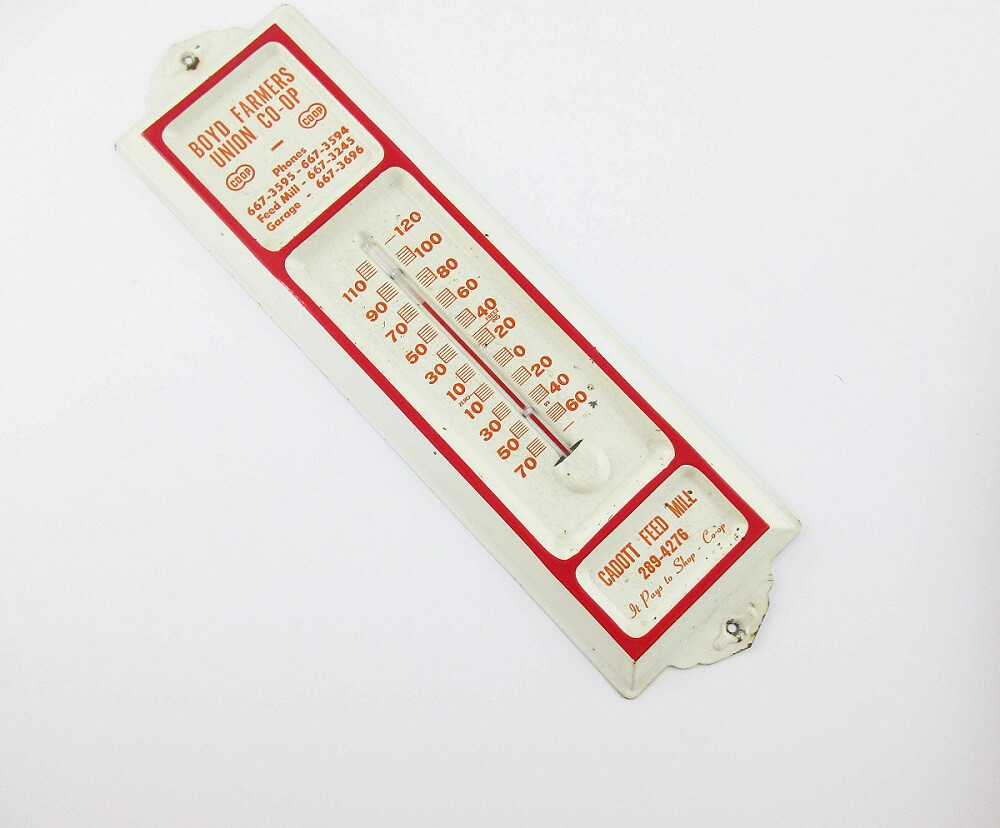 Another throwback to yesteryear, this vintage 1960s thermometer was originally an advertisement piece for a co-op.
Find it at TheBrownSuitcase On Etsy
Rustic Leaf Outdoor Thermometer
Laser cut from steel with a design that is inspired by retro thermometers, this thermometer is suitable for both indoor and outdoor uses. The green-thumb friends in your life will love the leaf-esque design.
Find it at All15Designs On Etsy
Retro Round Outdoor Thermometer
For a round modern-meets-retro look, check out this thermometer. The rustic pattern and coloring is handmade and brings a bit of an old-school country vibe to your backyard or garden.
Find it at All15Designs On Etsy
Vintage Round Frog Outdoor Thermometer
This charming thermometer reminds me of one of my favorite book series growing up: "Frog and Toad"! This is a vintage thermometer that might need a little love to return it to its former glory, but it will easily become your favorite backyard accessory.
Find it at moldyoldies On Etsy
Celtic Knot Outdoor Thermometer
Made of recycled aluminum, this traditional Celtic knot thermometer is available in either a copper color or a black gold color. Celtic knots symbolize the interconnection of all things; what a wonderful sentiment for the garden!
Find it at SandCastAddressPlqs On Etsy
Cast Iron Tiffany Blue Bird Outdoor Thermometer
Nothing says charming and shabby chic like the color robin's egg blue and cute, decorative birds. Hand-painted and made of cast iron, this thermometer is as functional as it is eye-catching.
Find it at 3LittleBirdiesForTea On Etsy
Vintage Rainbow Outdoor Thermometer
Charming and vintage, this rainbow thermometer will bring some whimsy to your garden or backyard.
Find it at CoolInKitschy On Etsy
Antique Cast Iron Thermometer
The oldest thermometer on the list, this Victorian-style thermometer is from the 1940s and made of cast iron. Weathered perfectly for an antique, vintage vibe, this thermometer is definitely one of a kind.
Find it at PuzzlersBrainFood On Etsy
Vintage Land O'Lakes Outdoor Thermometer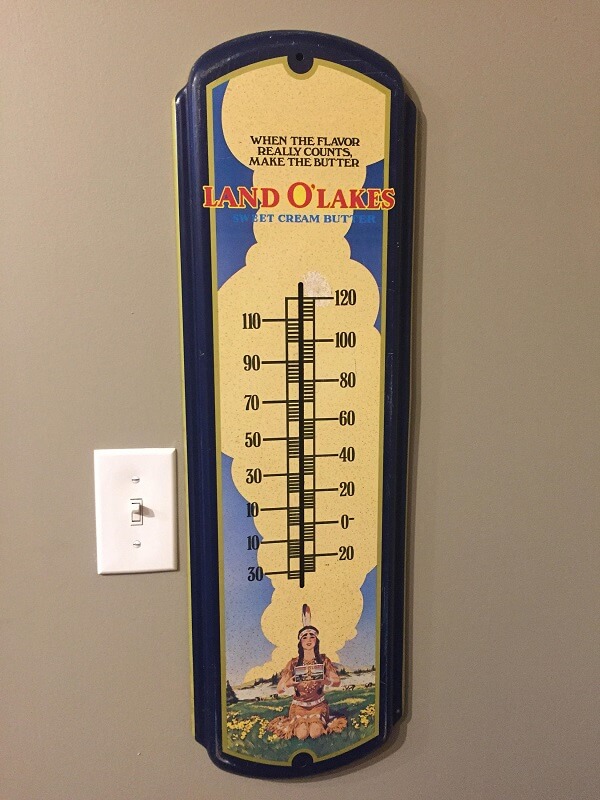 There's something about old-school promotional items that is just super charming!
Find it at JoyfulTreasuresDecor On Etsy
Vintage Raccoon Outdoor Thermometer
I might be biased because I'm obsessed with cute cartoon raccoons, but this is my favorite on the list. It's vintage, charming, and will fit right in your garden. Keep in mind this thermometer isn't functional anymore, but with a little ingenuity, you can replace it.
Find it at collectorsmecca On Etsy
Copper Finish Garden Thermometer
Available in copper, brass, bronze, and satin nickel, this is a traditionally styled thermometer that is sure to stand the test of time. The thermometer reads in both Fahrenheit and Celsius, so it will work for wherever you call home!
Tree Of Life Outdoor Thermometer
An elegant option that features the tree of life, this thermometer works well for both indoor and outdoor applications. This thermometer is coated with an all-weather coating, so if you are using it outdoors, it's sure to resist weathering for years to come.
Outdoor Clock, Thermometer, Hygrometer
Perfect for a vineyard, or just the wine enthusiast in your life, this 3-in-1 option features a thermometer, clock, and hygrometer. Crafted with rust-free metal alloy, this outdoor thermometer is going to be a staple in your garden for a long time.
Monogrammed Outdoor Thermometer
A traditional style available in copper or French bronze, this thermometer has a personal touch that is sure to stand out on the family homestead.
Medallion Outdoor Thermometer
Add a modern flair to your backyard or garden with this medallion outdoor thermometer. Don't be afraid to leave this one outdoors; it's covered with an all-weather coating.
Outdoor Grapevine Dual Clock Thermometer
Whether you want to use it in the garden or the kitchen, this dual clock and thermometer option is available in copper or bronze.
Time And Seasons Thermometer
Feel at one with nature with this outdoor thermometer that's available in copper or bronze.
Mosaic Clock Thermometer
For a more colorful, artistic style, check out this mosaic thermometer. The deep blue colors will contrast well with your blooming garden!
Fruit Bird Outdoor Thermometer And Clock
Another dual clock and thermometer option, this fruit tree and bird design is a perfect match for a garden setting. Bonus points if the garden features fruit trees!
Classic Extra Large Outdoor Thermometer
Looking for a no-frills thermometer? Check out this classic white outdoor thermometer that is functional and easy to read.
Palm Tree Outdoor Thermometer
Are you always on island time? Check out this palm tree thermometer that brings a bit of the tropics to your backyard.