Your bathroom may be the least appealing room in your house by definition of purpose but that doesn't mean that it can't serve as an oasis of peace and solitude! While many aspects of your water closet determine exactly how appealing it is, there is no denying the power of the bath mat in setting a tone of design and usefulness as your bathroom's centerpiece.
If you're ready to make both the world at large and your bathroom, in particular, a better place, here are five awesome eco bath mats.
1. Old Towels, New Bath Mat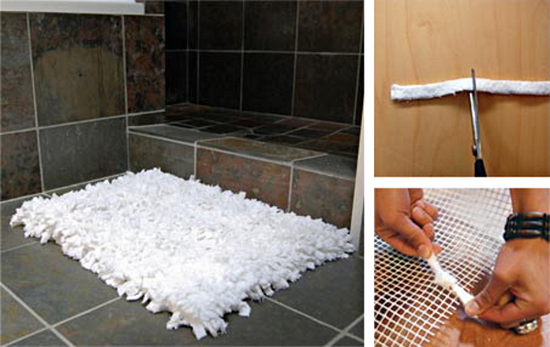 As bath towels age and become unusable for their intended purpose, they typically end up as either trash or cleaning rags in most households, but did you know that there's another option? Using a simple gridded liner and a series of cut-up old towels, you can easily weave yourself a beautiful and highly water absorbent new bath mat that is as comfortable to stand on as the towels it's made from were to dry off with! You can even control the thickness of the bath mat by choosing how tightly to weave the towel fragments, giving you an endless array of sizes and colors to choose from.
2. Stone Bath Mat
It won't turn your bathroom into a literal day at the beach but a homemade stone bath mat can certainly lend a wonderful outdoorsy appeal to every visit! Created by using a simple wooden frame and gluing suitable rocks inside, this bath mat offers a beautiful and unique look while, assuming you've been careful to collect rounded stones, being very comfortable to stand on as well.
3. Wine Cork Bath Mat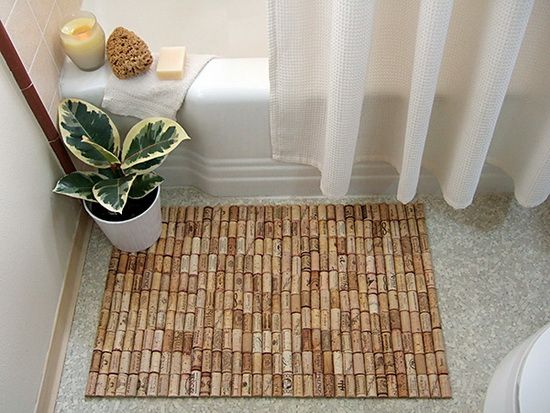 This unique homemade bath mat requires minimal supplies and work while producing a fantastic looking mat that does a great job at reducing water on the floor as well! Requiring about 200 wine corks, some tough glue and a plastic liner for the bottom, you can easily construct a beautiful and highly functional bath mat in mere minutes! It is also worth noting that wine corks, because of their porous nature, offer innate anti-fungal properties, helping to keep your bathroom cleaner even on the microscopic scale of unhealthy bacteria.
4. Teak Wood Bath Mat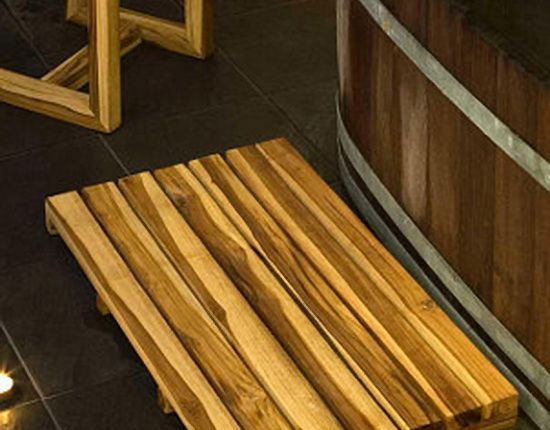 Give your bathroom the look and feel of a professional spa by building a simple bath mat from teak wood, a firm yet pliable wood that is both easy to work with and comfortable on sensitive feet. Known for its deep amber hues and its ability to dry quickly, teak wood makes for a perfect choice in bathroom materials, giving you a mat that achieves excellence in both look and functionality.
5. Organic Cotton Bath Mat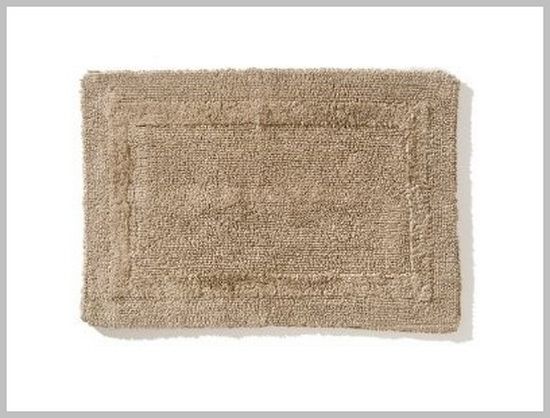 If you prefer the traditional western idea of cotton bath mats and simply don't have the time to commit to a DIY project, consider upgrading your bathroom with a plush organic cotton mat.
Made from bamboo, a highly sustainable resource, organic cotton bath mats are able to provide a beautiful centerpiece to your bathroom while presenting your feet with a comfortable place to land every time you need it. The ultra-drying powers of bamboo also come into play here, making organic cotton bath mats quicker to lose their moisture and so less likely to harbor the nasty germs and bacteria that typically come with its territory.
There are plenty of cool eco-friendly options for your apartments that will make your life much easier and more fun. They will save you money and help you turn your old stuff into something functional and useful!
Are you aware of any other cool bathroom hacks? Please let us know!