There's nothing cozier than curling up beside a crackling fire, the orange glow warming both body and spirit. We must have some sort of innate programming wired in our minds that draws us to fire, and it stands to reason why we brought fire into our homes as soon as we could figure out a way to do it. Even now, the wood stove is a homesteading and back-to-the-land fixture, nearly synonymous with our backyard chickens and garden spaces.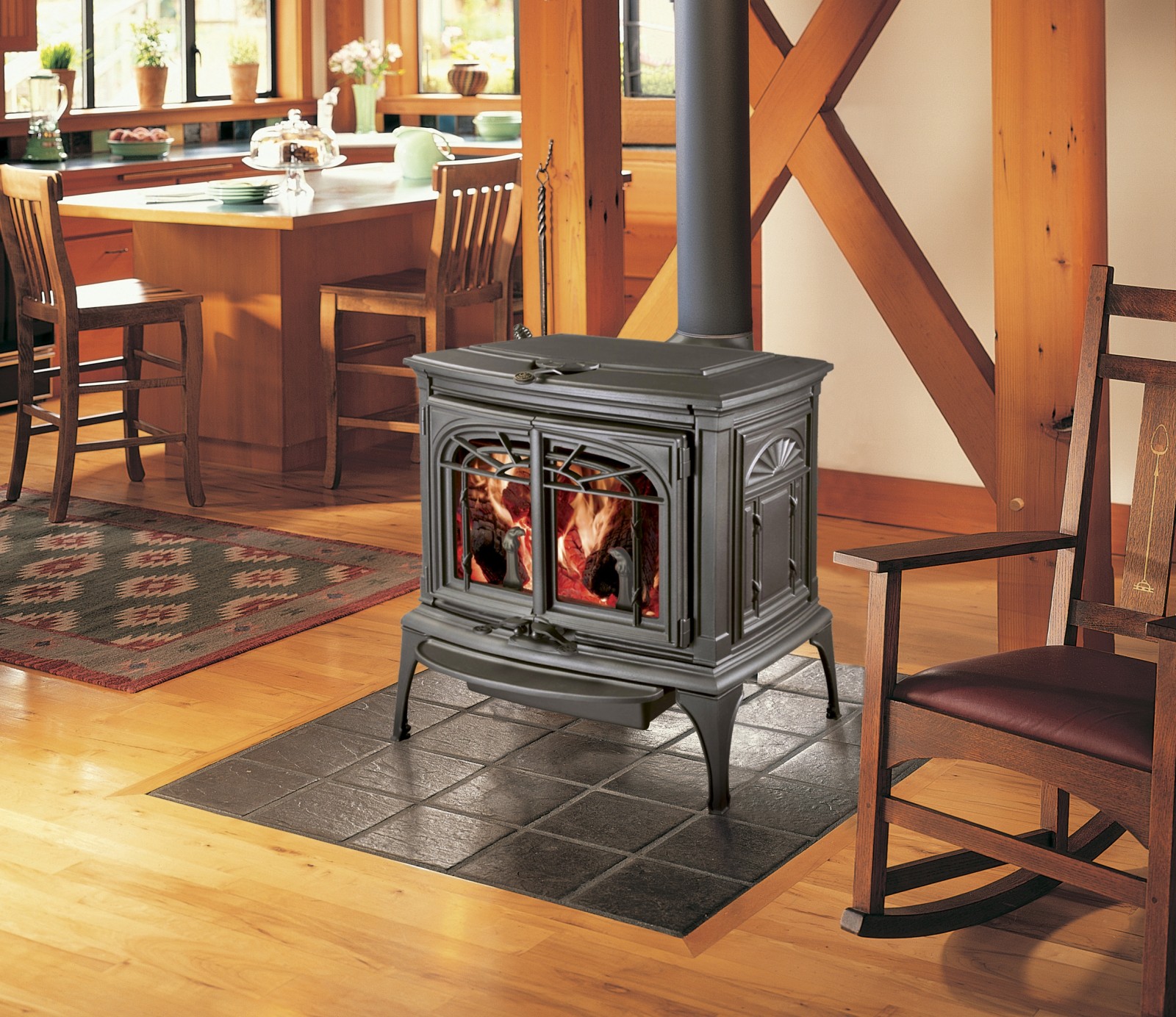 When wood stoves are pictured in magazines or online, they are absolutely, immaculately beautiful, often with a picturesque pile of cordwood in a decorative basket, and a rocking chair with an afghan arranged just so. Anyone who actually uses a wood stove to keep their home warm through the winter stifles a laugh. We all know that our wood stoves never look like that, not even on a good day.
So this article is for all you off-grid home warmers who have learned (or are about to learn) what the messy reality looks like when you use a wood stove to warm your home.
A Day Using Wood Stove Heat
If you use a wood stove to heat your home, the first order of business is accepting that mornings are going to be cold until you get your home's beating heart started. If there are still embers left over from yesterday, you could use them to wake the little flame. If you have an ember-keeper, sift the ashes from the glowing jewels and stow them in a metal bucket where they can cool slowly. As you shake and scoop, tendrils of ash inevitably escape and make it to the floor.
If the ashes are completely cool, scoop the wood stove empty and get it ready for the day's first fire (cue more airborne ash). Carefully lay out your kindling, place your fatwood in place, and strike a match. Soon enough, after a little fire-side splitting with a hand-maul and some flying woodchips, you'll have your nascent fire crackling again.
Due to your good forethought, there's ample fuel stacked near the wood stove, perfectly dry. That'll feed the warm flame and truly get it established for the morning. As always, there are bits of bark left behind, and maybe some stray leaves and sawdust.
Throughout the rest of the day, you'll likely need to keep fuel coming from the woodshed to feed the ever hungry, red-orange glow. Venture out into the snowy world, then return, red-nosed, back to the warm house with a load of wood. You'll have to stamp the snow from your boots, and get the potentially snowy load next to the wood stove to dry.
By the end of the day, the floor and fireside rug will inevitably be strewn with a melange of sticks, bark, sawdust, ashes, soot, leaves, an escaped bark beetle grub, a rudely awoken spider, and bits of melted snow. What's the best way to manage this?
Fighting the Mess
My first year with a wood stove was back when we were only practicing and dreaming of homesteading while stuck in the city. Though my husband helped all the time, I knew that cleaning and maintaining the home was largely my responsibility. So with a broom and mop, a vacuum, and a grim look on my face, I attempted to do battle with the wood stove and its endless deluge of floor-gritting mess. The casualties were immense. No matter how much I dusted, there was always more ash. No matter how much I swept, there was still sawdust and bark when the wood stove got loaded again. No matter how much I wiped, there was always a stray bit of snow-puddle. I vacuumed daily, and quickly learned that typical domestic vacuums don't like eating ashes and wood bits. I tried valiantly to make it look like we had the sort of wood stove they showed in all the homesteading magazines — perfectly dusted, a shiny floor, and not a speck of bark to be seen.
It was impossible. Halfway through the first winter, the vacuum cleaner waved the white flag, a horrible Lake Erie-spawned blizzard had my faithful husband reloading the wood stove on the hour to keep us warm, and I sank into a domestic despair. I couldn't make my home look like the photos, nor could I make it look like my friends' homes (never mind that they didn't have a wood stove). Comparisons with such unrealistic ideals sucked all the joy out of the wonderful fact that my home was independently warm. I believed that my endlessly ashy, sawdusty rug accused me of housekeeping failure every time I saw it.
Accepting the Mess
Fast forward a few years to when we made the move to the Ozarks, and had a homestead of our own. There were gardens to tend, animals to care for, homes to build, meals to prepare, and homeschool lessons to teach. Our home was no sterile show piece — it was a living, breathing laboratory and home base for learning how to live off the grid and regain the self-sufficient skills that our ancestors once knew. Life was messy, but it was full and rich.
And when the winters arrived, in came the familiar ash, bark bits, and bark beetle grubs untimely disturbed. By this point, I had a new perspective on what it meant to live in a good home (even if it wasn't spotless). Our home was too lived-in to be perfectly clean — there were winter squash stored on the floor, garden tools getting cleaned and dried on a tarp to the left, jars of dried goods on the right. Among all that, the unrelenting tide of material that accumulated around the wood stove daily wasn't an issue — it meant that all my husband's fuel collection through the previous year was keeping us warm.
I now knew could accept a relentlessly dusty shelf, sawdusty carpet, and a spider in the corner, and still be happy for the much more important fact of cozy comfort. In fact, cleaning the daily winter mess became a characteristic of the season, just as much as the daisies in spring, tomatoes in summer, and south-bound snow geese in fall. Though I do my best to maintain our home, I now accept that it can never be immaculate. And that's good, because I have more important things to do!
How to Maintain During Wood Stove Season
My advice and tips are really intended for the fledgling homesteader who is just realizing how needfully messy life with a wood stove can be. Anyone who has lived with a wood stove for some time has already figured out their own methods to manage the madness.
Sweep up every night
Modern vacuums really were not meant for off-grid homes. I have found instead that sweeping the floor and rugs with a broom every night does an acceptable job keeping the sawdust and wood bits to a manageable level. Once a week, I roll up the rugs and sweep the fine-filtered dust that has percolated through the rug to the hardwood floor. Now, it won't be perfect, but honestly … when more bark, dust, and ash are going to arrive in the morning, perfection is not practical in the first place.
Have rugs by all doors
A dedicated set of rugs by every entrance to the house cuts down on melted snow and detritus in an amazing way. They're easy to roll up and beat outside, too, keeping the damp house mess to a minimum. That said, there will be the occasional blizzard when it's impossible to avoid snow coming in with the wood. But when you realize that you have an independent source of warmth that's not dependent on the ice-covered power lines, isn't that worth a puddle or two to mop up?
Don't go crazy with the dusting — so dusting doesn't make you crazy
No matter how careful you are with removing ashes every morning, it's impossible to get rid of airborne ash entirely. Even if you dust on a daily basis, the dust will be back in 24 hours, guaranteed. I recommend dusting once a week (unless the in-laws are visiting, of course). The reason isn't laziness, but a preservation of air quality — since you can't air out the house by opening the windows in the winter, maintenance-level dusting keeps things under control without filling the air with ash-dust.
Wait Until Spring
Now, all the easygoing tips I've given may make the cleaning warriors twitchy, but bear in mind, these are tips for getting through the winter, not the year. Once the wood stove has done its winter duty, flowers are blooming, and birds are singing in the bright-green treetops, all your repressed cleaning rage may be finally loosed! They don't call it spring cleaning for nothing, after all.
In our house, the first day we can open the windows and doors and let the spring air come in is a wonderful, dare I say joyful time of cleaning. Spring is the time for getting the dust off the shelves in earnest, sweeping behind that wood stove, getting the last bit of sawdust out from under the easy chair, doing a nice, wall-to-wall mopping, and getting those rugs truly clean again with the long-forestalled beating and vacuuming.
Give thanks for heat
Part of accepting the mess of an active wood stove is choosing to see the big picture, not the ever-changing state of cleanliness of your house. That broader perspective includes seeing your off-grid heat as a blessing and a security. I find that gratitude is a wonderful antidote to a bad attitude.
So if the state of your living room rug has you feeling frustrated and unsuccessful, take heart. A wood stove is a big step towards embracing the independent and sawdust-filled reality of an active homestead life. Life that is so much more than a picture-perfect magazine home of immaculate white couches, just-so afgans, and bowls full of decorative balls.