There's something about a dining room table that suggests so much more than a practical piece of furniture. If you look carefully, you can almost see the story being told. The faded spot where the stain has worn off at the head of the table where Dad always sits with his coffee and his newspaper.
Or, the deep scratch from that time Mr. Whiskers went after the baked chicken and Mom yelled for him to get down. It made her angry at the time, but now it's that funny story about the time "Mom got mad at Mr. Whiskers for being on the table because he was trying to eat the chicken, and he clawed this huge scratch into it". There's the squeaky table leg that everyone complained about but no one was sure how to fix, and now has become such an ingrained part of the character of the table that no one would want to.
Dining Tables From Upcycled Materials
I love imagining the stories of the lives that have been lived around a dining room table. A close friend of mine has a set that is over 100 years old. I imagine the people who have grown up having their meals there, the children who are eating where their great-grandparents ate, the different houses this furniture has been in, and the changing of the times that the table has witnessed.
Salvaged Barn Wood Dining Table
Reclaimed barn wood is popping up everywhere, and this piece shows us why. Combining rustic and modern elements, this table could fit in virtually anywhere.
Recycled Rectangular Table
Made of recycled Douglas Fir hardwood, this table suggests large family dinners and a fierce game of Monopoly.
Reclaimed Wood and Iron Table
This rustic dining table is made of rough-sawn planks and iron. The understated elegance allows its artistry to shine through.
Round Dining Table
The tongue and groove craftsmanship that creates this table really shows off with 80-year-old recycled Douglas Fir hardwood sourced from Northern California.
Farmhouse Table
This large farmhouse table, made of recycled pine, is what dinner party dreams are made of.
Recycled Square Dining Table
When fostering conversation is important, find a square table. Better yet, find one made of recycled wood that seats eight friends.
Vintage Door Dining Table
For those for whom a traditional table just won't do, consider a table made of vintage doors. One-of-a-kind, colorful, and fun!
Buy it at Trash Studio on Etsy
Glass-topped Dining Table
The reclaimed wood trestle provides a nice juxtaposition against the glass top.
Buy it at JS Reclaimed Wood on Etsy
Reclaimed Wood and Metal Table
The scratches and dents in this table already tell a story, one that will continue as you create your own memories around it.
Buy it at Atelier Eben on Etsy
Plantation Table
Crafted of reclaimed pine wood sourced from rural villages in China, this artisan table is hand made and hand finished.
Natural Wood Dining Tables
The dining room table I grew up with is still in my parent's home and is still the table we gather around when my large family gets together. It was crafted by my father as a younger man, and the sturdy, shaker-style table has seen more than just thousands of meals. It's been the gathering place for three generations now; it's been the site of wedding planning, baby announcements, news of the death of loved ones, and sharing a scary diagnosis.
Live Edge Rosewood Dining Set
Enjoy the earthy, yet rustic elements of this live edge Rosewood dining set large enough to seat eight.
Pine Dining Table
Clean smooth lines and solid pine make this table and benches a warm, welcoming addition to any dining room.
Aspen Dining Table
Whether or not you actually live in the mountains, this table is likely to inspire you to throw on some snowshoes. Which, for those of you in southern California may be difficult to explain to your neighbors.
Rustic Pine Table
This rustic pine table blends rugged wood with a contemporary style, giving a high-end feel to your dining space.
Live Edge Walnut Dining Table
When a natural wood, one-of-a-kind piece is all that will do, you can't go wrong with a live edge table.
Buy it at Napa Valley Hardwoods on Etsy
Cedar Dining Table
A custom, cedar farmhouse table perfectly blends rustic with cozy.
Buy it at Port Wood Works on Etsy
Acacia Wood Dining Table
Understated elegance and a clean finish, this Acacia wood table is sure to be that staple you don't know how you ever lived without.
Industrial And Urban Dining Tables
Whatever table is invited to be a part of your story, and whichever tables you're invited to be a part of, what matters is not so much the beauty of the grain, the shape, or the style, but the memories being created around it.
Reclaimed Wood and Chrome Table
Urban meets country in this contemporary styled table. Topped in weathered, gray wood, and accented with chrome legs, this is sure to be a conversation starter.
Industrial Pipe Leg Table
Crafted from industrial pipes and recycled pallets, this table, and matching chairs, are not only functional, they provide a unique focal point for the room.
Buy it at La Pallet Creations on Etsy
Contemporary Wood Dining Table
Perfect for everyday, and small enough to work in most spaces.
Metal Dining Table
Made entirely of metal, this industrial set has a bit of vintage charm.
Industrial Style Dining Table
This dining table is the perfect combination of industrial and class.
Pine and Metal Industrial Table
When you have a small space but need a table that makes a statement, this is a definite contender.
Counter Height Dining Table
The metal legs suggest an industrial element, the counter height suggests that your tall friends will be more comfortable.
Round Industrial Table
Warehousing meets functional domesticity in this round, metal table.
Galvanized Steel Table
Scaffold boards and galvanized steel make this table one of the most durable you'll find. Serve dinner on it, or perhaps rest the weight of the world upon it. It's really up to you.
Buy it at Clamped Steel on Etsy
Round Wood Industrial Table
Modern metal meets the warmth of wood creating this beautiful piece of art disguised as a table.
Buy it at Sum Southern Sunshine on Etsy
Blackened Steel and Cedar Table
Constructed with industrial steel bolts, this table gives any room a grittier, industrial edge, while still blending well into your dining space.
Buy it at Fabcon Welds on Etsy
Tables That Think Outside The Box
When a traditional table just won't do, sometimes you have to think outside the box, or in this case the tabletop. These tables provide a little "something extra" for a unique home design that shows off your style.
Mahogany, Pine, and Metallic Paint Table
What is it made out of? Everything! Your dinner conversation topic will be the dinner table.
Buy it at Sun of a Beach Gallery on Etsy
Union Jack Table
For when you're feeling cheeky and need a spot of tea.
Buy it at Pure Petrucci on Etsy
Abstract Art Table
Who needs art hung in the dining room when you can just eat right off of it?
Buy it at Fenikoptero ART on Etsy
Copper and Zinc Dining Table
This artisan piece is a patchwork of copper and zinc. Perfect for anyone preferring to stand out in a crowd.
Buy it at Hammered In Time on Etsy
Iron Lift-Top Table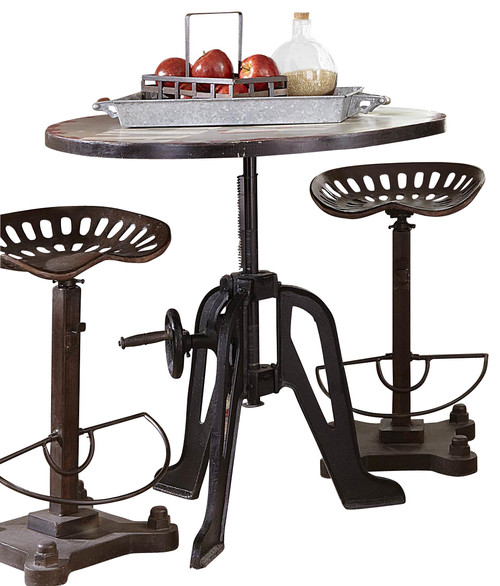 "Honey, could you crank the table down a bit? I can hardly reach my salad."
Vaudeville Carnival Themed Table
If you've always wanted to eat with the bearded lady and the world's strongest man, now is your chance.