The Colorful Hundertwasser. No straight lines, please!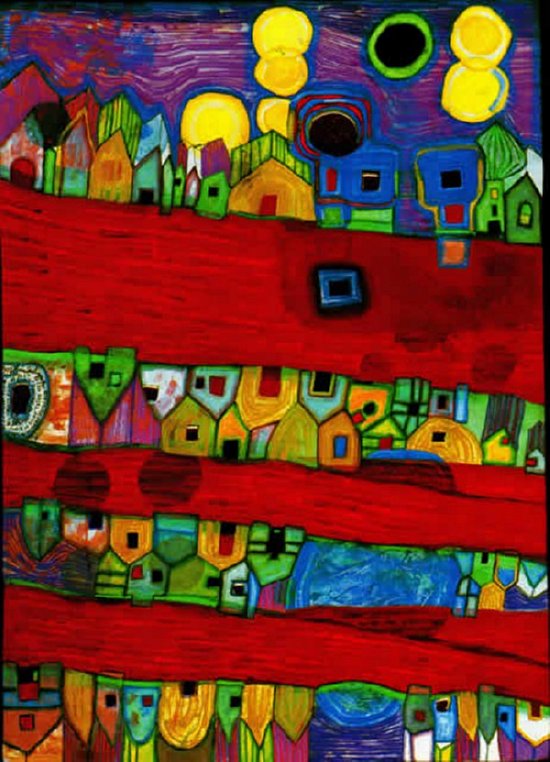 Friedensreich Hundertwasser- Red Streets- amazon.co.uk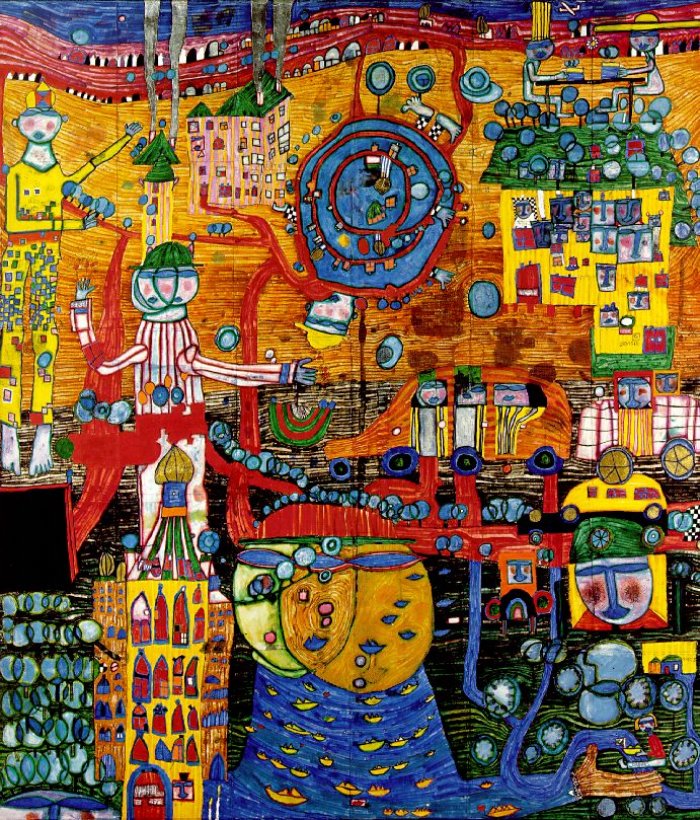 Hundertwasser Poster- pic source: sanfchorn.wordpress.com "The work of the artist is very difficult, because it cannot be done by force, diligence or intelligence."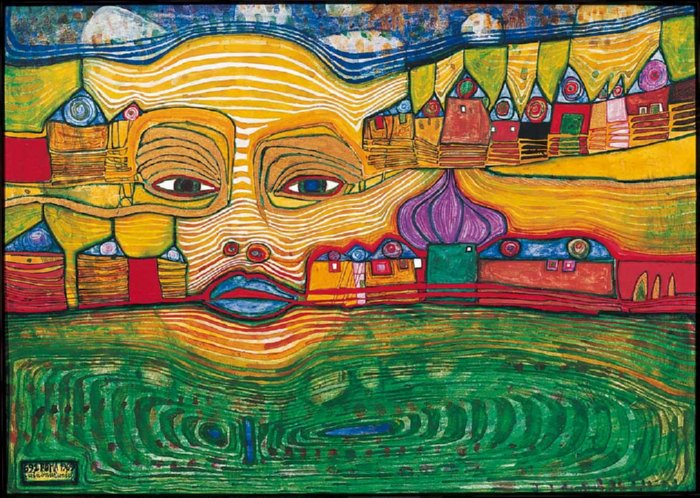 Hundertwasser- Irinaland over the Balkans, 1969. hundertwasser.at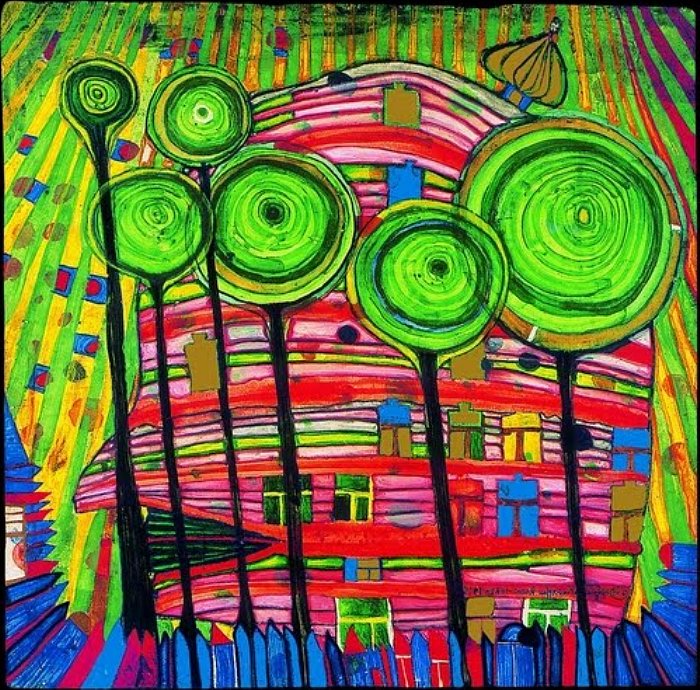 Hundertwasser- Blobs grow in beloved gardens. hundertwasser-kalender.de "We are in need of magic I fill a picture until it is full with magic, as one fills up a glass with water."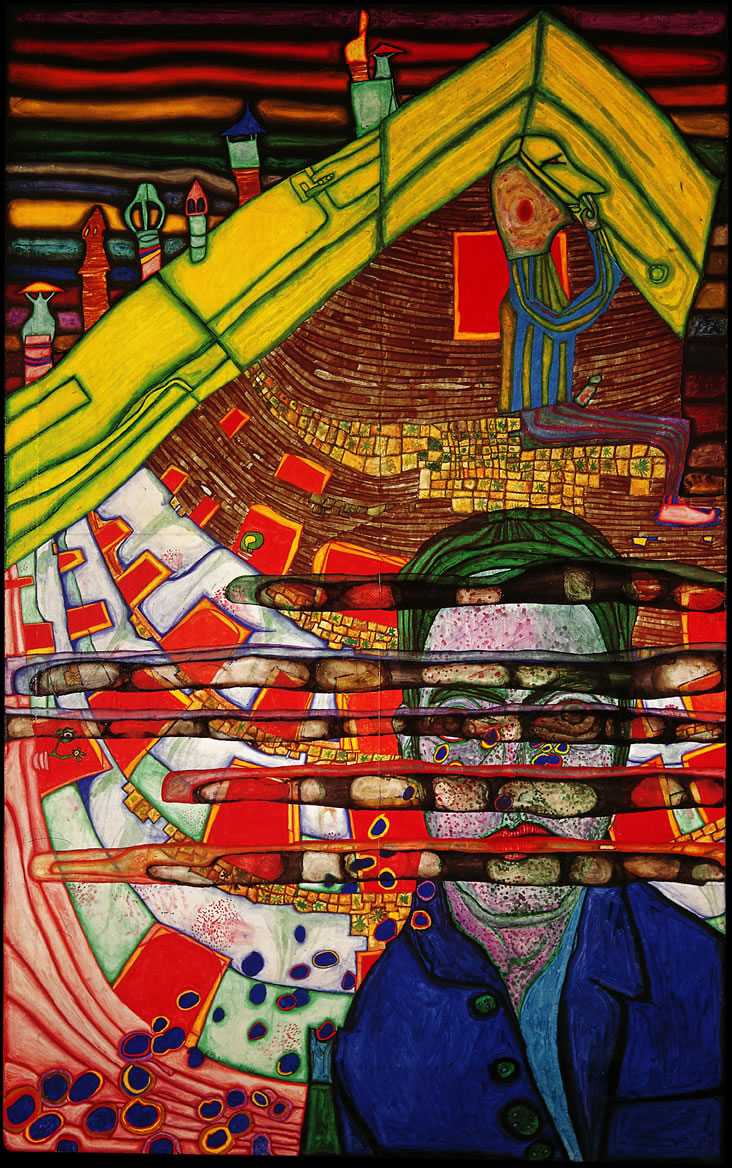 Mourning Schiele, 1965. www.hundertwasser.at

Hundertwasser- Come and Walk with Me, 1970. www.hundertwasser.at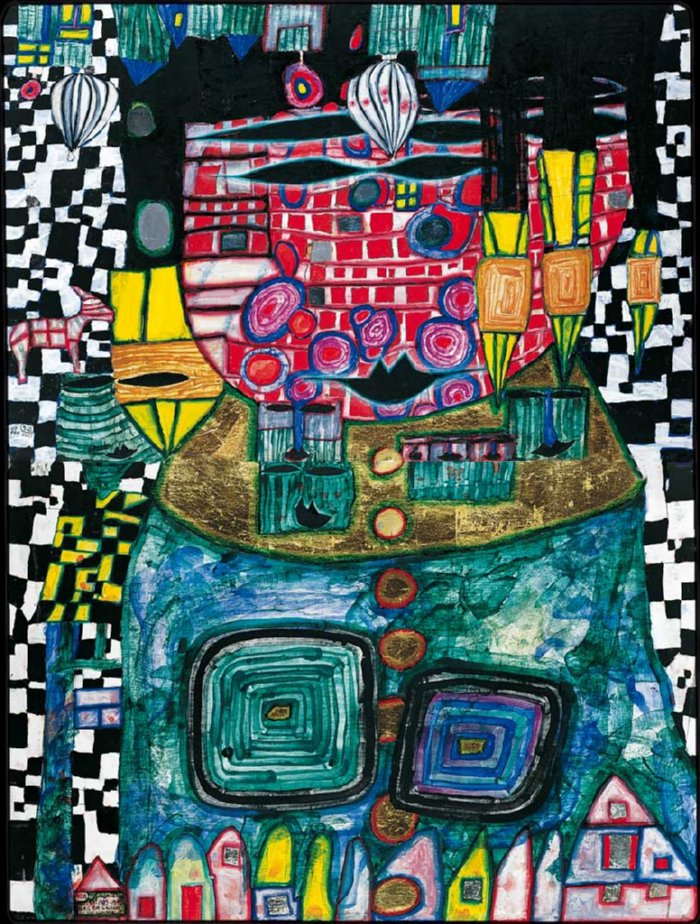 Hundertwasser- Antipode King, 1991. hundertwasser.at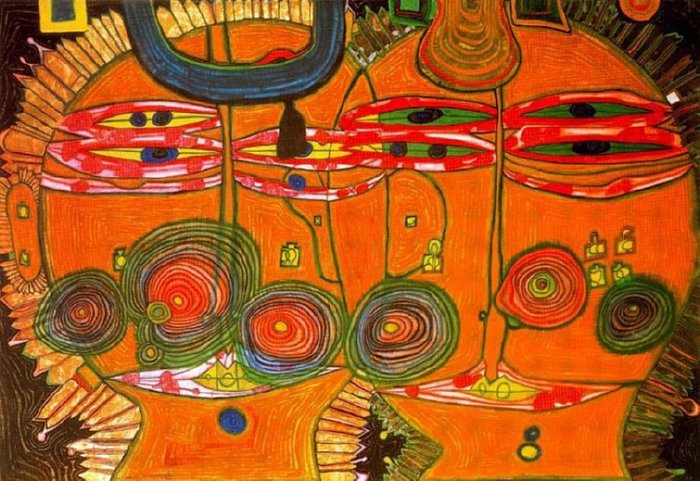 Hundertwasser- photo source: discussanything.com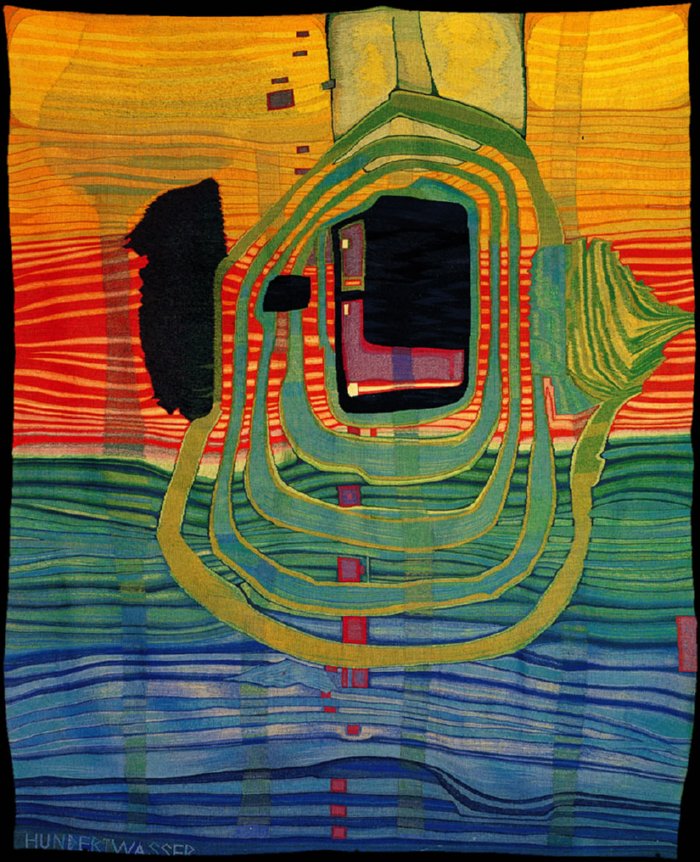 Hundertwasser- Dawn, Tapestry. Weaver- Hilde Absalon. hundertwasser.at

Hundertwasser- Grass for those who cry, 1974. hundertwasser.at
"If man walks in nature's midst, then he is nature's guest and must learn to behave as a well-brought-up guest."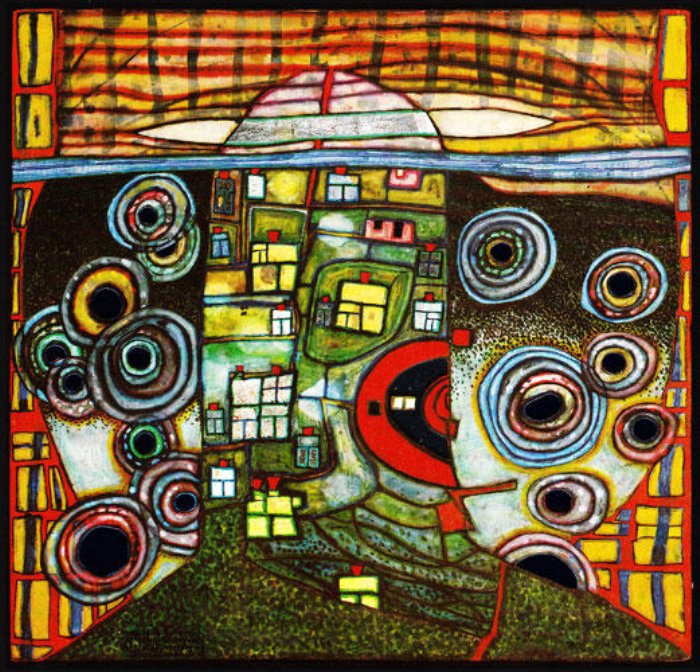 Hundertwasser- Human Environment (Quatar) 1982 www.artbrokerage.com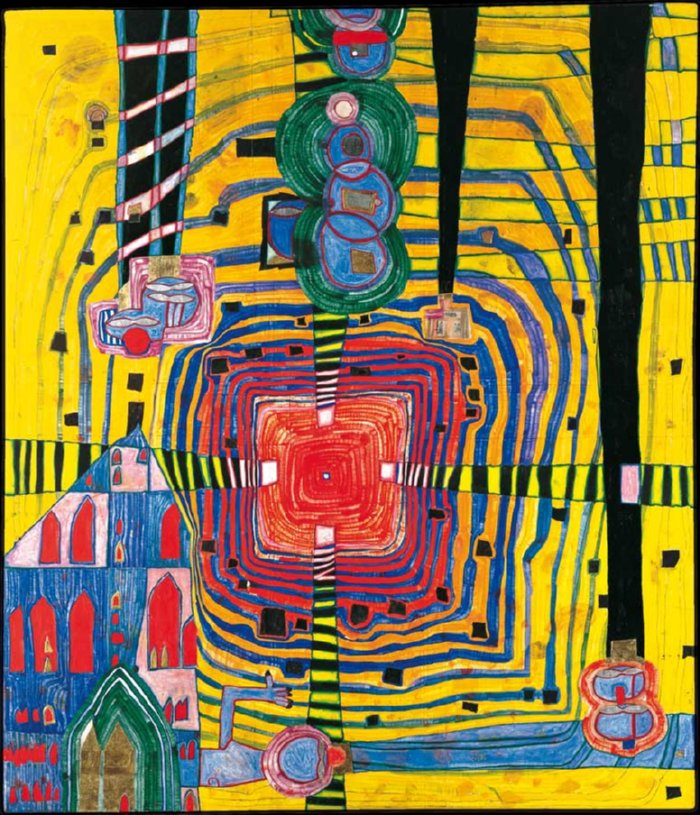 Hundertwasser- Close-up of Infinity – Tagore's Sun, 1994. hundertwasser.at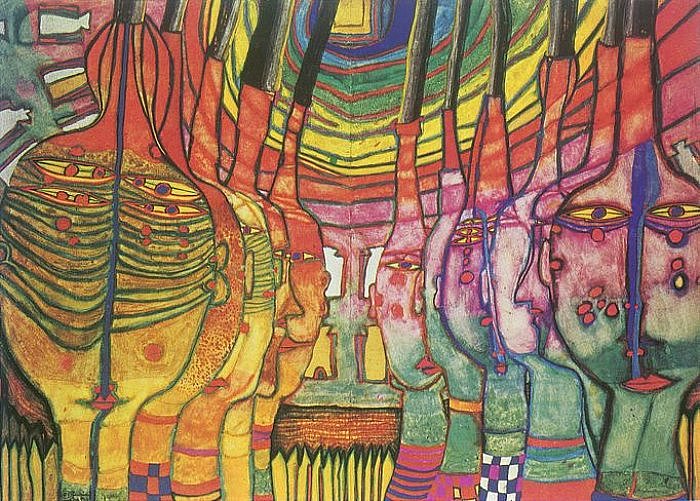 Hundertwasser- Koniec zachodnich i wschodnich bogów, 1964. picasaweb.google.com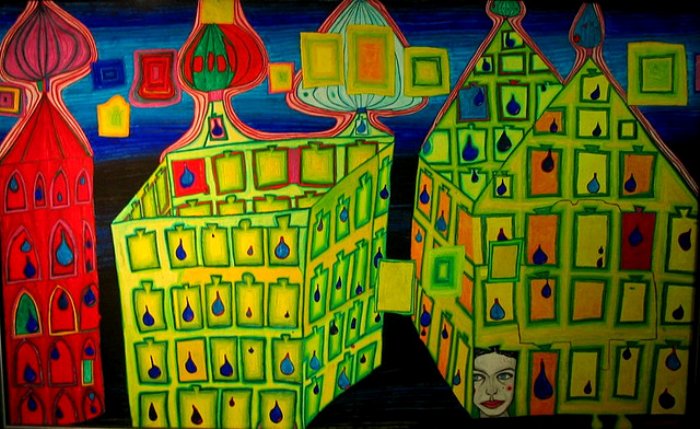 Hundertwasser- Yellow Houses, It hurts to wait with Love, if Love is somewhere else, 1966. hundertwasser.at

Hundertwasser- Singing Steamer www.hundertwasser.at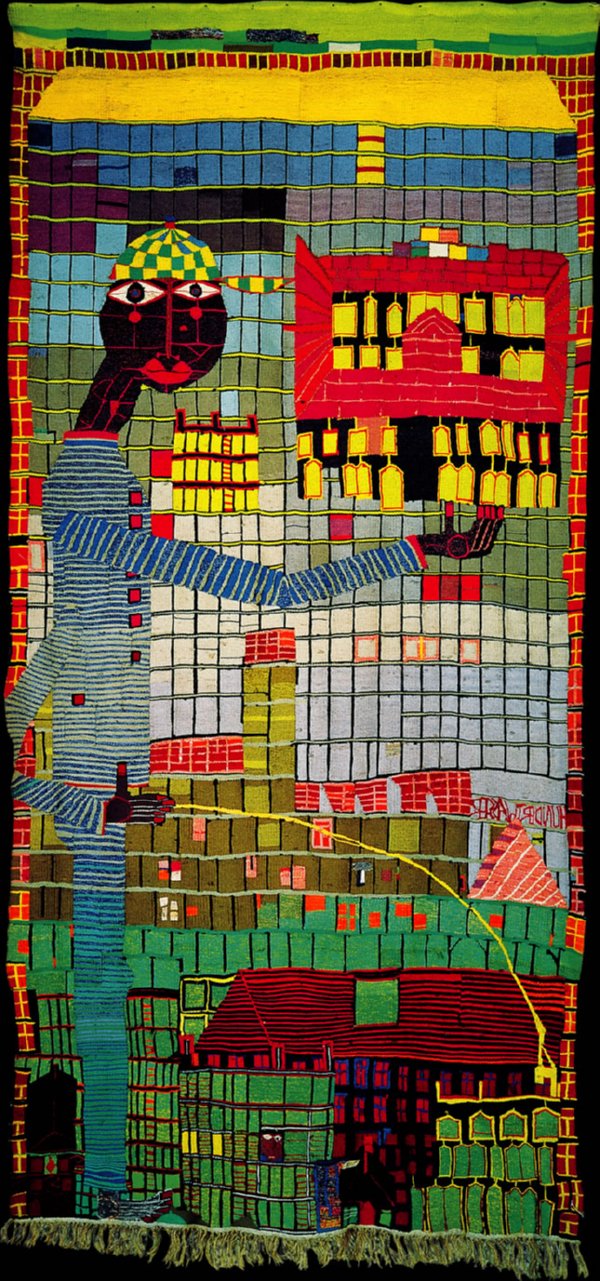 Hundertwasser- Tapestry- Boy Peeing with Skyscraper, 1952. hundertwasser.at
Hundertwasser Biography
Artist, architect and environmentalist Friedrich Stowasser (1928 – 2000) changed his name to Friedensreich Regentag Dunkelbunt Hundertwasser which roughly translates as 'Peace-rich or Peaceful, Rainy day, Darkly multicolored, Hundred water.' Hundertwasser had an Austrian Catholic father who died when he was a small child and a Jewish mother. He and his mother escaped the fate of much of her family by posing as Catholics. He traveled extensively as a young man and enrolled at the Ecole des Beaux Arts, Paris, but left after a day. For years he lived, traveled the world, and painted on a reconstructed salt hauler sailboat which he called the "Regentag" (rainy day). He also owned a farm cottage in northern France and a cabin in New Zealand. Hundertwasser felt a special connection to New Zealand, and was buried there when he died in the year 2000.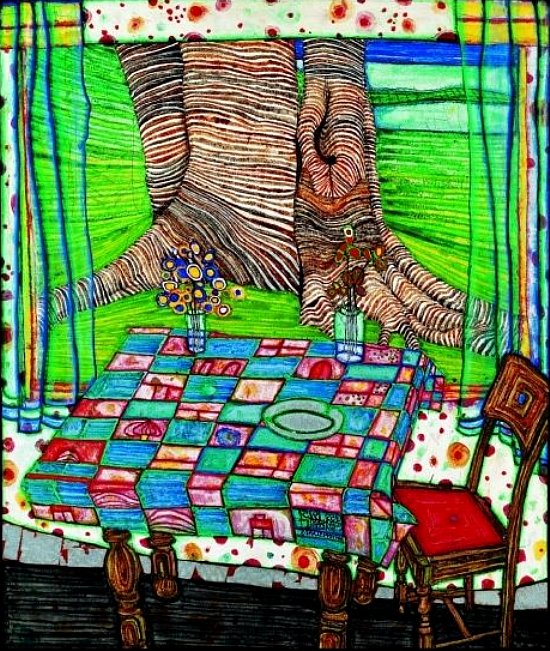 Hundertwasser- Island of Lost Desire. hundertwasser-kalender.de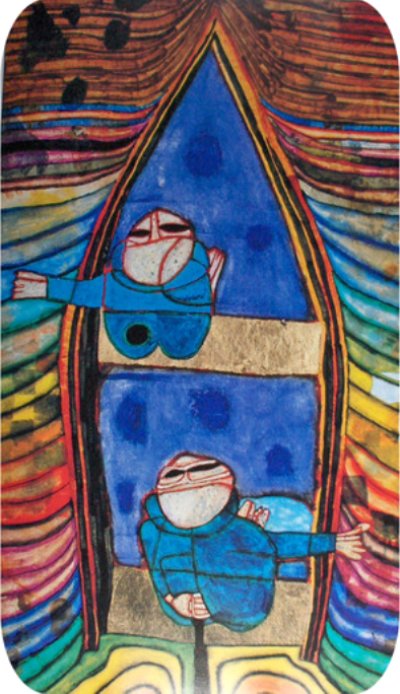 Hundertwasser- Boat Stamp
"I believe, and I am absolutely certain, and therefore I believe, that painting is a religious occupation, that the actual impulse comes from without, from
something else that we do not know, an indefinable power which comes or does not come and which guides your hand. People used to say in earlier times that it was the
muse, for example, it's a stupid thing to say of course, but it is some kind of illumination. And the only thing one can do is to prepare the ground, so that this extraterrestrial impulse or however else one might describe it can reach you. That means keeping oneself ready. That means eliminating the will, eliminating the intelligence, eliminating "wanting to do better", eliminating ambition." Venice, 1975.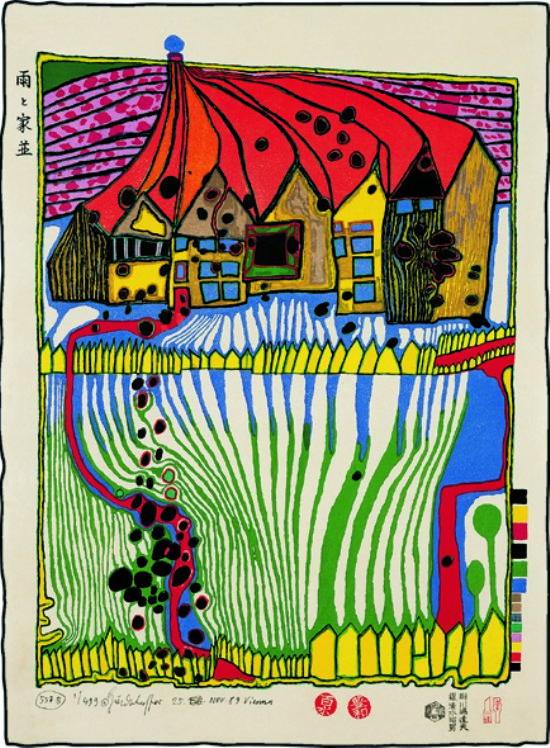 Do Not Wait Houses, Japanese Wood Cut, 1989. hundertwasser.at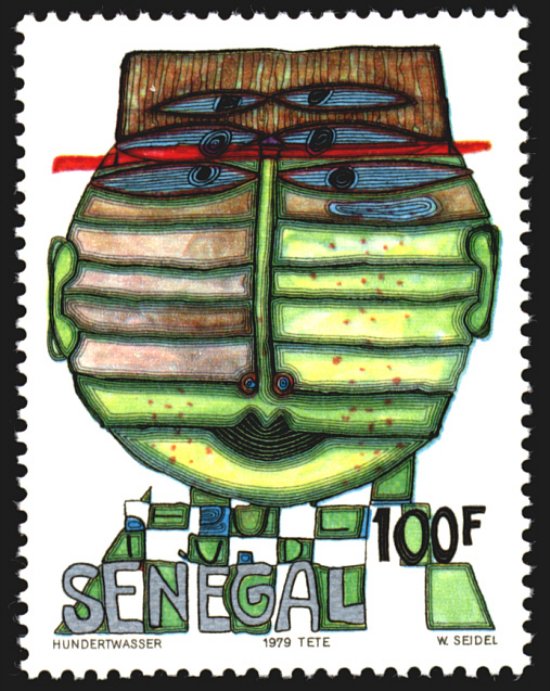 Hundertwasser Stamp
Also check out some of Hundertwasser's Architecture
Resources:
Biography: www.hundertwasser.at
For more painting inspiration: youtube.com
Book: Harvesting Dreams: Hundertwasser for Kids: www.amazon.com