Washington State's GMO Labeling Ballot Initiative (I-522)
I-522 would have mandated clear labeling of genetically engineered (GE) ingredients on food packages. The initiative was voted on in 2013. It lost, 51% to 49%. Among the companies who fought the labeling requirements, and money they spent on the 'No on 522' campaign were: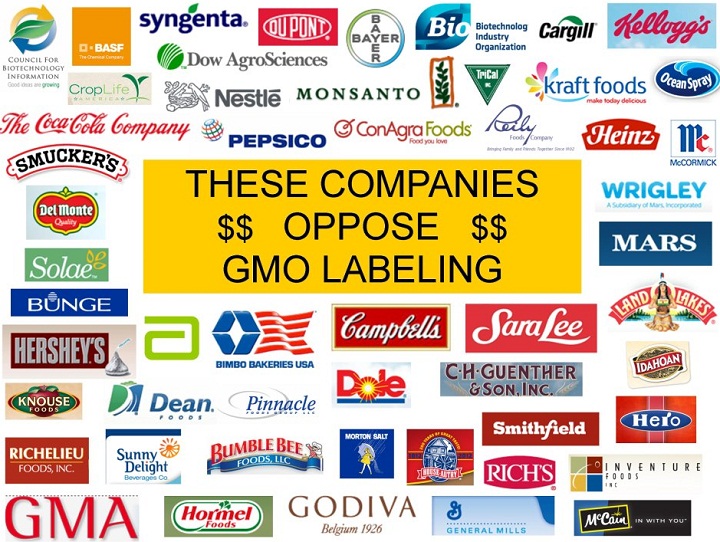 Monsanto: $5,374,411
DuPont: $3,880,159
PepsiCo Inc.: $2,352,966
Coca-Cola: $1,520,351
Nestle USA: $1,528,206
General Mills: $869,271
Bayer CropScience: $591,645
Dow Agrosciences: $591,645
BASF Plant Science: $500,000
ConAgra Foods: $828,251
Campbell Soup Co.: $384,888
Hershey Company: $360,450
Smucker's Jam: $349,977
Kellogg Co.: $322,050
The Hillshire Brands Company: $282,775
Mondelez International (Nabisco, Oreo): $210,336
Flowers Foods (Nature's Own, Wonder Bread): $205,099
Dean Foods (Land 'O Lakes, Meadow Gold): $174,553
Land O' Lakes: $144,878
Cargill & Co.: $143,133
Bimbo Bakeries (Sara Lee and Ball Park): $137,460
Del Monte: $125,677
Abbott Nutrition (infant formula like Pedialyte, Similac): $121,296
Ocean Spray Cranberries: $80,295
Hormel Foods: $76,803
After the election, the Washington State attorney general sued the Grocery Manufacturers Association of Washington for violating campaign disclosure laws. As of April 2016, the case has yet to come to trial. The latest postponement came when the GMA failed to meet deadlines for disclosing information.
Said Washington attorney general Bob Ferguson: "This attempt to introduce records at the last minute, after resisting our efforts to obtain them earlier in the process, continues GMA's pattern of trying to hide the ball from the people of Washington. However long it takes, I am committed to holding GMA accountable for its elaborate scheme to shield its members' contributions from the public."
California's Proposition 37
Many large food and seed corporations sunk over $46 million into the fight to defeat Proposition 37 in California, which would have required food companies to list genetically modified ingredients on the labels of its products sold in retail stores. It would have also prevented the labeling of GMO foods as "natural." The law would would have affected California, but because Californians make up 12% of the U.S. population, those Californian labels would have spilled over to other states as well. Currently food processors list ingredients, calorie, nutritional value and peanut content. Adding GMO ingredients to that list will benefit those who wish to steer clear, until GMO foods are deemed safe and healthy into the long term (yet many feel certain GMOs will never be proven healthy).
The record keeping necessary for the added labels will also help keep track of ecological issues such as gene flow between GMOs and the surrounding ecology, weed killer's affects, pest and superweed resistance and a host of other ecological issues that could potentially arise with rampant GMO use. This bill would have slowed down the influx of GM crops and help keep track of GMOs impacts.
Currently Europe, Russia, China, Japan, Mexico, Australia and numerous other countries require that food labels list genetically modified ingredients. Why hasn't the the U.S. insisted on this labeling? Because many large corporations are fighting to keep the U.S. consumer in the dark. Let us know, if there are GMOs. We should have the right to know!
Money Spent To Keep GMO Off Of Labels In California
Ironically most of the companies lobbying against Prop 37 have a stake in the organic industry. See that list below, it might surprise you.
Monsanto: $7,100,000.
DuPont: $5,200,000.
PepsiCo Inc.: $2,500,000.
BASF Plant Science: $2,000,000
Bayer CropScience: 2,000,000
Dow Agrosciences: $2,000,000
Syngenta Corp: $2,000,000
Kraft Foods: $2,000,000.
Coca-Cola: $1,700,000.
Nestle USA: $1,315,400.
ConAgra Foods: $1,200,000.
General Mills: $1,200,000.
Del Monte: $674,000.
Kellogg Co.: $790,700.
Smithfield: $671,000.
Council for Biotechnology Information: $625,000.
Heinz: $500,000.
Hershey Company: $493,900.
J.M. Smucker Co.: $555,000.
Grocery Manufacturers Association: $375,000.
Hormel Foods Corp.: $374,300.
Unilever: $ 460,000.
Mars Food North America: $370,280.
Bimbo Bakeries USA: $422,900.
Ocean Spray Cranberries: $326,500.
Campbell Soup Co.: $320,455.
Pinnacle Foods Group LLC: $266,100.
Dean Foods Co.: $253,950.
Biotech Industry Organization: $250,000.
McCormick & Co. Inc.: $248,200.
Abbott Nutrition (Infant Formulas / Similac): $230,900.
Rich Products Corp.: $225,500.
Cargill Inc.: $226,800.
Welch's: $167,000.
Knouse Foods Cooperative: $160,300.
W.M. Wrigley Jr. Co.: $116,900.
Sunny Delight Beverages Co.: $114,500.
Tree Top: $110,300.
Bumble Bee Foods: $98,000.
Sara Lee Corp.: $96,800.
Hillshire Brands (Ball Park, Jimmy Dean): $86,000.
McCain Foods USA: $50,600.
Dole Packaged Foods Co.: $45,580.
Goya: $ 56,100
Clorox: $33,000
S & W: $21,100
Organic And Natural Food Brands Owned By Big Corporations
Coca-Cola: Honest Tea, Odwalla, Simply Orange.
Cadbury: Green and Black's Chocolate, Nantucket Nectars.
ConAgra: Alexia,  Hunt's Organic,  Lightlife (vegetarian and vegan meat substitutes like Smart Deli),  Orville Redenbacher's Organic.
General Mills: Cascadia Farms, Cheerios, Food Should Taste Good, Larabar, Muir Glen, Nature Valley.
Groupe Danone: Stonyfield Farm.
Hershey's: Dagoba Chocolate.
Hain-Celestial (partially owned by Heinz): Arrowhead Mills, Bearitos, Breadshop Cereals, Casbah, Celestial Seasonings, DeBoles Pasta, Earth's Best, Ethnic Gourmet,  Garden of Eatin', Gluten Free, Greek God's, Hain Pure, Health Valley, Imagine Soups, Linda McCartney, Maranatha nut butters, Mountain Sun Juices, Nile Spice Soup,  Rice Dream, Sensible Portions, ShariAnn's, Soy Dream, Terra Chips, TofuTown, Walnut Acres, Westbrae Natural, WestSoy, Yves Meatless.
JM Smucker: After the Fall, R.W. Knudsen, Santa Cruz Organic.
Kellogg: Bear Naked, Gardenburger, Kashi, Morningstar Farms, Natural Touch, Wholesome & Hearty. (Kashi cereals contain GMOs!)
Kraft: Boca, Back to Nature.
Mars/M&M: Seeds of Change
Nestle: Tribe Mediterranean Foods
Pepsi: Dole, Harvest Crunch, Izze, Naked Juice, Ocean Spray, Tazo, Tostito's Organic, Tropicana.
Rich's: Fresh Meadow
Unilever: Ben & Jerry's, Knorr, Salada
Personal Care Brands Owned By Big Corporations
Clorox: Burt's Bees.
Colgate-Palmolive: Tom's of Maine.
Hain Celestial: Alba Botanica, Avalon Organics, Jason, Orjene, Queen Helene, Zia.
Private/Small Companies That Support GMO Labeling
Only a handful listed. For a larger listing: www.carighttoknow.org
Alvarado Street Bakery
Amy's Kitchen
Ancient Organics
Annie's
AppleGate Farms
Aubrey Organics
Bob's Red Mill
Cedarlane
Earthbound Farms
Eden Foods
Equal Exchange
Frey Vineyards
Golden Temple (Yogi Tea & Peace Cereal)
Lundberg Family Farms
Nature's Path
Newman's Own
Nutiva
Organic Valley
Pacific Natural Foods
Simply Organic
Tofurky
Turtle Mountain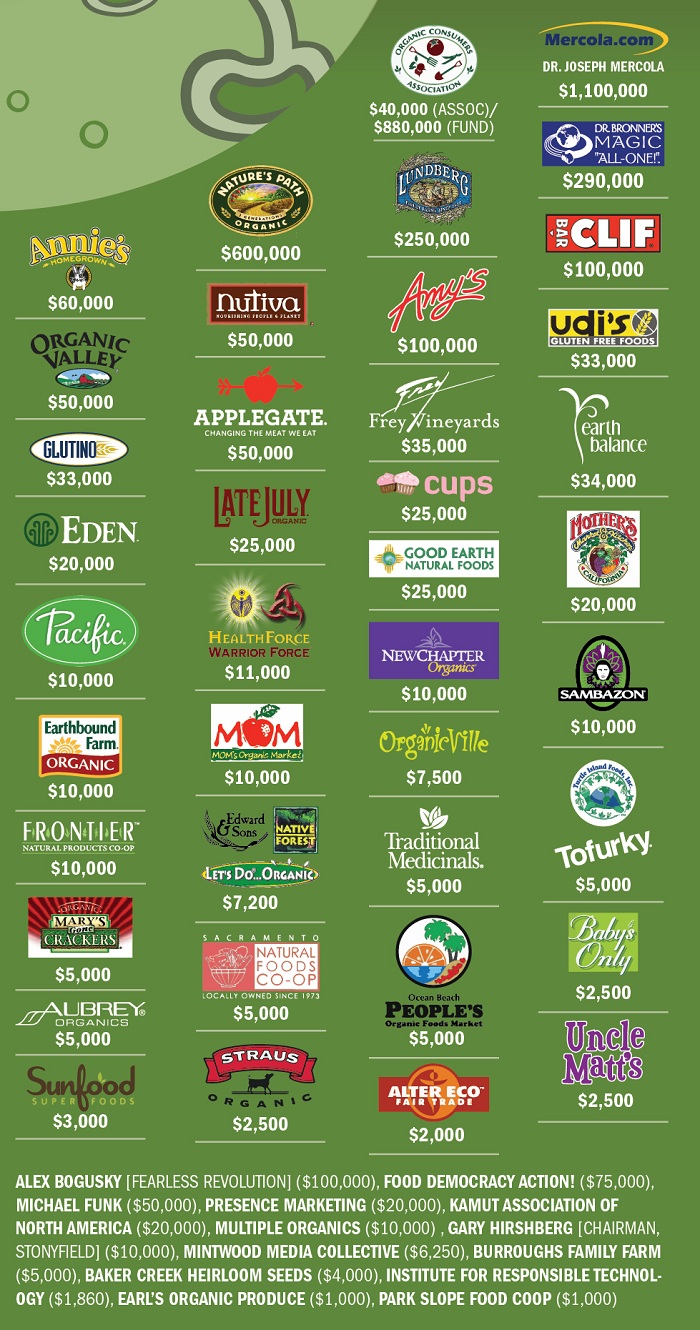 www.cornucopia.org
To Donate/Volunteer To Support GMO Labeling
Food Democracy Now!  fdn.actionkit.com