Wattle is woven wood fencing. Hurdles are woven wattle fencing panels. Historically moveable hurdles were employed for pasture and livestock rotation. We have been wattle making (wattling) since Neolithic times.
How To Weave A Wattle Fence
The upright stakes are sometimes called "sales" and the saplings called 'weavers'. Hazel, willow, sweet chestnut, plum, forsythia or any supple, long, straight, slender saplings make good weavers. Newly cut, green wood is best and easiest. Willow is an exception as it can be soaked to become more supple. Use thin, long branches -or- larger saplings that are cut down the center (cleft) as 'weavers'. (See video below on how to cleft a sapling.) The saplings you choose should be long enough to weave around at least three stakes (preferably more) for stability. The weavers are woven around the 'sales' like basketry. The simplest weave would be to weave each row of saplings alternating around the stakes, the next row is woven on the opposite side of the stake from the sapling below it. Each sapling row should be firmly pressed down.
Hard wood is a good choice for the sales. Beware if you use willow as stakes as your fence just might take root and come alive, it will turn out strong, but you would need to trim it each year.
Wattle work is still a viable small industry in the UK, each company maintains a sustainable coppiced woodland to harvest weavers or withies. If you do not have access to woodland, you can order willow cuttings (withies) online
38 Amazing Wattle Fences Around The World
1) Vermont Wattle Fence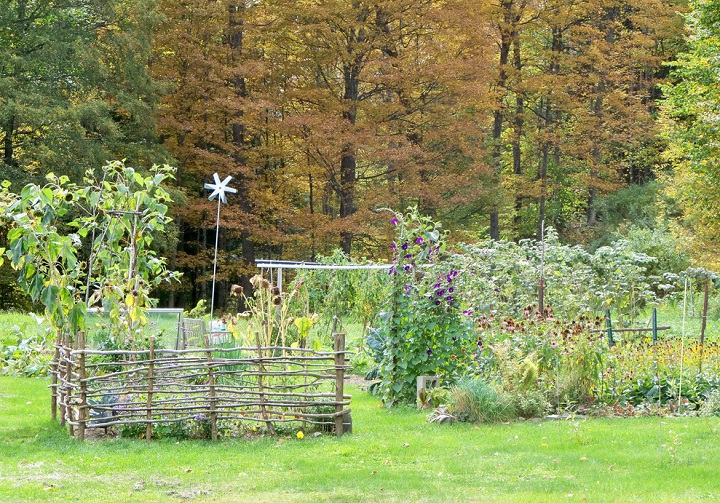 A charming loose weave wattle fence in Vermont. Photo by Katrinka / Flickr.
2) Hazel Wood Wattle Gate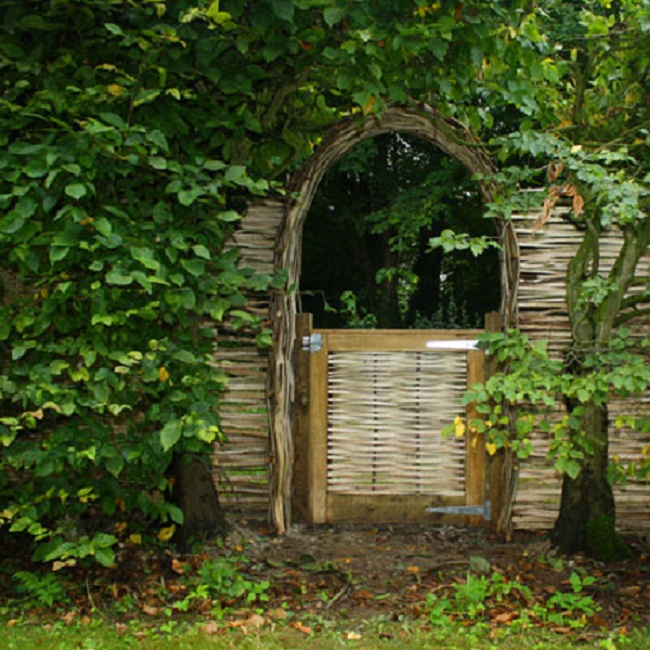 Six foot high cleft (split) hazel fence with gate and archway leading through an existing hornbeam hedge. The gate is pine with hazel infill. The cut side of the hazel wood is facing the viewer. For more images go to burwashwonderwood.com.
3) Wattle And Stone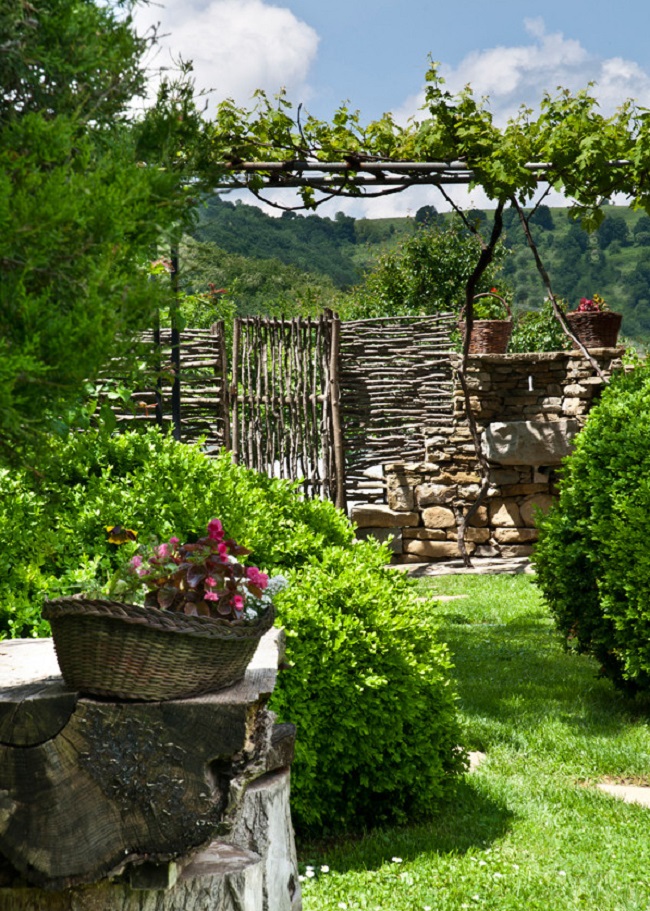 Wattle fence and gate integrated into a stone wall, Stara Planina, Bulgaria. This photo was found at nashdom-bg.com.
4) Wattle Arch From Europe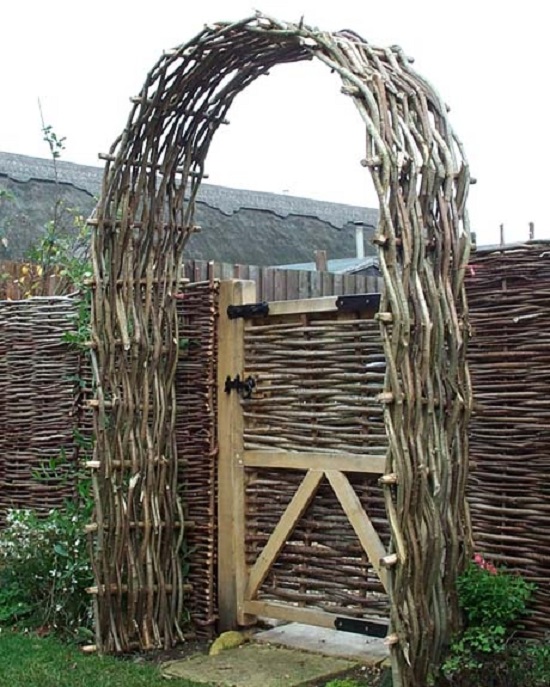 Wattle arch of hazel. Hazel is the most common wood used for wattling in Europe. For more wattling ideas go to naturalfencing.com.
5) Wattle Fence In New Hampshire
Wattle fence and gate at an 18th century house in New Hampshire. Constructed using an old hand tree saw, bill hook and knives only–just as they would have been done hundreds of years ago. Photo was originally found at "anhistoricallady.blogspot.com/2012/04/stone-walls-bee-boles-and-easter.html".
6) Close-Up Of A Wattle Fence
This photo gives you a close up of how a wattle fence is constructed. You can see the weaving pattern they used to make this fence.
7) Wattle Door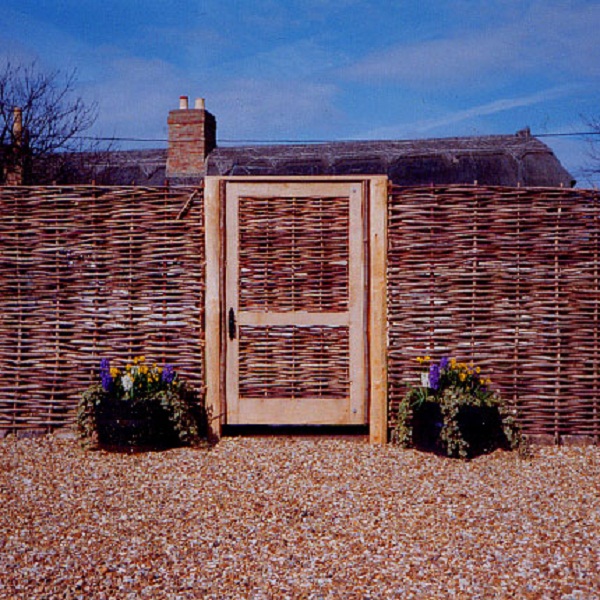 A continuous weave wattle fence with an oak framed gate that contains a hazel weave infill. The hazel rods have been split with the grain as opposed to sawn, thus retaining its inherent strength and therefore creating a denser fence. Video below on how to cleft a sapling. By Tim Radford. Go to burwashwonderwood.com to see more.
8) Rustic Wattle Fence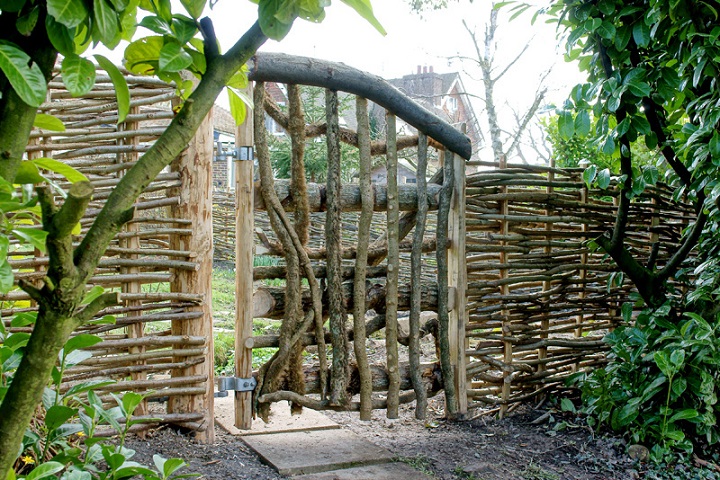 Rustic wattle fence by Dan Holmes, UK. For more inspiration, visit www.sussexgates.co.uk.
9) Hurdle Maker's Wattle Fence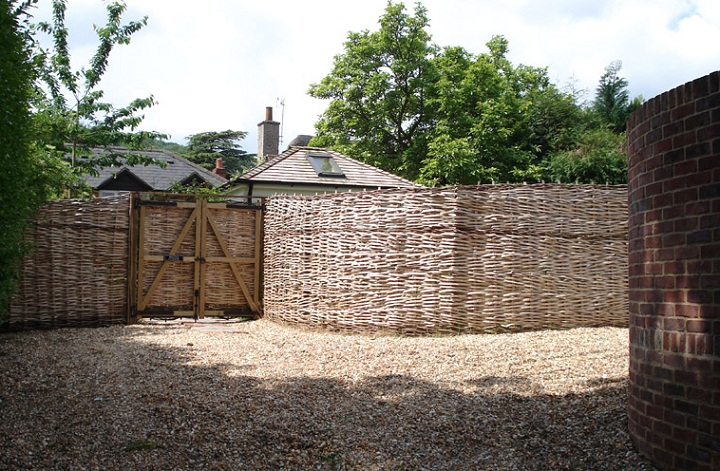 Stevens the Hurdle Maker. Located in rural Hampshire, UK. The cleft, or split side of the wood is facing us, bark side faces interior of yard. Other designs can be seen on Stevens' site, wattlehurdles.com.
10) Partial Wattle Fencing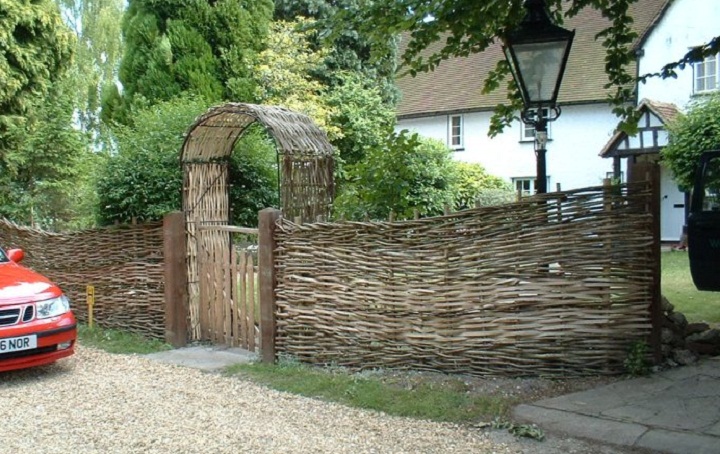 According to Mick, "a well made hurdle should have uprights 9 inches apart. The top 6 – 8 inches should be made from whole rods of a small diameter, and the remainder, from split rods. It is very important that at least 3 rods per foot go round the end post and back into the hurdle. There should be no nails!" To see more examples, go to micksticks.co.uk.
11) Lively Wattle Fence
These designers are using the wattle fence to create a European-styled garden.
12) On-Site Wattle Fencing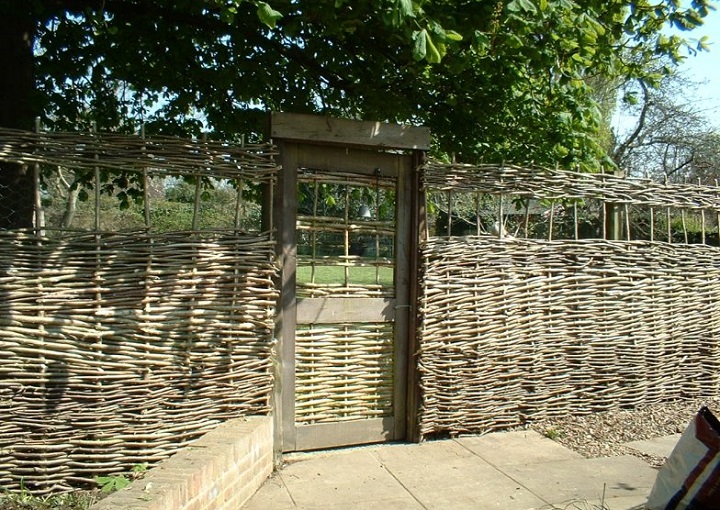 Wattle fence with windows by Mick, UK. A fence built on site will last much longer than a premade hurdle. Unless the hurdles are movable and brought inside for the winter months. This photo was found on micksticks.co.uk.
13) Campsite Wattle Fence
Wattle fence around a camp. Perfect! Photo by Lynn Spitz / Flickr.
14) Walnut's Farm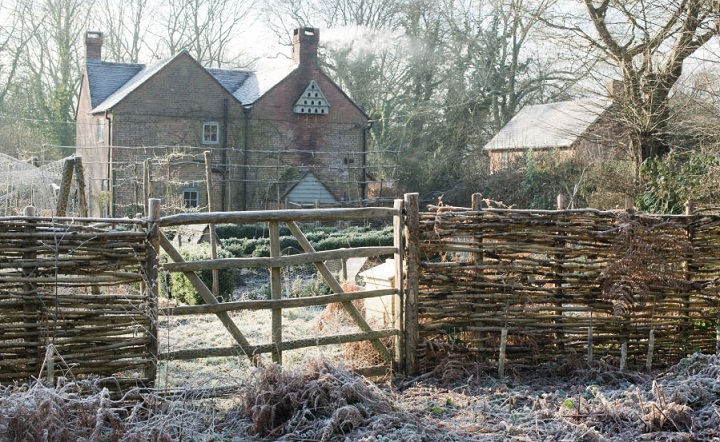 Wattle fence at Walnut's Farm, Sussex Weald, UK. This photo was originally found at "www.walnutsfarm.co.uk".
15) Wattle Fence Of Hazel Wood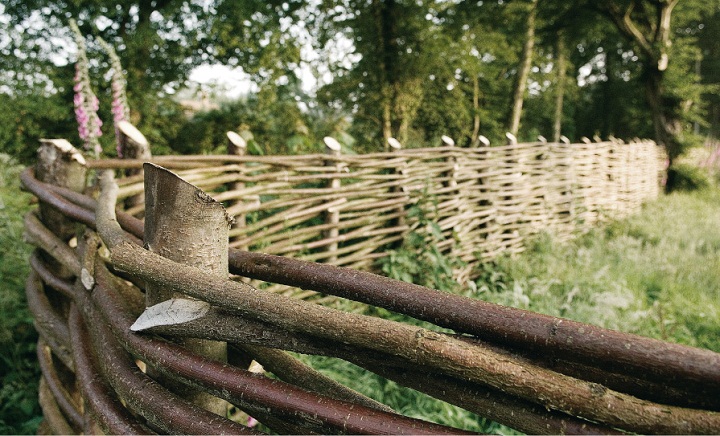 Wattle fence of hazel wood on Walnut's Farm, East Sussex, UK. Originally, this photo was found at "walnutsfarm.co.uk".
16) Wattle Fence On Brick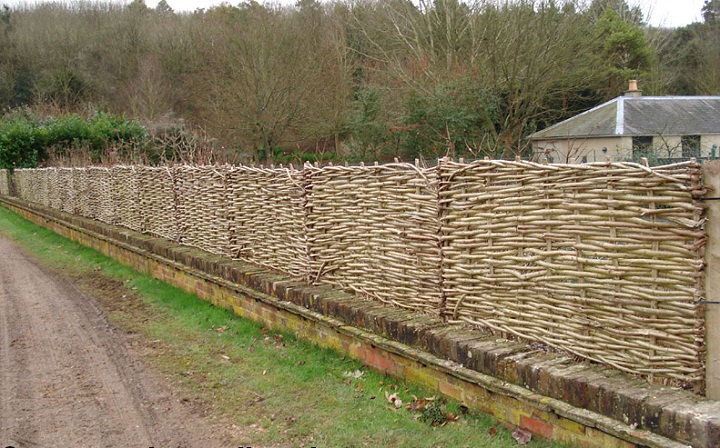 Wattle hurdles on top of brick wall. Stevens The Hurdle Maker offers Wattle Hurdles, Continuous Weave, Stakes and Binders, River Faggots, Rose Arches, Pea Sticks, Spar Gads, Sweet Chestnut Posts and Rails and welcomes any special enquiry you may have. Hampshire, UK. To find out more about Stevens, go to wattlehurdles.com.
17) Natural Fencing's Wattle Fence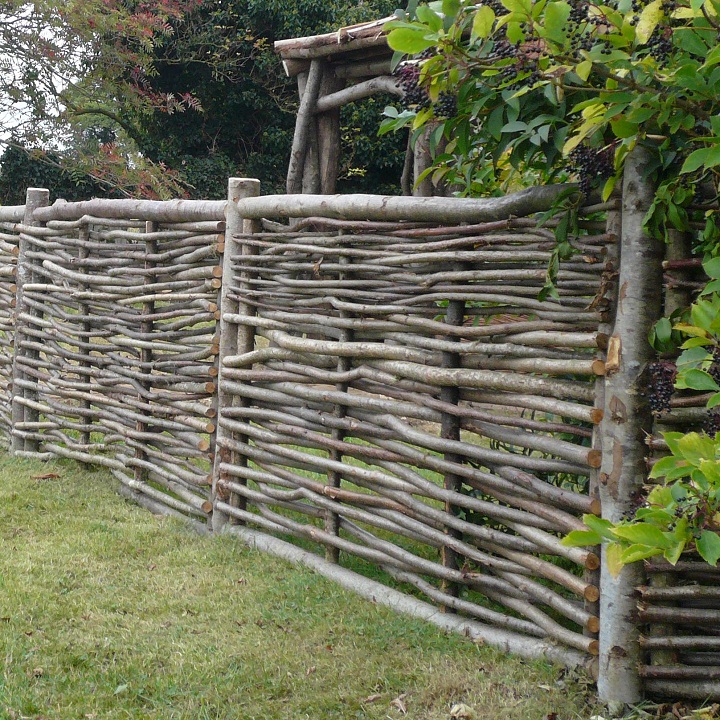 Hazel framed hazel hurdles by Natural Fencing, UK. 6ft x 6ft, £68.00. Go to naturalfencing.com for more information.
18) Pear Tree Wattle Fence
A great example of how you don't need to go buy a lot of materials to build a wattle fence. Wattle fences are a great way to use pruned branches.
19) Wattle Fence From Saplings
Wattle fence at an 18th century house in New Hampshire. Constructed of saplings from property. Wattle fencing was very popular in the early days of colonial America. Photos originally from "anhistoricallady.blogspot.com/2012/04/stone-walls-bee-boles-and-easter.html".
20) Fence Around An 18th Century Home
Wattle fence at an 18th century house in New Hampshire. Constructed using an old hand tree saw, bill hook, and knives only. This photo was found at "anhistoricallady.blogspot.com/2012/04/stone-walls-bee-boles-and-easter.html".
21) Garden Fence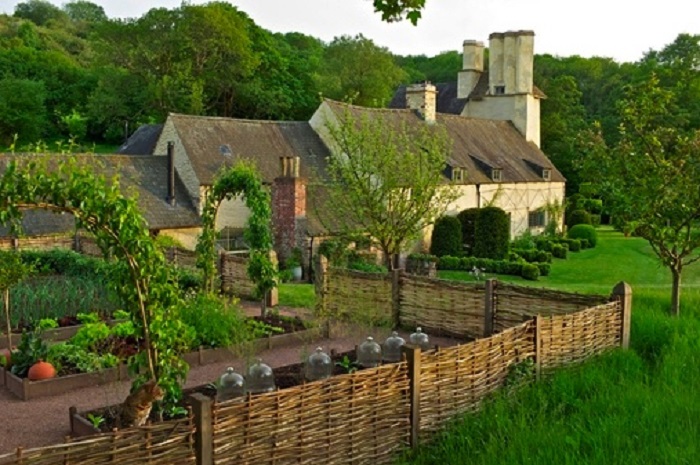 Wattle fence hurdles connected by 4×6 posts. No source: media-cache-ak1.pinimg.com.
22) Green Man Woodcraft's Fence
Continuous weave wattle fence (bark side facing us) by Green Man Woodcraft. More projects, and their descriptions, can be found at greenmanwoodcrafts.co.uk.
23) Weald And Downland Living Museum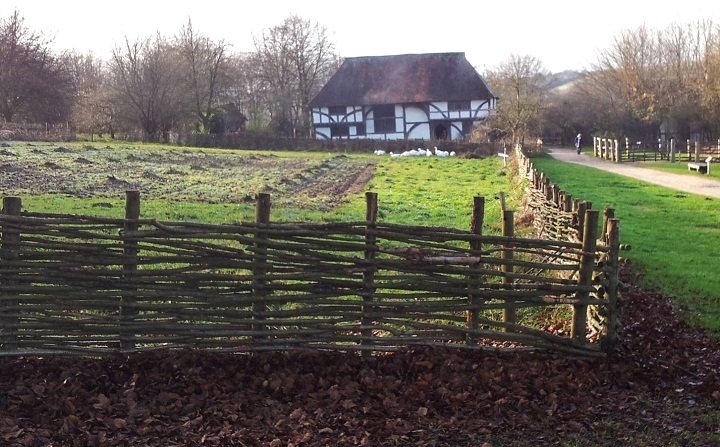 Wattle fencing at the Weald and Downland Museum, West Dean, UK. wealddown.co.uk This image was originally from "theoldwashhouse" website, but you can still find information at Weald And Downland Living Museum.
24) Medieval-Style Windows
A short continuous weave wattle fence containing medieval style windows. By Tim Radford. This photo can be found at burwashwonderwood.com.
25) Wattle Fence In Brooklyn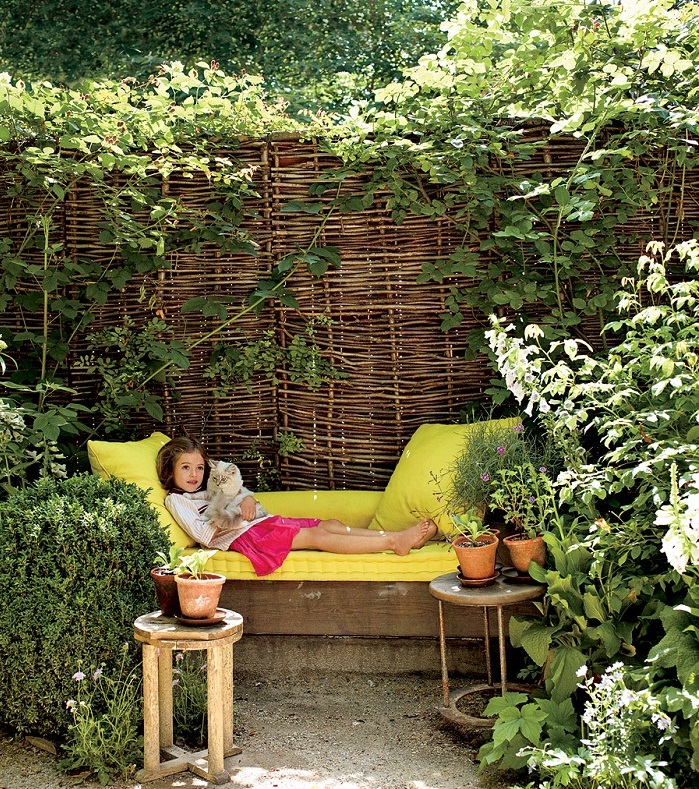 Wattle hurdles in Brooklyn, N.Y. support blackberries and rambling roses. Image via Vogue magazine.
26) Flowers Growing On A Wattle Fence
Flowers are a great addition along a wattle fence, bringing color and variety.
27) Hazel Wood Hurdles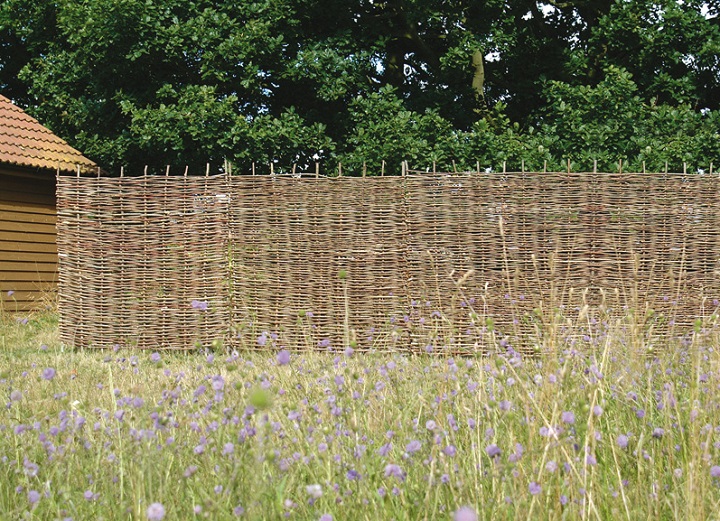 Wattle fence hurdles made of hazel wood. Fencing materials can be found on www.arksupplies.co.uk.
28) Wattle Cover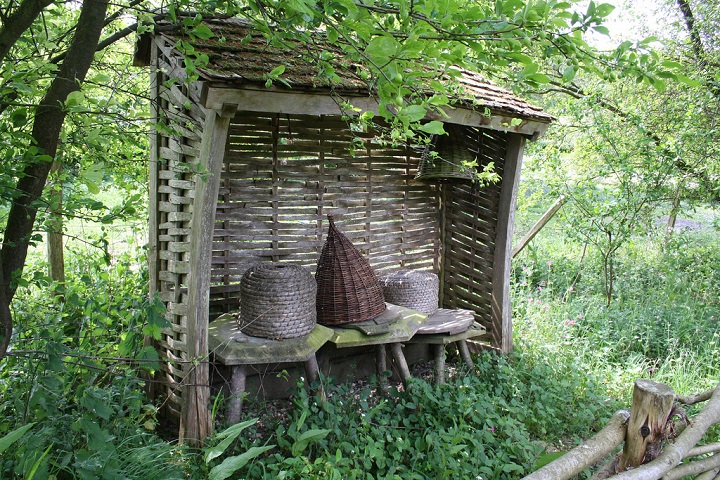 Cleft wattle screen with roof (protecting bee skeps) at the Weald and Downland Museum. Go to wealddown.co.uk for more information.
29) Sanok-Sansen Wattle Fence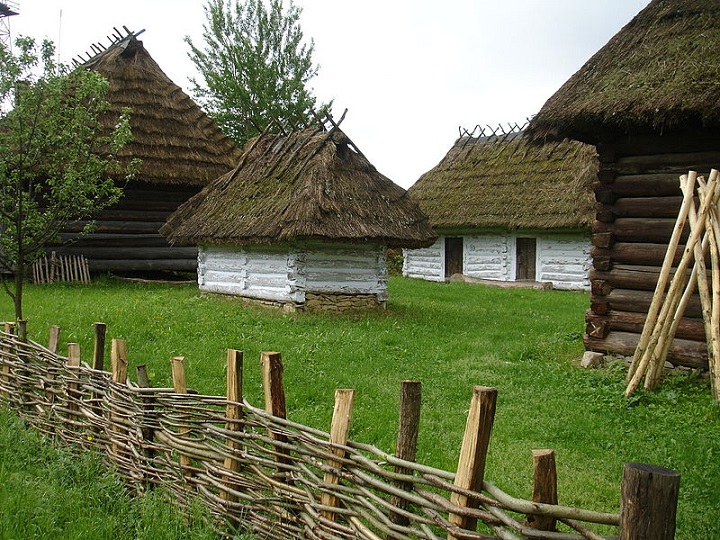 A wattle fence at Sanok-Skansen outdoor museum in Poland. Found on wikipedia.org.
30) Colony Of Avalon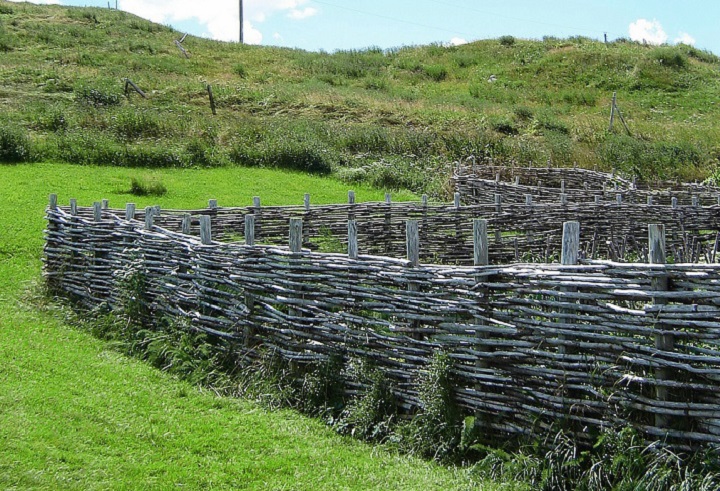 Colony of Avalon, Ferryland, Newfoundland. Looks sturdy enough for goats and cows. Photograph by Vicky Taylorhood / Flickr.
31) Wattle Barrier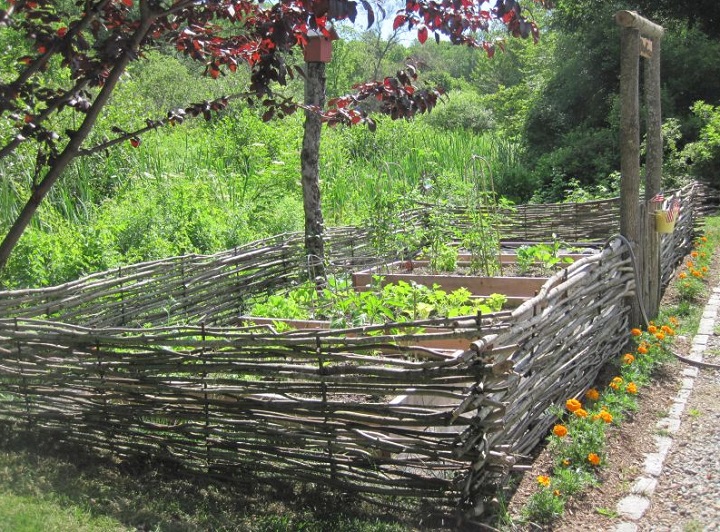 Wattle Fence made from saplings and branches collected from the wooded area of owner's yard. Woven like a basket between 4 foot re-barb driven 1 foot into the ground. By Cliff Gilliam. This photo can be found at www.yardshare.com.
32) Wattle With Herringbone Design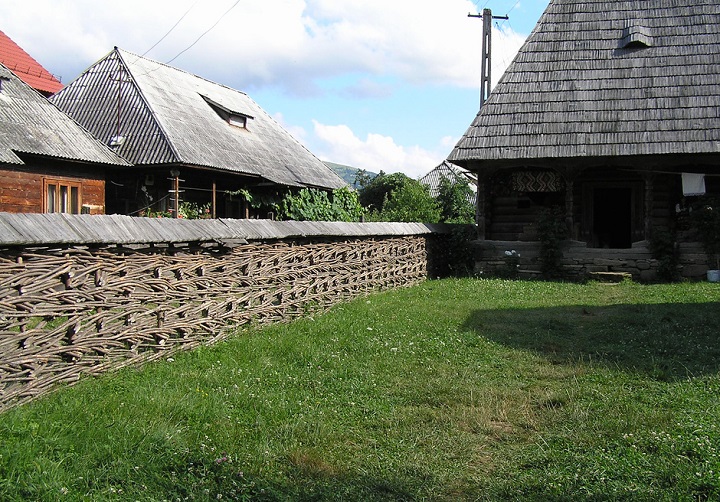 Continuous weave wattle fence, herringbone design with wood shake top. Maramures, Romania. Image by Myra Lea / Flickr.
33) Wattle Trellis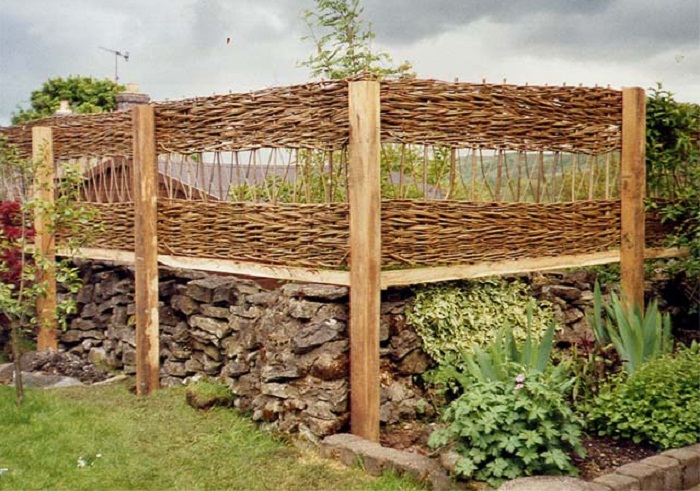 An open trellis in the panel gives privacy with a feeling of openness. By Simon Fowler. More wattle fences can be seen at peaktraditionalfencing.co.uk.
34) Vertical-Weave Wattle Fence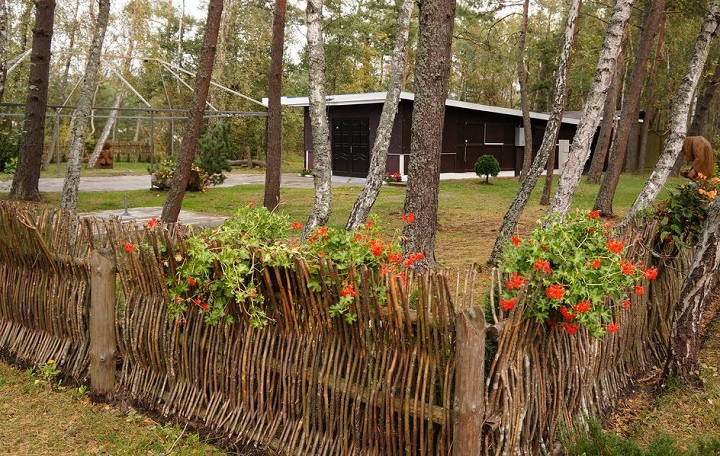 Upright wattle fence in Lithuania. Copyright: Gdaiva / Flickr.
35) Wattle On A Rail Fence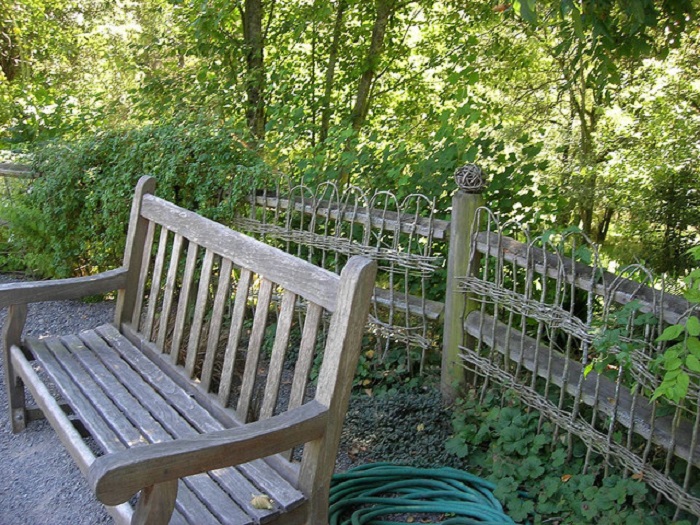 Attach wattle to a pre-existing rail fence. 'Another idea' – weave saplings into a chain link fence painted brown. By Jason DoubleGrande / Flickr.
36) Corner Of A Wattle Fence
In this image, you can see how the ends have been overlapped to create a corner.
37) African Wattle Fence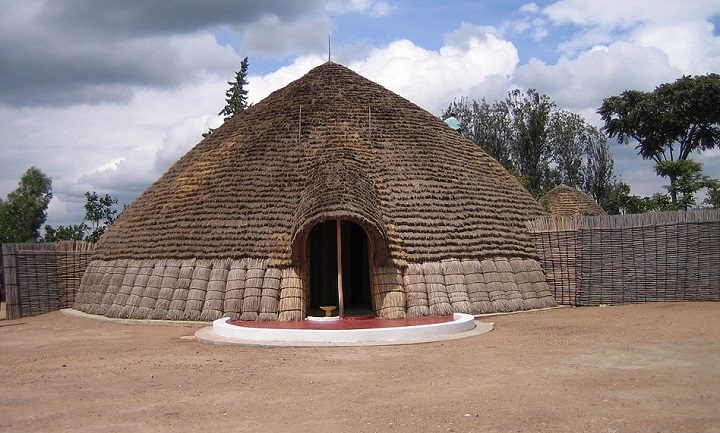 Wattle fence has ancient origins in Africa as well. A reconstruction of the traditional King's palace at Nyanza, Rwanda. This photo is from en.m.wikipedia.org.
38) Wattle Fence From The 1400's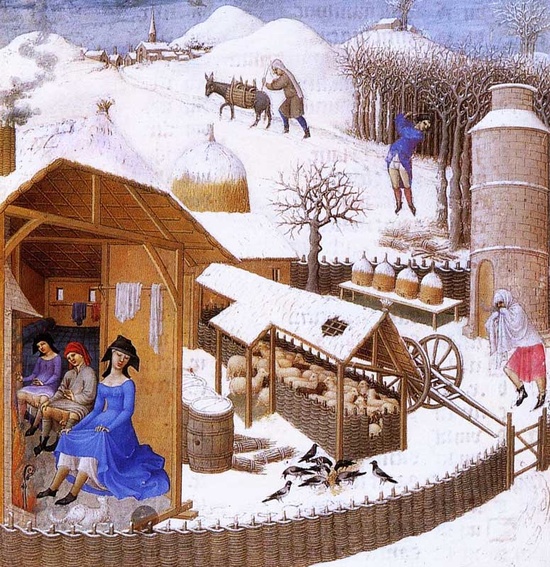 Wattle Fence in the 1400's. Les Tres Riches Heures du Duc de Berry. This painting was found on en.wikipedia.org.
Wattle Fence Resources
Online Resources
Courses
More Ideas
bramptonwillows.co.uk
For live willow sources see our Living Willow Hedges post.
Maintenance
The more protected, the longer lasting. Lasts much longer if covered in vegetation. Annual application of linseed/turpentine: bramptonwillows.co.uk
Premade Hurdles
Videos
Here's another short video (using thin branches) to start you off:
For more information, Alan King makes a hurdle and shows the stages involved at woodlands.co.uk.
Also see our Wattle Edging post.