Upcycled suits…or as Nick Cave calls them – Sound Suits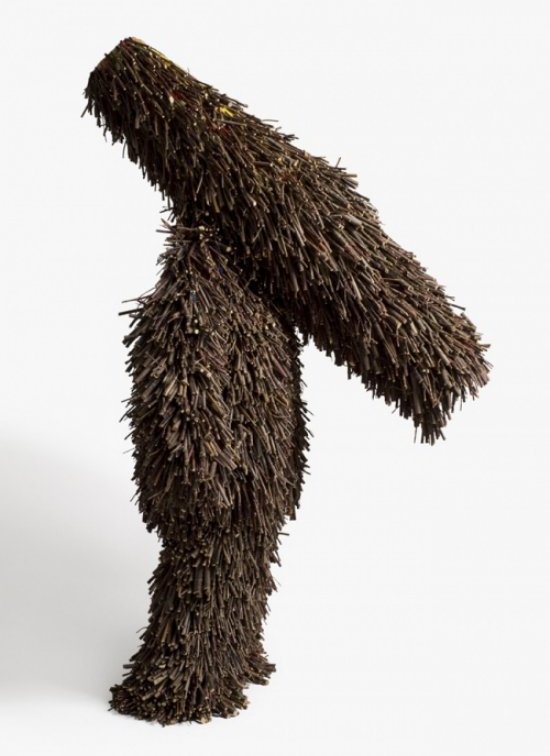 Twigs, one of Nick Cave's first Sound Suits, he says they're "full body suits constructed of materials that rattle with movement, like a coat of armor, (they) embellish the body while protecting the wearer from outside culture." Cave constructed his first suit after watching the Rodney King incident. www.facebook.com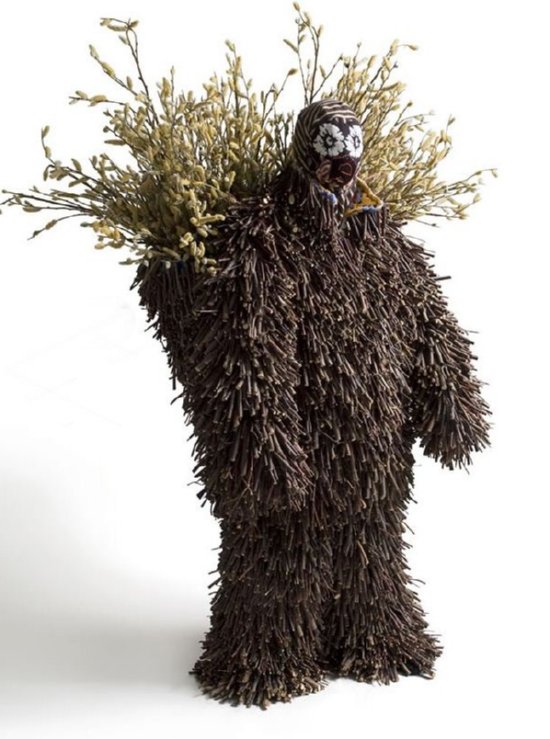 Each twig is drilled and sewn onto a wearable/movable frame. When Cave realized the suits emitted sound as they move – he called them sound suits. And he dreamed of assembling multiple, to hear the combined sounds as they move. Nick Cave has a Master's Degree in textile design and was an Alvin Ailey dancer. www.facebook.com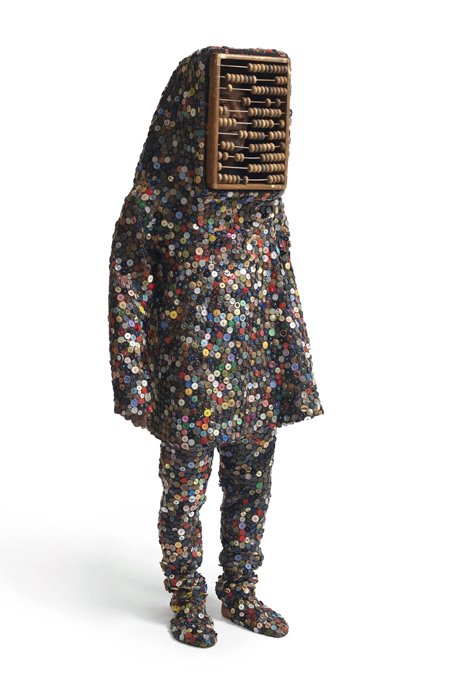 Button and Abacus Suit. Nick's assemblages consist of scavenged objects, castoffs re-collected from flea markets and thrift shops and decorative odds & ends. www.jackshainman.com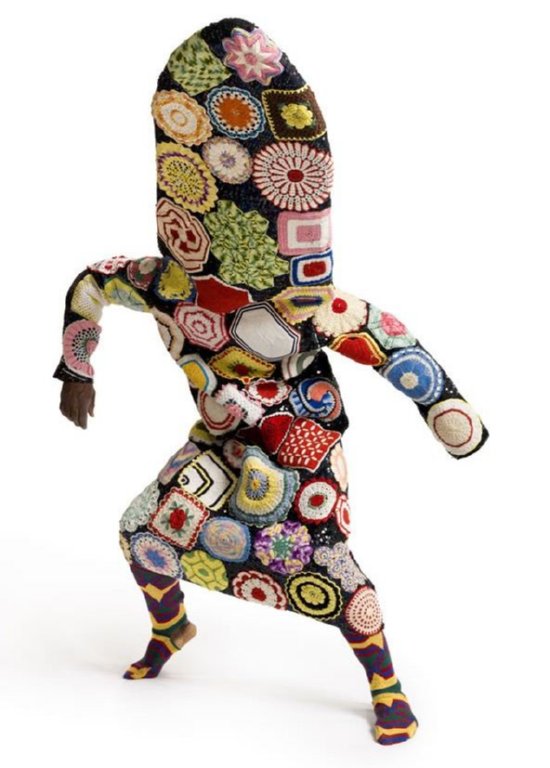 Crocheted Doily Reuse. Fashion, sculpture, textiles, performance… www.facebook.com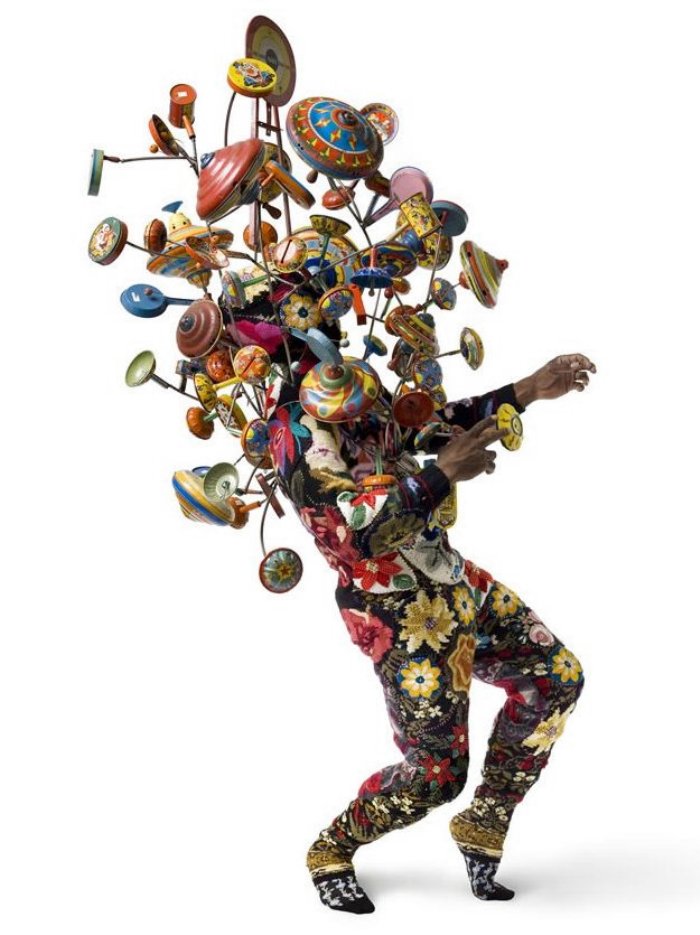 Toy Top Reuse – Six years back, Sound Suits sold for $12,000 – now they are 7-10 times that. www.nickcaveart.com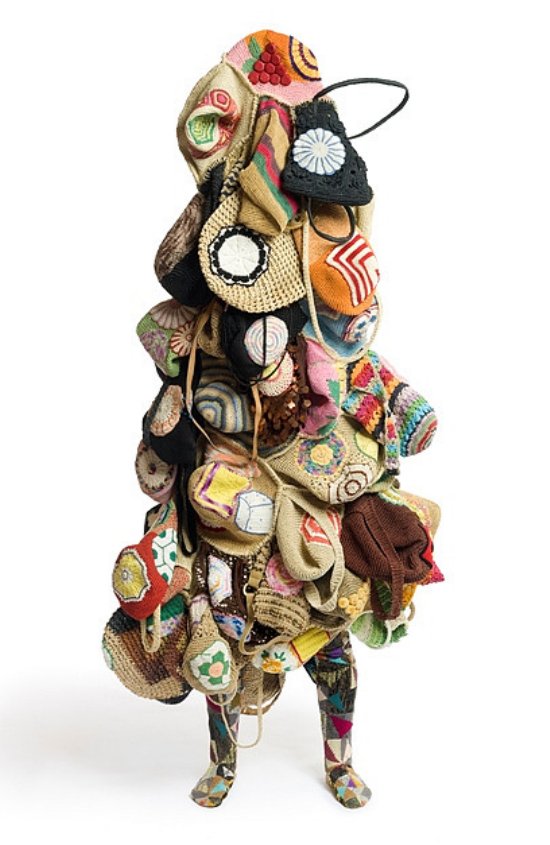 Hat and Handbag Reuse. Cave was one of eight brothers and hand-me-downs throughout childhood were familiar, which made reuse or reinventing easy for him. www.facebook.com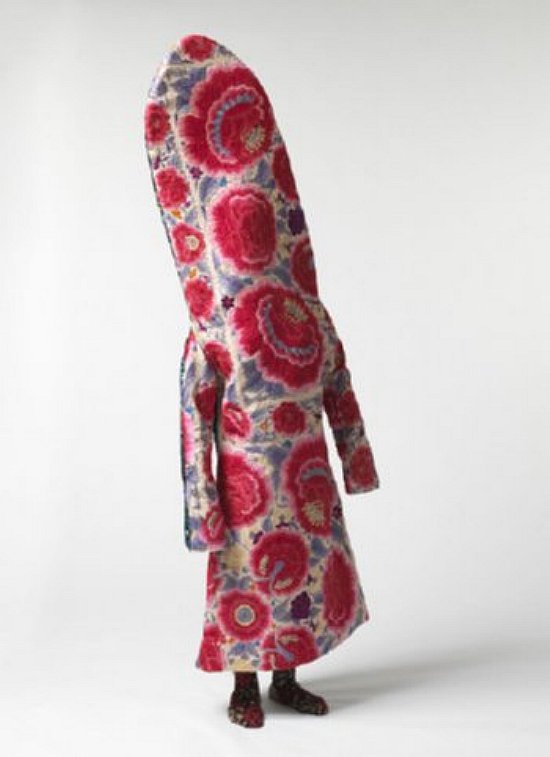 Rug reuse, wearable fabric sculptures. thescienceofdesign.blogspot.com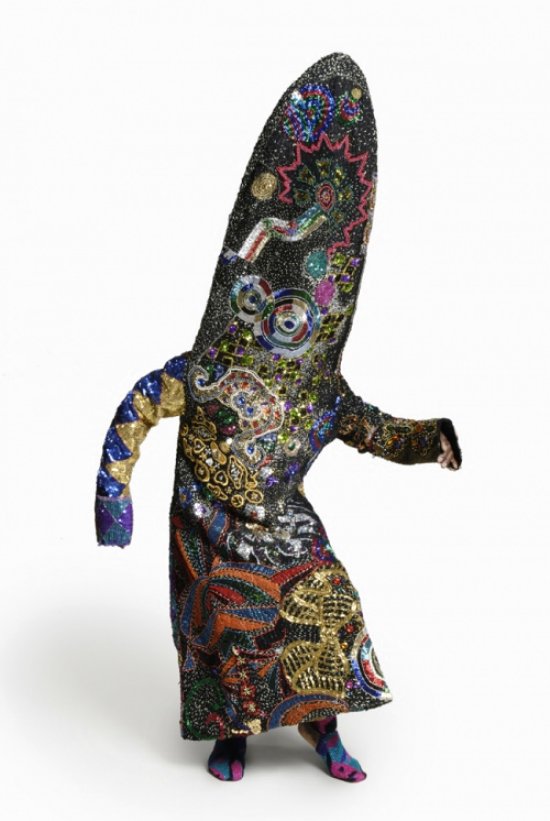 Sequin Reuse. www.facebook.com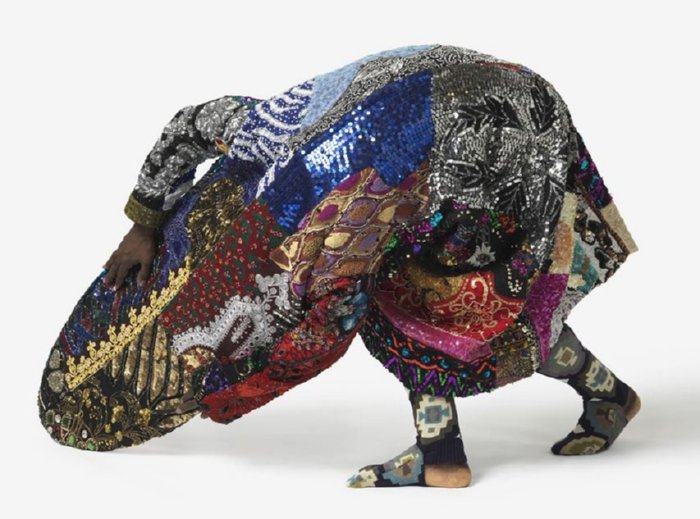 Sequin Reuse, Close-up of intensive hand-work. www.jackshainman.com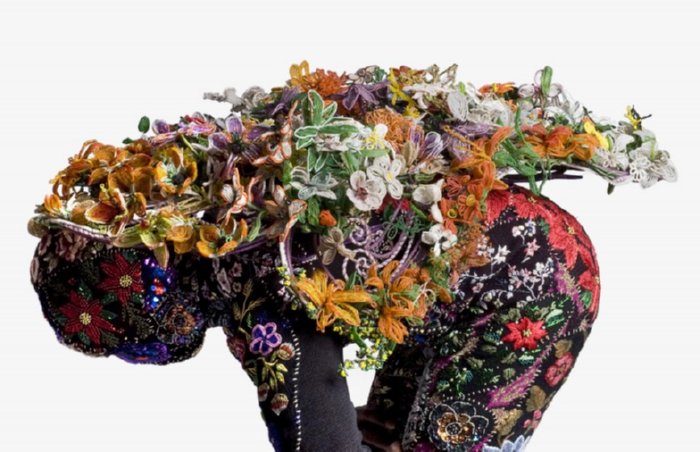 Silk Flower Reuse. www.facebook.com

Nick Cave SoundSuit. Shaggy pelts of fake fur in motion. www.facebook.com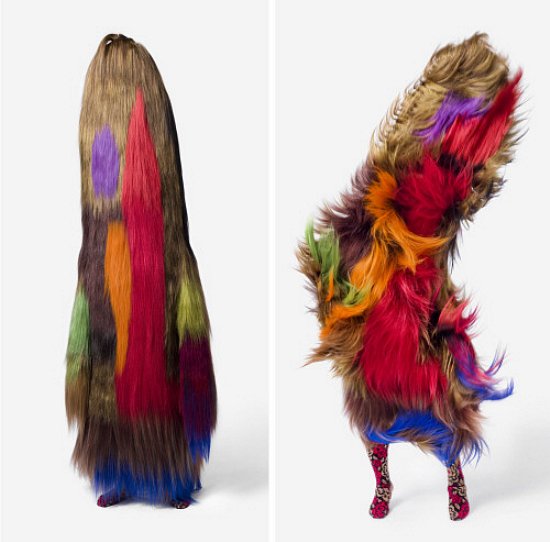 Cousin It Sound Suit. "You're forced to come to the work without judgment. That's the bottom line. We live in a world that wants to categorize and put things in a particular place."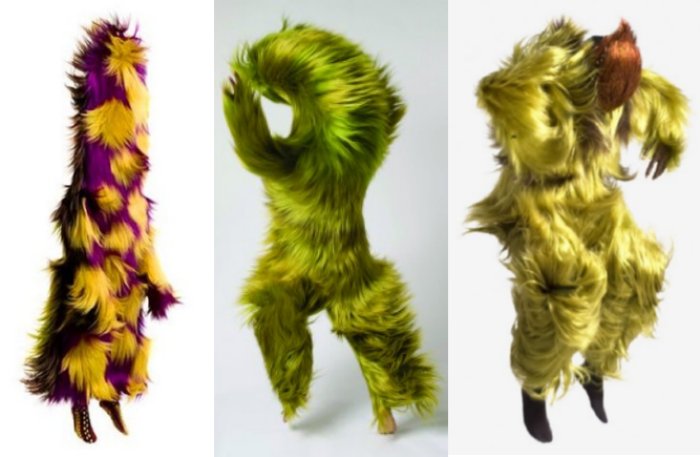 Nick Cave Sound Suits as performance art. www.facebook.com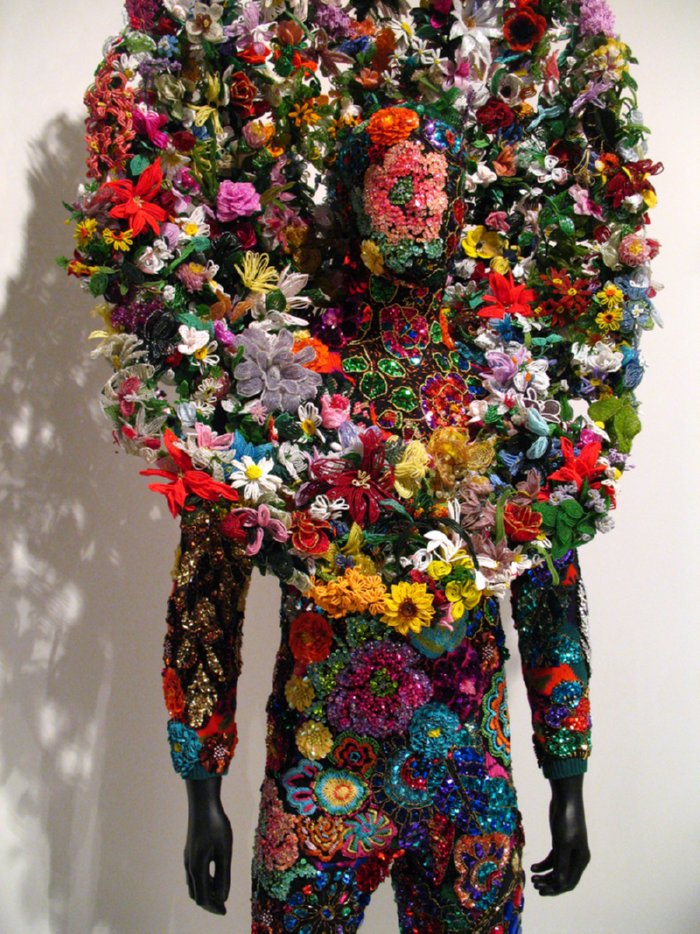 Silk, plastic and fabric flowers with sequins and embroidery. www.fromtheglobalvillage.com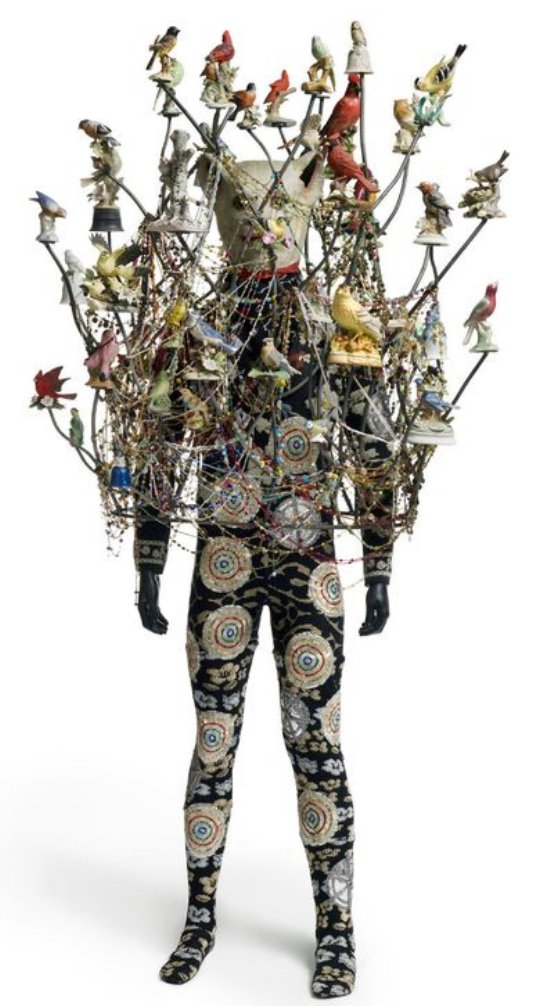 Bird and Cat Suit. Ceramic birds in perpetual flight. www.facebook.com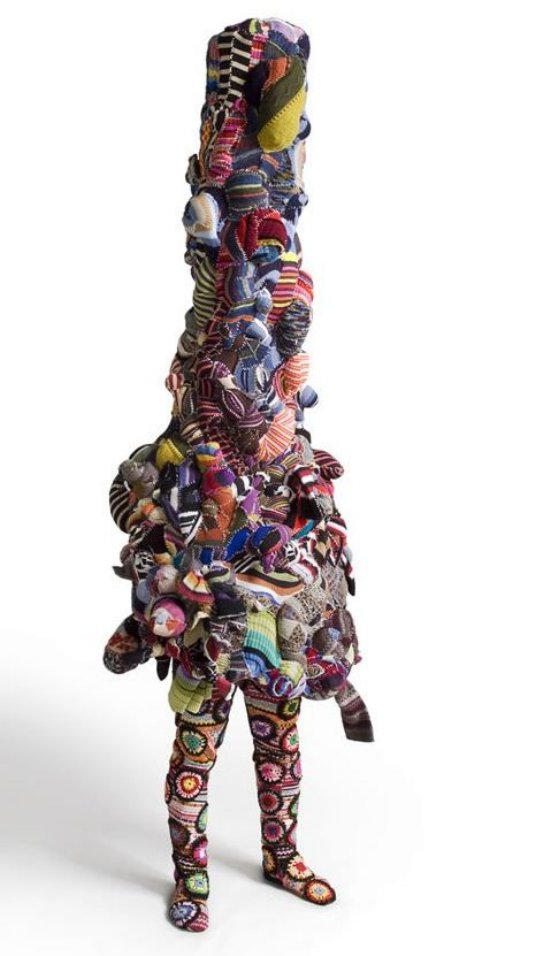 Mitten and Sock Reuse. www.facebook.com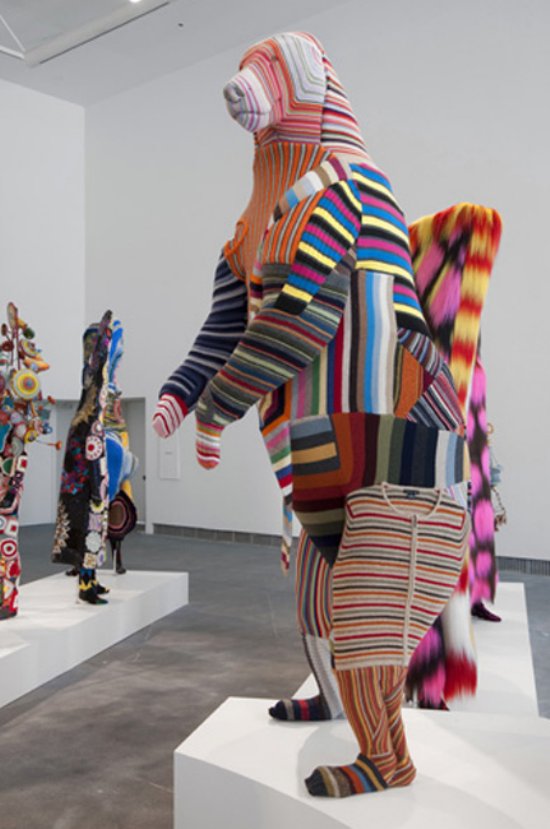 Old Pajamas Reuse. www.jackshainman.com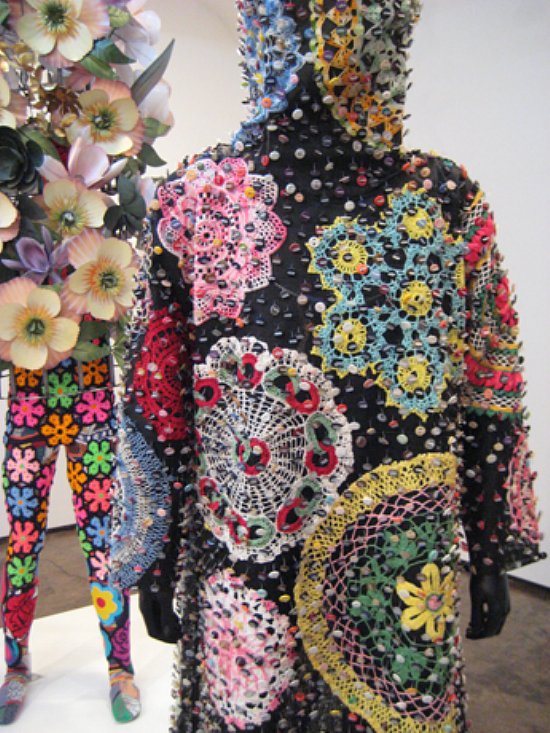 Doily, Button, Plastic Flower Reuse. www.facebook.com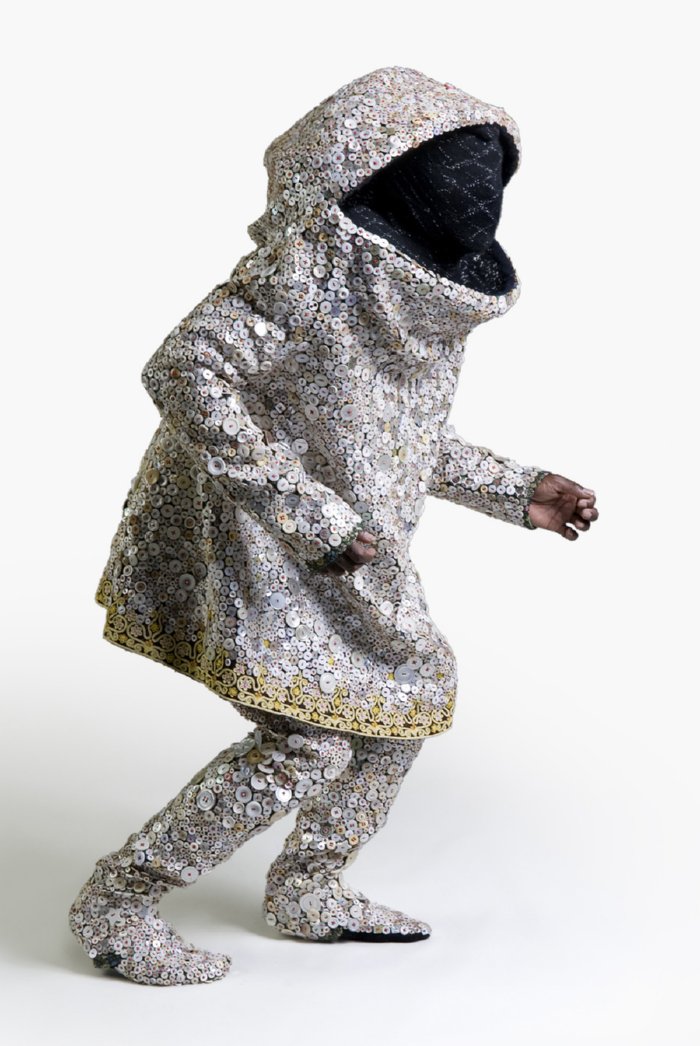 Button Reuse. www.facebook.com
Nick Cave was born in Fulton, Missouri, in 1959. He earned a BFA from the Kansas City Art Institute in 1982 and an MFA from Cranbrook Academy of Art (fiber arts program). Currently, Cave is assistant professor and chair in the Department of Fashion Design at the School of the Art Institute of Chicago. He also designed clothes for a decade and is a former Alvin Ailey dancer. Nick has an upcoming show at Jack Shainman Gallery, NY. Sept 8 – Oct 8, 2011. www.jackshainman.com In collaboration with Mary Boone Gallery. www.maryboonegallery.com
A solo traveling exhibition of Cave's work entitled Meet Me at the Center of the Earth was recently on view at the Seattle Art Museum. A major presentation of Cave's work was on view at the Tri Postal, Lille, France, in Fall 2012.
Cave has recently been included in group exhibitions at institutions including the Museum of Contemporary Art, Chicago, 2011; Göteborgs Konsthall, Sweden, 2010; and Kunstmuseum Wolfsburg, Germany, 2011. He is also included in 30 Americans: Rubell Family Collection, which opened in October 2011 at the Corcoran Art Gallery in Washington, DC, and was included in the Prospect.2 Biennial.
Public collections include the Brooklyn Museum, New York; Crystal Bridges, Bentonville; the Detroit Institute of Arts, Detroit; the High Museum, Atlanta; the Hirshhorn Museum and Sculpture Garden, Washington, DC; the Museum of Art and Design, New York; the Museum of Contemporary Art, Chicago; the Norton Museum of Art, West Palm Beach; the San Francisco Museum of Modern Art, San Francisco; and the Seattle Art Museum, Seattle; among others.
To buy soundsuit wrapping paper, magnets, etc: soundsuitshop.com