A green roof—essentially, a garden atop any office building or home—helps save energy, promote drainage, and feed you.
Why Build a Green Roof?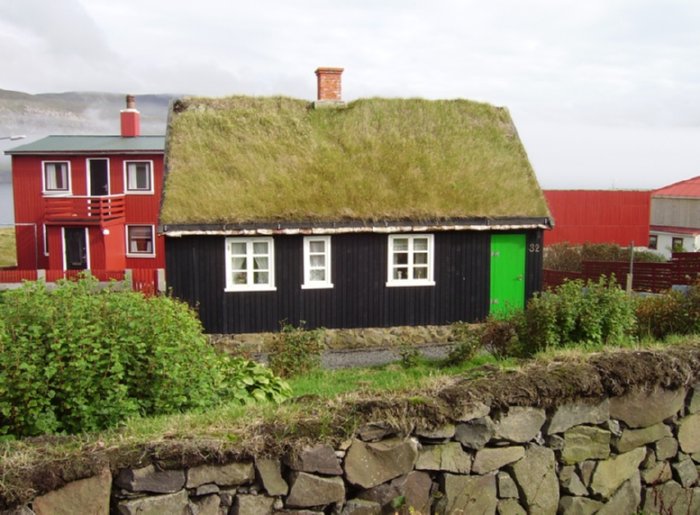 Sod roofs are common on the Faroe Islands, west of Norway. Traditionally the roof was covered with sod on top of several layers of birch bark over wooden boards.
Related Post: Green Roof Resources
Today, commercial roofing felt is used underneath the sod. Sod is an excellent insulator in a cold climate. Many residents mow or weedwack their roofs a few times during the summer months. Picture by Eileen Sanda flickr.com
The World's Most Amazing Green Roof Buildings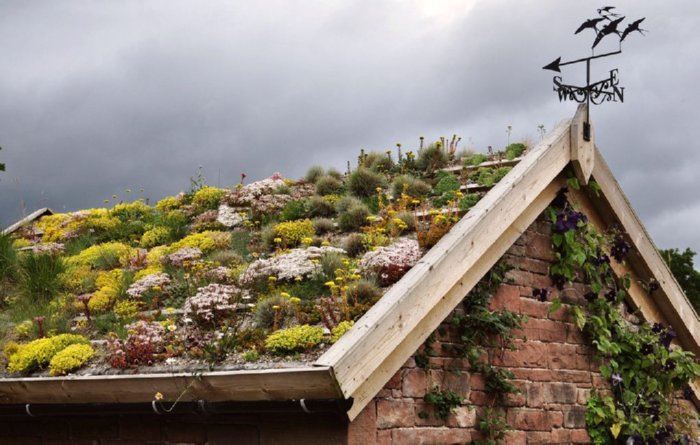 Green Roof, Lakeland, UK Wildroof Landscapes www.wildroof.co.uk
Picture taken two years after planting with mixed plug plants. Pic: flickr.com

Green Roof on Faroe Islands, Norway. Pic: DaScott www.flickr.com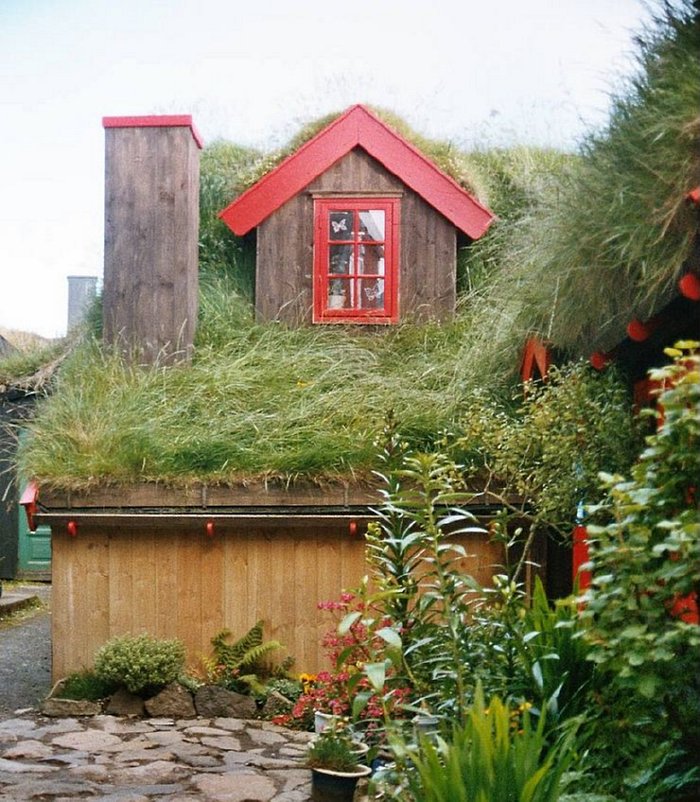 Sod Roof Torshavn, Faroe Islands Pic by DaScott www.flickr.com
Start Your Green Roof With Sedum
The most popular choice for green roof plants are sedums. They're attractive, resilient, and accustomed to wet and dry conditions so long as they have good drainage. Here are some seeds you could buy to get started:
Sedum Blue Spruce: 5,000 seeds. An eight-inch perennial that mimics the look of a much larger plant.
Sedum Seeds Roof Garden Mix: 2,000 seeds. A mix of seeds—and when they grow, a mix of colors that will change through the year. Pick 5,000 seeds at checkout.
Find more sedums for sale at All Succulents.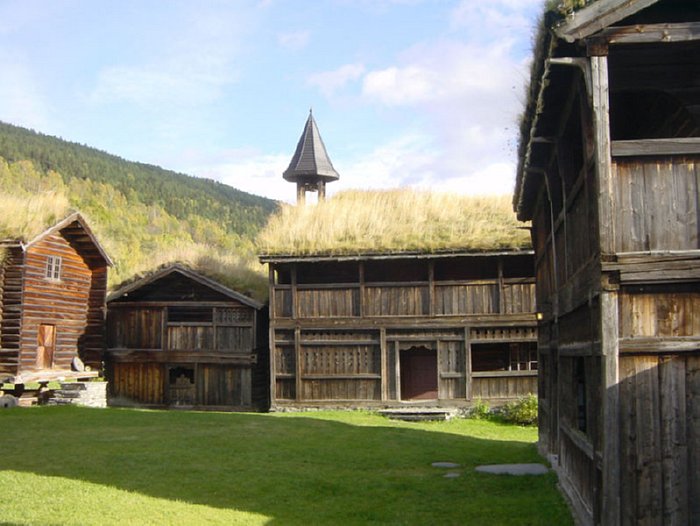 Living Roofs – Farm buildings in Heidal, Gudbrandadal, Norway. Pic: Roede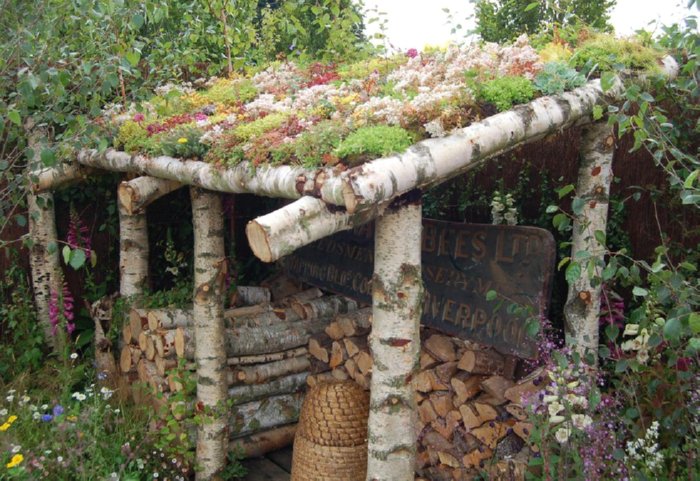 Green Roofed Arbor, Tatton Park. Wildroof Landscapes UK pic: flickr.com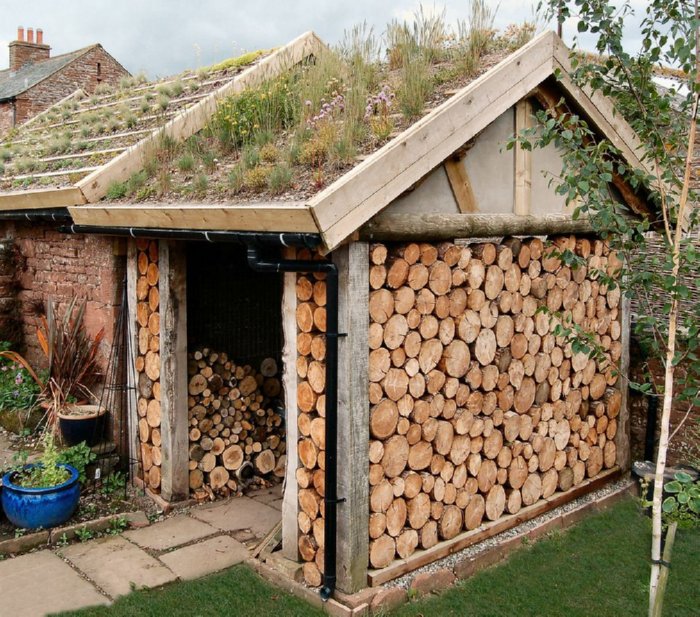 Green roofed shed near Penrith, UK. Planted with wild flower and grass plugs – the growing media is 100mm (4in) deep with 20% lightweight coir potting compost. The photo was taken one year after planting. Wildroof Landscapes www.wildroof.co.uk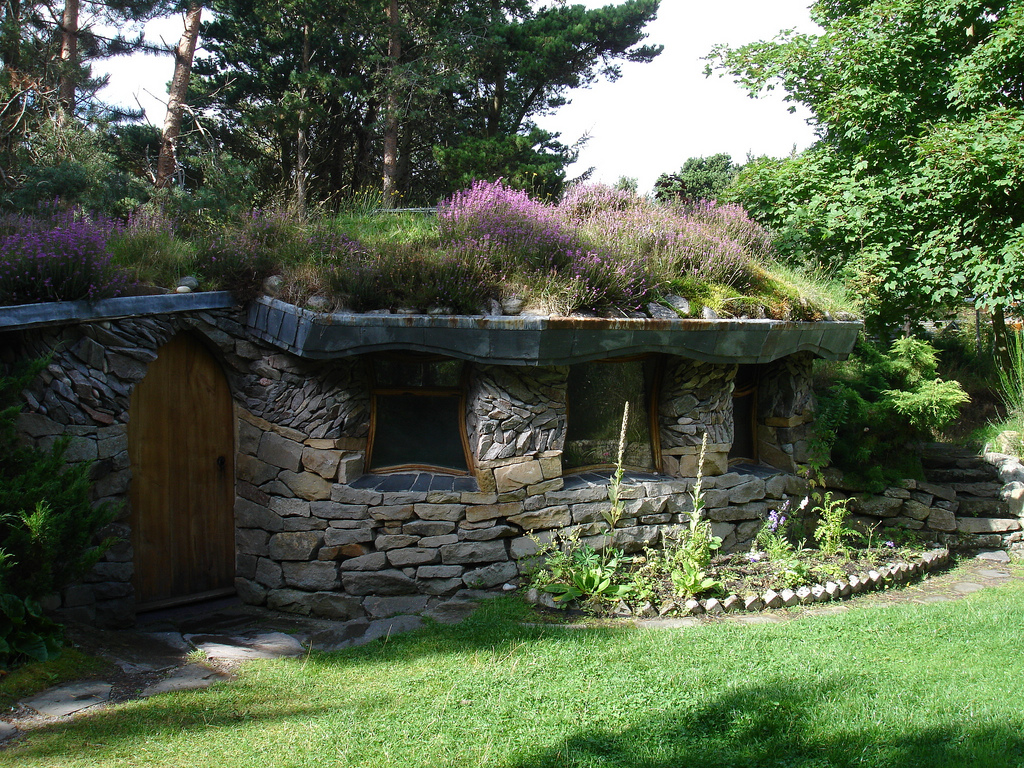 Findhorn, Scotland. Pic by Padroes Naturais Solucoes Sustentáveis flickr.com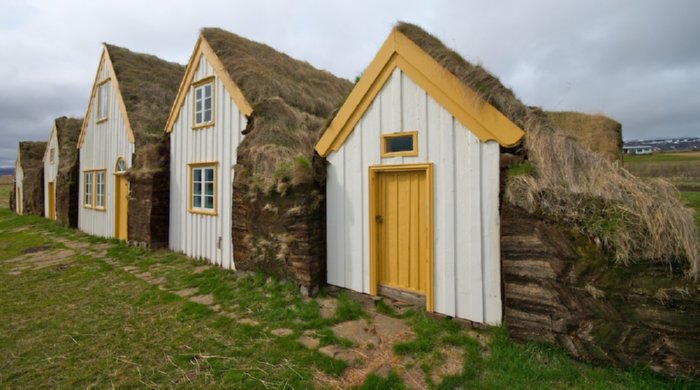 Ancient Green Roof – the folk museum at Glaumbaer, Iceland. The buildings are partly constructed with turf, with inner hallways between the buildings. f1f11.blogspot.com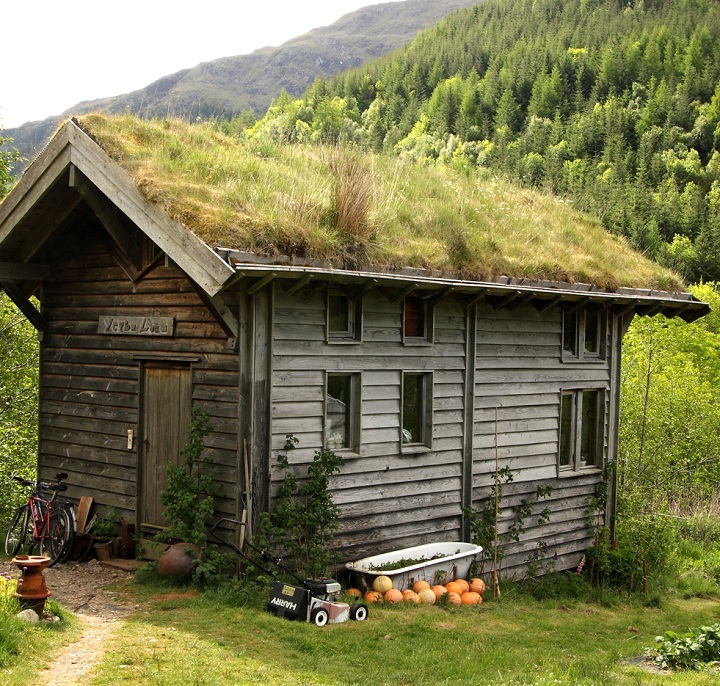 Green-roofed Blue Wagon Coffee Shop, Glenelg, Scotland. Via Cabin Porn.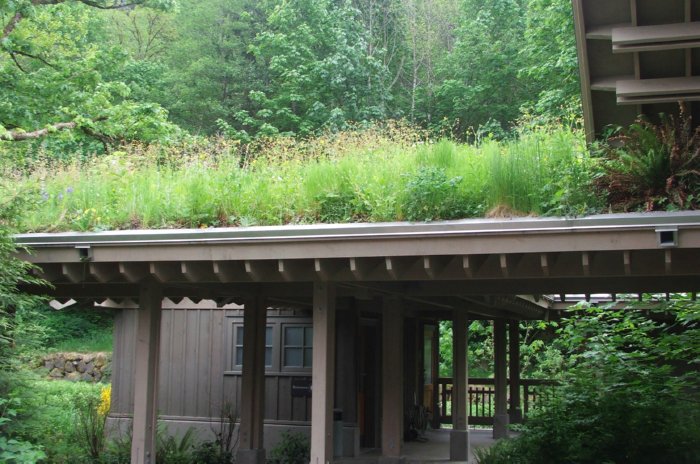 Green Roofed Arbor, Mississippi — msucares.com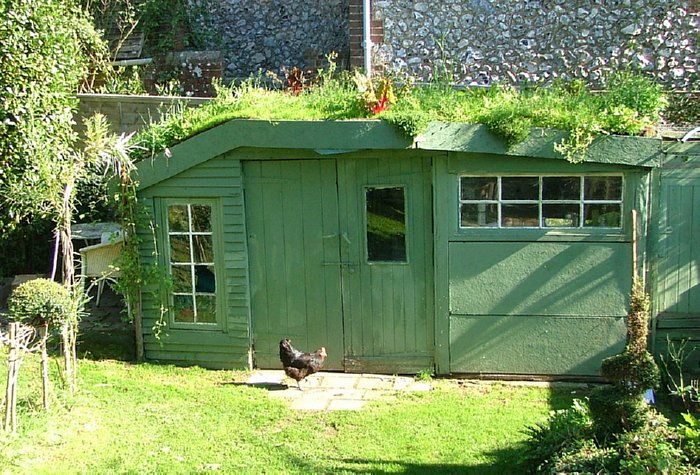 Green Roofed Shed constructed from found materials by Mark and Rebecca Ford Art Sculpture markfordsculpture.blogspot.com – flickr.com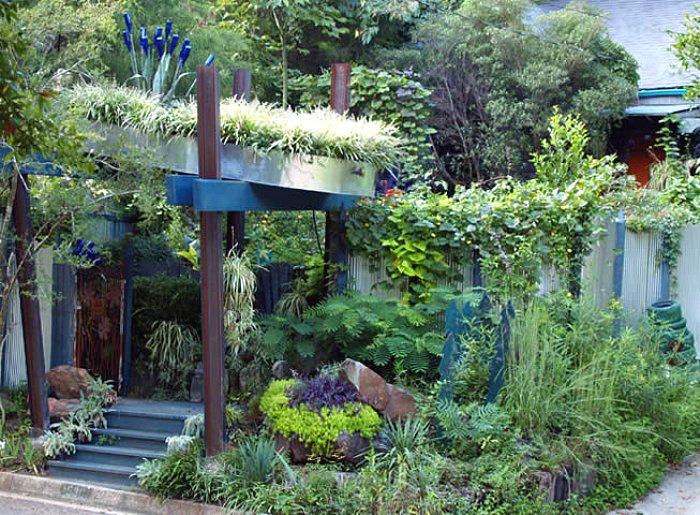 Green Roofed Arbor in Mississippi by Felder Rushing. oursquarefootgarden.blogspot.com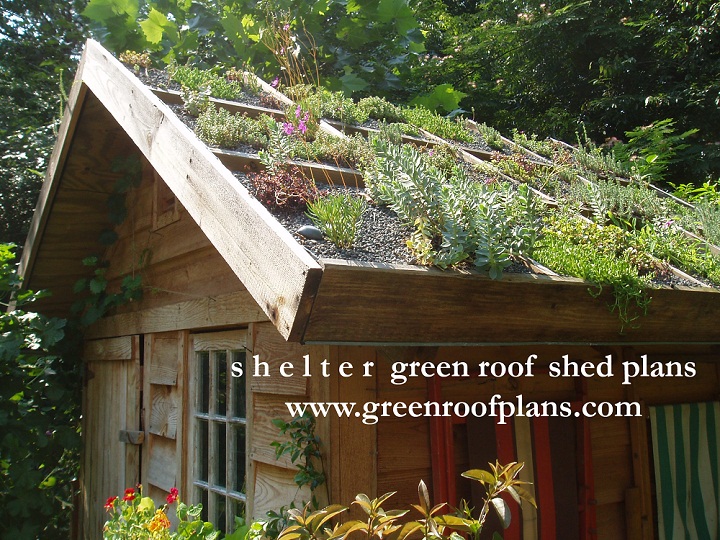 Green Roof Garden Shed in Raleigh, NC by Living Roofs, Inc. livingroofsinc.com More images: greenroofs.com Plans: www.greenroofplans.com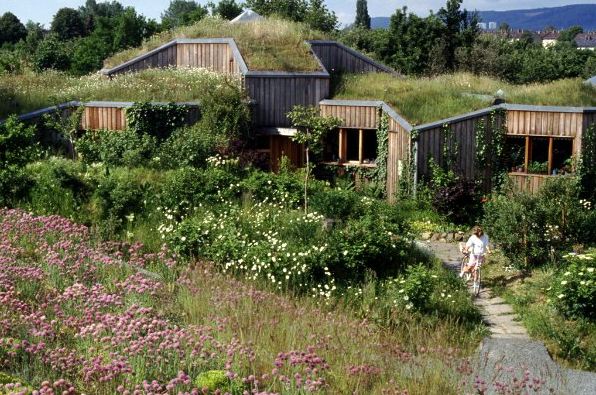 Living Roof Hessen, Germany. Architect: Gernot Minke gernotminke.de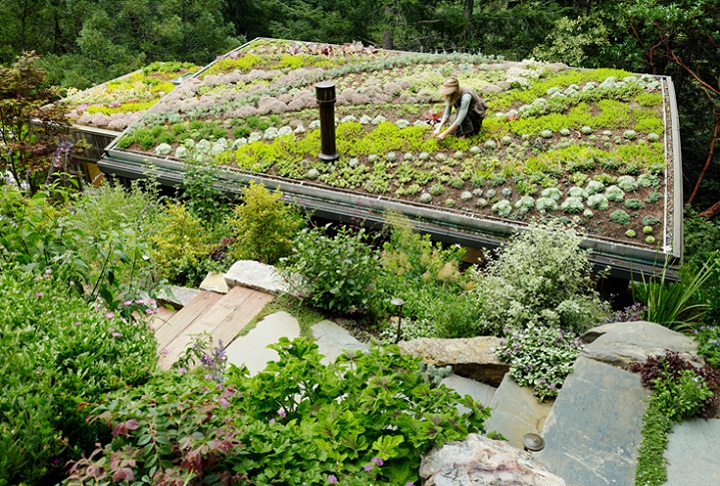 Green Roof by Feldman Architecture, Inc. San Francisco. www.feldmanarchitecture.com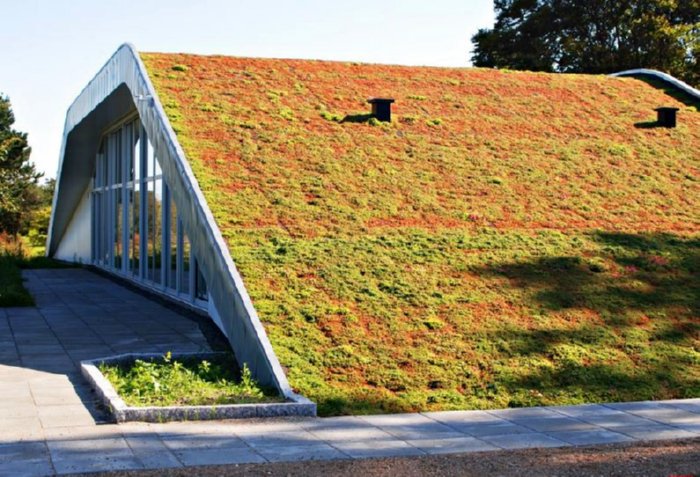 Green Roofed M2 Hill House by Bjarke Ingels Group, Denmark. More pics: www.big.dk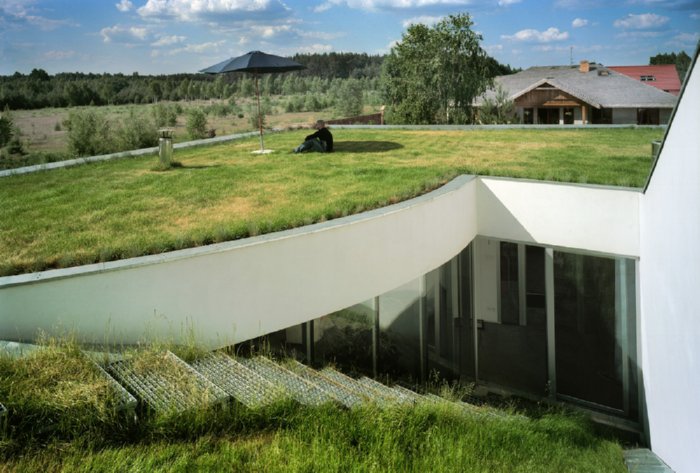 OUTrial House Ksiazenice, Poland by Robert Konieczny www.kwkpromes.pl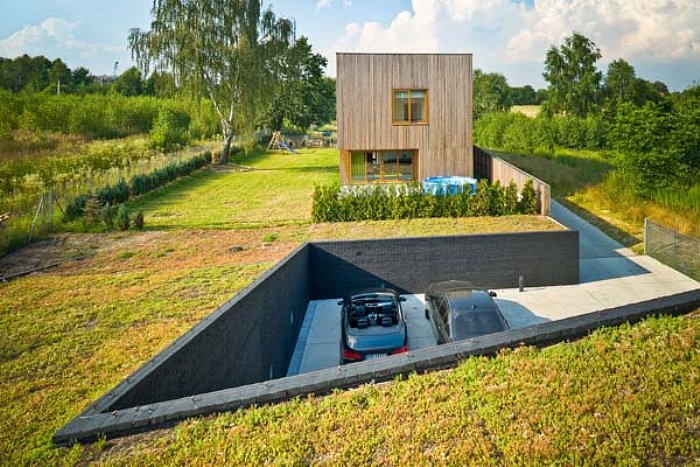 Three sloped green roofed homes, each windowed southern exposure looks upon the neighbor's north facing green roof. Jojko+Nawrocki Architects Pictures: www.jna.com.pl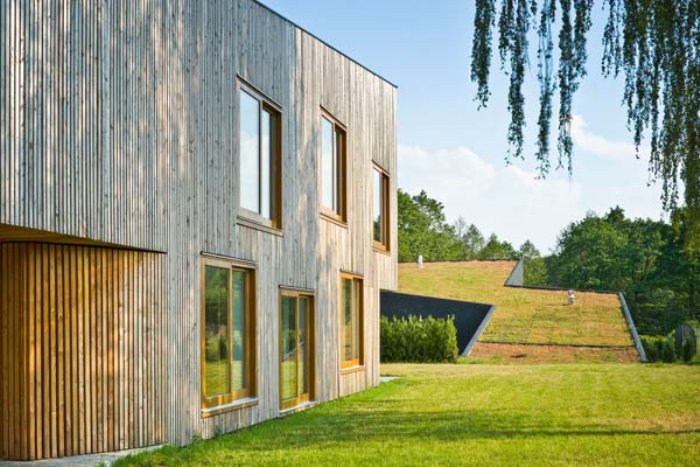 As above. Each windowed southern exposure looks upon the neighbor's north facing green roof. Jojko+Nawrocki Architects Pictures: www.jna.com.pl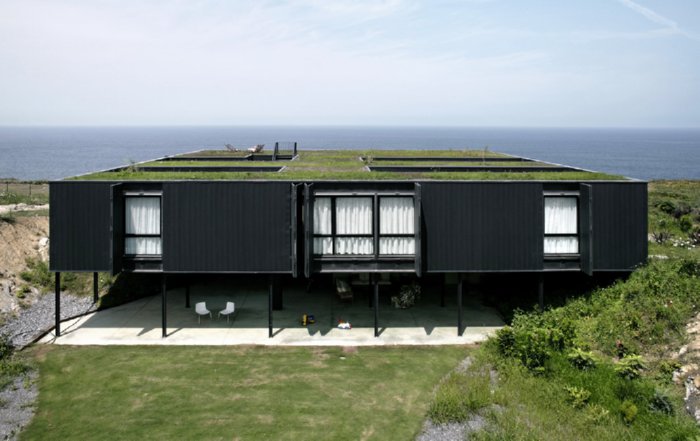 OS House by Nolaster – Cantabria, Spain www.archdaily.com Real!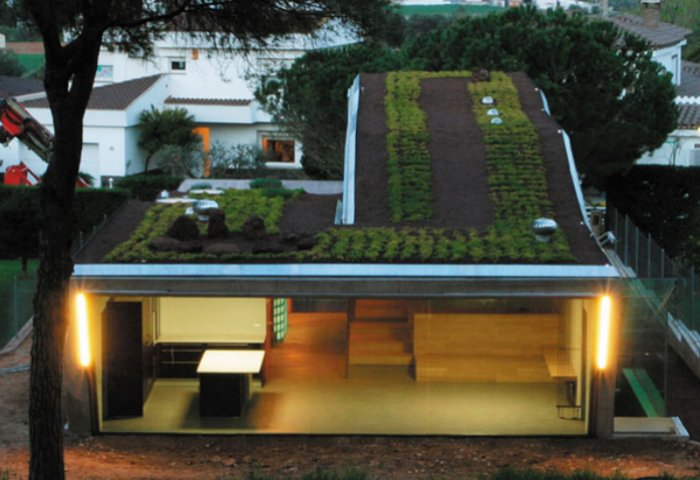 Villa Bio, Spain by Enric Ruiz Geli www.ruiz-geli.com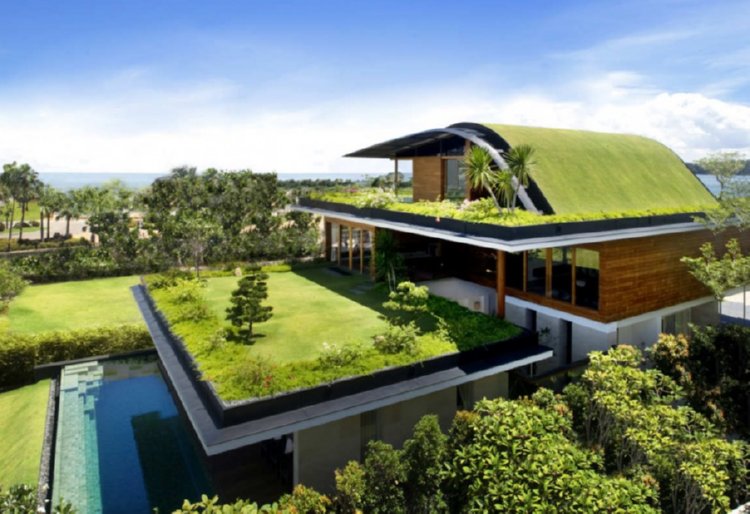 Green Roof- Sky Garden House, Guz Architects on island of Sentosa adjacent to Singapore. www.guzarchitects.com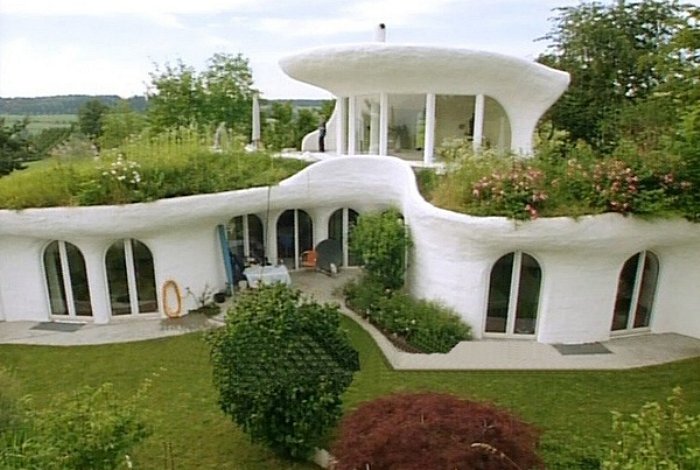 Green Roof – Earth House Estate Dietikon, Switzerland by Peter Vetsch www.erdhaus.ch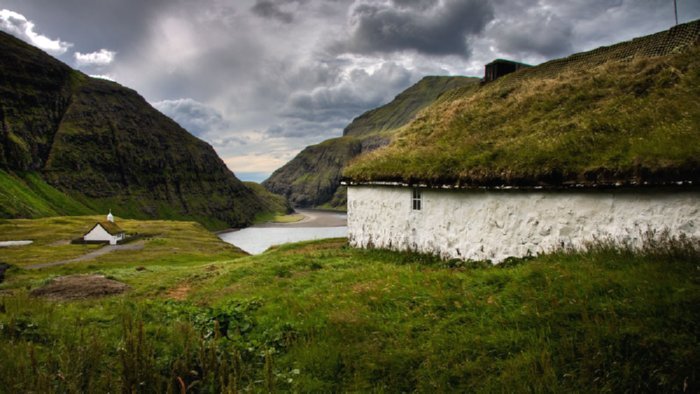 Green Roof — Saksun, Faroe Islands. Pic by Hans J. Hansen flickr.com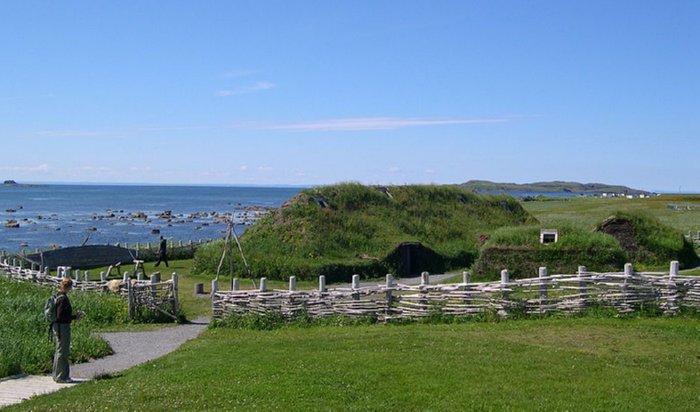 Green Roofed Viking Houses, a recreation, Newfoundland, Canada. Not a new idea! Green roofs have been covering our heads for thousands of years. Pic: Dylan Kereluk

Green Roofed Church, Hof, Iceland. Pic: Ira Goldstein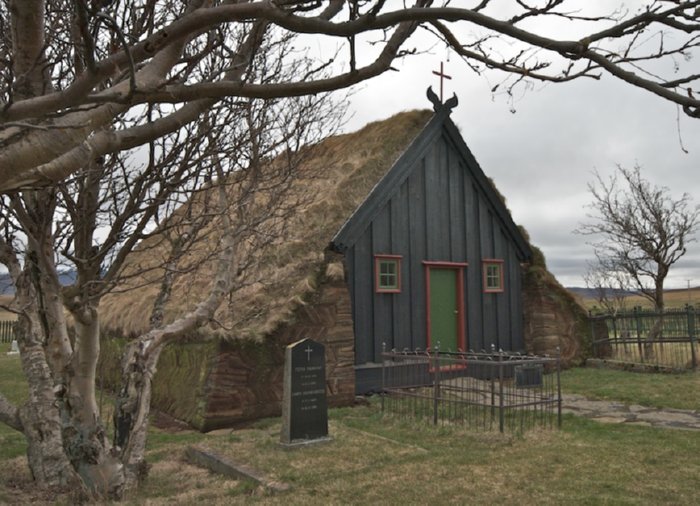 Green Roofed Church – at Vidimyri, Iceland is considered to be "the purest example and the most beautiful keepsake of Icelandic architecture." Note the sod stacked sidewalls. f1f11.blogspot.com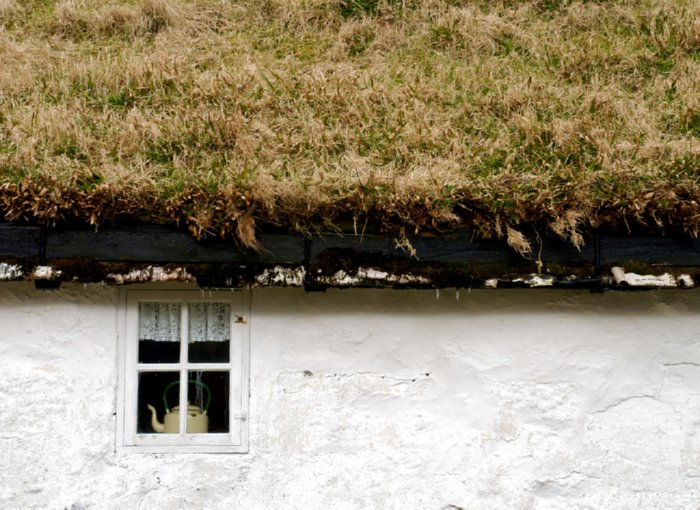 Grass Roof — Saksun, Faroe Islands. Pic by Felix van de Gein flickr.com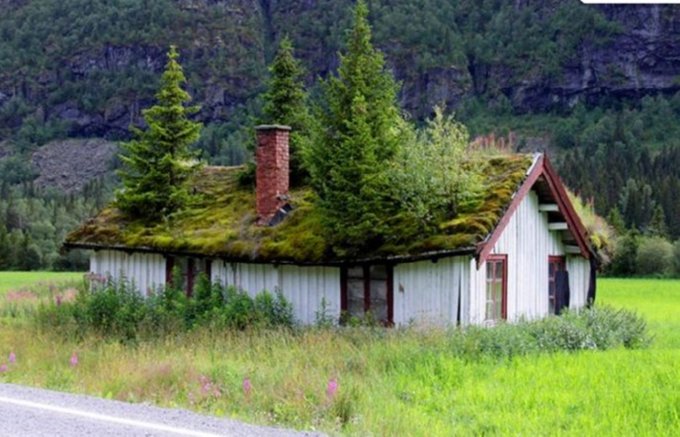 Back to Nature. Neglecting that once a year weedwack = Christmas trees sprouting from the roof.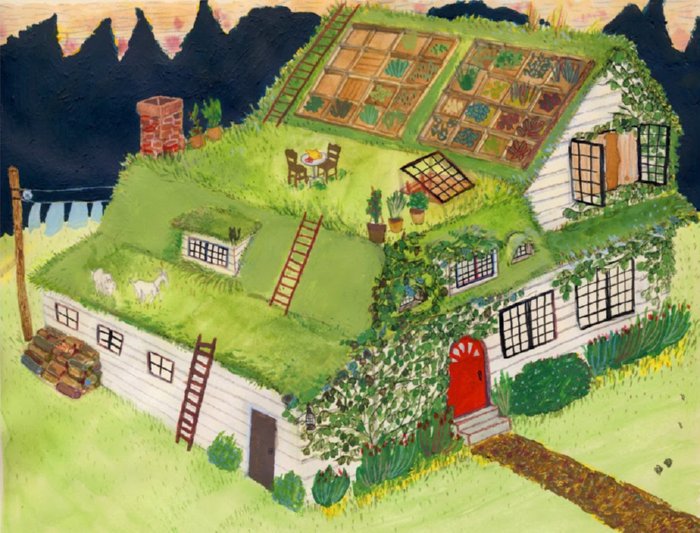 Green Roofed Home with ladders for the goats. robinlaureltree.blogspot.com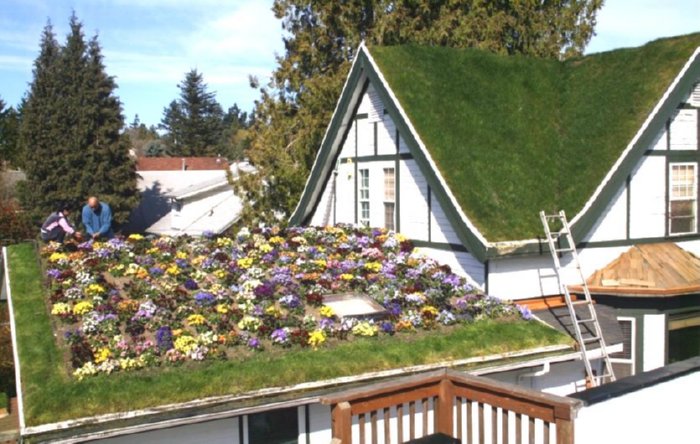 Green Roof by Troy Wagner Tacoma, Washington www.greenroofs.com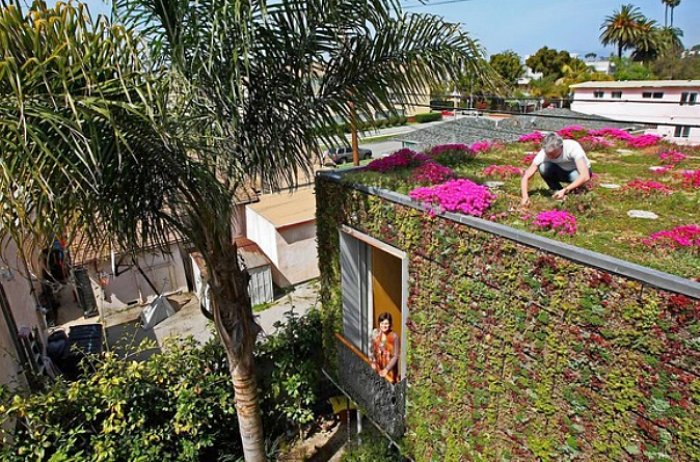 Green Roof/Walls = Cube in Venice, Calif. latimes.com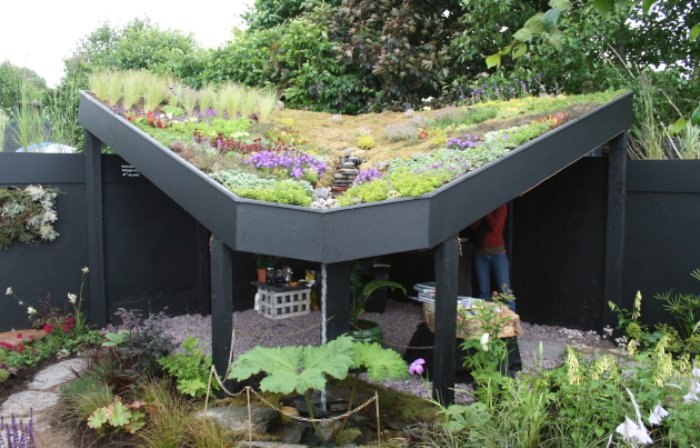 Green Roofed Shed set up for a show. Pic: croom.wordpress.com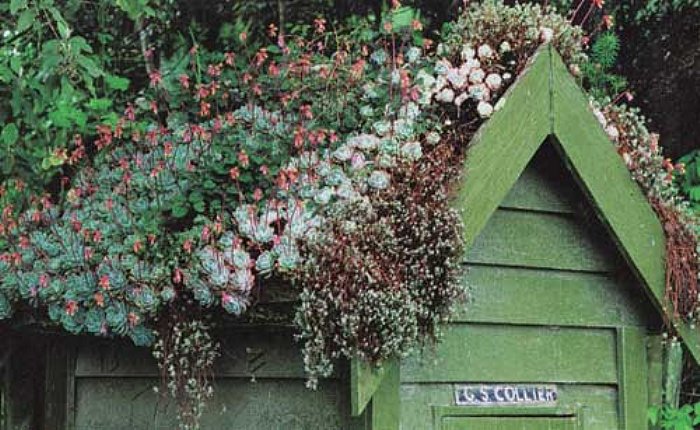 Living Roof Shed dreamhousecammy.blogspot.com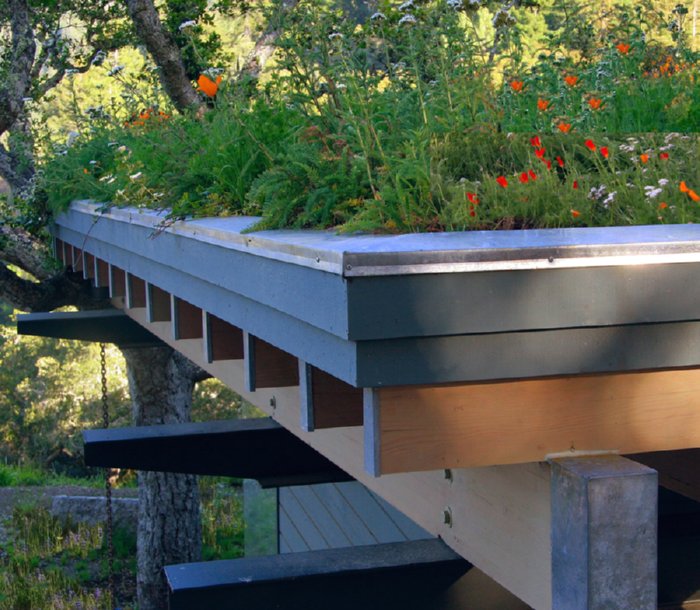 Living Roof in San Francisco by Jonathan Feldman greenarchitecturenotes.com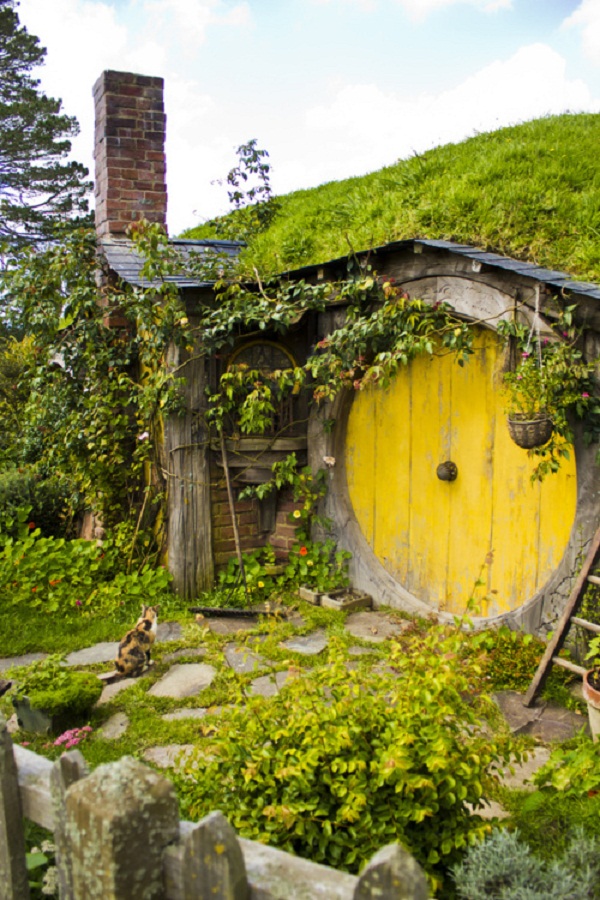 Green Roof on Hobbit House. Via: www.tumblr.com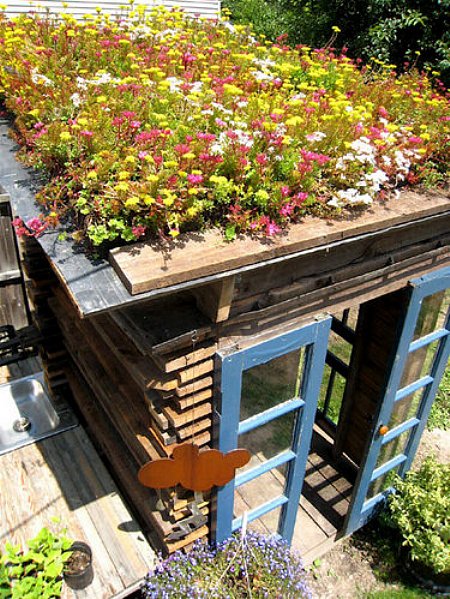 Green roof on Shed. By landscape architect Joy Kuebler. All materials used to build the shed came from Buffalo ReUse. www.buffalorising.com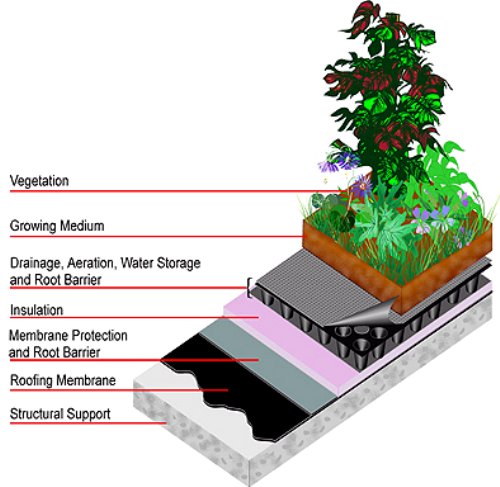 In Germany, experts estimate that 12% of all flat-roofed buildings are living roofs, a number that is rapidly increasing as the German green roof industry continues to grow 10 to 15% per year.
The Best Green Roof Books
The Two Types of Green Roof
Intensive (labor-intensive): Found on flat roofs and require about 4-24 inches of planting medium that is able to grow conventional lawns, vegetable gardens, small shrubs and even small trees. Intensive rooftops require sophisticated structural support and possibly irrigation. Typically weigh 80-120 lbs. per square foot, fully saturated. Are often park-like gardens for public or private use.
Extensive (sedum or grass): Designed to be virtually self-sustaining and require low to no-maintenance. Needs a planting medium of 1-4 inches on a flat or gently sloping roof. Best with native vegetation or drought-resistant, cold-resistent, shallow-rooted plants, sedum, herbs, mosses or grass which generally grow no higher than several inches. They typically weigh 10-50 lbs. per square foot, fully saturated, depending on what type of growing medium is used.
Why Build a Green Roof?
Green roofs are excellent insulators. Studies have shown that a green roof can reduce your cooling costs by 50% and more during the summer months and in the winter your home will retain 15-30% more heat than if you had a conventional roof. On a sunny, 80-degree-F day, a black roof can reach 180 degrees F; a white roof 120 degrees; and a plant-covered roof 85 degrees. You save money and use fewer energy resources.
Cost. There are many modular green roof kits available that might bring the costs down. Extensive green roof: $8 to $20 per square foot. Intensive green roof: $15 to $50 per square foot. A 2006 study by the University of Michigan comparing costs of conventional and green roofs showed that, on average, installing a green roof costs about $22.00/sq. ft. versus $16.00/sq. ft. for a conventional roof. In its life, however, the green roof would save over $200,000 with two-thirds of that coming from reduced energy needs.
Reduced storm water runoff. When the water falls on a typical roof, it's often funneled off into storm water drains, collecting pollution along the way and polluting our waterways or increasing the amount of sewage to be treated. Green roofs 'harvest' rain water and put it to beneficial use.
Increased longevity of roofing membranes. The plants and growing medium are absorbing the solar rays, protecting the roofing materials from UV breakdown.The green roof also shields the membrane from extreme temperature variations, another cause of hastened degradation. According to Penn State's Center for Green Roof Research, a green roof will lengthen roof life by two to three times.
Sound proofing. An extensive green roof can reduce sound from outside by 40 decibels, while an intensive roof can reduce sound by 46-50 decibels (Peck et al. 1999).
Aesthetic appeal. Nature relaxes, promoting psychological well-being.
Carbon is sequestered. Through the process of photosynthesis, carbon dioxide is removed from the atmosphere and stored as carbon in biomass.
Urban Heat Island Effect. If an urban area has numerous green roofs, heat island effect is lowered.
Habitat. When planted with native vegetation, a green roof becomes a habitat for indigenous species and migrating butterflies, birds and bees.
Green Roof Research
Green Roof Organizations
How to Build a Green Roof