Children's Toys – Age 1 to Age 5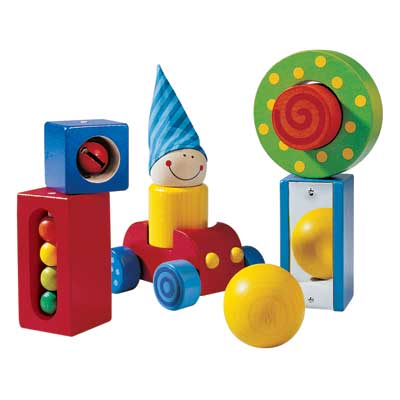 Erste Steine Wooden Baby Blocks from Haba
AGE: 1 Year+ A bright, red car with a happy driver and six, different building blocks. Each block has its own acoustic or visual surprise.
This wooden toy is made of maple wood. Multiple coats of natural, water-based, non-toxic lacquers ensure the colors of these blocks stay vivid and bright for years to come. A quality toy that was crafted to withstand years, even generations, of childhood adoration and play. Made in Germany. $ 30.
www.oompa.com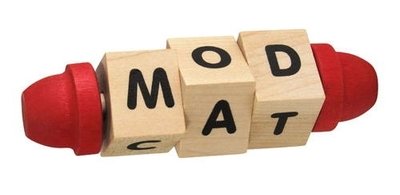 Wooden Spinny Speller
Three rotating blocks make dozens of words.
Maple Landmark toys. Made in Vermont, USA. $ 8.
www.hazelnutkids.com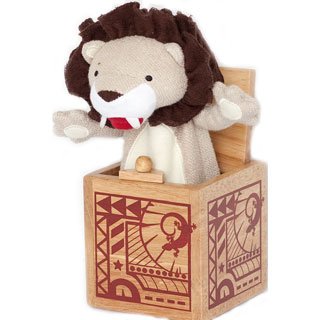 Jasper's Jungle Pop Up Lion
Made from naturally sustainable rubber wood and organic cotton fabric. By ImagiPLAY. Made in Sri Lanka. Ages 1-3. $ 30.
www.nubiusorganics.com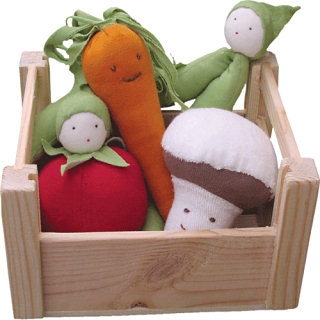 Under The Nile – Veggie Crate
They look like vegetables but are toys that are stuffed with 100% organic cotton. Four veggies (Carrot, Green Beans, Mushroom and Tomato). Grown in Egypt, the products reflect the extremely soft and durable features that Egyptian cotton is known for. Under the Nile's dyeing process uses metal-free or vegetable dyes. Ages 1- 4. $ 28.
www.nubiusorganics.com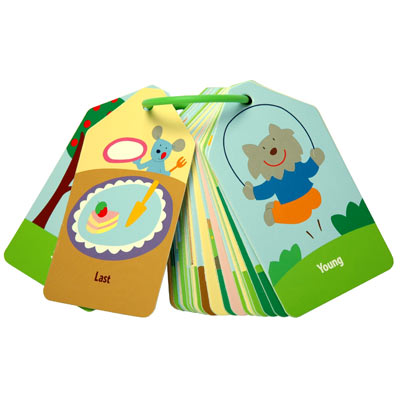 Opposites Ring Flash Cards
From Mudpuppy. Also see their 'under the sea' and 'number' flash cards. Includes 26 sturdy flash cards with reclosable ring holder. Pieces and packaging made from 100% recycled paper and made with soy-based inks. Made in China. $ 12.
www.oompa.com

Wonderworld Flower Stacker
The wooden pieces are made of environmentally friendly rubberwood and painted with a water-based non-toxic paint. Ages 2 and up.
www.wonderworldtoy.com    www.amazon.com   $ 25.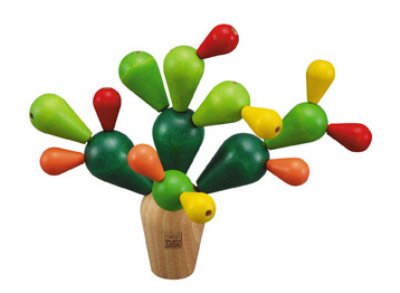 Plan Toys' Balancing Cactus
The Player who can balance the cactus without making it fall is the winner. Ages 3+
www.amazon.com   $ 22.50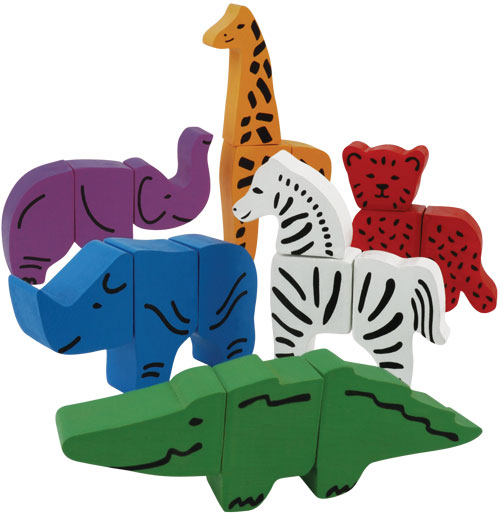 Zooops – Safari Edition
18pc connecting block set/game – build hundreds of crazy combinations. Activities and games included. Multi-Stage toy: Grows with your child's needs. All of ImagiPLAY's toys are made from eco-friendly materials, with plantation-grown rubberwood being a favorite. Made in SE Asia. Ages 2-5.  $25.
www.imagiplay.com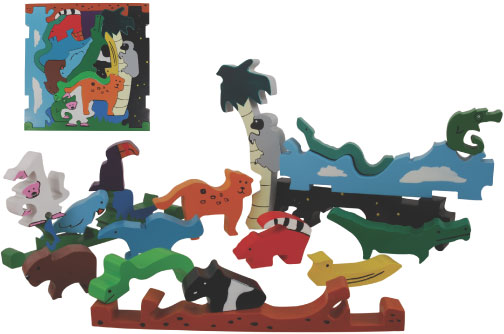 PuzzlePlay Rainforest 
Made from rubberwood, an earth friendly hardwood, 18pc.
Imagiplay – made sustainably in SE Asia. $ 20.
www.imagiplay.com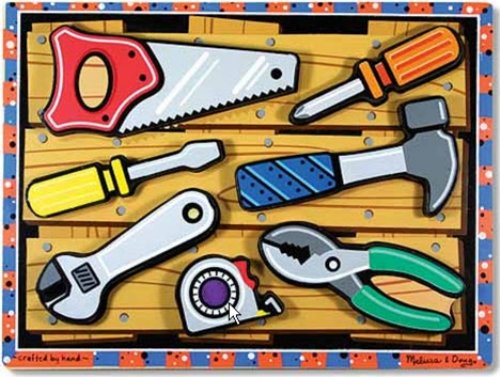 Melissa and Doug Chunky Tools Puzzle
This extra thick wooden puzzle includes seven easy-grasp, chunky tool shaped pieces, each with a full-color, matching picture underneath. Tool pieces can stand on edges for pretend play. Encourages hand-eye, fine motor and creative expression skills. 1″ x 9″ x 12″  Ages: 2+ years.
https://store.ecomom.com     $ 10.

Counting Penguins 
Hand-crafted & hand painted. Puzzle measures 11″ x 3.25″ x 1″. Made from plantation-grown rubberwood, an environmentally-friendly hardwood.
Made sustainably in SE Asia. $ 17.
www.imagiplay.com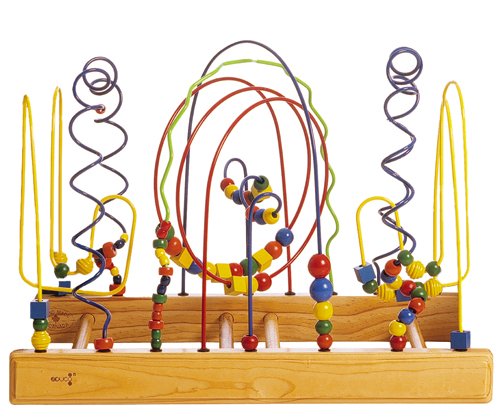 HaPe Educo Tunnel Mountain Classic Maze
Tunnel Mountain from HaPe has graceful blue and yellow arches, green zigzags and curling loops towering over a giant red tunnel. All wires are securley anchored to the wooden base. This is an excellent co-operative play center for 2-6 children. Fair Trade China. Main material: Netherlands Pine Wood, wooden beads: Chinese Maple,  wire: metal,  plastic: TPE,  Gernan water paint,  German lacquer. Some Assembly Required. Ages 2+
www.amazon.com     $ 83.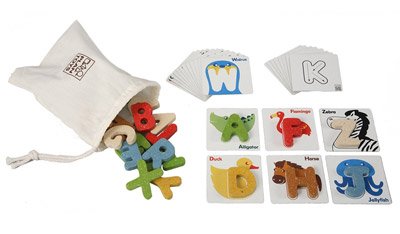 Plan Toys Alphabet A-Z
The set comes with 26 capital letters and 2 side bases. The front base has animal pictures which relate to the alphabet. On the back are directions for writing the alphabet.
Helps children match the alphabet with the animal picture base.
www.amazon.com     $ 33.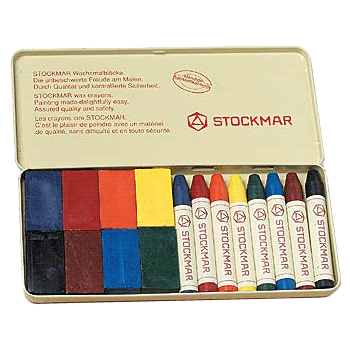 Stockmar – Block/Stick Beeswax Crayon Combination
The Stockmar beeswax block crayons are ideal for smaller children, as they fit a child's hand particularly well. The Stockmar beeswax stick crayons are slightly larger than traditional crayons. The larger size helps young children to learn how to color with stick crayons, as well as aiding the artist to move the crayon freely. This set of 8 block crayons and 8 stick crayons is housed in an attractive sturdy tin. Price: $ 28.
www.hazelnutkids.com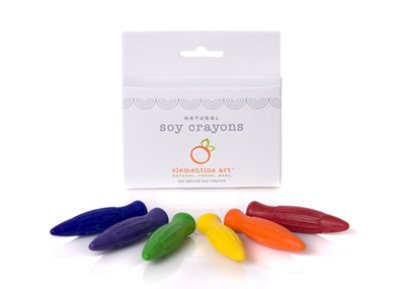 Soy Crayons
Yeah, these are great! A great all-natural alternative to the traditional paraffin wax crayons. These crayon sticks are curved just enough to fit the hand comfortably. You'll notice a difference at how smoothly they transfer color and their creamy texture enables easy blending and layering. Includes six crayon sticks: Blue, Purple, Green, Yellow, Orange, and Red. Washable with soap and water. Clementine Art products, Boulder, Colorado USA. $ 5.50
www.clementineart.com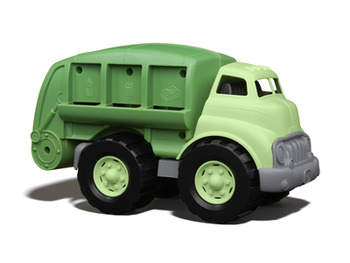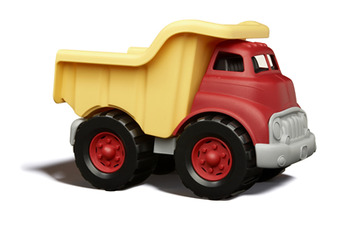 Green Toys™ Trucks
Recycled milk containers. Every step in the process, from milk container recycling to toy production to final assembly, occurs in California. These awesome eco-designs have no metal axles. A fire truck is available as well.
Dimensions: 12"L x 6 ¼"W x 7"H  For ages 1 and up. $ 25.
www.greentoys.com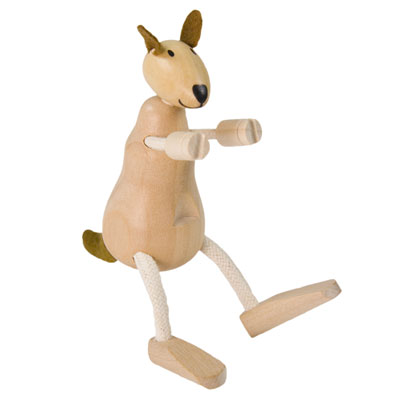 Wooden Kangaroo from Anamalz
Made from all-natural, polished maple wood and cloth fibers as well as non-toxic glues and paints. This toy meets and exceeds European and American standards for the manufacture of safe toys. See their other animals as well… 4.5″ tall. Ages 3+.
www.oompa.com   $ 7.