Calling all used awning windows, bay windows, storm doors, and clerestories back to service.
1) Recycled Window Greenhouse, Minnesota
Greenhouse made from recycled windows by Jan and Ed Vitse of New Look Floral (a garden and floral business) in Rochester, MN. This little gem, made from recycled windows was built in 2003. The structure is 12 feet long by 6 1/2  wide, and 10 1/2 feet tall.
2) Tinker House, Indiana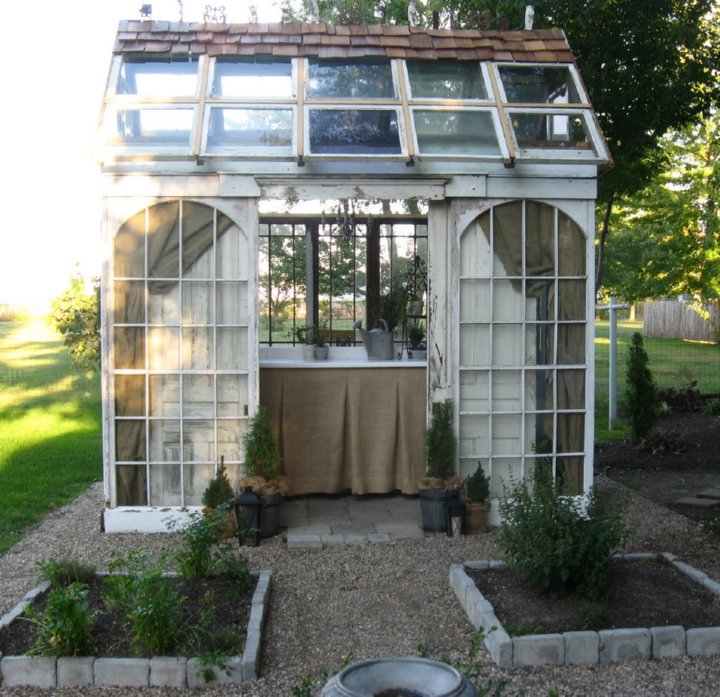 Donna Reyne of Indiana built Tinker House from reclaimed doors, windows and millwork from a home renovation. The doors are old pocketdoors on slides, slid open in this photo.
3) Recycled Window And Tile Greenhouse, Texas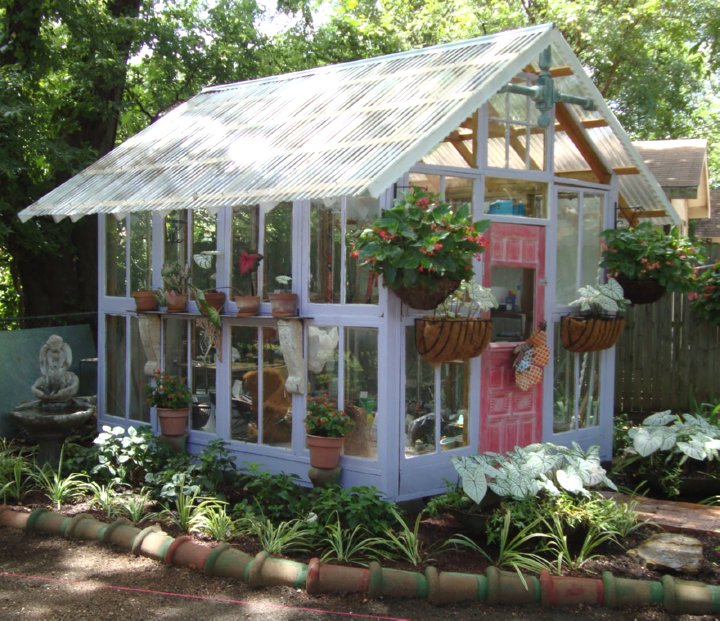 Old window greenhouse by Karla and Steve Ritchey of McKinney, Texas. Used Mexican roofing tiles from a mansion in Fort Worth frame the hydrangea and variegated liriope-filled flower bed.
4) Recycled Windows And Doors Greenhouse, Texas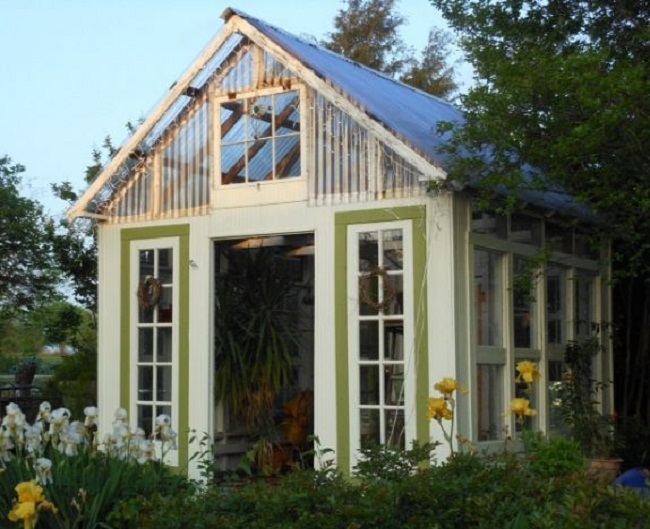 Re-purposed windows and doors. Linda J. of McKinney, Texas built this greenhouse using old windows and french doors. It has a chandelier inside and icicle lights that set it off at night. Originally found at "https://www.hometalk.com/455305/re-purposed-windows-and-doors"
5) Greenhouse With Materials From The Neighbors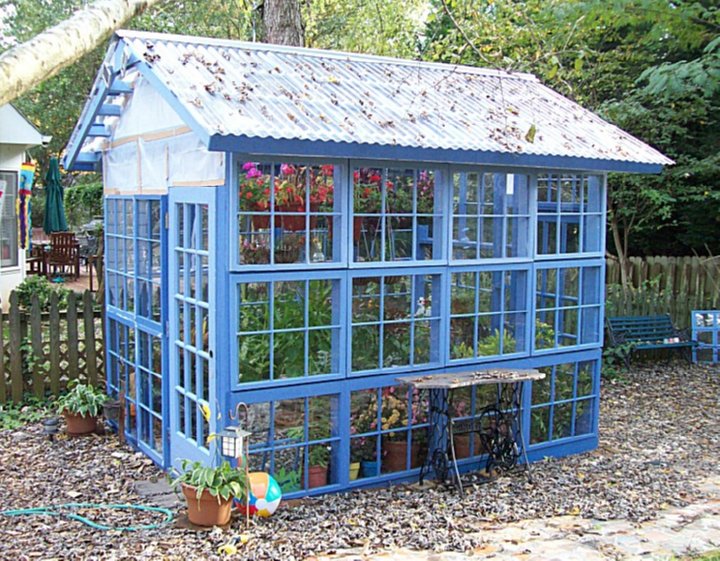 Old window greenhouse, using recycled windows from one neighbor who was replacing all the windows on her house, and a couple of old doors from another neighbor who was getting new ones installed.
Must-Haves For Greenhouse Owners
Potting Soil
Seedling Heat Mats
6) Montana Greenhouse
Greenhouse from recycled materials by Montana Wildlife Gardener. To see additional information on building a greenhouse, visit their site for pictures and information on each step of the process.
7) Greenhouse From The Piny Woods Of Texas
Built with reused materials, the owner also incorporated trellises for vining plants.
8) Old Window Greenhouse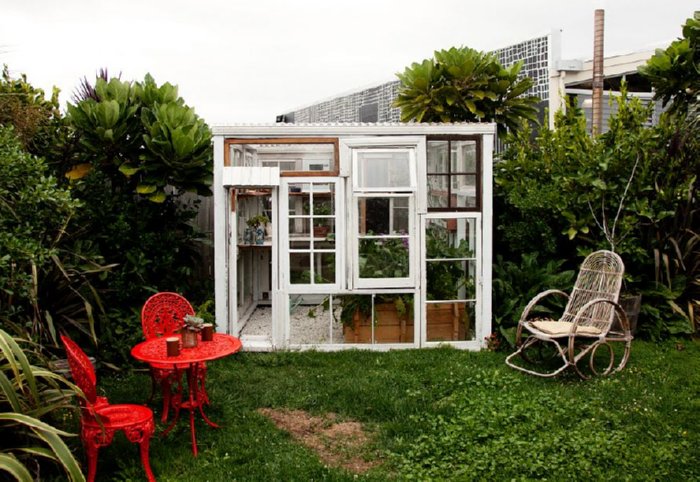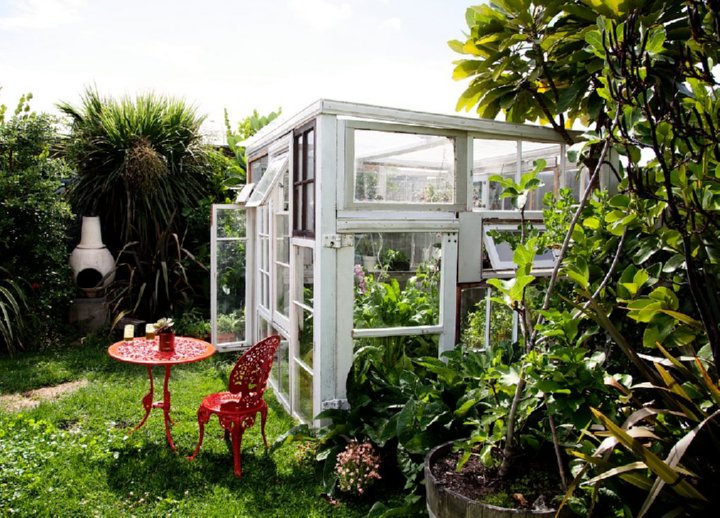 Old window greenhouse by Lucy and Stephen Marr. Photos by Todd Selby at theselby.com.
9) Old Window Greenhouse, Asheville, NC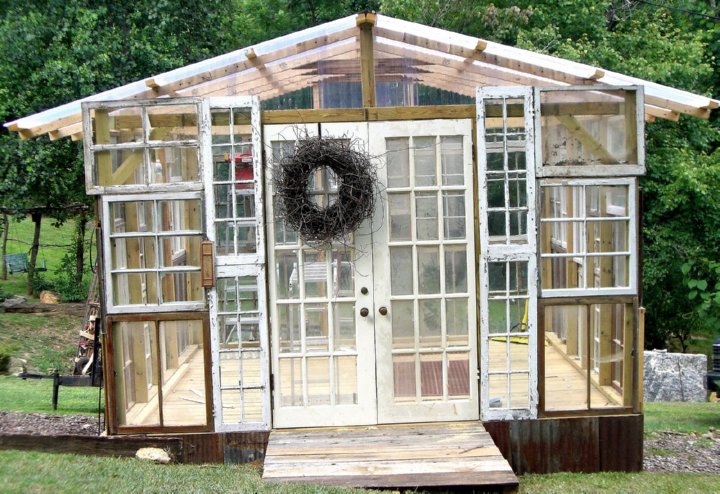 Kathy of Moss & Twigs in Asheville built this greenhouse from old windows she'd collected over the years.
10) Greenhouse From Donated Windows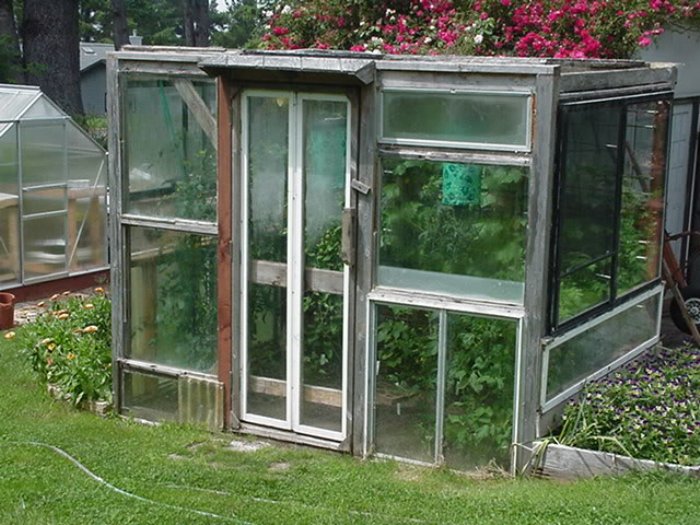 Neighbors donated used windows for this greenhouse. It was built to fit the windows, without plans. It has 3 sliding windows for ventilation.
11) Salvaged Wood Greenhouse, San Francisco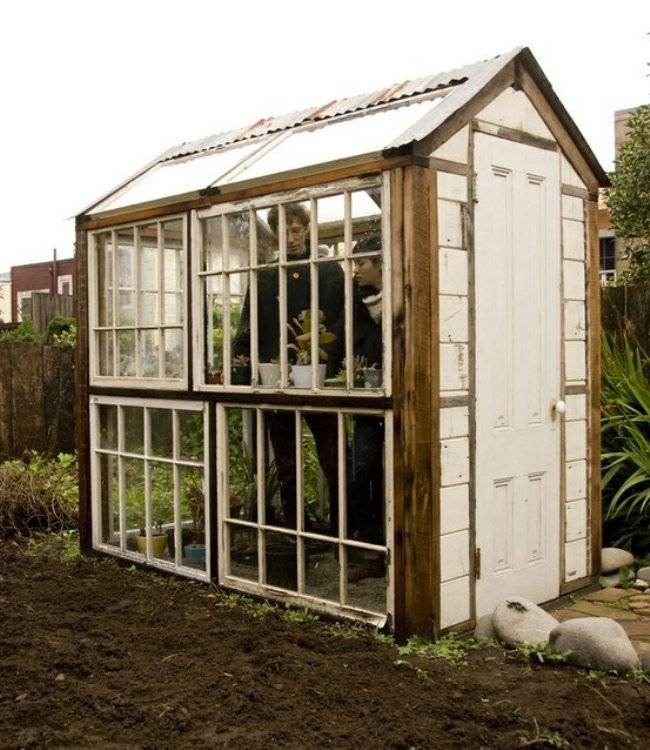 Greenhouse by Jesse Schlesinger at The General Store, San Francisco and Los Angeles.
12) Old Window Greenhouse, Ohio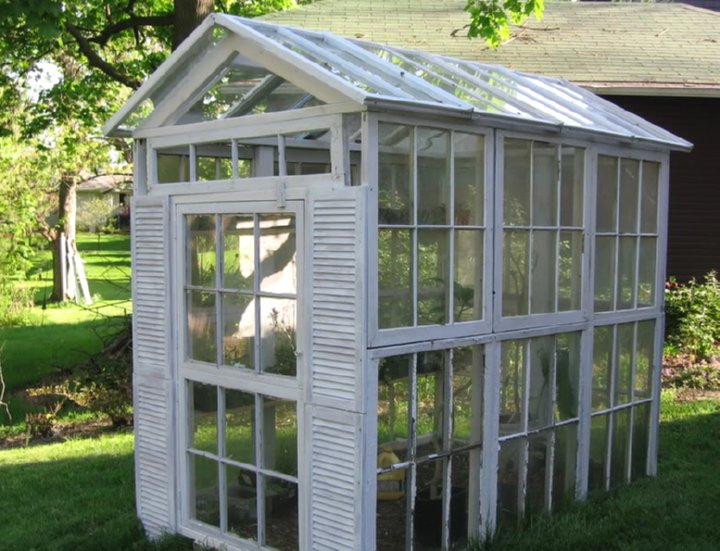 A mom in Northeast Ohio made this greenhouse from old windows.
13) 45-Window Greenhouse, North Carolina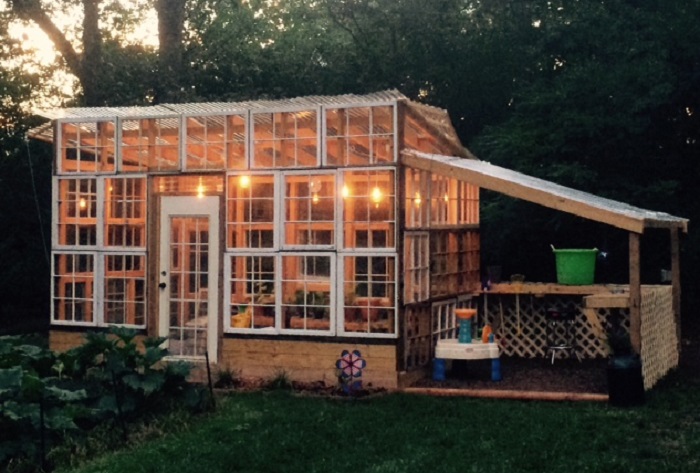 Greenhouse built from 45 old windows from all different places. Some bought most donated. Wanted to keep the shabby chic, vintage look so added Mason jars lights with Edison bulbs inside. The owner/builders Eric and Elizabeth love garden veggies and wanted to be able to do it year-round, and threw in flowers for pops of color. No plan, just started building and this is what it became. Lincolnton, NC.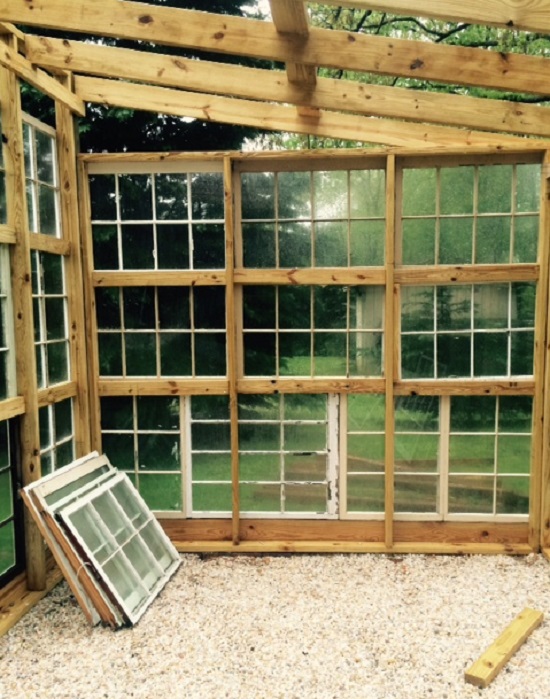 During construction of the above greenhouse in NC. Greenhouse turned out to be 10′ x 15′. Interior shelves were built from pallets. Gutters collect rainwater runoff. By Eric and Elizabeth.
14) Small Re-Used Window Greenhouse
This Instagram post is a great reminder of how a greenhouse doesn't have to be large. A small greenhouse can be easily built with a few windows for herbs year-round.
15) Asian-Influenced Greenhouse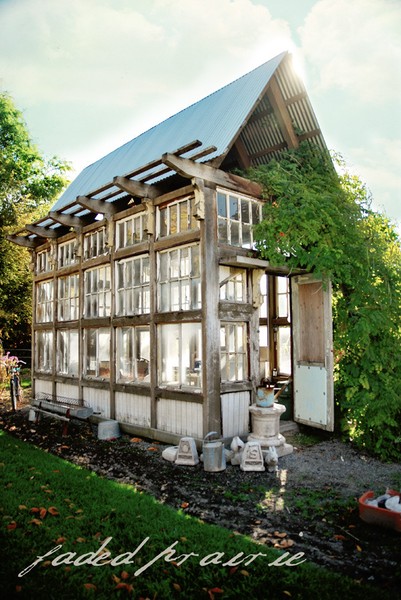 Tall greenhouse with an Asian influence, by www.fadedprairie.com.
16) Recycled Window Home In Copenhagen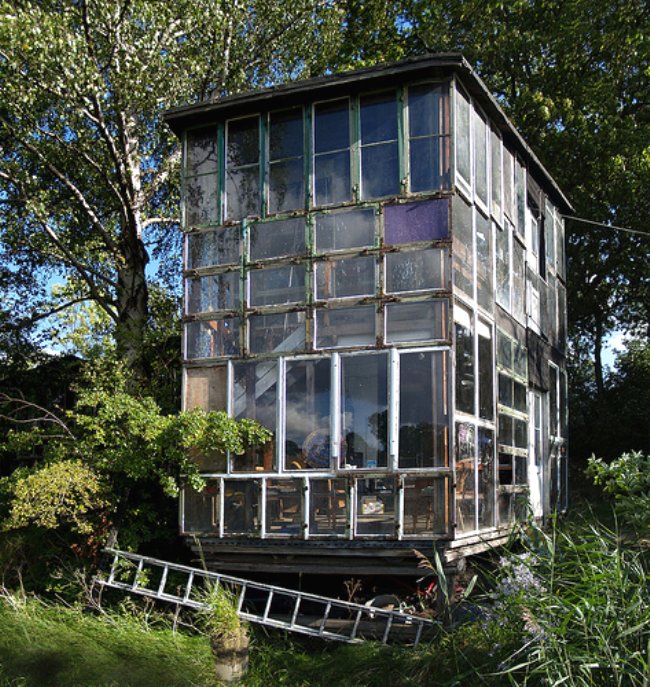 Glass house Made from recycled windows in Copenhagen's 40-year-old Freetown Christiania Commune. Considered "architecture without architects" there is a strong political will to tear the houses down—they are illegal, follow no building code, have no permit. Image by Seier + Seier via Flickr.
17) Salvaged Window And Door Greenhouse, Ontario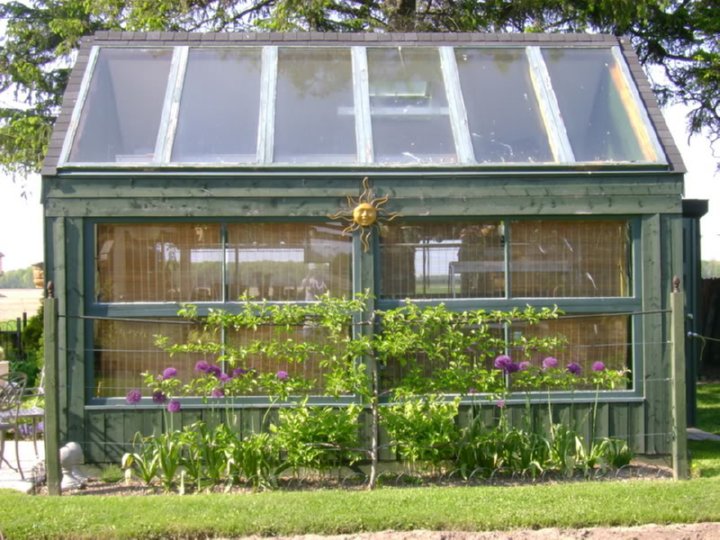 A gardener in Ontario built this 10×16 greenhouse. She used salvaged windows for the glass, and salvaged doors. Half of the floor is an old deck, the other half is discounted paving stone.
18) Garden Shed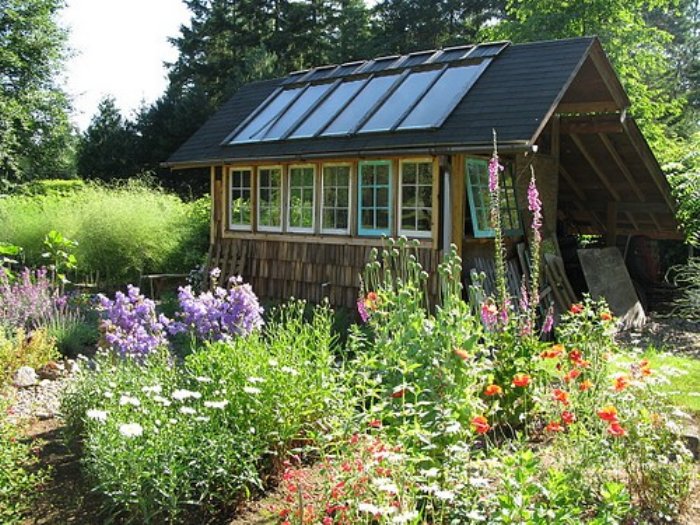 Reclaimed window garden shed. Photo via downsizemyspace.com
19) Small Greenhouse From Old Windows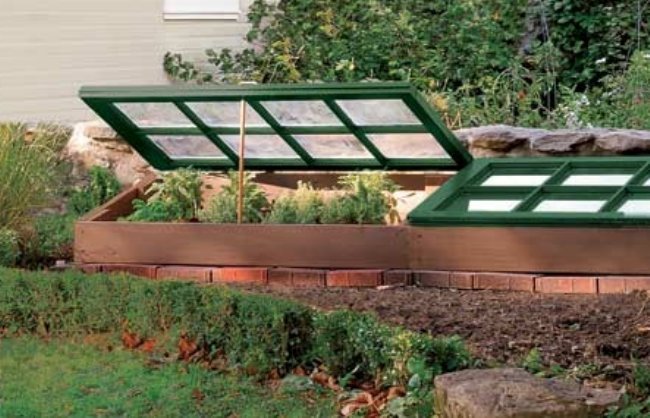 Old window cold frame. Photo via downsizemyspace.com
20) Cold Frame From Old Windows, South Carolina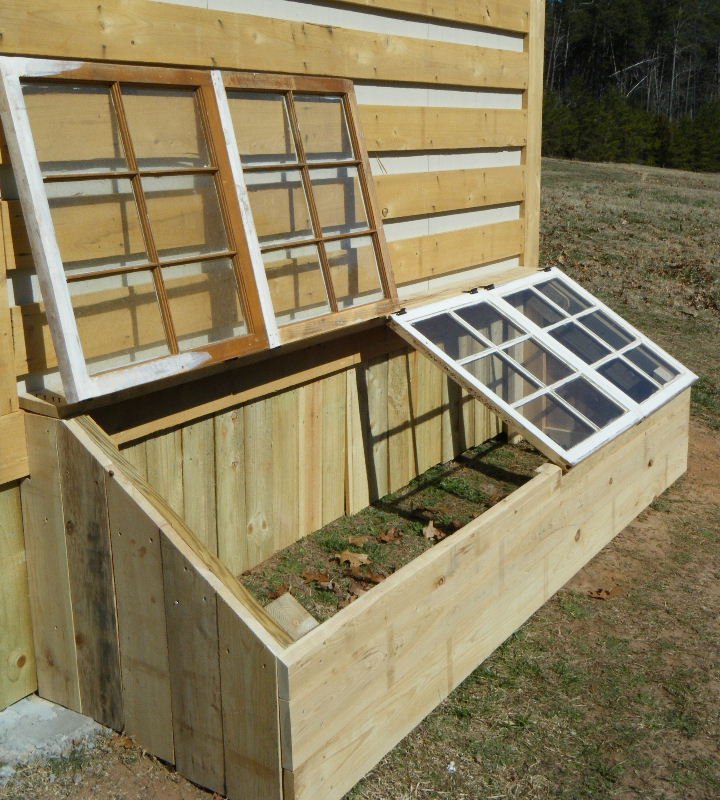 Adina and Walter of Campobello, South Carolina designed and built this cold frame using an old window.
21) Small Greenhouse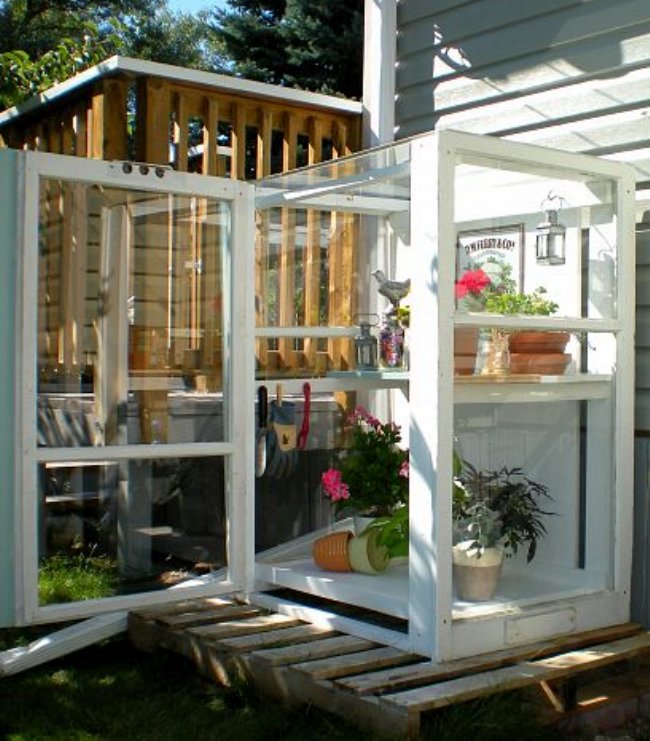 Small greenhouse from 3 storm windows exactly the same size. Love this! Instead of using her find of 3 old storm windows for a low cold frame, Anne decided to go upward.
22) Greenhouse From Salvaged Doors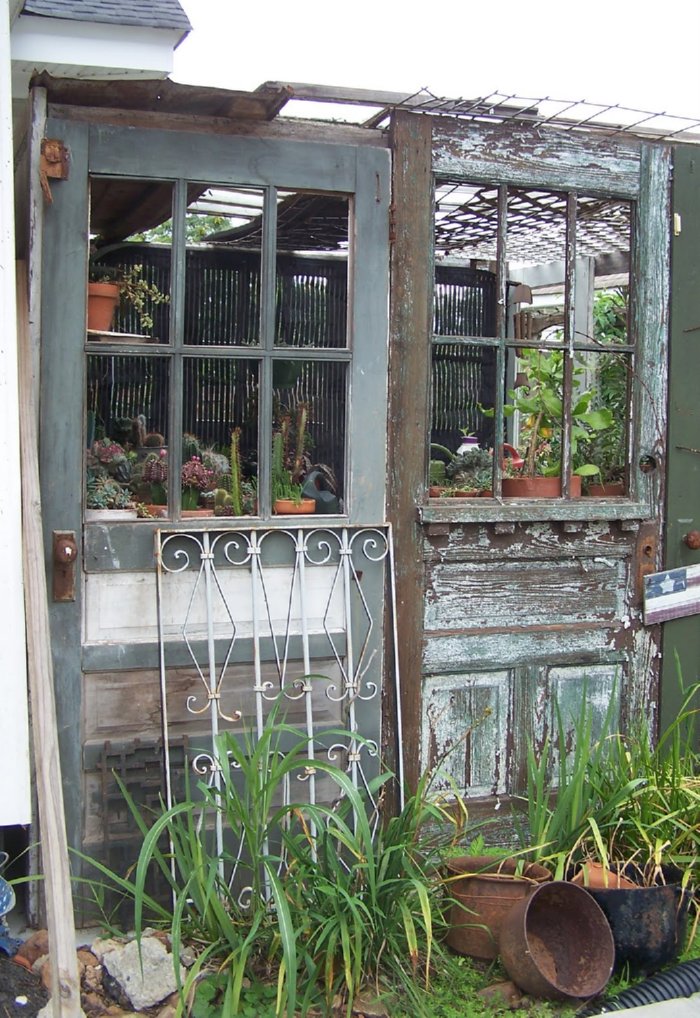 Old door greenhouse by Tara Dillard. Love this. Just attach old doors to a side of your home.
23) Lloyd Kahn Greenhouse, With Adobe Walls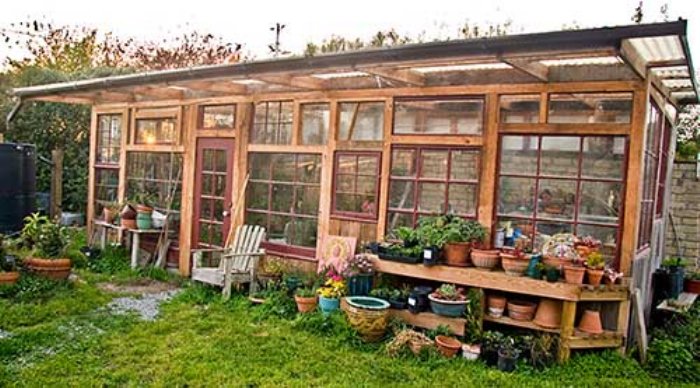 Greenhouse built by Lloyd Kahn with used windows. Says Lloyd: "The rear wall consists of stabilized adobe bricks made with a CinvaRam, a compression tool I learned about in the '60s from the Whole Earth Catalog. There's a solar-powered fan for cooling and a small solar-powered trickling fountain inside. Note: using old windows like this requires a lot of time puttying and/or painting." Lloyd's latest book is Tiny Homes: Simple Shelter. For more info, see: www.shelterpub.com
24) Greenhouse Made From Leftover Building Materials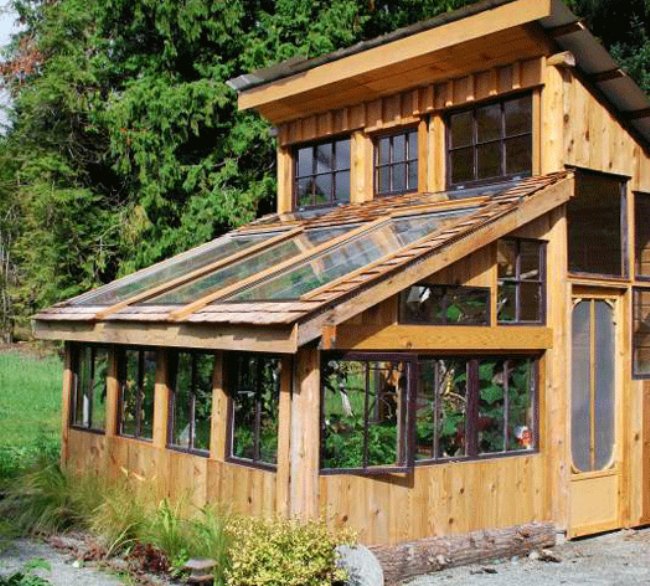 Recycled window greenhouse by Holly Willgress and Fraser Koroluk of Bella Coola, B.C.. In the process of renovations with a new roof and third floor added onto their lodge, they had a lot of old and leftover building materials. They maintain a "no new stuff" theme to their backyard. Originally found at bcmountainlodge.com
25) Greenhouse In Rockwood, Tennessee
This greenhouse was constructed by Amy Moore with reused windows for walls, and a foundation made of old railroad timber. An assortment of wood planks were used for the frame.
26) Asymmetrical Salvaged Wood And Window Greenhouse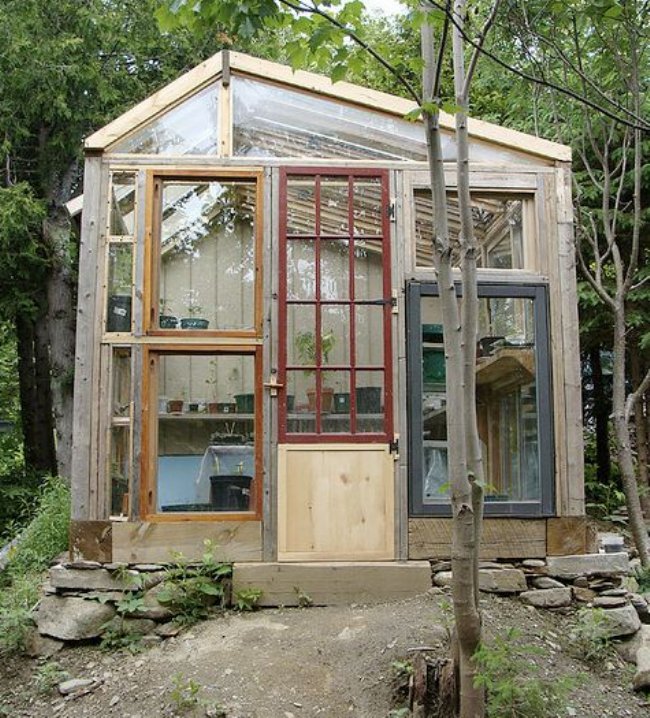 Recycled window greenhouse by artist Shannon Rankin and friend.
27) Tall Old Window Greenhouse, Washington State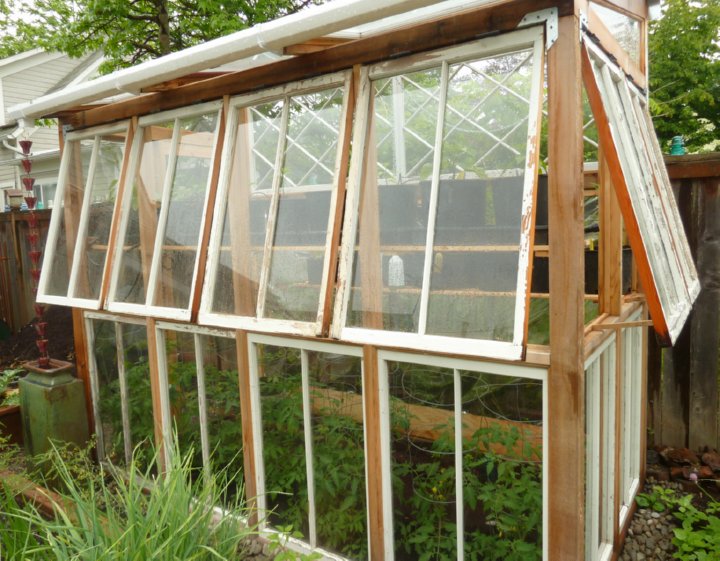 Old window greenhouse by Angela Davis of Washington State. Read more aboout it on her blog Gardening in My Rubber Boots.
28) Old Windows Frame A Clear-Awning Roof
A clear-awning roof allows lots of light to enter this greenhouse made from lots of different old windows.
29) Greenhouse From Salvaged School Windows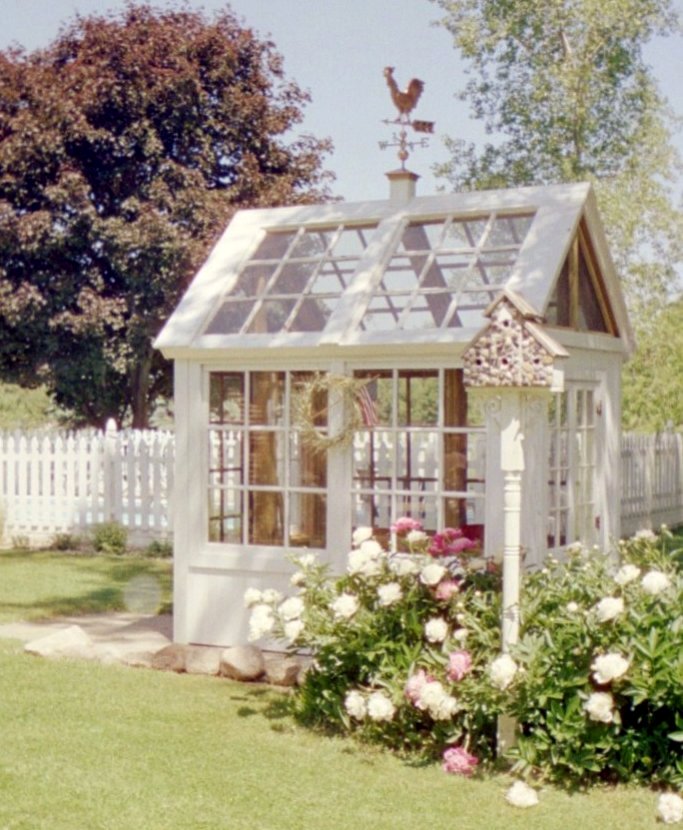 Sara of Davison, Illinois made this garden shed from windows salvaged from an old school.
30) Old Window Greenhouse From Mooresville, Tennessee
The greenhouse above uses a larger amount of wood in the design to reduce the amount of windows needed in construction.
How to Build an Old Window Greenhouse: Supplies
A few ideas on how to get the materials you'll need.
How to Build an Old Window Greenhouse: Online Resources
The Best Greenhouse And Gardening Books