First made popular in Africa, the keyhole garden is catching on in Texas and other hot, dry places.
Keyhole gardens hold moisture and nutrients due to an active compost pile placed in the center of a round bed.
Although most helpful in hot and dry locations, a keyhole garden will improve growing conditions in just about any climate. Read on to learn more about how keyhole gardens work as well as some ideas for building your own at home.
How a Keyhole Garden Works
A keyhole garden is a round garden bed with a compost pile in the center. The garden has a notch in the front, so gardeners can easily add to or turn over the pile. Featuring a drainage layer, a soil layer, and a planting area, keyhole gardens combine all the necessities that plants need to thrive.
From a bird's eye view the garden is shaped as a keyhole. A notch is cut into a round garden bed. The notch makes for easy access to the center compost well.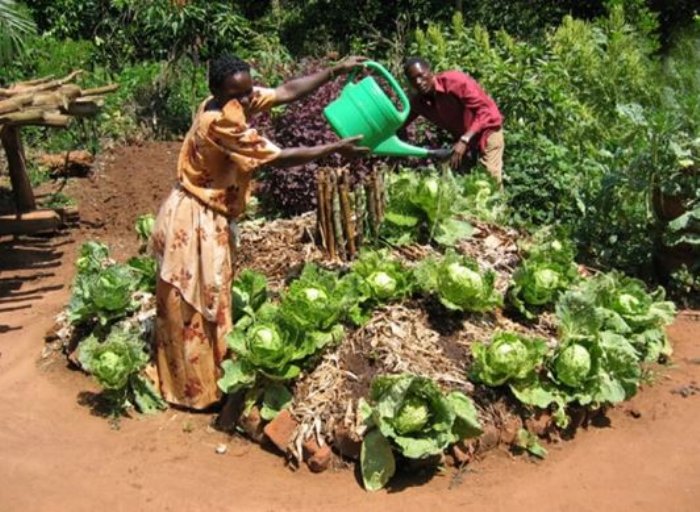 This sustainable gardening method uses kitchen and garden waste and gray water (or wash water) as food for your garden.
Layering is proven to enhance soil health. Layering suggestions from Texas Co-Op Power: Wood on the very bottom, next cardboard, next a bit of compost, next petroleum-free newspaper, manure, worms, wood ash, straw, topsoil. Repeat, compost, straw, topsoil, or some such combination until you reach the desired height.
When it rains or when you water your compost, the nutrients will seep into the surrounding bed. During rainy spells, you might wish to cover the compost so the nutrients in the compost do not leach out too rapidly.
Felco F-2 Hand Pruners
Whether your garden is round, square, or keyhole, these pruners will become one of your favorite tools. The handles are forged aluminum, the blade is hardened steel.
The handle even includes small shock absorbers to protect your hands and wrist. Simply the best on the market—and it comes with a lifetime guarantee.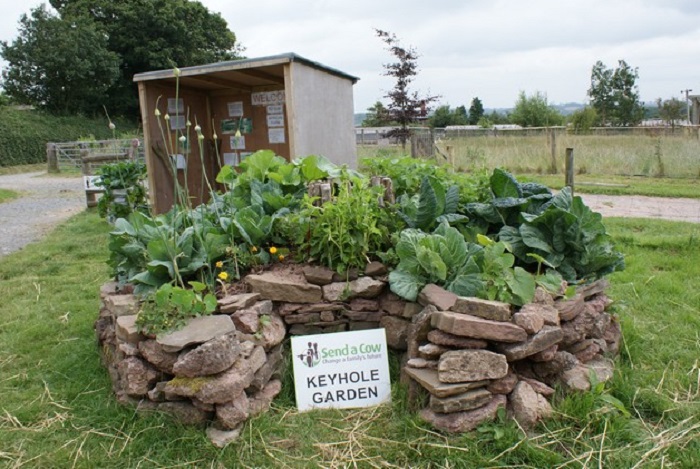 Keyhole gardens have been made popular by Send a Cow, a humanitarian aid organization that builds keyhole gardens for families throughout Subsaharan Africa. Three keyhole gardens can supply a large family with all their vegetables for a year.
Introduction To Building A Keyhole Garden
This introductory video explains why a keyhole garden is especially good in the hot, dry American West and South. Then, it shows in time-lapse format how to make the garden. After using marking tape to outline the shape, pile bricks three feet high for the exterior wall. Line the inside surface with cardboard. Make the compost bin with 2 x 4 wire, about one foot in diameter. He then shows how to layer and form the soil.
33 Outstanding Keyhole Gardens Around the World
1) Keyhole Garden With A Frame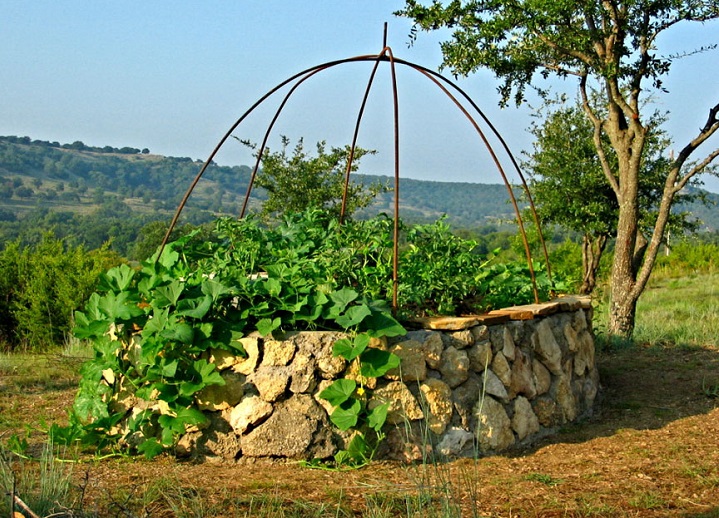 At Keyhole Garden in Central Texas, Deb Tolman uses keyhole gardens as the main source of her own food supply and is working on ways to keep them producing throughout multiple seasons and conditions.
Dr. Tolman incorporates a frame into most of her designs to support a shade cloth during the hottest months. The frame might also be covered in early spring with plastic sheeting to create a greenhouse. Dr. Tolman is available for workshops, consultation, and seminars.
2) Lesotho Keyhole Garden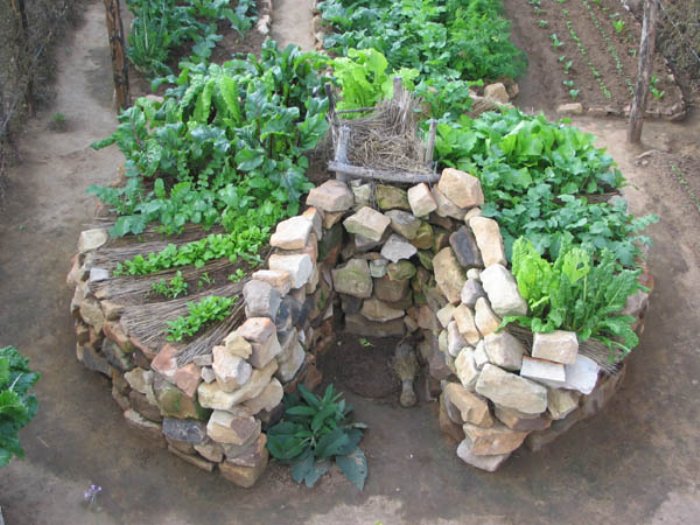 Keyhole garden in Lesotho by Send a Cow, which first popularized keyhole gardens in Africa. Send a Cow has helped countless families and schools build keyhole gardens.
3) Garden From Colorado
A keyhole garden in Colorado. This one is six feet in diameter. The homesteader used three layers plastic milk cartons filled with dirt to form the garden wall. She rolled together hardware cloth to make the center area for compost.
Then she layered, first with rough organic matter such as pine needles and bits of wood. In the compost basket, she put decomposing leaves. She didn't add kitchen scraps because, at the time she built it, bears in her area were just coming out of hibernation! Later she added black plastic to prevent leaking from the cage when she watered.
4) Edible Estate Garden
The keyhole garden was only one part of large renovations to the property. Casey Boyter Gardens designed this garden with the family's love of entertaining in mind.
5) Low-Bordered Keyhole Garden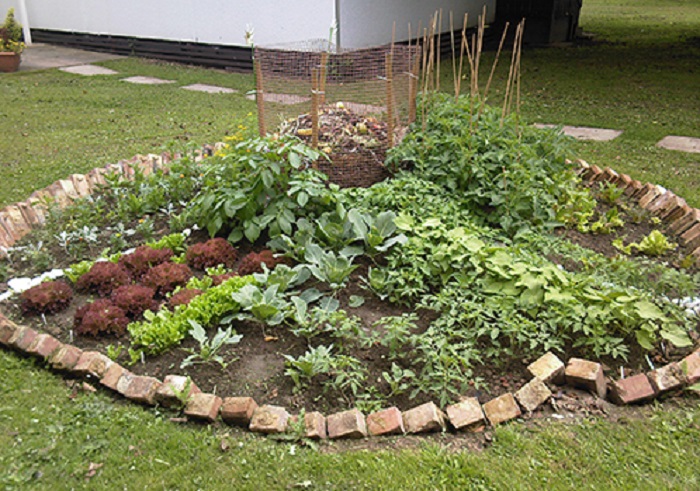 This keyhole garden by Send a Cow looks easy enough to set up, but the bricks do not look like they will take another level if you want to make it bigger someday. The compost adds more and more soil year after year.
6) Keyhole Garden With Center Well
In this keyhole garden by Send a Cow, the builders have lined the center well with sticks, or with chicken wire lined with straw, to separate the two areas. The center well is used to irrigate the whole garden, bringing nutrients from the compost into the surrounding soil.
7) Dry Stack Wall Garden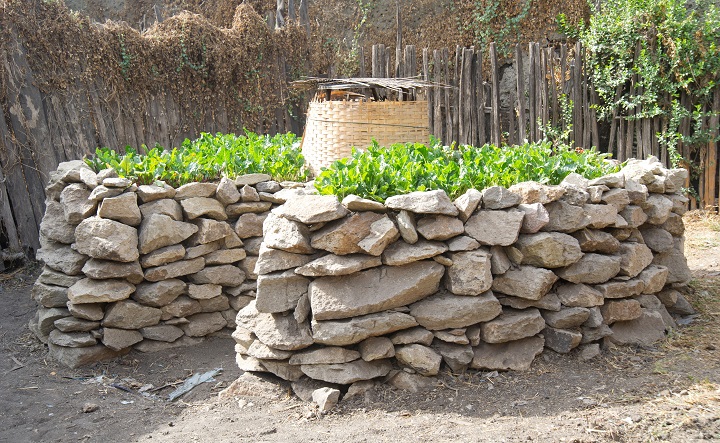 A keyhole garden in Ethiopia. Keeping a lid on the center well will retain heat and reduce evaporation. Photo originally found on "dsnyderphotography.com/getting-it-write-continued," visit dsnyderphotography.com for more information on David Snyder.
8) Keyhole Garden In Rwanda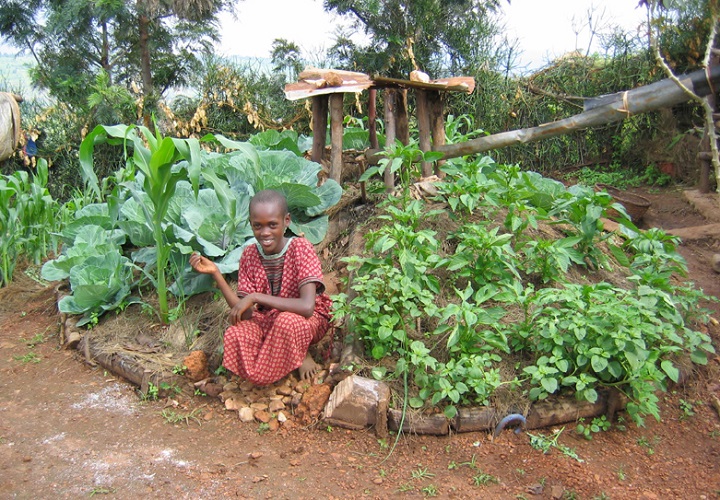 Keyhole garden in Rwanda by Send a Cow.
9) Garden Made Of Cement And Glass
The borders of this keyhole garden are made of cement and glass, eliminating the need to worry about compost eroding the garden walls.
10) Flourishing Keyhole Garden In Lesotho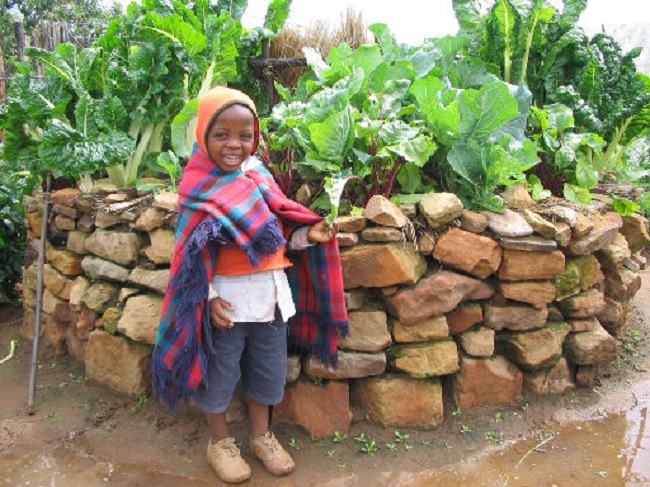 Keyhole garden in Lesotho by Send a Cow.
11) Garden In Uganda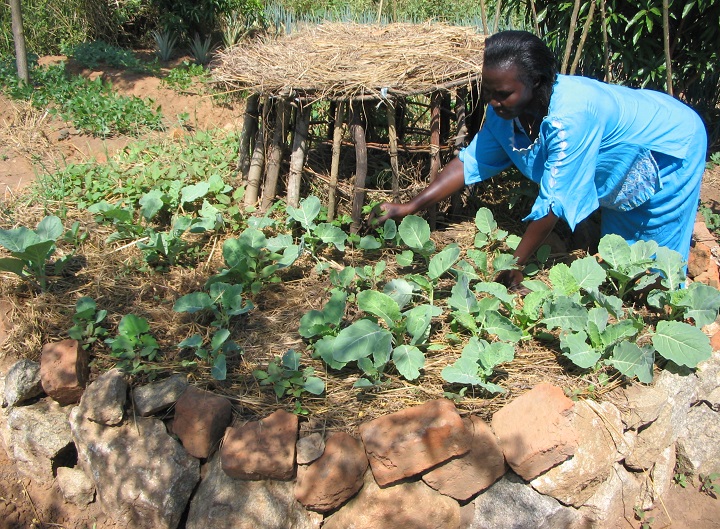 Keyhole garden in Uganda by Send a Cow.
12) A Rooftop Keyhole Garden
Yes, you can build a keyhole garden on a rooftop. This bed has squash and tomatoes. The exterior is made of rocks. The center area is a Smart Pot Compost Sak, a reusable but porous container.
13) Keyhole Garden From Sticks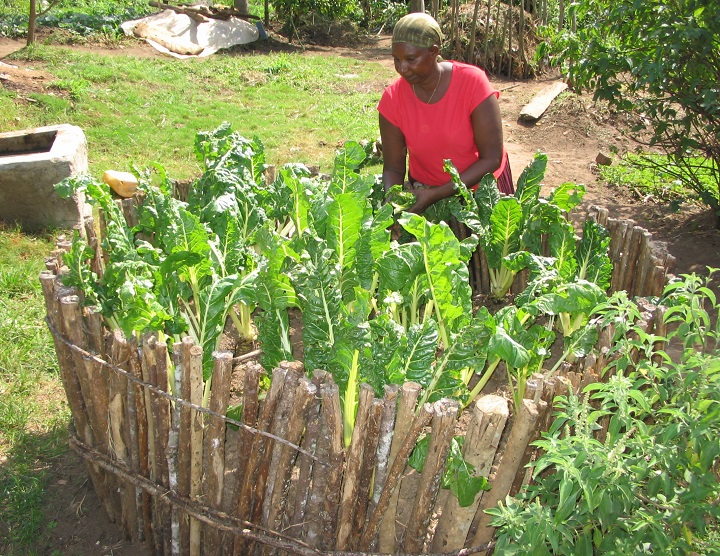 Keyhole garden with a surround of sticks in Uganda by Send a Cow.
14) Overflowing Keyhole Garden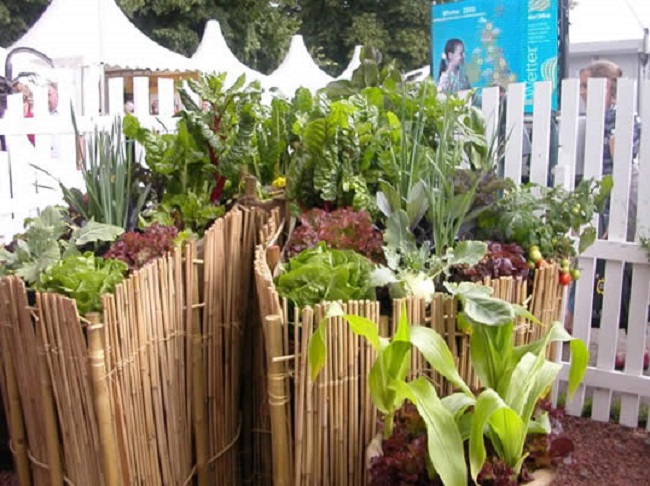 Here's just a sample of what keyhole gardens can grow into! Flourishing and full of healthy greens.
15) Keyhole Garden With Compost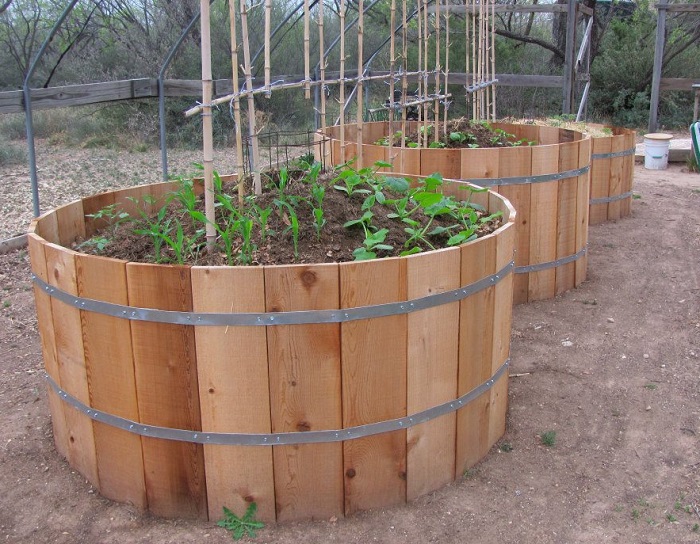 Keyhole gardens wrapped in wood, by Deb Tolman of Texas. In the winter the compost in the center of the keyhole garden generates heat and holds moisture. See the Keyhole Gardens Facebook page.
16) Raised Bed Keyhole Garden
The arrangement of these gardens is stylish and functional. The owner mentioned that the design incorporates a 3-foot walkway around the center garden for comfortable access to every plant.
17) Garden Using Straw Wattle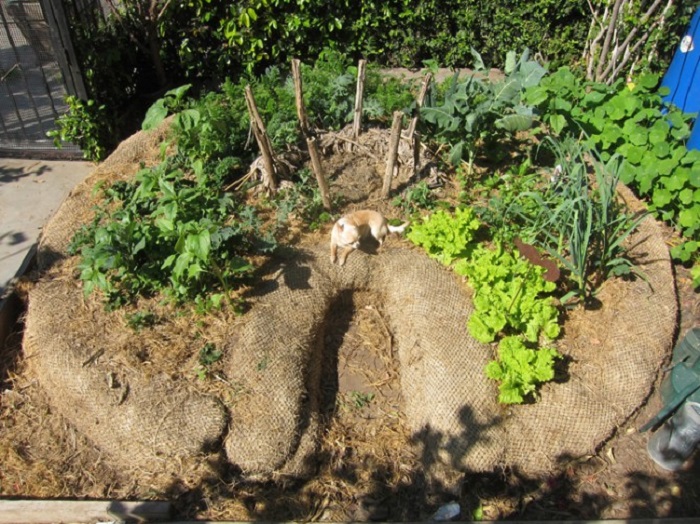 Keyhole Vegetable Garden by Anne Hars lined with straw wattle.
18) Keyhole Garden Made By Students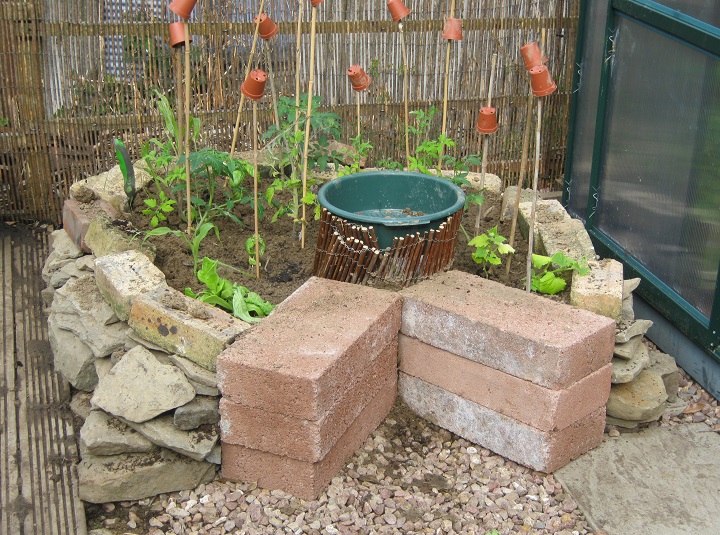 Keyhole garden by sixth-grade students in the UK, who had been learning about sustainability and the soil conditions in Africa. The children used a combination of bricks and stones to create the garden. They surrounded the center compost with a piece of willow fencing.
A garden sieve was then placed on top of the compost area to allow the rainwater to seep through the compost and into the garden to help enrich the soil. Each day children throughout the school place their fruit scraps and more into the compost. The children used the proceeds from selling their produce to help buy a goat for a third world country through OXFAM.
19) Florida Garden Made With Bricks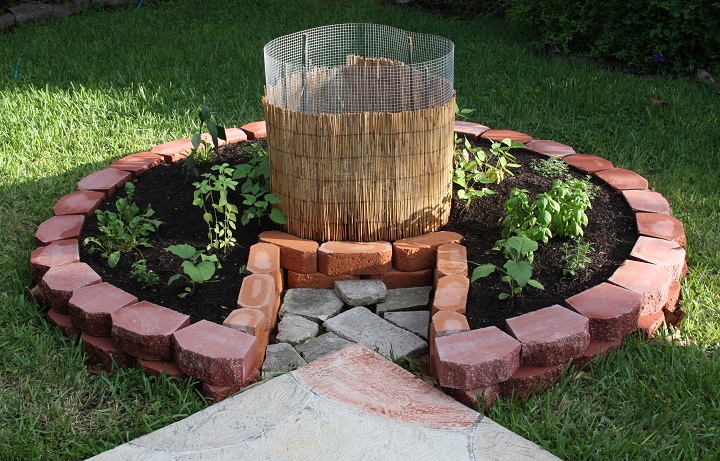 Keyhole garden in Florida by Melissa Contreras. This garden can grow in height, as the compost adds volume, more bricks can be stacked as in the image below. Originally found at foodshed.greatereverglades.org/profile/MelissaContreras
20) Desert Garden
This homesteader has two fences to keep pests from invading their garden. The walkway is longer than most keyhole gardens, allowing for better access to plants.
21) Freddy Hill's Keyhole Garden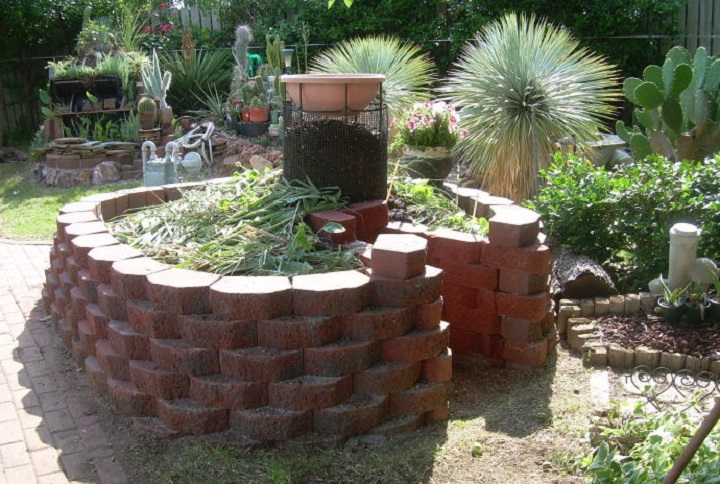 Keyhole garden by Freddy Hill of Oklahoma. Freddy wanted to build a keyhole garden after being fascinated by their use in arid places. Originally found at garden-share.com/profiles/blogs/observations-on-a-keyhole-garden
22) A Productive Keyhole Garden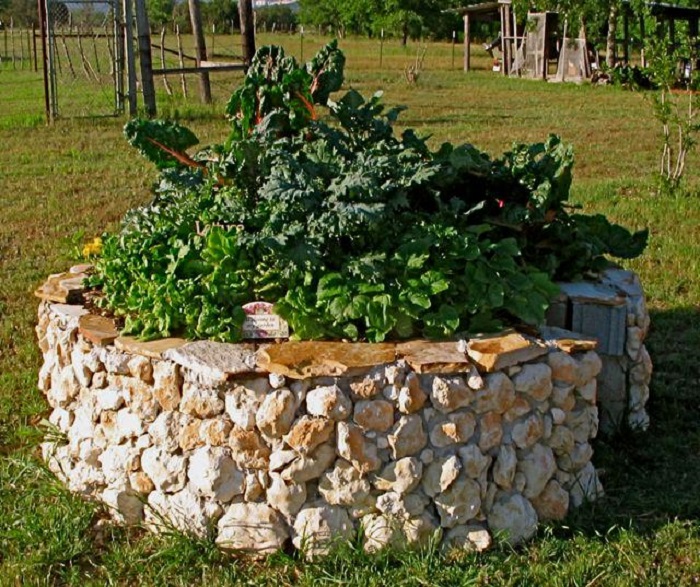 Keyhole garden in Texas by Deb Tolman. Says Deb: "If all the layering guidelines have been followed, watering is at a minimum, evaporation is at a minimum, all plants look nutrient-fed, and productivity is high."
23) Steel-Walled Keyhole Garden
These designers used steel for their raised keyhole garden. The steel is a good option for colder climates because the material retains heat.
24) Morena's Garden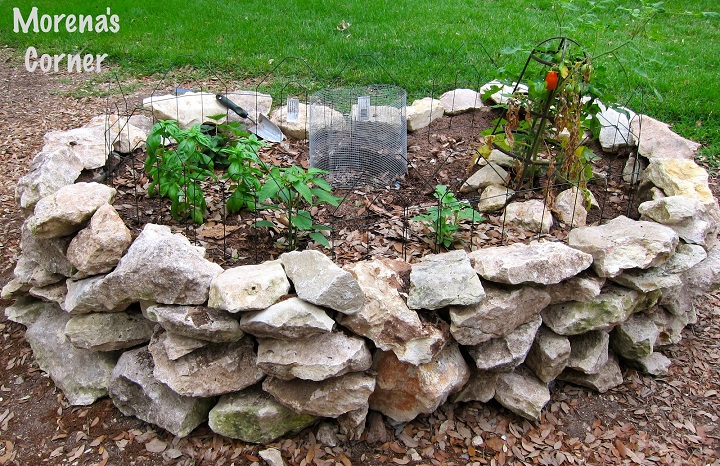 Keyhole garden by Morena Hockley.
25) Preparing Garden Soil With Compost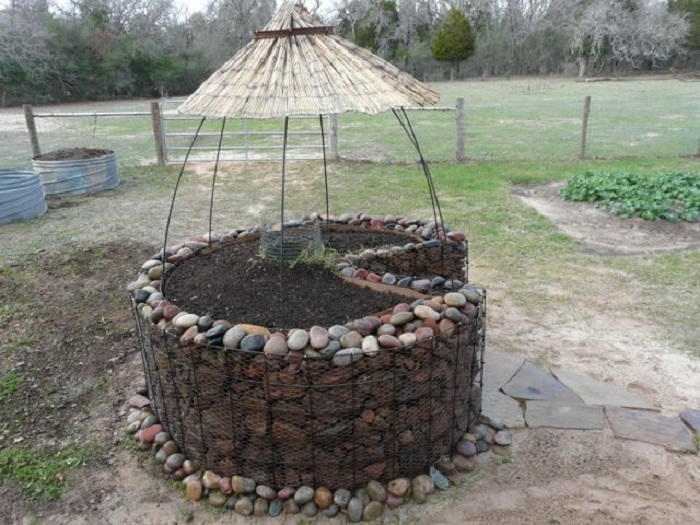 Keyhole garden in Texas. "Layered in the bed are bones of two cows, ash from one brush pile, aged dried poop from a dozen cows, five bags of clover, a pile of forest floor mulch, cardboard, rusty items, and 15 buckets of two-year-old compost."
26) Wine Bottle Garden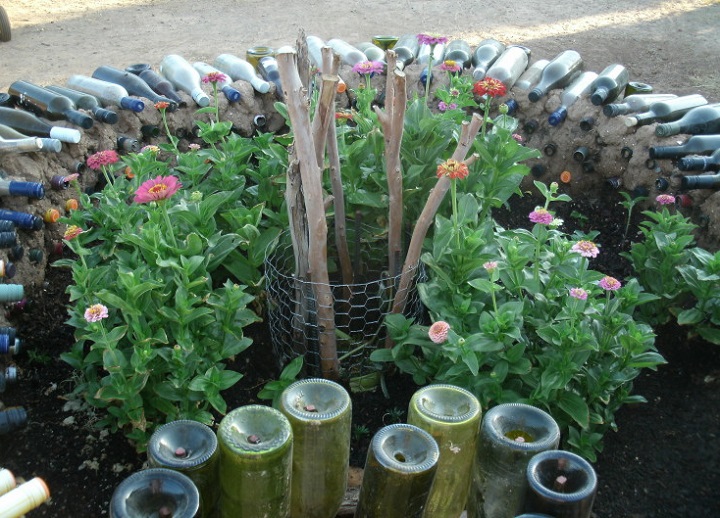 The reuse ideas are endless—cans, metal, old rowboats…earthbags…logs. This is a wine bottle keyhole garden by Mary Martine of Phoenix. "800 wine bottles, one year from conception to completion, and a lot of faith that this crazy idea would work. The diameter of the circle is approximately 7 feet." Originally found at forum.vpaaz.org
27) Beer Bottle Keyhole Garden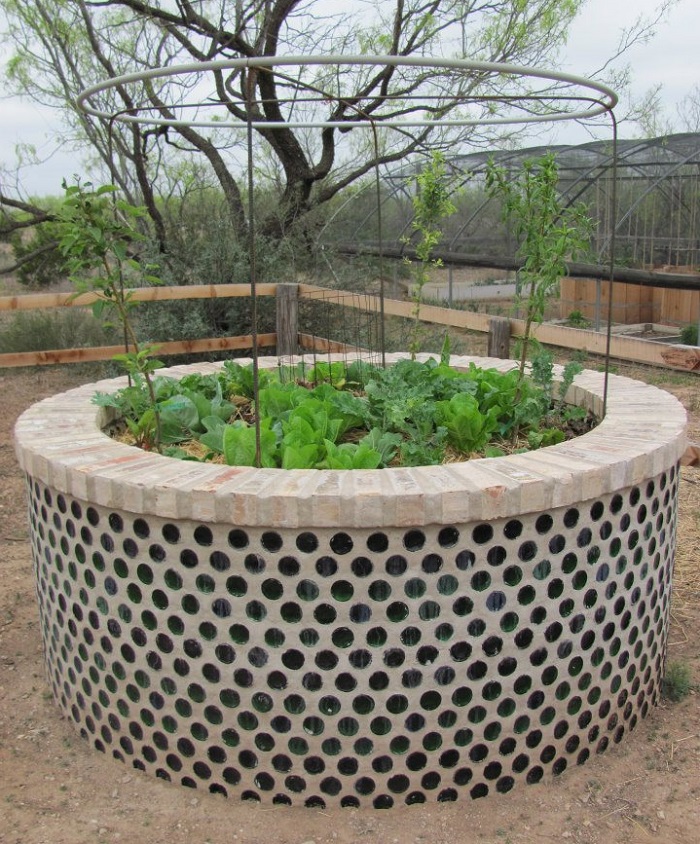 Beer bottles in cement. No keyhole. Love the bottle reuse, looks sturdy. The frame is intended for a shade cloth.
28) Garden With Walkway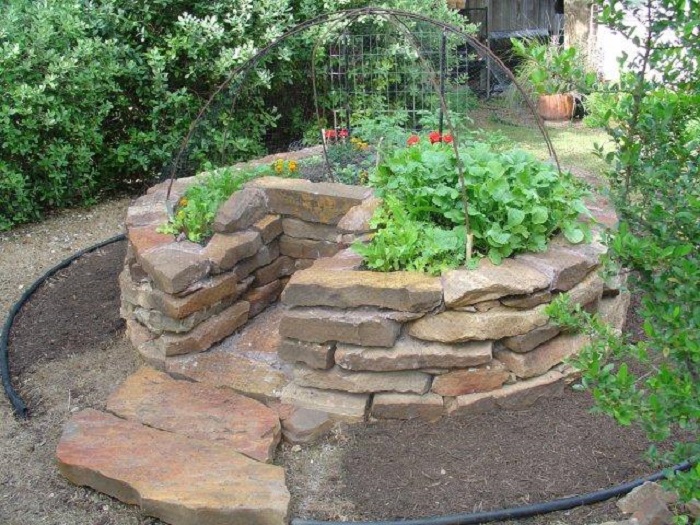 Keyhole garden by Jim.
29) Large Keyhole Garden Array
In Prague, this keyhole garden is being used to grow vegetables.
30) Keyhole Garden In The United Kingdom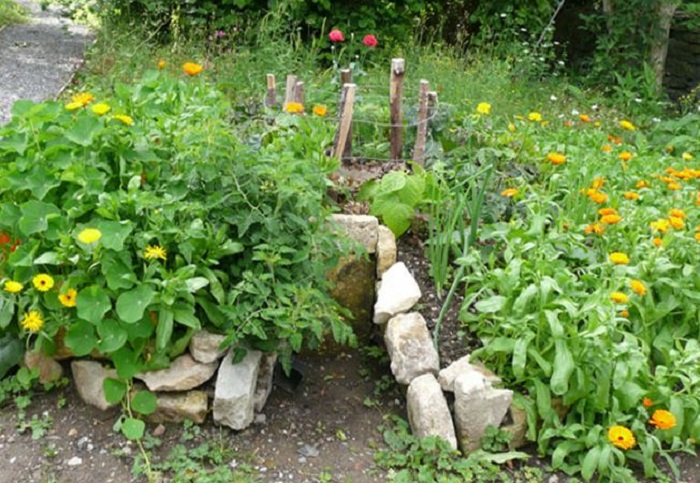 A keyhole garden built by students in the UK. Flowers surround the vegetables. Companion planting, anyone?
31) African Style Raised Keyhole Garden
This video shows, step-by-step, the construction of a keyhole garden in Uganda. It lists the materials needed: Cleared ground near a kitchen, bricks or stones, topsoil, compost, straw/leaves, wood ash, sticks, and string.
Then it gives specific instructions for laying out the area (all you need is sticks and string to measure a radius). The video shows a group of local women tilling the soil, building the foundation of the garden from the bricks, building frame of the garden out of sticks, and then filling it with help from their daughters.
32) An Oklahoma Keyhole Garden
Jim Long shows how he built his keyhole garden, with wooden fencing as the exterior. He shows the filling he used beneath the soil. The round hole where compost and water goes is made from chicken wire. He places a lid on top of the round hole to help retain some of the moisture. Jim saves the compost to use in other pots and future use in his keyhole garden.
33) Sloped Keyhole Garden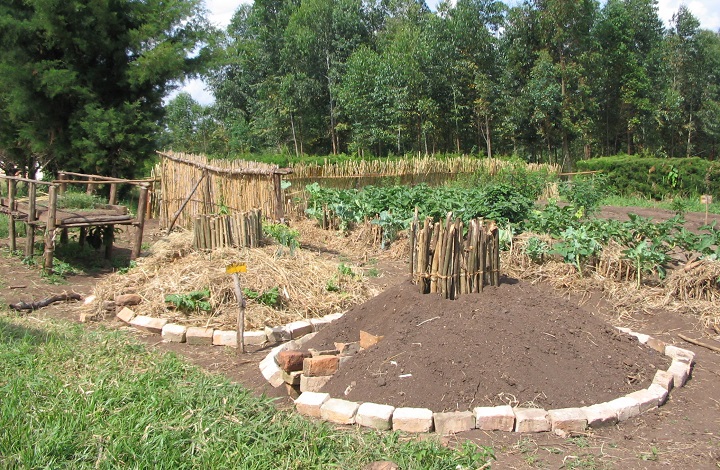 Sloping the soil away from the center well allows better transfer of water and nutrients and adds to the surface area.
How To Build A Keyhole Garden (Parts 1 & 2)
Here in part one, host Casey Hentges shows the finished product and explains the keyhole garden concept. Next, she shows the materials to use—straw, leaves, raked grass, branches, compost, old cardboard, and some animal bedding that will add nitrogen to the compost.
She shows the tools necessary, which are pretty simple: just a box knife, a tape measure, twine, and marking tape to mark the perimeter of the garden. She shows how to measure out the garden, then explains the considerations behind the size of your center cage. She lays out the exterior of the garden, including the keyhole.
In part two, we see the filling of the garden. Because she is building atop grass, she recommends setting cardboard over the grass to keep it from growing in the bed. This serves the same function as weed fabric, but will decompose and add nutrients to the soil. Cardboard also retains water well. Sticks form the next layer. She recommends 1/2 inch to 1 1/2 inch branches—anything larger may not decompose as well.
Next up, leaves and other dead plant material. Next, a layer of nitrogen-rich animal bedding, and a final layer of dead grass. Finally, six inches of top soil that you'll be planting on. Water in-between each layer–this helps start the decomposition process.
Berm the soil, with the highest point at the center of the bed. This will help the compost flow toward the edges of the bed. The last step is putting compost in the cage area. Again, it's layered—first with food scraps, then shredded paper, then green cuttings. Water again. Now you're ready to plant!
Keyhole Gardens Explained By Doctor Tolman
This video shows Deb in action, piling pounds and pounds of wet cardboard for the filling of the garden. She is demonstrating at one of her keyhole garden classes. She says: "You will always get beautiful soil and good-looking plants, because they're exposed to compost, and a good balance of microbiology." Kids help out with piling cardboard, leaves, magazines and dirt to form the base of the garden.
The exterior of the garden is made with cinder blocks. The video also shows Deb's homestead, where she experiments with gardening ideas. Deb (who has a Ph.D. in Environmental Science), says that anything can be grown in a keyhole garden, even trees.
The "key" to the keyhole garden is the compost that retains moisture and creates healthy soil. The soil is key. "The health of the soil predetermines how water moves. It predetermines how healthy your plants are. Healthy soil begets healthy plants which begets healthy animals which begets healthy people. It's all very connected.
The Best Keyhole Garden And Small Garden Books
Resources For Building Keyhole Gardens