Dry (without mortar) stone work in the hands of a skilled waller is an art form. An art form that will last multiple lifetimes and serves multiple functions.
Using but one tool; the hammer, and much patience and strength, a skilled waller can lay yards of fence per day. Most modern wallers do not like to shape stones but instead prefer to locate the perfect nature shaped stone.
As their eyes have developed an acute sense of space, an experienced waller most times will only pick up a stone once, before positioning it.
38 Amazing Dry Stack Stone Walls Around The World
1) Stone Wall In Chilmark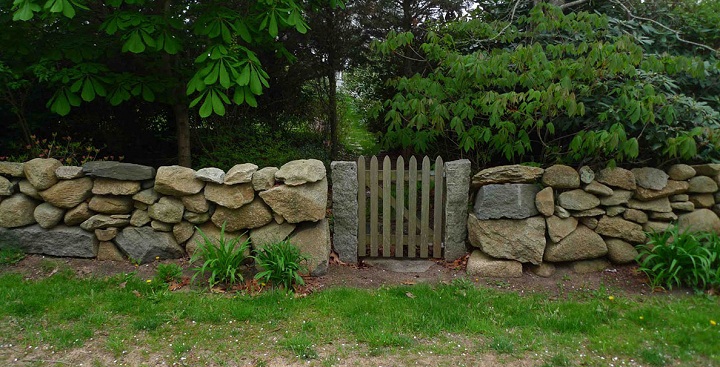 Stone wall with picket gate in Chilmark, Martha's Vineyard by Jeffrey Bale. Originally found at "http://www.jeffreygardens.com/"
2) Old World Stone & Garden Wall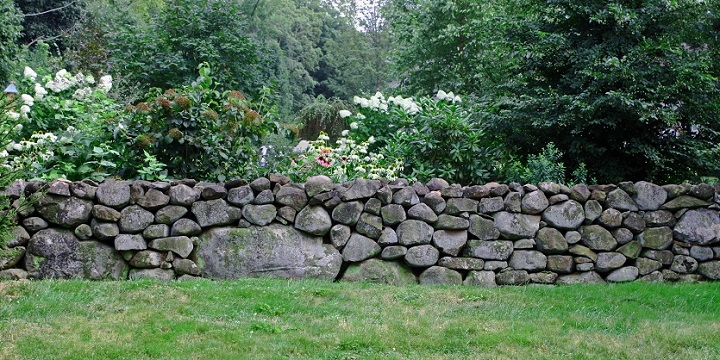 Stone wall by Matt Sevigny from Old World Stone & Garden. Completed in 1999, this picture was taken 12 years later.
3) Contemporary Stone Wall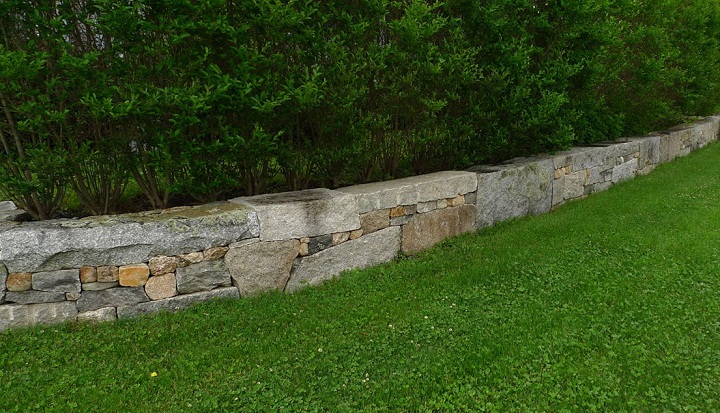 Contemporary stone wall in West Tisbury, Martha's Vineyard by Jeffrey Bale.
4) Irish Dry Stone Wall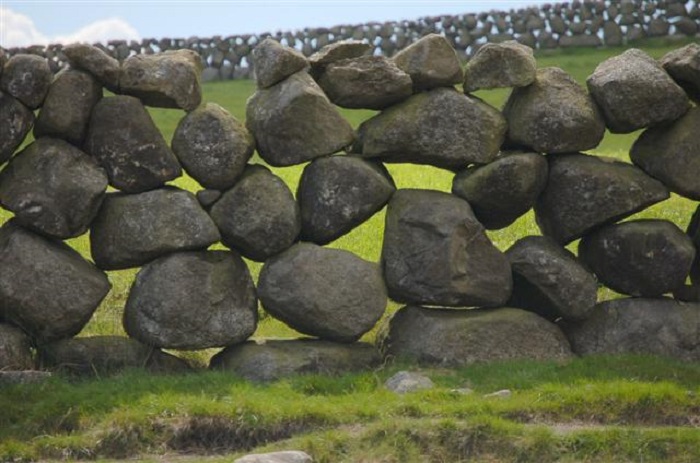 Dry stone wall, Ireland. Local residents are encouraged to erect and maintain stone walls. There are hundreds of thousands of miles of dry stone walls in Great Britain and Ireland, some date back to 3,500 BC. © Paul McIlroy.
5) Stone Retaining Wall
These owners used dry stacking to create a retaining wall with traditional style.
6) Rock Boundary In Ireland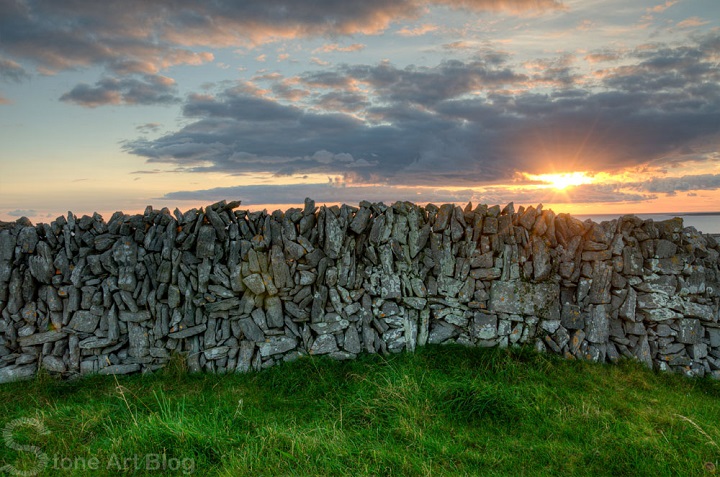 Dry stone wall in Ireland. Due to centuries of farming and lifting rocks from the soil just about every boundary in Ireland has a stone wall.
7) Kellyburn Park Stone Wall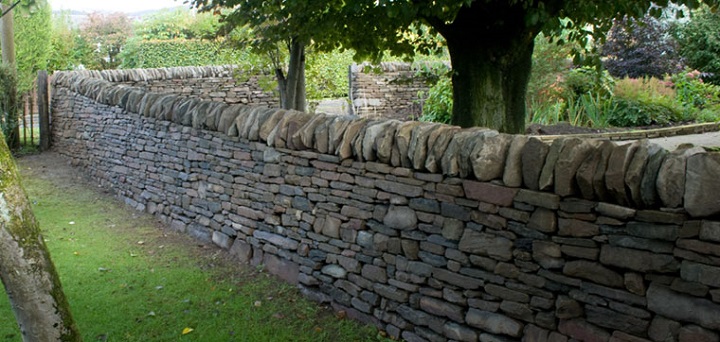 Stone wall, Kellyburn Park, Dollar, UK. This type of vertical capstone is typical in Ireland. By stoneinspired.com.
8) Stone Wall Fence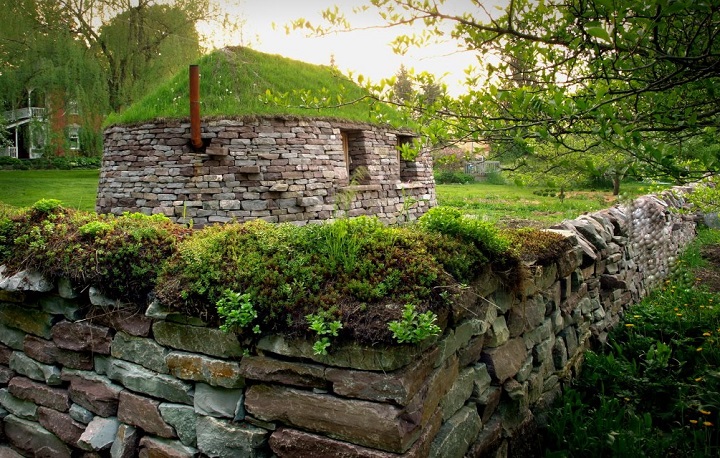 Dry stone wall surrounds a replica of a traditional blackhouse built by the DSWAC in Ontario, Canada. If you build a wide, double stone wall, you can fill the top with a little bit of soil for shallow-rooted plants. If you let roots go deep into a wall, those roots will destroy the wall. More about this property can be found on Thinking With My Hands.
9) Rock Wall And Walkway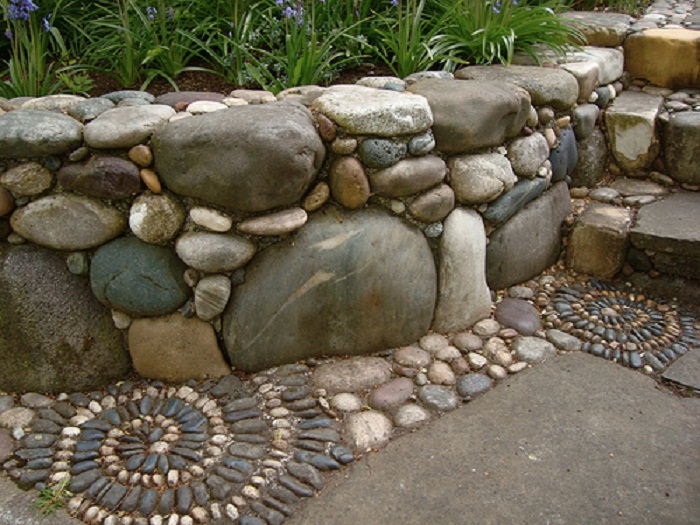 Stonewall in California by Jeffrey Bale. The swirling designs complement the variations in the wall.
10) Stone Wall Art In British Columbia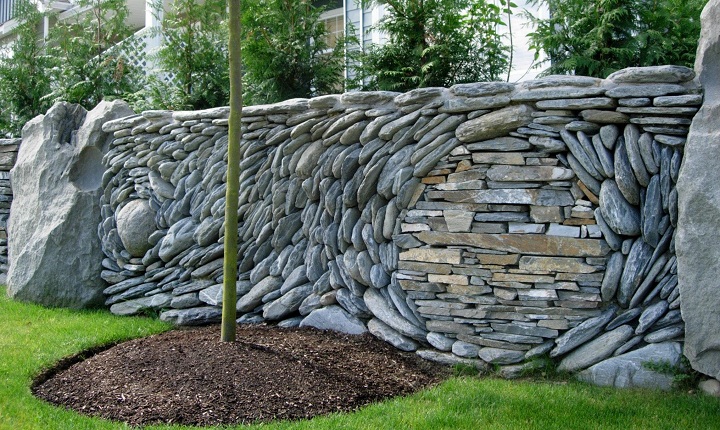 Stone wall, 80 feet long x 4 feet high, British Columbia, Canada. This stunning masterpiece is one of many by Ancient Art Of Stone.
11) Canadian Dry Stack Wall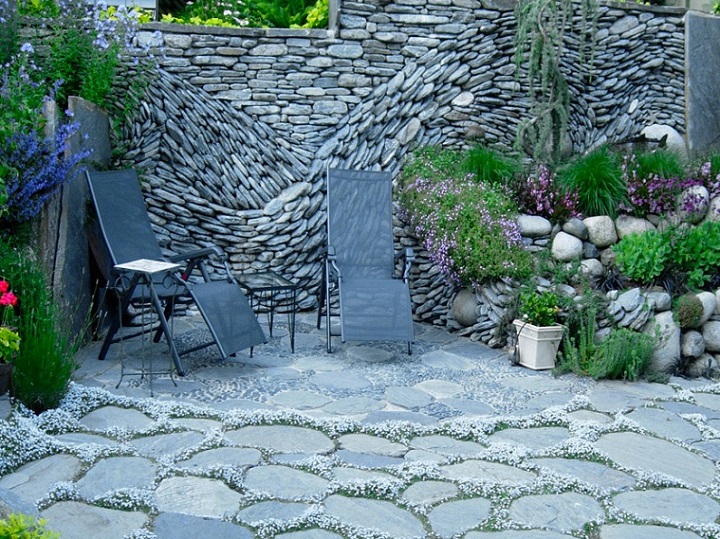 Must be nice and warm here on a sunny afternoon. A design by Ancient Art Of Stone in Canada, the wave pattern brings the wall to life.
12) Rock Wall With Basalt Stone
The bright color of these stones add vibrancy to the garden.
13) Stone Patio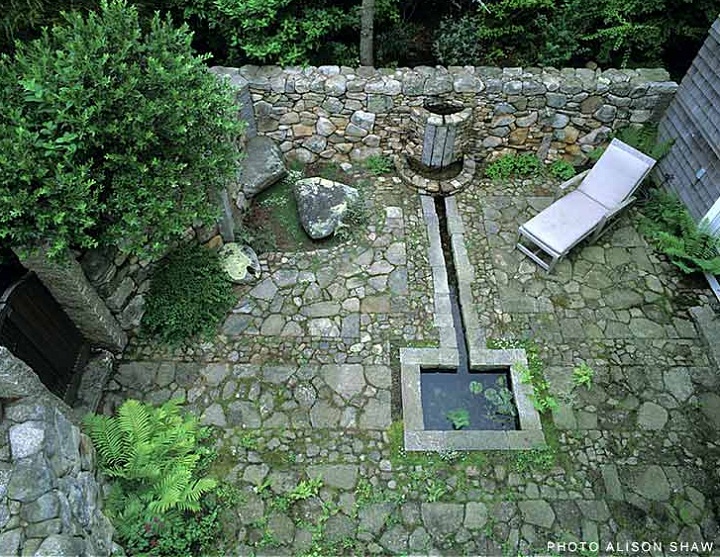 Stone patio by Lew French. Lew was born in a small farming town in Minnesota. He started to work with stone when he was nineteen years old. He moved to Martha's Vineyard over twenty years ago and has worked on his own stone designs exclusively since. www.lewfrenchstone.com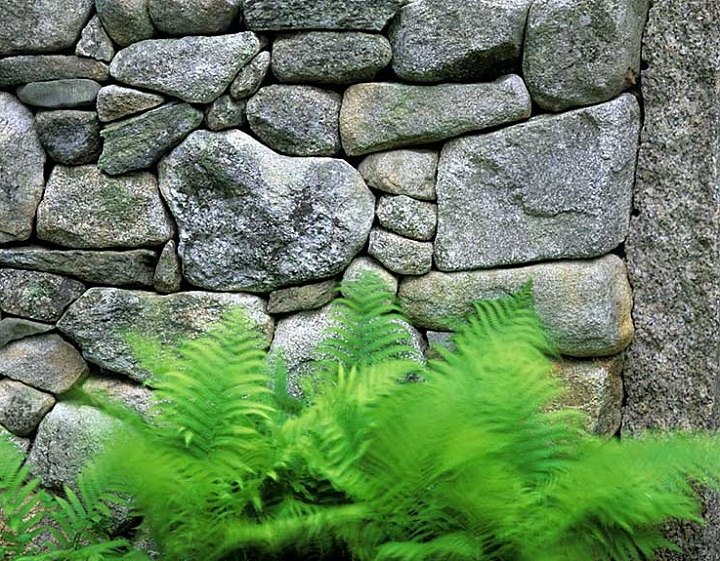 Close up of one of Lew's walls. "Grout lines do not exist—his compositions do not rely on mortar, which is only used for safety."
14) Dry Stock Wall With Pillars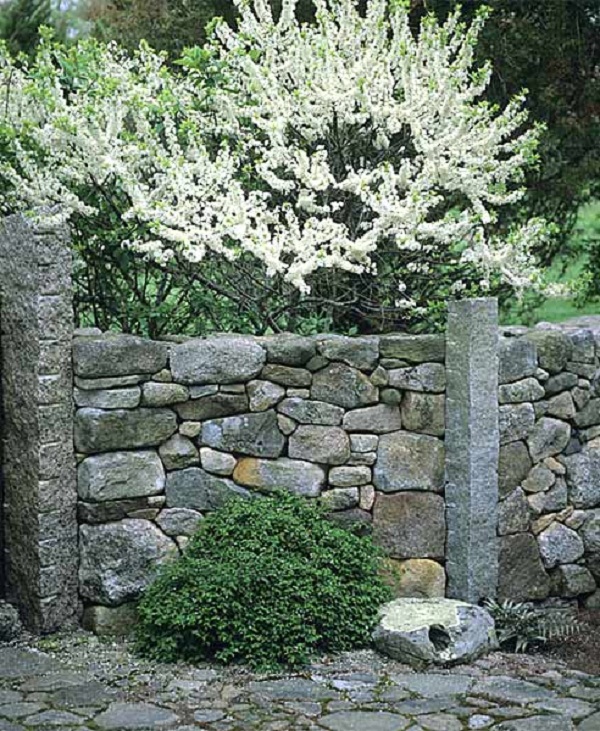 Stone wall by Lew French. The adaption of small columns into the design gives the wall a fence-like structure.
15) Large Rock Wall Using Boulders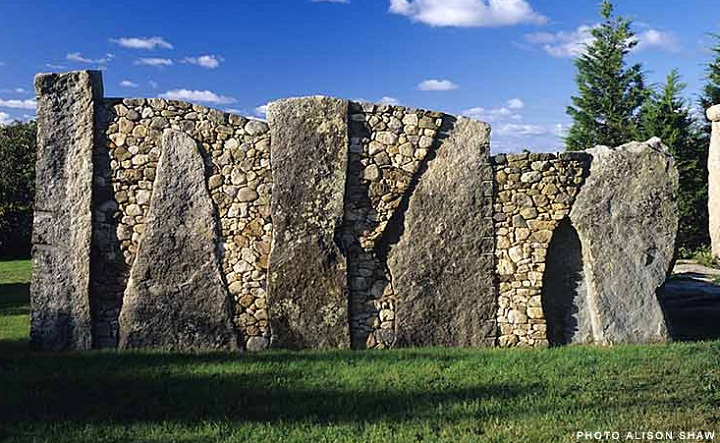 Large rock wall by Lew French. The large boulders draw attention to the intricacy of the walls design.
16) Rock Wall Shower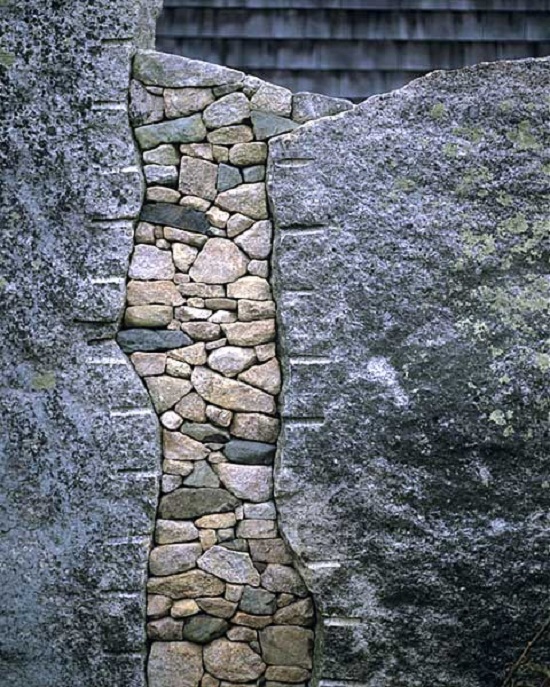 Detail of a rock wall shower surround. By Lew French.
17) Stone Wall With Shingles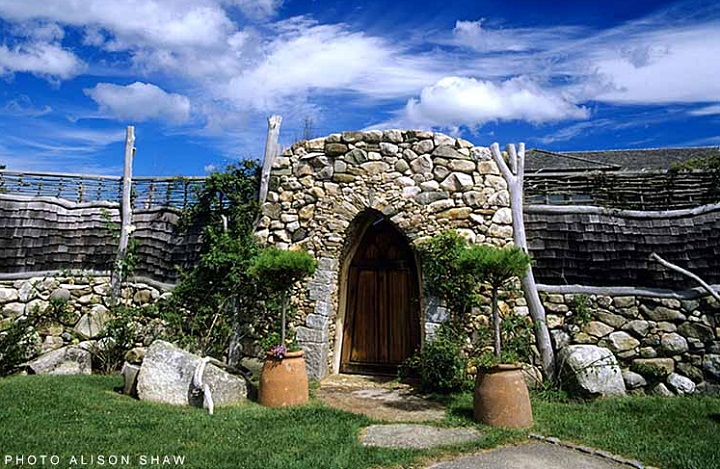 Rock and shingle wall. Door opens to a garden. Lew French has a new book forthcoming. His first book, Stone by Design can be purchased on Amazon.
18) Dry Stone Wall With A Circular Design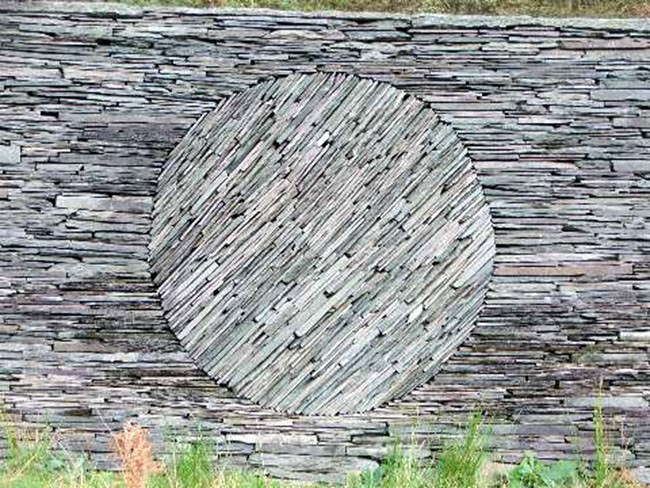 Slate wall by Andy Goldsworthy. The contrast in the flow of the rocks causes the circle to be distinct.
19) Slate And Stone Wall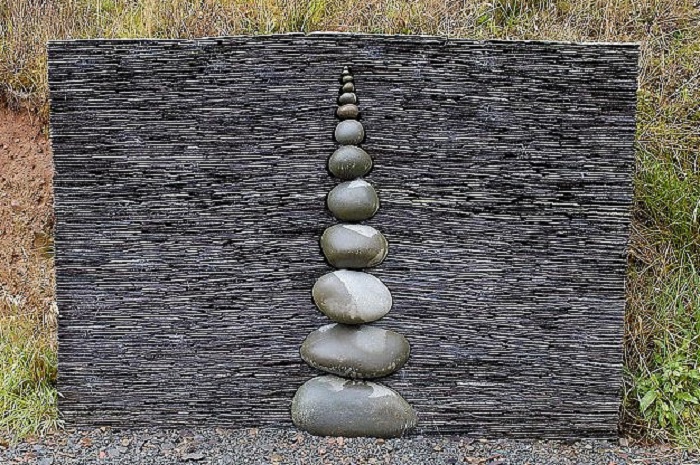 Slate and rock wall by Andy Goldsworthy.
20) Poolhouse Garden Retaining Wall
The larger stones in this wall give the garden a rustic style.
21) Vertically Laid Dry Stack Wall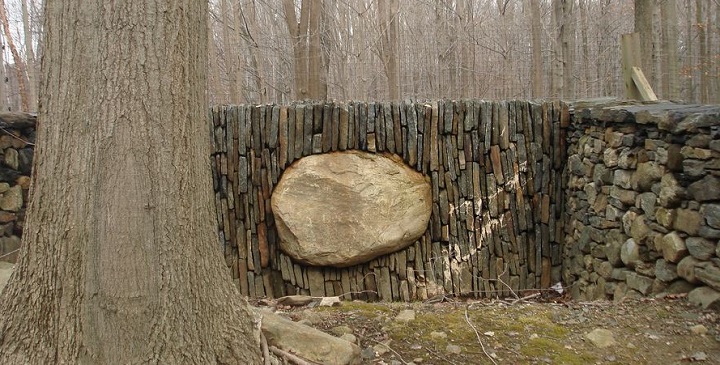 Wall by Andy Goldsworthy in Bedford, NY. A vertically laid wall holds up an enormous boulder.
22) Stone River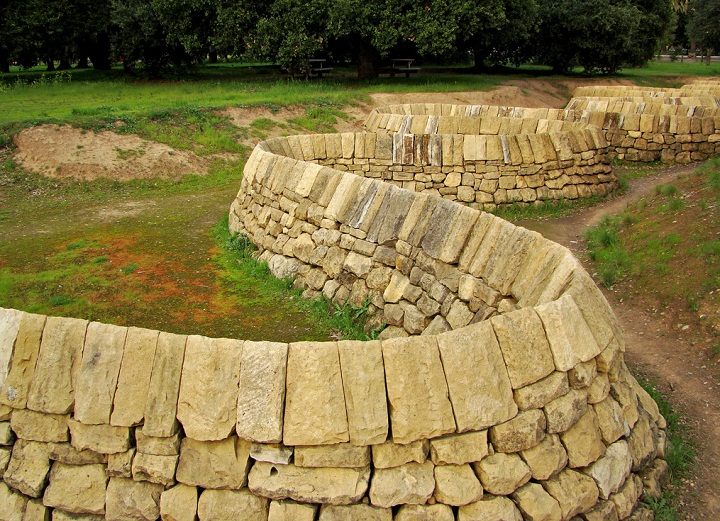 Stone River, 2001 by Andy Goldsworthy. The wall is discussed in an article by the Cantor Arts Center at Stanford University, California. Originally found at "https://museum.stanford.edu/news_room/archived_acquisitions_goldsworthy.html"
23) Storm King Wall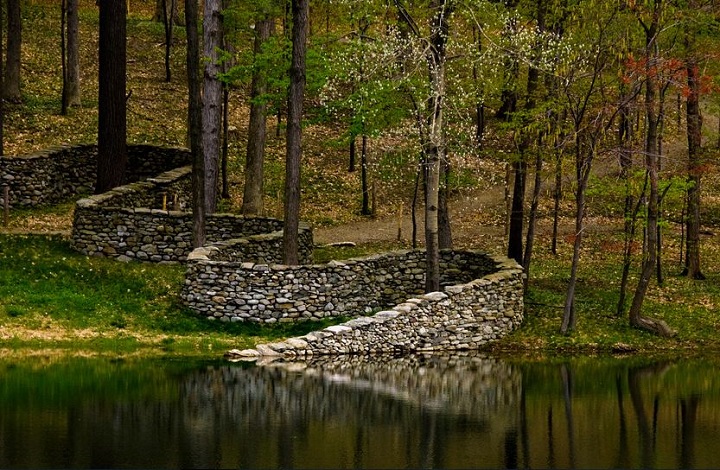 Storm King Wall in Mountainville, New York built in 1997. A 2,278 foot snaking wall plunges into a pond but reemerges on the other side.
By Andy Goldsworthy.
24) Flower Of Stone

Dry stone wallflower. Using alternating layers of slate to create the petals and detail in the leaf.
25) Wave Wall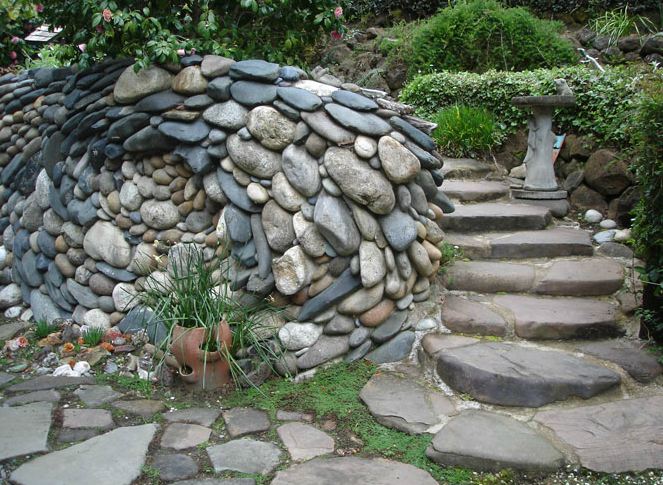 Wave Wall in Aptos California by Michael Eckerman. There must be some mortar behind there.
26) Wall Made From River Rocks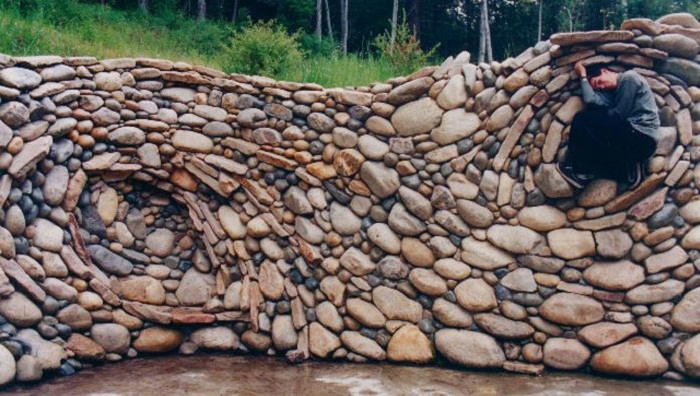 River rock wall. Santa Cruz Mountains. By Michael Eckerman.
27) Customized Stone Wall With Audio System
These designers were creative, adding a place for their audio system.
28) Kerry Landman Memorial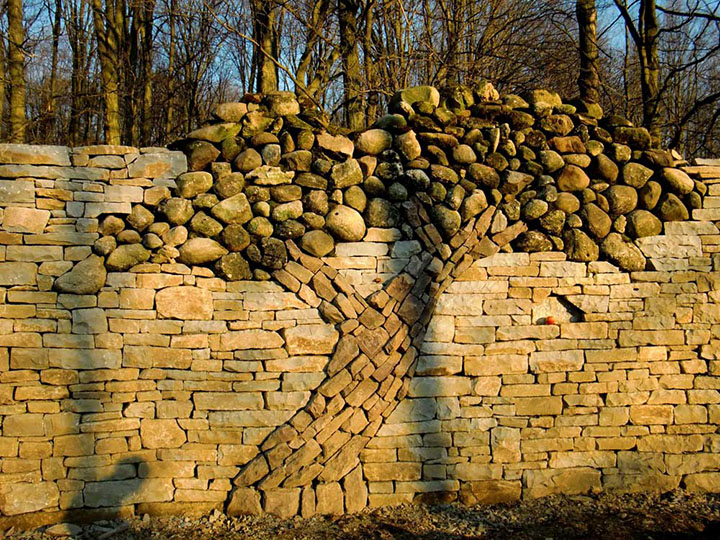 Dry stone wall with tree built by Eric Landman in memeory of his wife Kerry. Kerry Landman Memorial, Island Lake Conservation Area, Mono, Ontario. The main wall is Limestone with local rounded granite fieldstones that were found on site to represent the leaves. A lot of them had green moss on them that added to the effect of the stones looking like foliage.
29) Fun Dry Wall In Cèvennes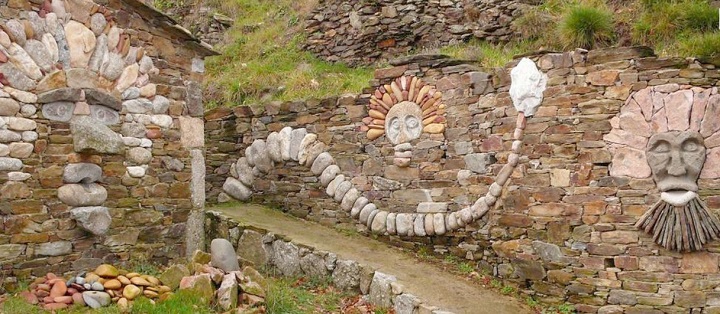 Wall in Cèvennes, France by Roland Mousquès, one of the founders of the Association Artisans Bâtisseurs en Pierre Sèche, France's drywall association. Workshops: www.facebook.com & www.pierreseche.fr
30) Inca Stone Wall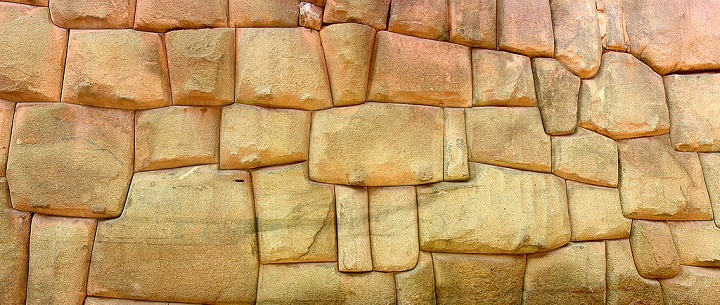 The Inca were masterful stone wallers. The fittings are so tight that a knife cannot penetrate the cracks between the stones.
31) Moongate Stone Wall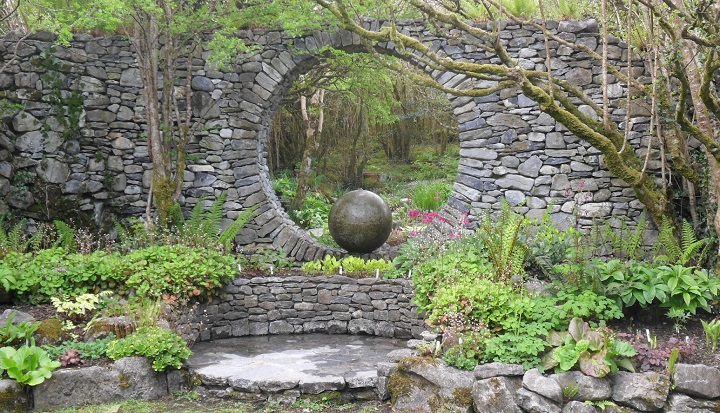 Dry stone wall with moongate. Built by Carl Wright in his Garden at Caher Bridge, Co Clare.
32) Sloped Stone Retaining Wall
The wall gently slopes toward the hill, preventing the wall from collapsing.
33) Rock Wall Furnace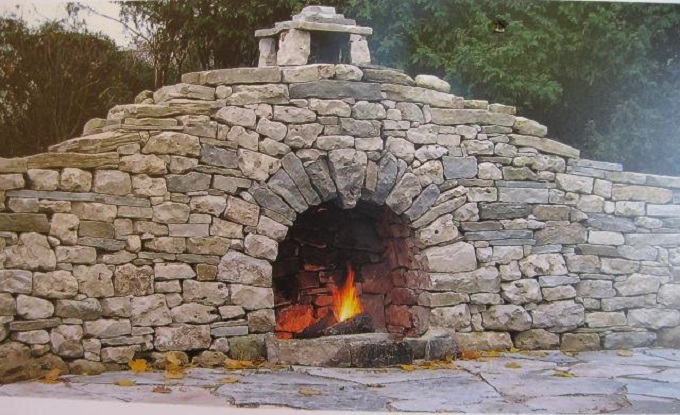 Incorporate a fireplace into your stone wall. Canadian waller Stephen Niven won a prize in 2009 with this dry stone fireplace. wallswithoutmortar.blogspot.com
34) Raised Stone Garden Bed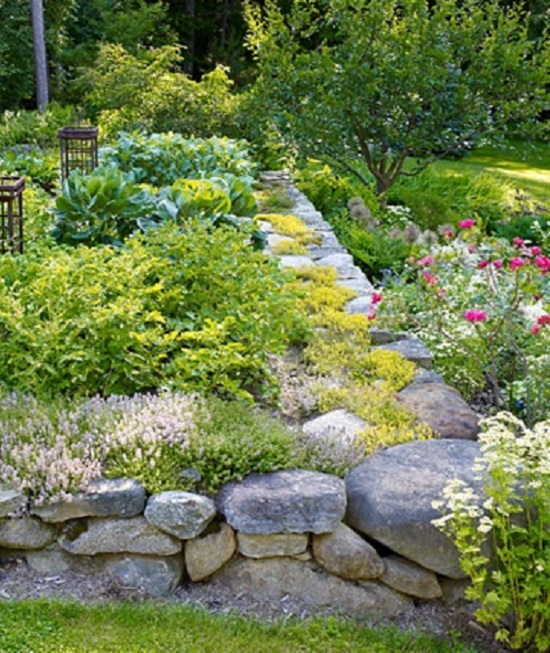 Stone raised bed. This garden bed is part of a farm in New Hampshire. Originally found at "https://www.marthastewart.com/275054/garden-tour-new-hampshire-garden"
35) Dry Wall With Planter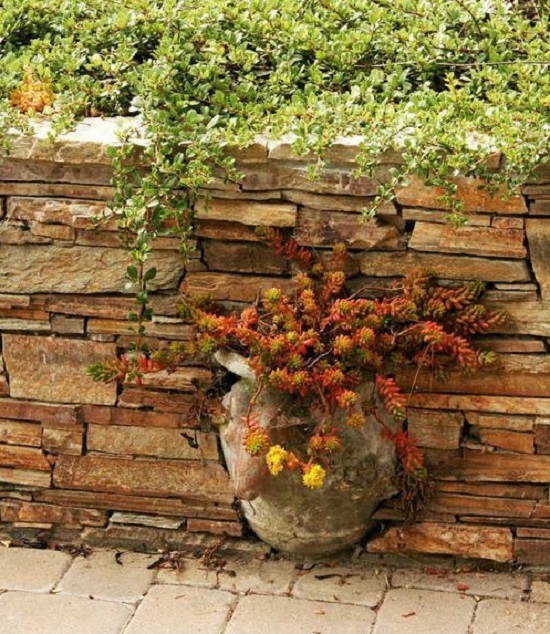 Dry stone wall with integrated pot. Water draining off a slope can seep through the rocks, instead of causing pressure on a cemented wall. Originally found at "westphoria.sunset.com"
36) Slab Wall With A Face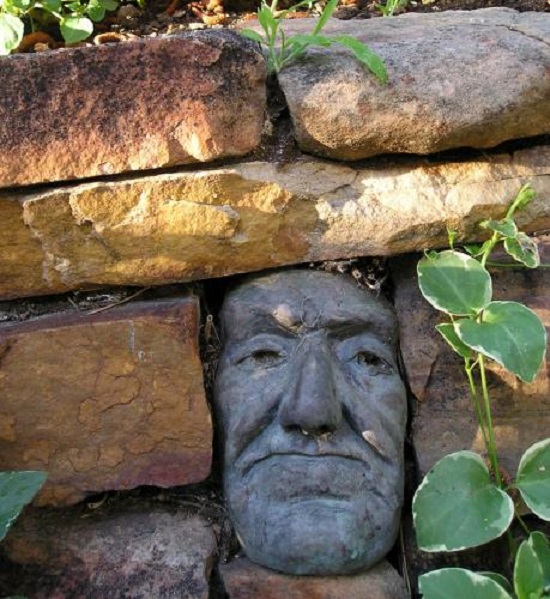 Incorporate a face, by Jerry Boyle. He likes adding faces because they give dimension to the design. Originally found at "https://www.boylesculptures.com/"
37) Rock Dry Stack Wall
A slightly different type of slab was used as the capstone in this retaining wall.
38) Dry Stack Dandelion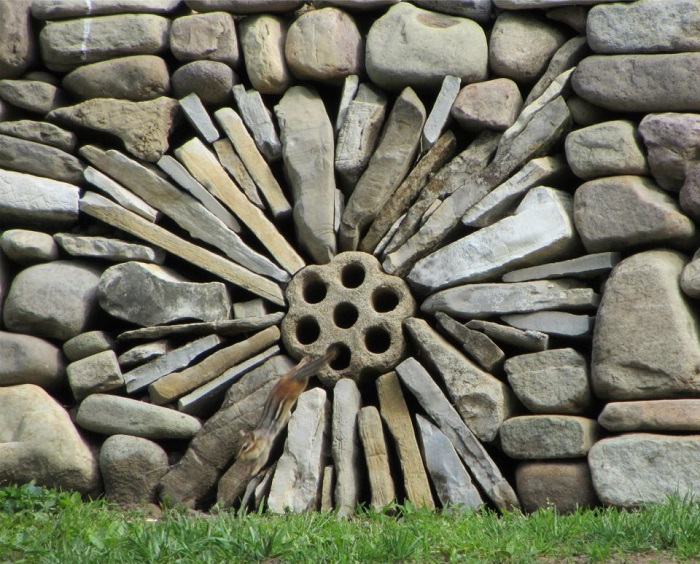 Dry stone wall in dandelion design by George Weaver. This is one of many designs exhibited on the wallswithoutmortar.blogspot.com website.
Dry Stack Stone Wall Composition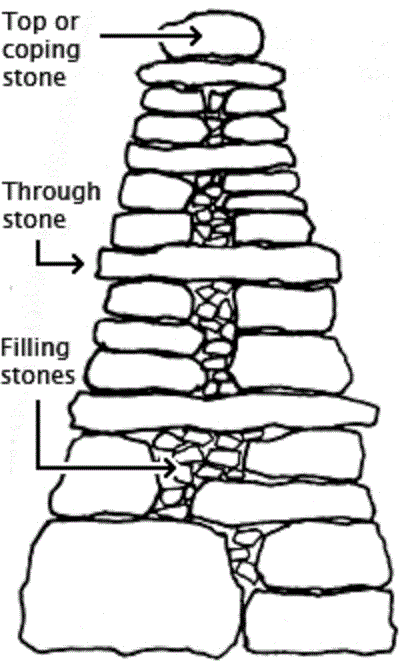 For added stability, dry stone walls are built wider at the bottom and taper toward the top. Image: outofoblivion.org.uk
Resources For Building A Stone Wall