A moon gate rises out of the earth, like the moon rises in the sky; both spheres celebrate the continuous cycle of birth and death…rising and falling…
33 Stunning Moon Gates
1) Un-Mortared Granite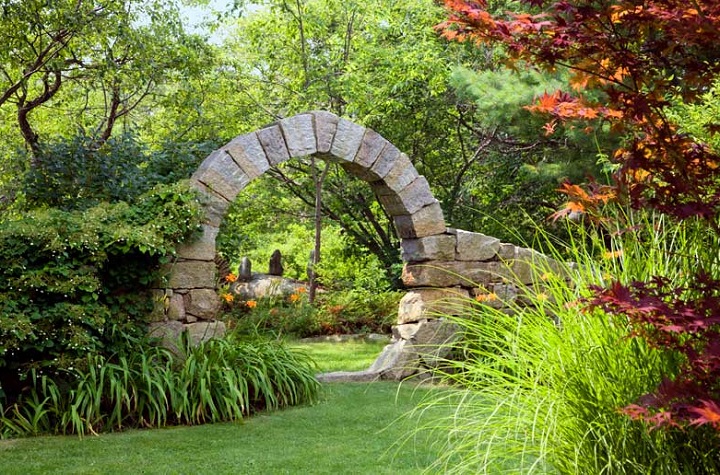 Moon gate, built of unmortared granite blocks, built in 1996 by Dave Araneo of Massachusetts. "It's is one of the oldest technologies around," Dave says. "You build a wood form, place the stones to either side, and build up. Then you finish with a keystone and remove the form. There is a wonderful energy to these structures." More recently, Dave constructed a small moon gate using flat pieces of stone. "I used a garbage can for the form, then kicked it out. It has survived storms . . . it may even survive grandchildren!" Via: artsandcraftshomes.com.
2) Chelsea Flower Show Winner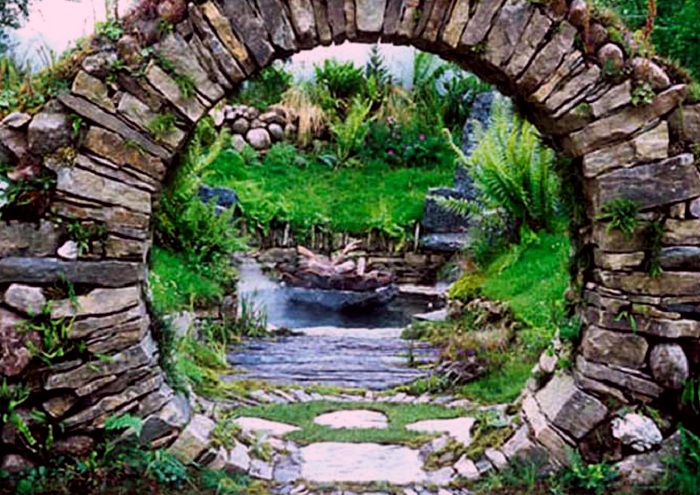 Stepping through a portal. Mary Reynold's Gold winning Garden at Chelsea Flower Show, 2002, Tearmann sí – A celtic sanctuary. More photos can be found on Mary Reynold's website, marymary.ie.
3) Tropical Escape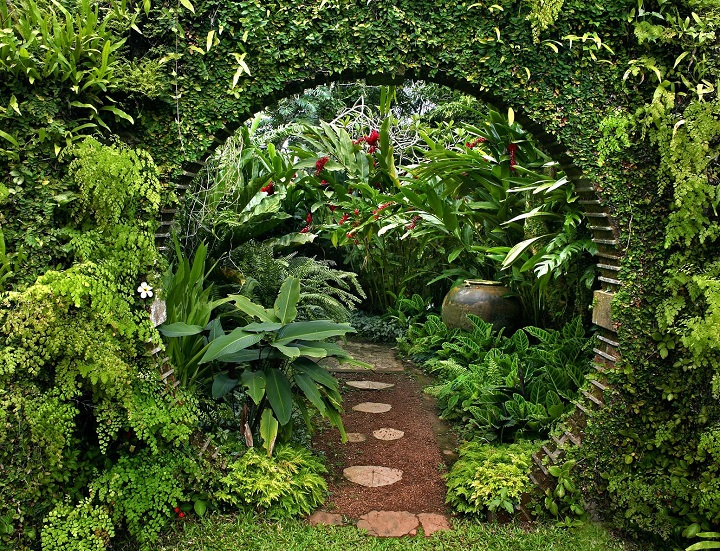 Tropical Moon Gate in Brief Garden, Near Bentota, Sri Lanka. This photo can be found at im9.eu.
4) George's Moongate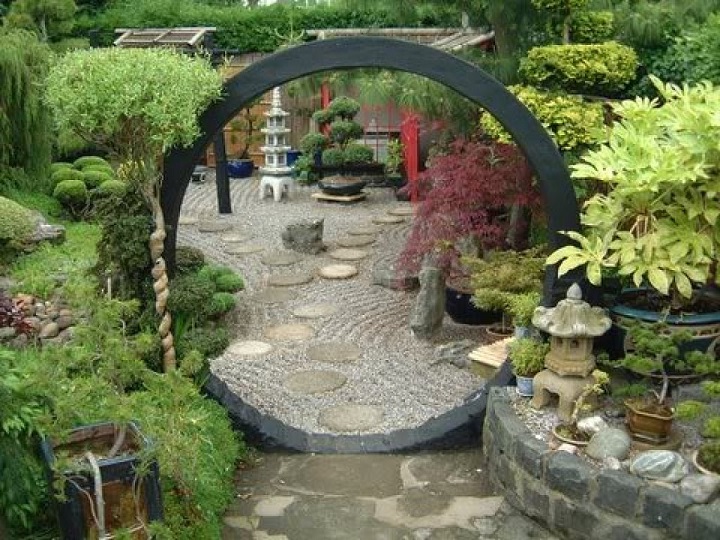 George's moongate. The top portion is 3/4″ external plywood made like a tube but covered with ceramic tile and grout and then painted with three coats of black waterproof roof paint to make it weatherproof. More information about this project is available at koi-z-are-us.20m.com.
5) Rusted Gate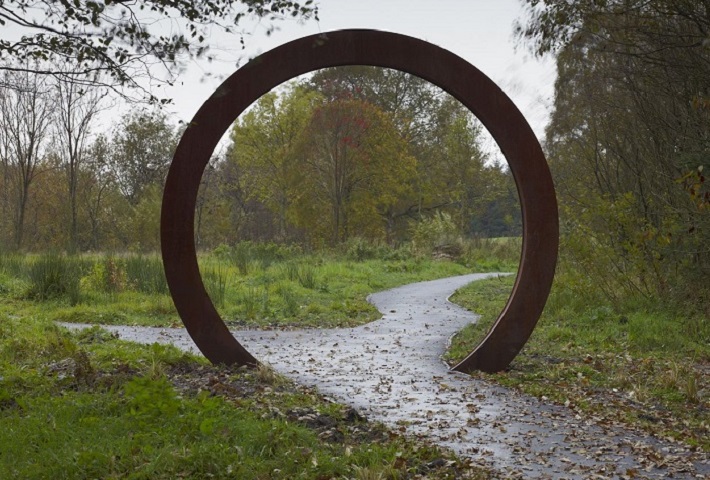 Moon-Gate by Alec Finlay, 2008, Scotland. Photograph, Alexander Maris. This photograph is available at cosmopoetics.wordpress.com.
6) Wooden Planks
This wooden moon gate has a modern style, yet the planks create a more natural feel.
7) Denver Botanic Gardens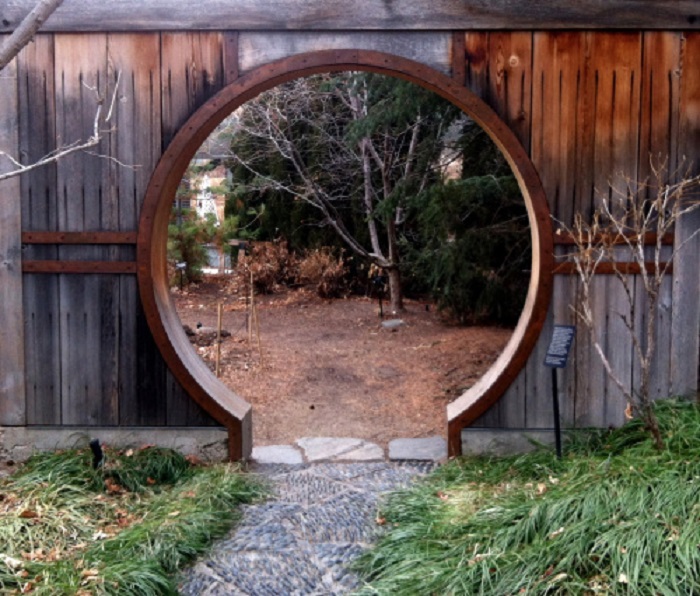 Denver Botanic Gardens in January. Note the pebble pathway. Additional photographs of these gardens are available at whatgives365.wordpress.com.
8) Cordwood Moon Gate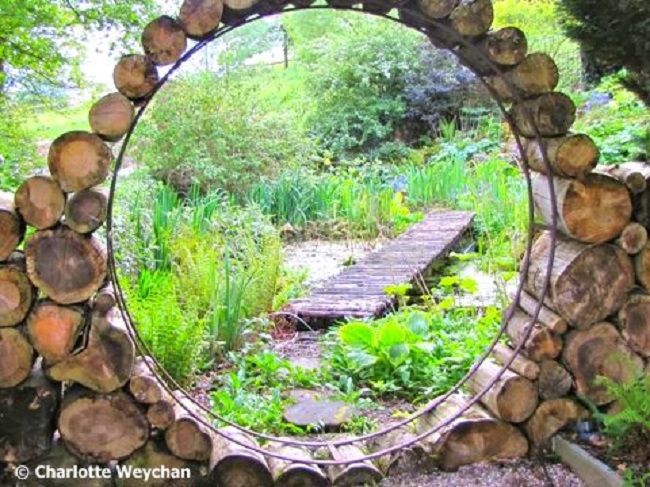 Austwick Hall in Yorkshire, built and designed by the owners. Via: thegallopinggardener.blogspot.com, where more pictures of moon gates are available.
9) The Ivy Gate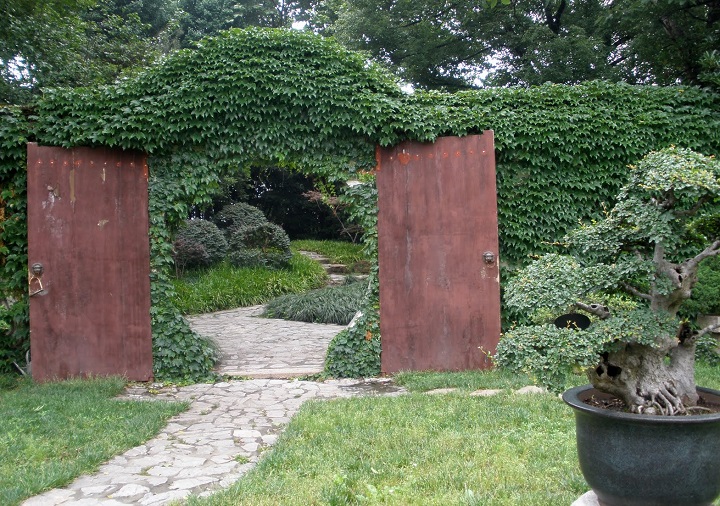 Moon gate covered with vines. Fangta Park, Songjiang, China. Visit jaxstumpes.blogspot.com to see this moon gate and more.
10) Scorpio Sculpture

Johnny Clasper's Scorpio Sculpture. More work by Johnny can be seen at www.johnnyclasper.co.uk.
11) Pennsylvania Endless Mountain Fieldstone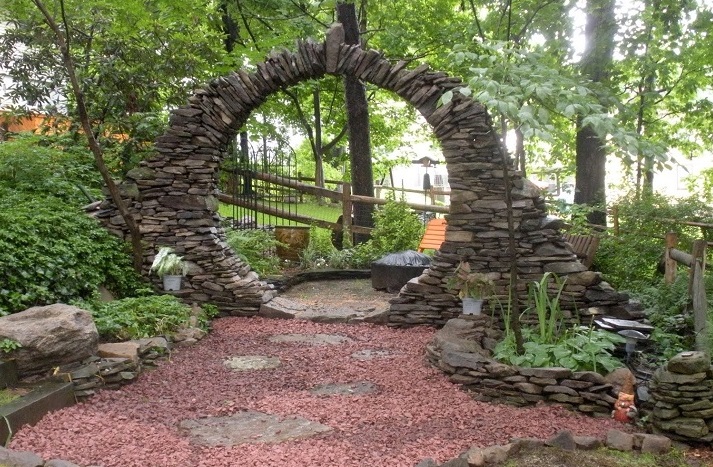 Moon Gate in New Jersey. Built using 7.5 tons of Pennsylvania Endless Mountain fieldstone. Via: inthecompanyofstone.blogspot.com.
12) Gate In Bermuda
White stone gives this moon gate an almost ethereal appearance, as if it was brought from the moon itself.
13) Azelea Garden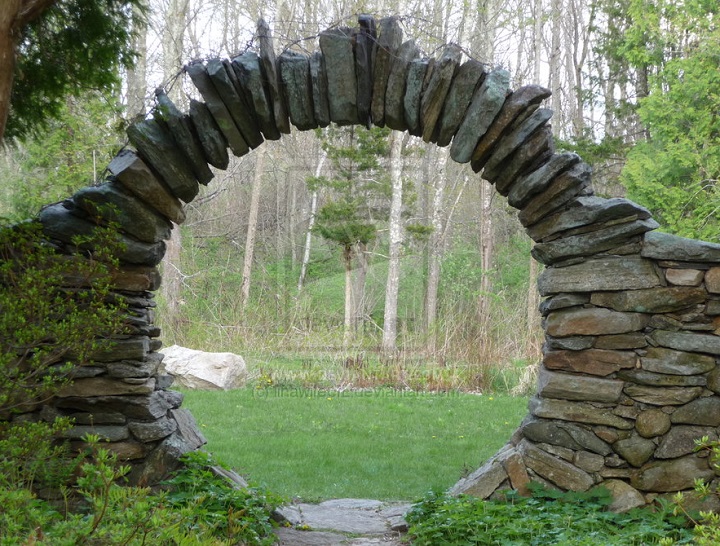 Moon Gate in Rhode Island. More pictures of this garden are available at chrisgaspar.blogspot.com.
14) Pathway To The Moon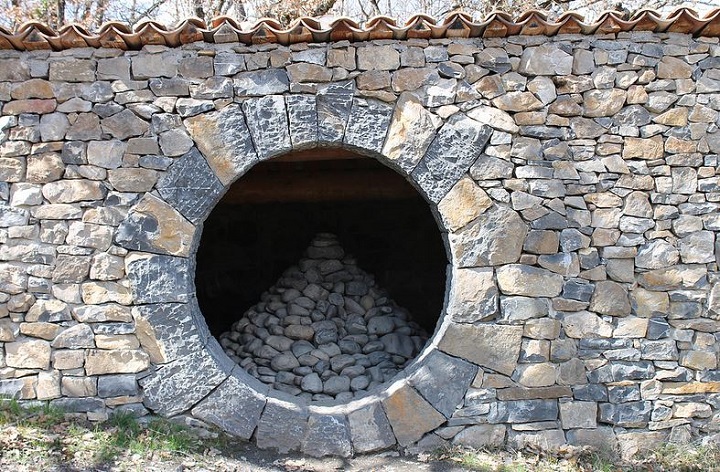 Andy Goldsworthy. Visit www.goldsworthy.cc.gla.ac.uk for more photographs by Andy Goldsworthy.
15) Steane Park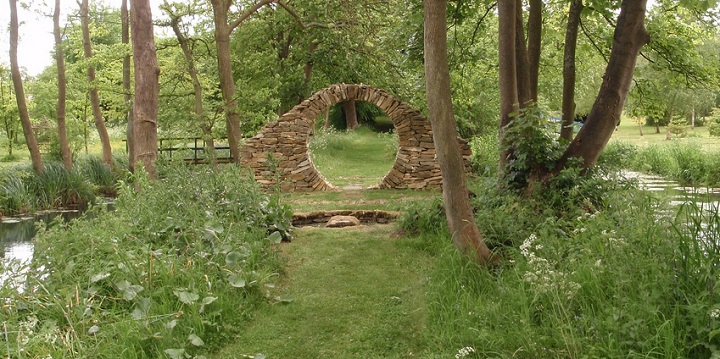 'The Moon Gate' – at Steane Park in Northamptonshire, taken from a design by Mary Reynolds at the Chelsea Flower Show of 2001. Image by WindBlown2011 / Flickr.
16) South Carolina Moon Gate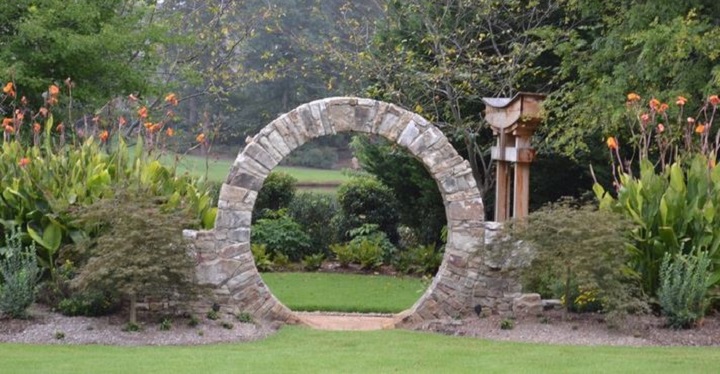 Moon Gate designed and constructed by The Stone Man, South Carolina. More projects can be viewed at stonemanrocks.com.
17) Crescent Moon
This designer used the shape of a crescent moon to make this gate.
18) Gate Within A Wall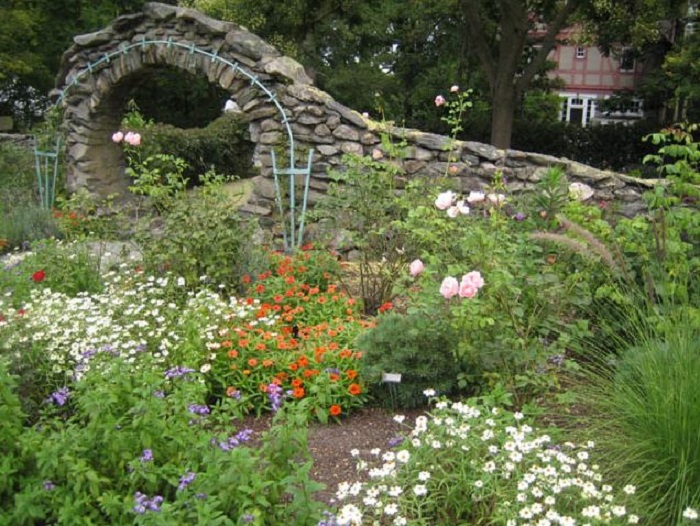 Moon gate integrated into stone wall. Blithwold, Rhode Island. More information about this amazing estate is available at blog.blithewold.org.
19) Hand-Chiseled Stone Gate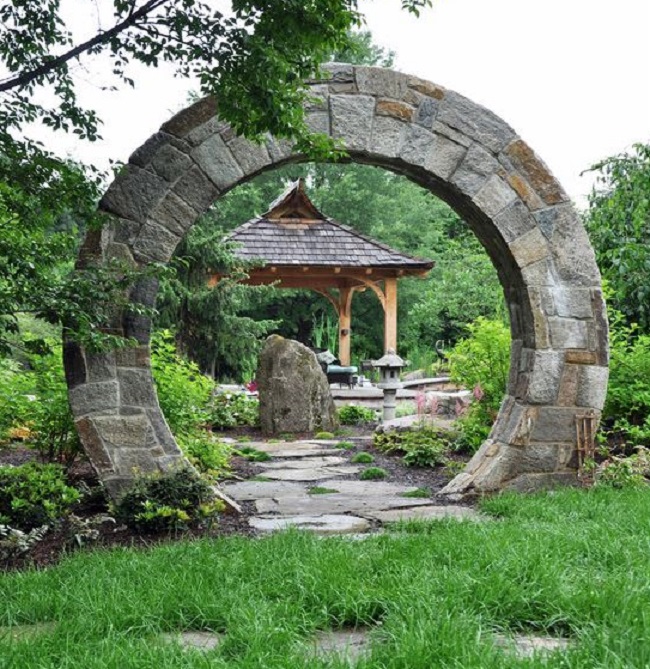 The moon gate frames the pagoda style pavilion and the "good karma" boulder. Masons hand chiseled each stone on site and set the stone against a wooden arched form which was later removed. By McHale Landscape Design, Upper Marlboro, MD. Additional work by McHale Landscape Design is available at mchalelandscape.com.
20) Chinese Garden Of Friendship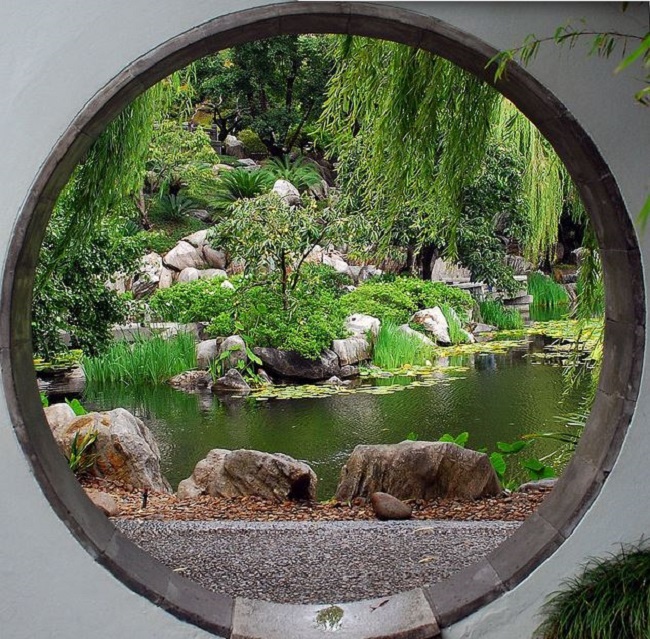 Moon gate, in the Chinese Garden of Friendship, Sydney, Australia. Photo by Jon Harley / Flickr.
21) Moon Gate In Suzhou
Moon Gate by A. Wee. Suzhou, China. Photo credit to A. Wee / Flickr.
22) Ross Priory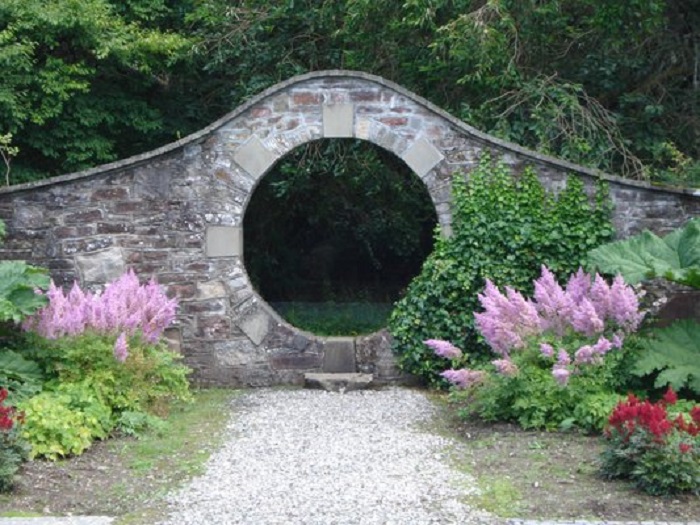 Moon gate at Ross Priory. Loch Lomond, Scotland.
23) Red Accent
The bright, red interior emphasizes the form of this moon gate.
24) Claydon Gardens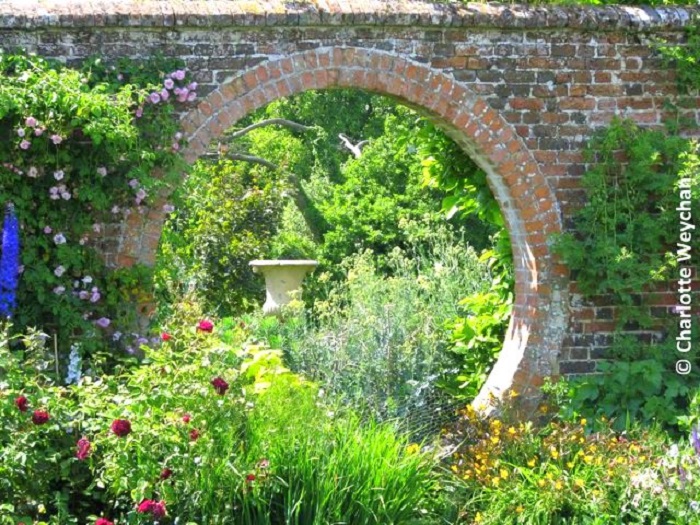 The moongate at Claydon Gardens in Buckinghamshire. Via: thegallopinggardener.blogspot.com, where additional information and pictures are available.
25) Live Hedge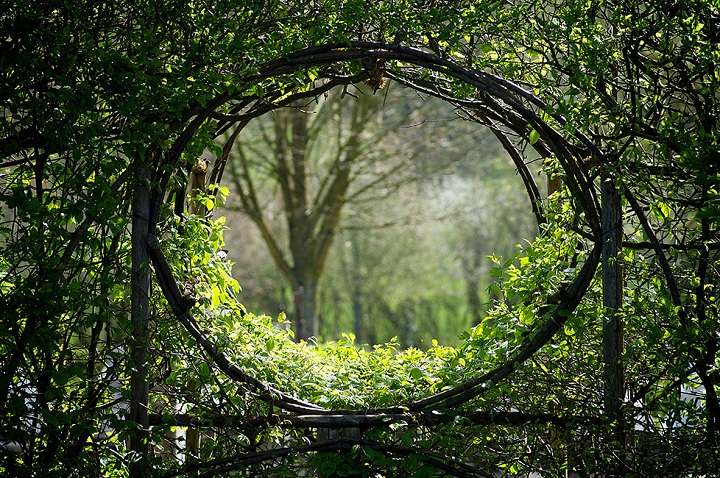 Green moon gate, window in a hedge, Orsan. Image by Francois Berraldacci. Go to www.berraldacci.fr for more photographs by Francois Berraldacci.
26) Trellis Moon Gate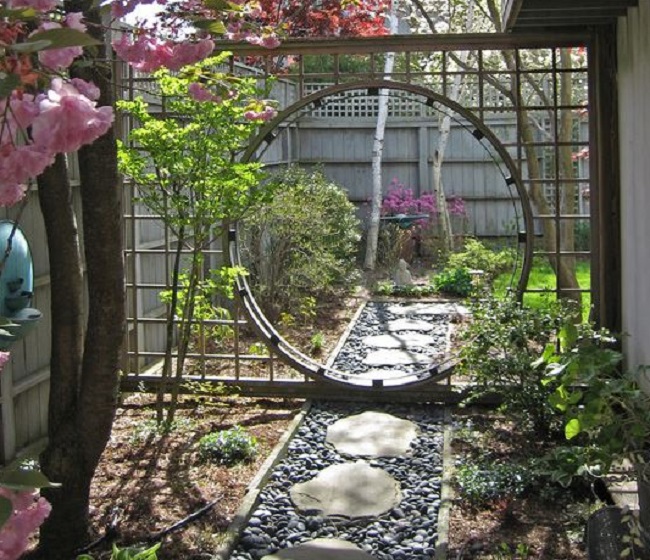 A moongate set in a trellis provides the separation between a dining terrace and small garden beyond. By Leonard Design Associates, Arlington, MA. Other projects by Leonard Design Associates is available at leonarddesign.info.
27) Outdoor Kitchen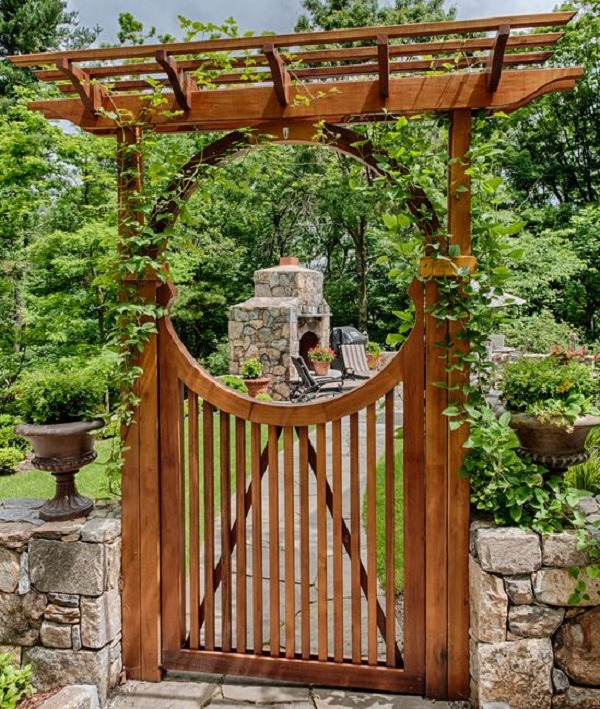 Wooden moongate to an outdoor kitchen, Pleasantville, NY. Additional work by Fivecat Studio can be found at www.fivecat.com.
28) Western Moon Gate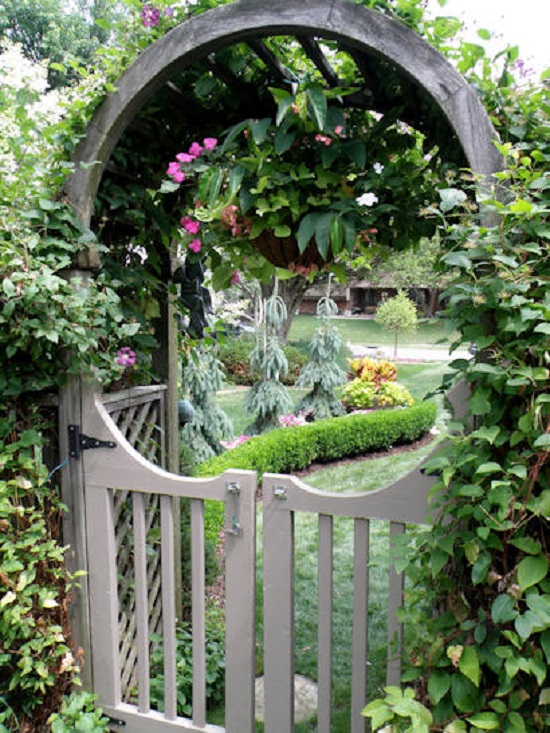 The moongate with a western bent. A half circle trellis frames a garden. Dyton, Ohio. Go to customoutdoorstructures.com to view more work by Custom Outdoor Structures.
29) Gate Within A Door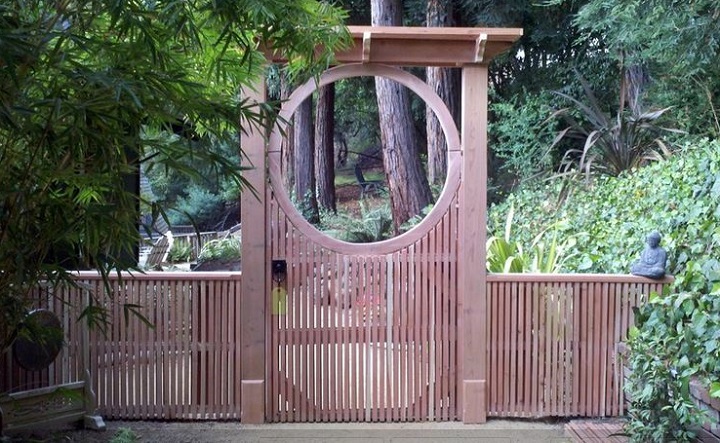 Moon Gate with Asian Inspired Gate Latch by Sean Hennick of the San Francisco Bay Area. More details about this gate are available at shop.360yardware.com.
30) Green Tiles
Ivy and green tiles give this moon gate an earthly appearance.
31) Palm Grove Gardens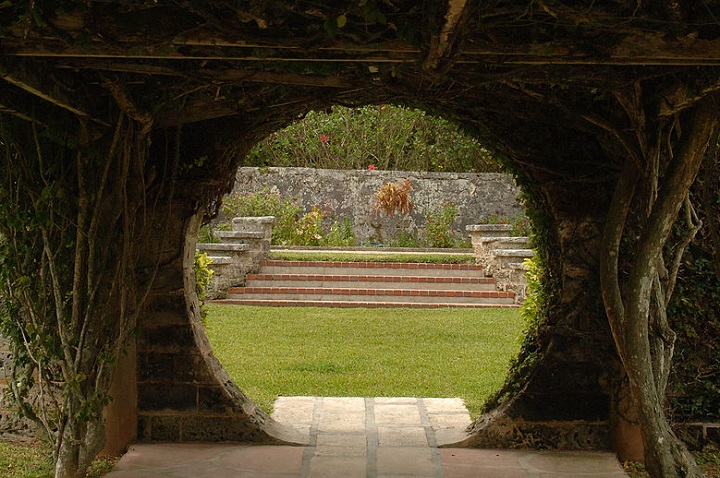 Moon gate, Palm Grove Gardens, Bermuda. Klotz (Jerrye and Roy Klotz MD) / commons.wikimedia.org.
32) Symbol Of Love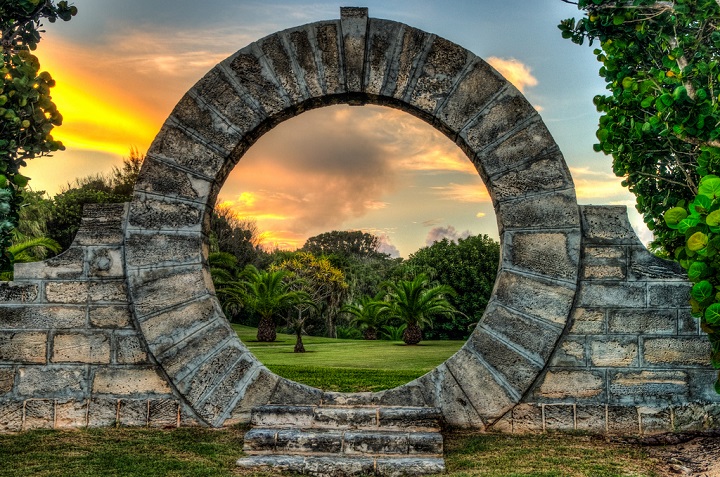 Moongates are a common feature in Bermuda gardens. It is regarded as a symbol of love and Bermudians believe people who walk through a Moongate are blessed with good luck. Copyright Scott / Flickr.
33) Rhode Island Show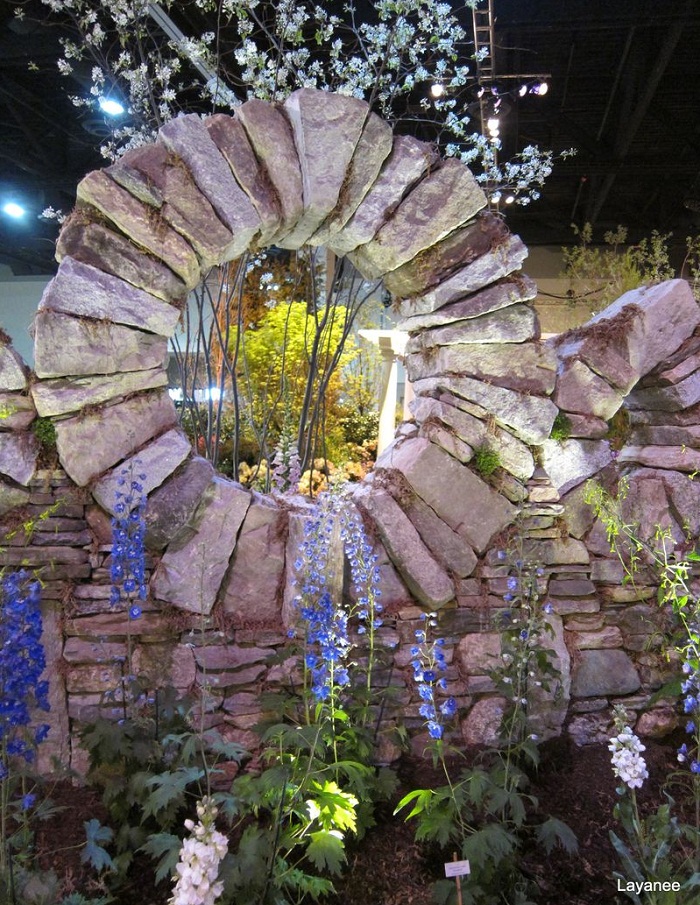 Moon gate at the 2011 Rhode Island Spring Flower & Garden Show. More photographs and information about this garden are available at ledgeandgardens.typepad.com.
An Ancient Moon Gate in Cornwall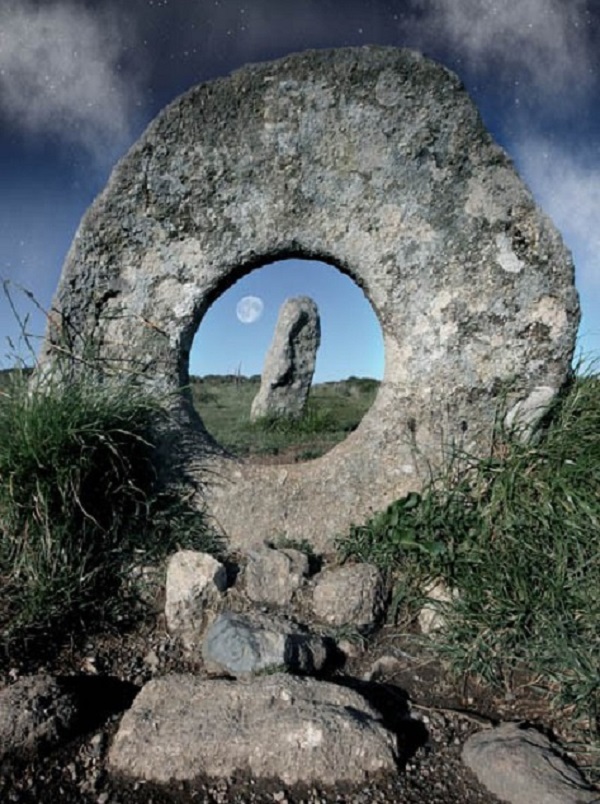 The Mên-an-Tol, (the hole stone) Cornwall, United Kingdom. Also known as the Crick Stone for it heals a crick in the back. This Bronze Age monument has been standing in West Cornwall for nearly 4500 years and local legend claims if a woman passes through the stone hole seven times backwards on a full moon, she will soon become pregnant.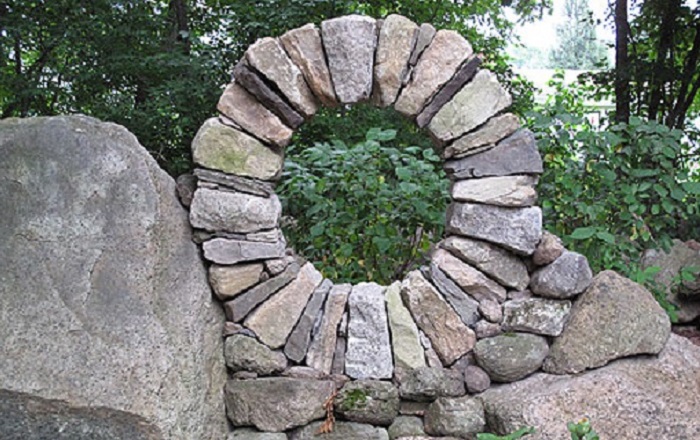 Moon Gate by Magma Design Group, 2013.
The existing stones act as both a support mechanism and as a foil to the textures of the stone that they brought onto the site. After a few years, the moongate stones will age and blend in with the rest of the stone on the site. Massachusetts. By magmadesigngroup.com
Chinese Moon Gate
"Doors either did not exist or were left open. (Socially, closed doors were not considered courteous since they implied exclusion, while the open door symbolized the welcome extended by the essentially out-going Chinese temperament with its spontaneous and natural relationships developed over the ages in the highly socialized life of a large family). Doors were often only a means of enhancing a view into the garden or to the scenery beyond, such as the moon door, a beautifully placed circle framing some special outlook. Not only was every aspect used to its full natural advantage but "if one can take advantage of a neighbour's view one should not cut off the communication, for such a 'borrowed prospect' is very acceptable." From the Yün Yeh, a Ming treatise on gardening.
"The garden was not, however, merely aesthetic but creative and a reminder of, and contact with, the creative forces and the great cycle of the seasons, birth, maturity, decay, death and rebirth." From The Symbolism of the Taoist Garden by J.C. Cooper.
How To Build A Moon Gate
Step by Step: www.gardenhillacres.com
Wall and moon gate workshop: thegreenists.com
Building a Venus Gate: www.gavinrose.freeservers.com
Custom wood moon arbor: walpolewoodworkers.com