Did you know there are over 4,000 chemicals that are used to create fragrances in skincare and beauty products? And since these fragrance blends are considered trade secrets, companies aren't required to disclose the specific ingredients on their labels. I don't know about you, but for me, that is reason enough to consider more natural options for my signature scent.
If you have essential oils and a few other common skincare ingredients on hand, you can make your own DIY perfume at home and know exactly what you're applying to your skin. There are even a few ways to use ingredients from the garden, like lavender or rosemary. Whether you're looking for a sweet and fruity perfume or a more earthy blend, we've compiled a list of some of the best DIY perfume recipes to make at home.
DIY Essential Oil Perfume
Though they're better known for aromatherapy, essential oils can be used for everything from cleaning to crafting to personal care. There are so many different essential oils that you're bound to find one that's perfect for your signature scent. These recipes from Plant Therapy range from sweet to earthy, and the instructions are simple.
Signature Scent DIY Perfume
If you're looking to create your own signature scent, check out these helpful instructions from ThoughtCo. You'll learn how to create base, middle, and top notes, as well as what added ingredients will achieve the desired groups of scents. Looking for something earthy? Consider adding patchouli. Leaning more toward a woodsy scent? Think about incorporating cypress and sandalwood.
Roll-On DIY Perfume
If you're like me and always forget to apply perfume in the morning, consider this roll-on DIY perfume that you can toss in your bag and go. This recipe is super easy to make, and if you invest in these rollerball containers from Amazon, you can create all sorts of different combinations and wear a different scent every day.
DIY Solid Essential Oils Perfume
If you're looking for an easy grab and go perfume that you can apply at any point throughout the day, consider this solid DIY perfume. All you'll need is almond oil, beeswax pellets, and your choice of essential oils. If you travel a lot, this solid is a great option to take on the plane or stash away in your purse during a road trip.
Fun Fruity DIY Essential Oil Perfume
If you like the idea of a roll-on DIY perfume but need a little more guidance in terms of the actual scent combination, consider this fun and fruity recipe. Made with mandarin, cedarwood, neroli, and sweet orange essential oils, this refreshing and bright DIY perfume is perfect for spring and summer.
DIY Hair Perfume
Yes, hair perfume IS a thing! This recipe incorporates your choice of essential oils and a carrier oil, and either distilled water or rose water as the base.
Related Post: Organic Shampoo
What I really appreciate about this article, though, is it addresses a wide variety of FAQs that you may come across while crafting your DIY hair perfume. And don't forget to print the free label to attach to the bottle.
Fresh Flower Petal Perfume
Of course, we had to include a recipe that incorporates ingredients from the garden. This fresh flower petal perfume is a great recipe for late spring when you have more blooms than you know what to do with.
DIY Botanical Perfume And Cologne
This article offers a few different perfume and cologne recipes made out of both essential oils and whole ingredients.
If you're looking for a scent that's a bit more masculine, consider the citrus clove or woodland cologne. For something that's more fruit-scented, consider the citrus cologne. And finally, for a perfume that's bright and floral, consider the fresh floral or the sweet summer perfume blend.
Frankincense And Ylang Ylang DIY Perfume
Maybe you're looking for a DIY perfume recipe that incorporates the aromatherapy benefits that essential oils offer. This DIY perfume incorporates frankincense and ylang ylang essential oils to offer a sense of grounding throughout the day. It smells refreshing, too.
Sandalwood And Vanilla Solid Perfume
For a more natural version of that vanilla body spray that you loved as a teen, consider this solid sandalwood and vanilla DIY perfume. This perfume could be stored in an upcycled small glass jar, though the I think the idea of pouring it into a lip balm container would make the application easy and portable.
Orange Patchouli Solid Perfume
If you're looking for a DIY perfume that's a little earthy and a little fruity, consider this recipe from Loving Essential Oils.
DIY Fall Hair Perfume
Maybe you want a fresh new scent for fall. With this DIY hair perfume from Free People, you'll want to use essential oils that offer a woodsier scent. Consider using eucalyptus, bergamot, cedarwood, and rosemary.
Lilac Essential Oil Perfume
If your favorite perfume is a floral scent, but you're looking for a more natural alternative, consider this lilac essential oil DIY perfume. Add a few lilac petals to the bottle for a decorative flair and extra floral-scented infusion. Though this recipe calls for a spray bottle, it would also work well in a roll-on application.
Vanilla Body Spray 3 Ways
If you liked the idea of vanilla perfume but weren't interested in the solid option above, consider these traditional spray recipes.
Related Post: How To Grow The Vanilla Plant
This article includes instructions for a variety of blends including vanilla + ylang ylang, vanilla + sweet orange, and vanilla + coffee.
DIY Natural Men's Cologne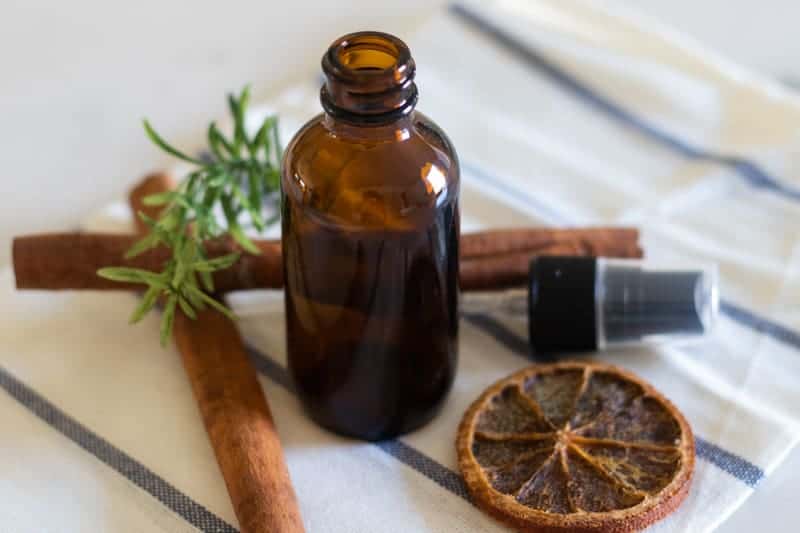 And last but not least, here's a recipe for the men in your life! This article offers multiple natural cologne blends made out of essential oils like "citrus spice" and "earthy". Whichever blend you choose, you'll know exactly what ingredients are in it.