Girl Power! Four young Nigerian girls have invented a generator that runs on urine.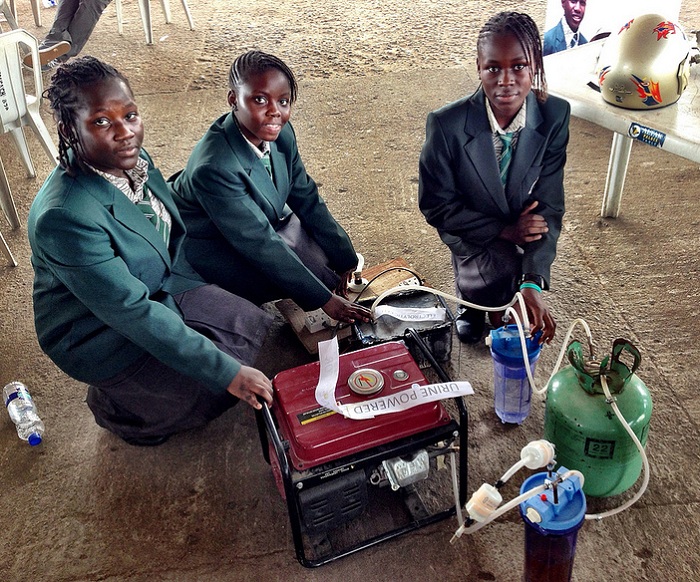 The invention was first displayed in Lagos, November, 2012, at the 4th annual Maker Faire, a pan-African innovation fair. Three 14-year-olds, Duro-Aina Adebola, Akindele Abiola, Faleke Oluwatoyin and 15-year-old Bello Eniola are the inventors.
How The Urine Powered Generator Works
The system separates urine into nitrogen, water and hydrogen.
Urine is put into an electrolytic cell, which separates out the hydrogen.
The hydrogen goes into a water filter for purification, which then gets pushed into the gas cylinder.
The gas cylinder pushes hydrogen into a cylinder of liquid borax, which is used to remove the moisture from the hydrogen gas.
This purified hydrogen gas is pushed into the generator.
The girls say that one liter of urine gives six hours of electricity. But they do not specify exactly how much electricity is produced; enough to run a 60-watt light bulb, or a fridge and computer for six hours? We excitedly await more news…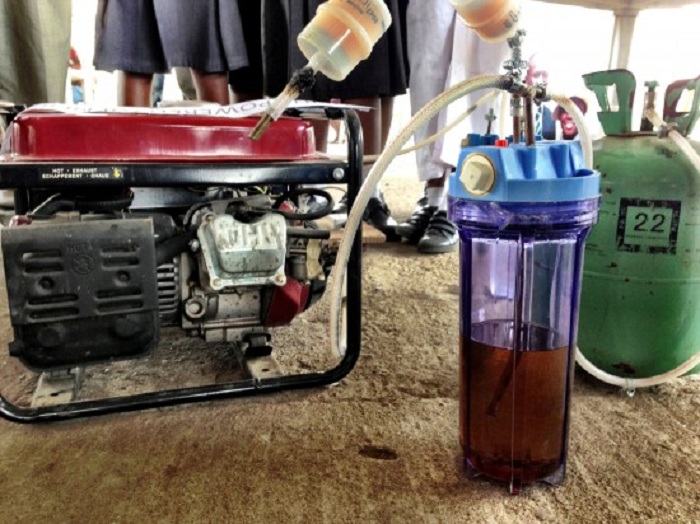 Throughout the mechanism there are one-way valves for safety. Without the safety valves, this generator could be explosive, as hydrogen is flammable. ;-[
Urine Powered Generator Resources
Urea electrolysis: direct hydrogen production from urine – A new technology has been developed that accomplishes the direct conversion of urine and urea to pure hydrogen via electrochemical oxidation with an inexpensive nickel catalyst. (ChemComm; July 1, 2009) suttonfruit.com
Urea fuel cells:  Youtricity, bbc.co.uk
Science Daily: Urine Waste product or future power source.