Expanded/Extruded Polystyrene Inspiration – (C8H8)n
Styrofoam is a trademark name of Dow Chemical and is 'extruded' polystyrene (hard insulation). The white stuff used for packing and coolers is 'expanded' polystyrene, but often mistakenly referred to as styrofoam as well.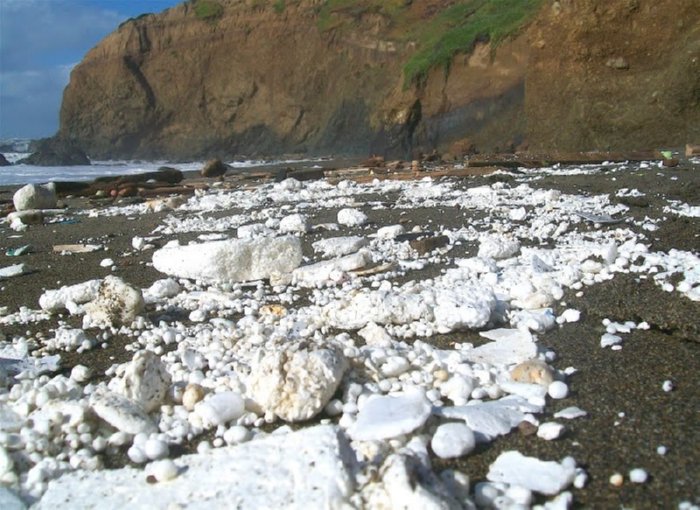 Nurdle Beach. A nurdle is a pre-production plastic pellet or ground down particles which were formerly larger chunks. Nurdles are a major contributor to marine debris and threaten marine life. Polystyrene (#6) is generally not accepted in curbside collection recycling programs. Due to its light weight it is not economical to collect in its original form. However, if the waste material goes through a compaction process the material changes density, gains weight and becomes a recycable commodity of high value.
Instead of this pollution of nature, let's create art… Pic, NW California, Ian Butler: coastsider.com
Incredible Styrofoam Art

Jean DuBuffet, Manoir d'Essor, Louisiana Museum of Modern Art, Denmark. DuBuffet enjoyed creating large scale sculptures out of expanded polystyrene in his later years. Painted with vinyl paint. Pic Source.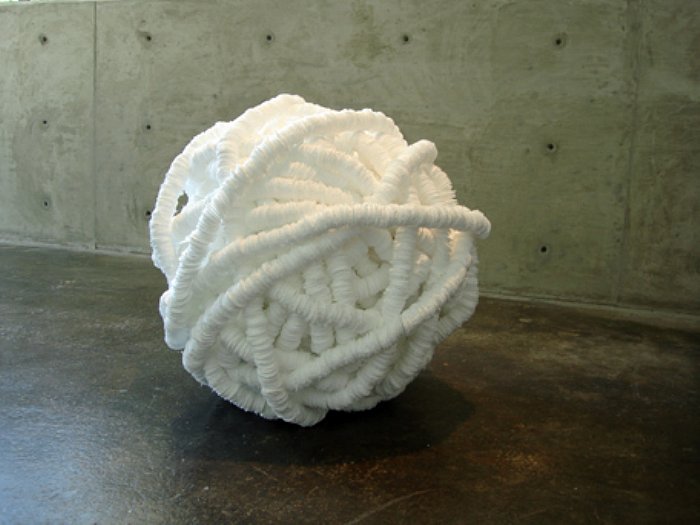 Kathyrn E. Martin, "Knot" (2007) of approximately 40,000 styrofoam cup bottoms. 44″ diameter. www.kathrynemartin.com. Polystyrene degrades very slowly- more than 500 years for a single cup. This sculpture is sure to brings years of enjoyment…

Kathyrn E. Martin – Made from thousands of styrofoam cups, stacked one inside the other, and snugged between the gallery's two walls. 2008, Dimensions 30′ L x 12′ W x 2′ H. www.kathrynemartin.com. The EPA estimates that 25 billion polystyrene cups are thrown out every year.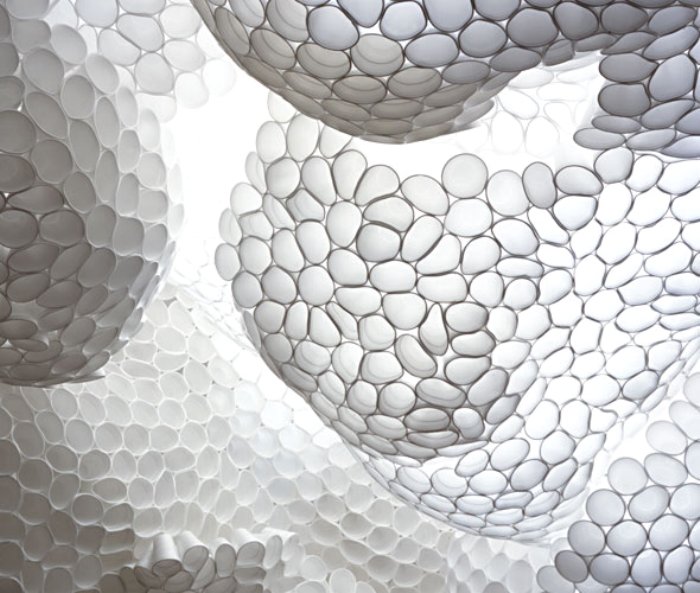 Tara Donovan, Styrofoam Cups & hot glue, 2003. Represented by Pace Gallery. Pic: irenajurek.blogspot.com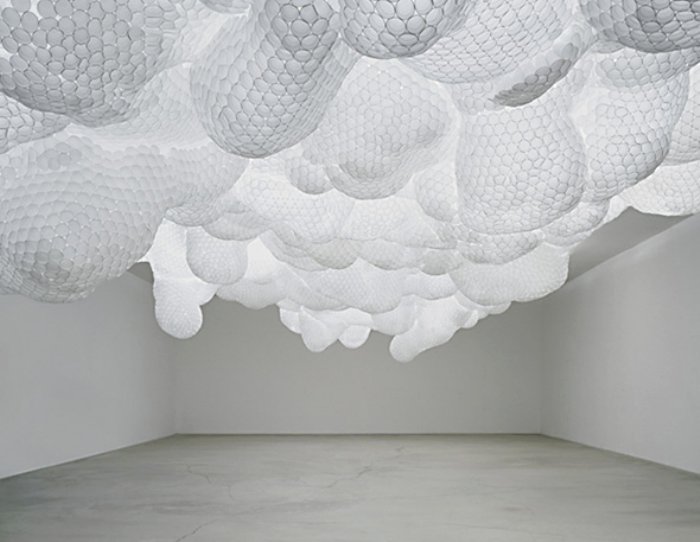 Tara Donovan, Styrofoam Cups, 2003. Represented by Pace Gallery. Pic: irenajurek.blogspot.com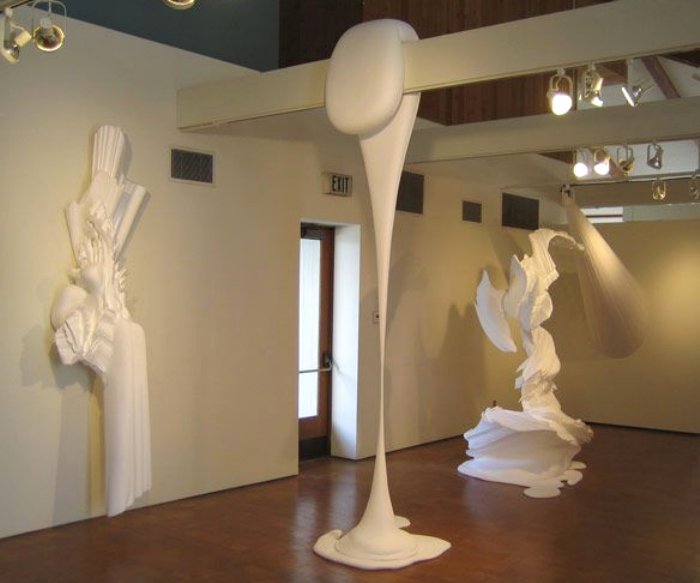 David French, three pieces sanded down by hand and left raw. David's newer pieces are covered in urethane and then auto paint, see: www.davidfrenchsculptor.com. Caution: heating polystyrene creates potentially harmful liquid and gaseous by-products that could contaminate groundwater and air – it is therefore recommended that one compacts it only.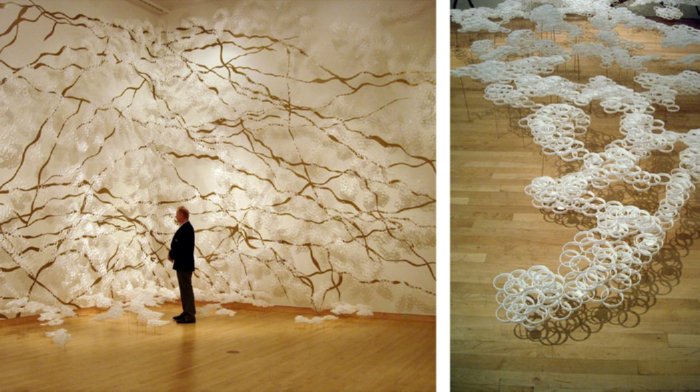 Kathyrn E. Martin – Flotant, 2008. Rings cut from approximately 50,000 Styrofoam cups hover over the walls and spill onto the gallery floor. www.kathrynemartin.com

John Powers, Katrina, johnpowers.us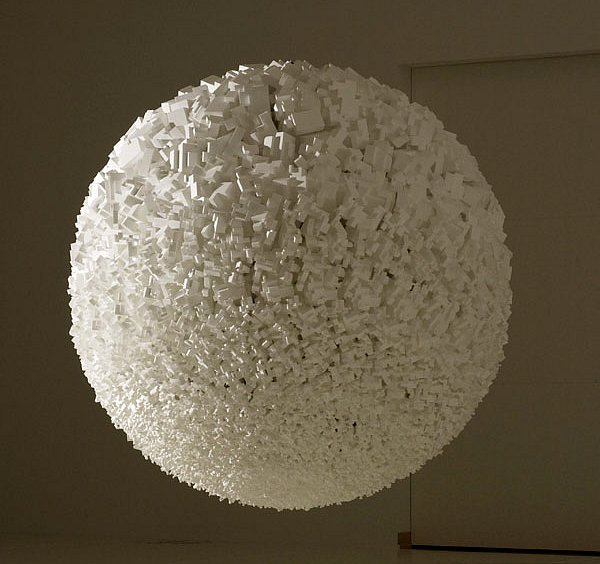 John Powers, The Terminal,  johnpowers.us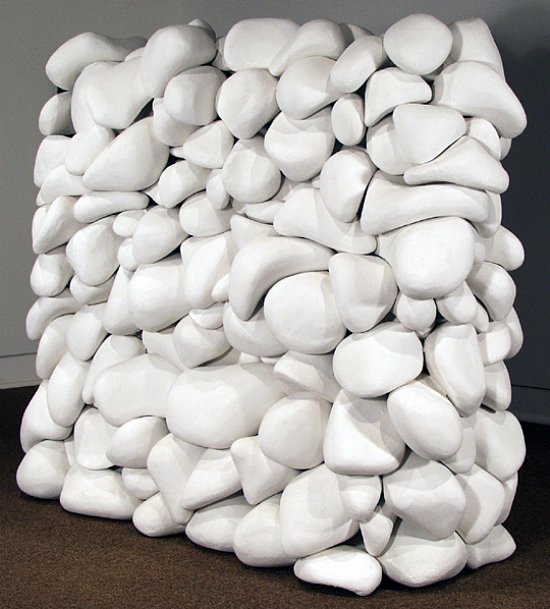 The Playing Fields – Styrofoam, plaster, epoxy, 54″x60″x24″ Craig R. Wedderspoon, bama.ua.edu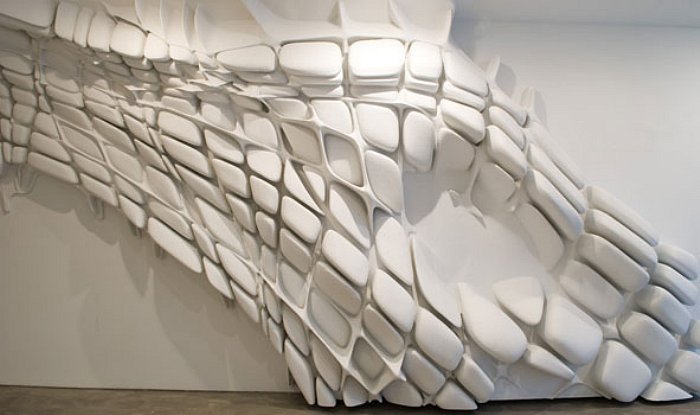 Zaha Hadid Architects, Kartal Pendik Masterplan, Istanbul, Polystyrene with Polyurethane shell and white matte paint finish, Edition of 3 + 2AP. Photography by Bettina Johae, courtesy of Kenny Schachter/ROVE. www.interiordesign.net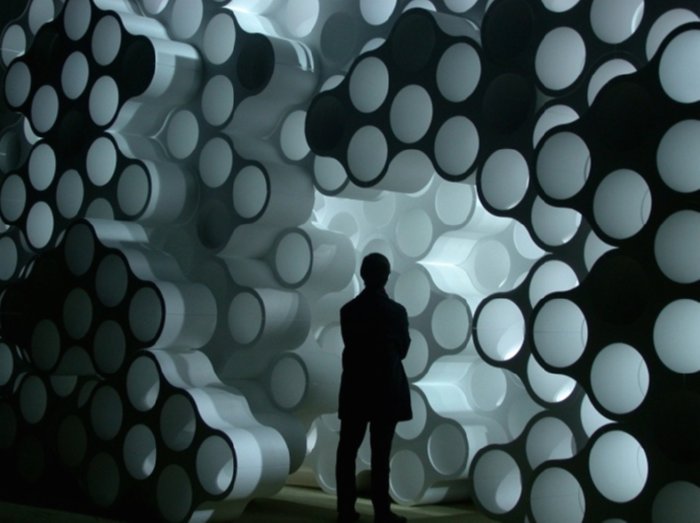 Polystyrene 'Clouds' Ronan and Erwan Bouroullec, Gallery Kreo, Paris, www.artknowledgenews.com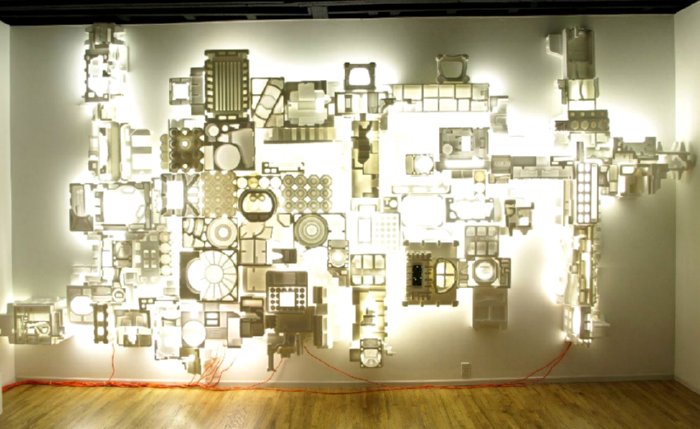 Styrofoam Packing, 'Stargazer' 2009 by Jason Rogenes. Do check out the other sculptures on Jason's website. They will inspire you! infectedeye.com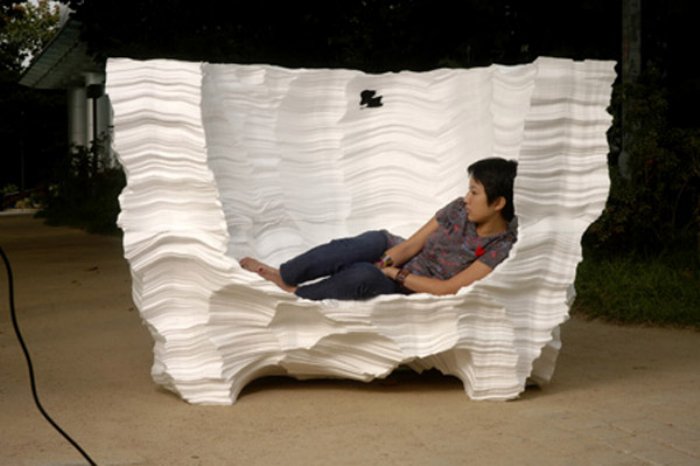 Kwangho Lee reclining in one of his styrofoam couches. www.kwangholee.com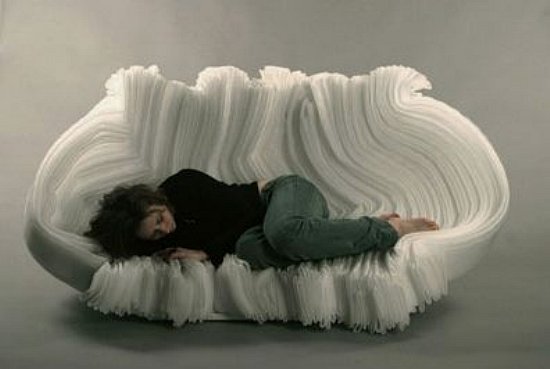 Polystyrene Sofa by Edouard Simoens, freshome.com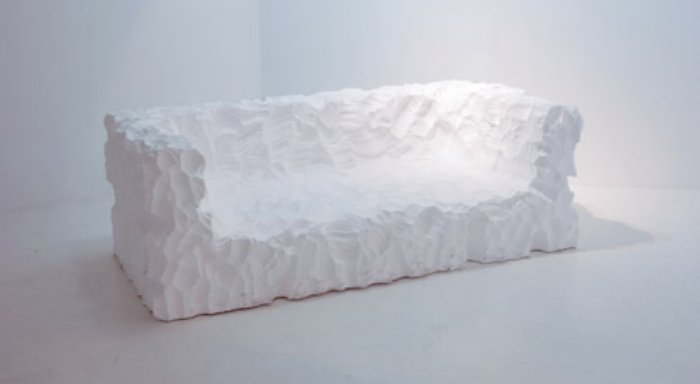 Styrofoam Sofa – Kwangho Lee www.kwangholee.com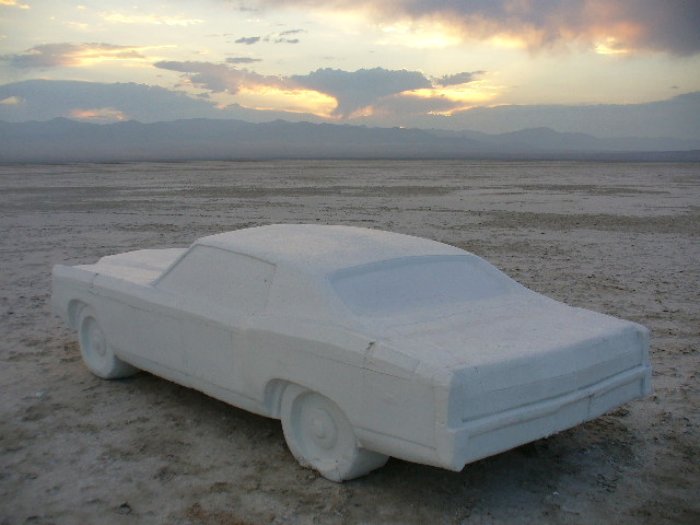 Styrofoam Car – Wendover, Utah. Artist, Chris Vorhees.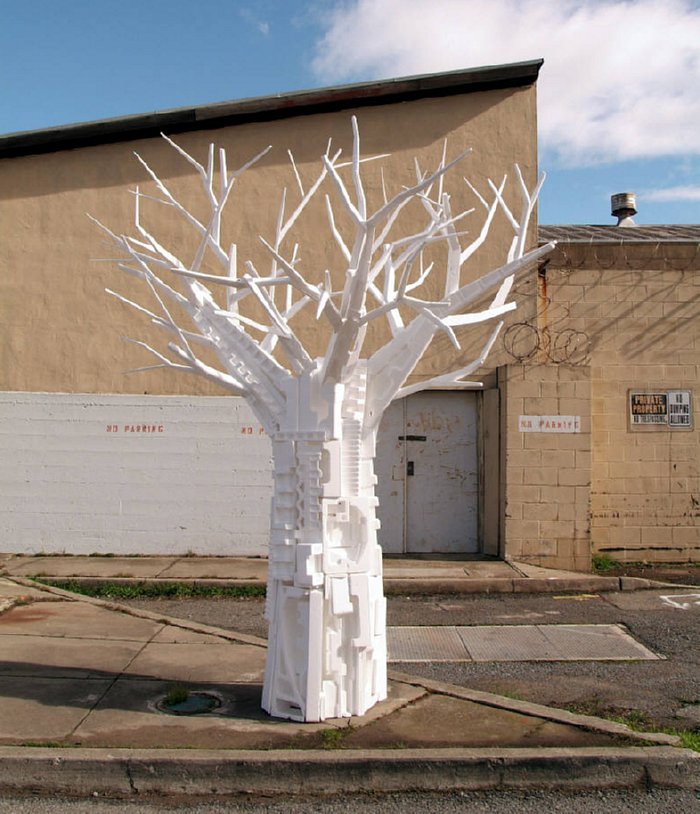 Styrofoam Tree by Dio Mendoza, 2005. Represented by: stevenwolffinearts.com

Styrofoam Furniture by Kwangho Lee, www.kwangholee.com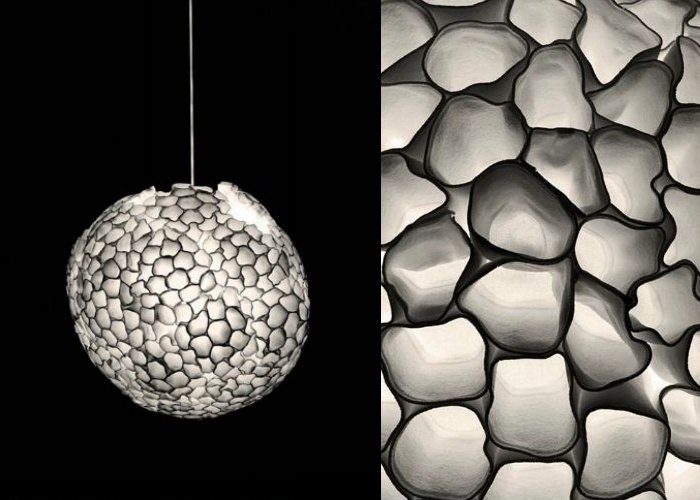 Styrofoam Cups Ceiling Light, 2003 (heat was applied to warp cups) Paul Cocksedge, www.paulcocksedge.co.uk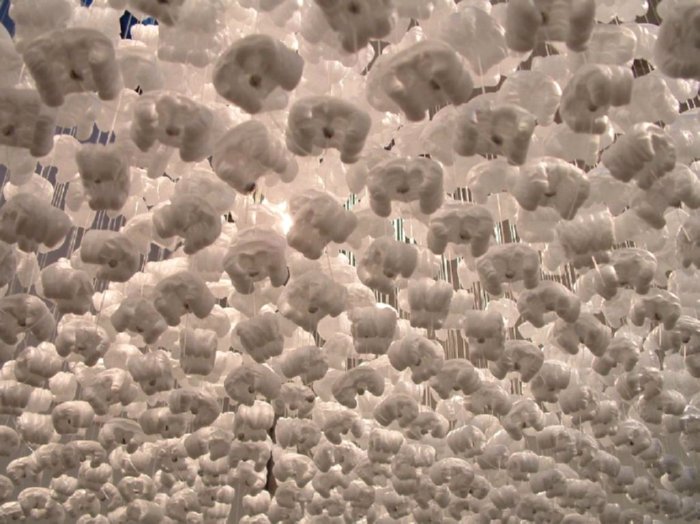 Styrofoam Peanut Ceiling by Cory Wagner, www.wix.com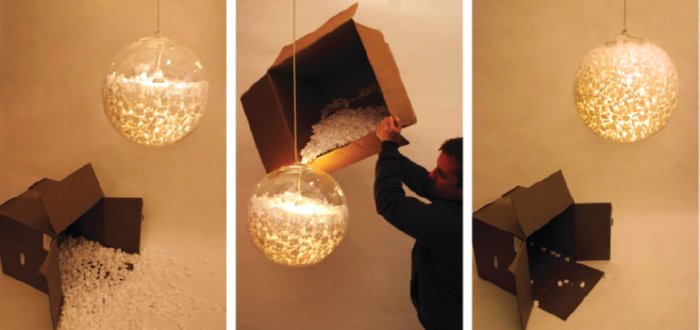 Styrofoam Peanut Ceiling Light (Poplight) by Sang Jang Lee. The user assembles the lamp and fills it with peanuts. (Unfortunately the peanuts are included in the box.) www.sangjanglee.com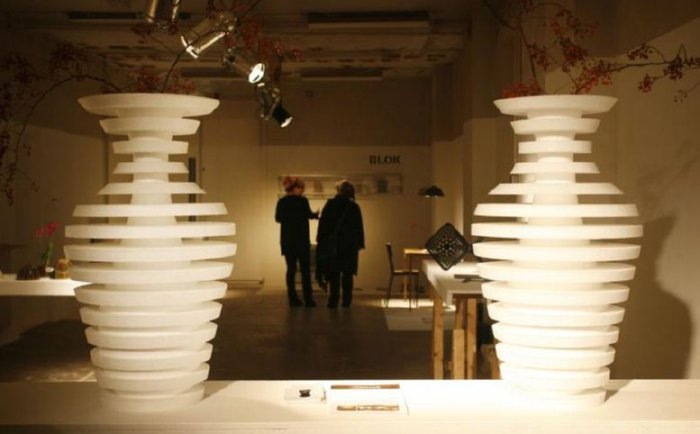 Styrofoam Vases, 'Schizo–series' of Oooms from Eindhoven. Photo Irene Wouters.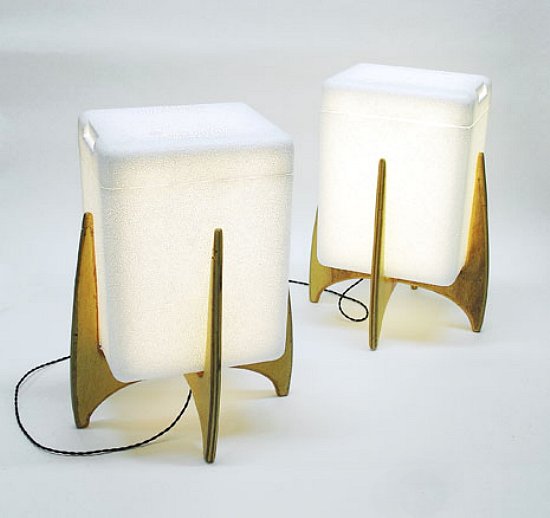 Styrofoam containers, plywood, wire and fluorescent bulbs by Rodney Allen Trice www.tomtinc.com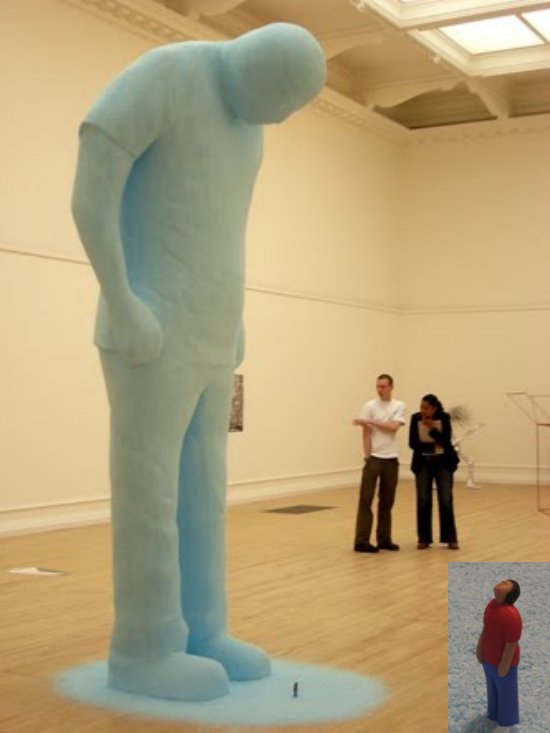 Tom Friedman (Untitled) Styrofoam and paint, www.artnet.com
Inset is who the giant is looking at.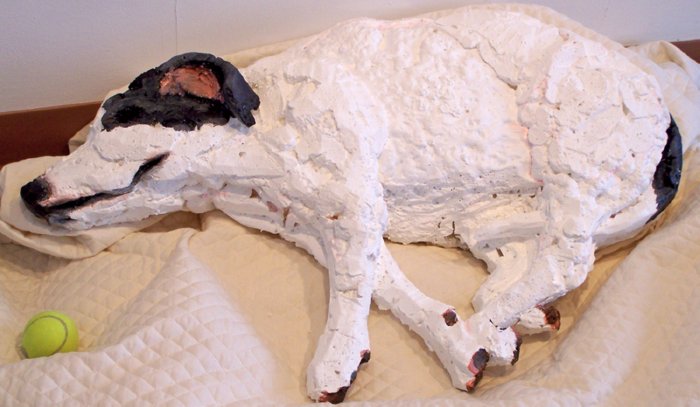 Styrofoam Dog "Belle Spuma" expanding foam, acrylic and found objects by Jan Clough. www.wiu.edu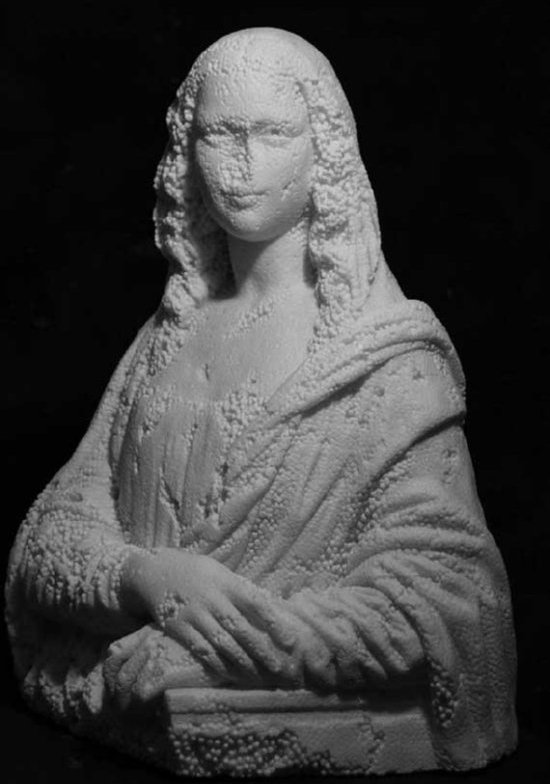 Styrofoam Mona Lisa By Fabio Viale www.sprayblog.net
This might outlast the original!
Styrofoam Houses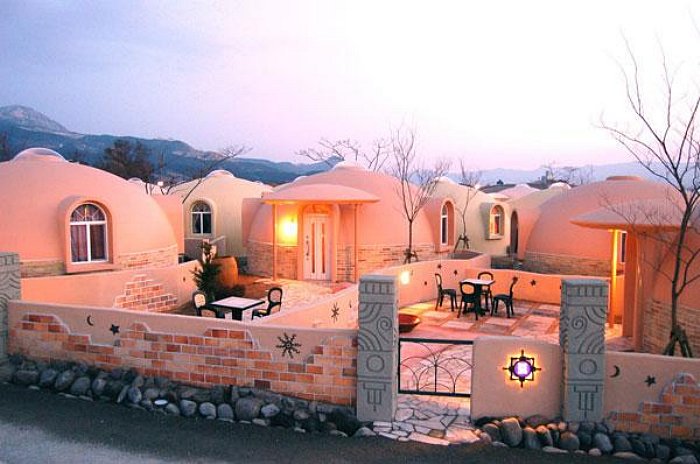 Expanded Polystyrene House. Futuristic prefab houses from the International Dome House Company are built from segmented slices of expanded polystyrene which they claim to be superior to wood or concrete. Each segmented piece weighs about 175 pounds. It will take three to four people about a week to complete a Dome House. The basic model is about 22 feet in diameter, but separate domes can be added together to make larger buildings. There is also a factory-type structure available. $33,000 for the basic unit. www.dome-house.jp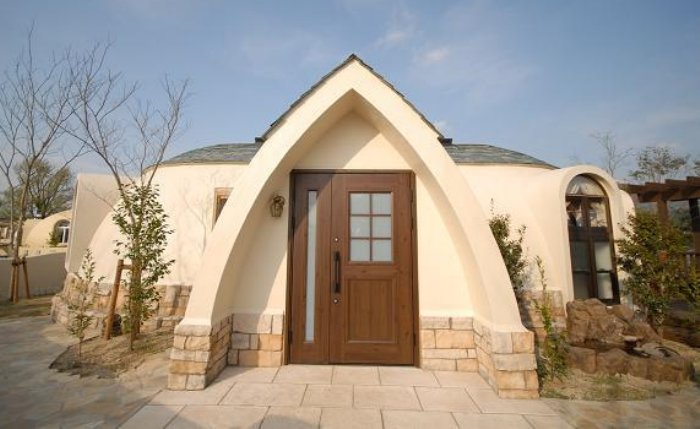 Styrofoam House. Several small "villages" of various sizes of the dome houses have been built in Japan, where the design has been approved by the Japanese Ministry of Land and Transport. The company says their expanded polystyrene is made only from carbon and hydrogen, and therefore 'clean'. www.dome-house.jp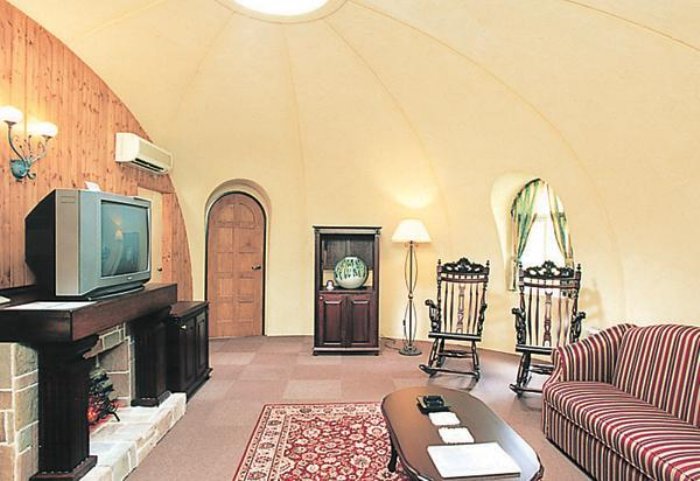 Inside of a Styrofoam House. Dome House International claims that their homes can last for 300 plus years. I would make sure the polystyrene is not slathered in fire retardants and offgasing chemicals before moving in. www.dome-house.jp

Styrofoam Fireplace with Balinese wood carving as mantel. Design by Marcia Bivens, Bivens Interiors; constructed by Bernard and Marcia Bivens, Apopka, Florida. On the fireplace Marcia used a latex textured paint; then it was stained with oil-based woodstain. Test the flammability of your finished styrofoam before surrounding a working fireplace. ©Bivens Interiors.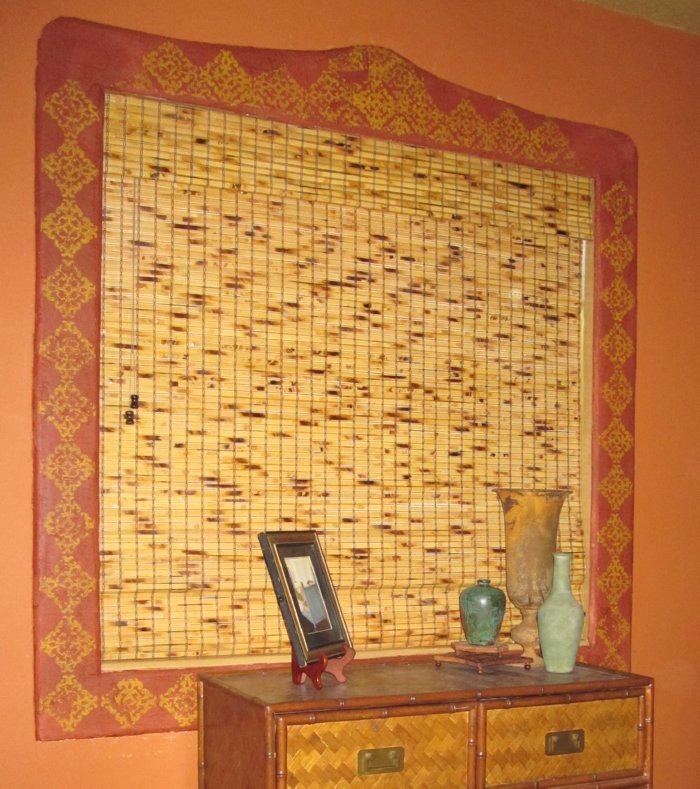 Window surround made from styrofoam packing material. Design by Marcia Bivens, Bivens Interiors; constructed by Bernard and Marcia Bivens, Apopka, Florida. ©Bivens Interiors.
Be Careful When Working With Polystyrene
"If polystyrene is properly incinerated at high temperatures, the chemicals generated are water, carbon dioxide, a complex mixture of volatile compounds, and carbon soot. According to the American Chemistry Council, when polystyrene is incinerated in modern facilities, the final volume is 1% of the starting volume; most of the polystyrene is converted into carbon dioxide, water vapor, and heat. Because of the amount of heat released, it is sometimes used as a power source for steam or electricity generation.
When polystyrene was burned at temperatures of 800–900 °C (the typical range of a modern incinerator), the products of combustion consisted of "a complex mixture of polycyclic aromatic hydrocarbons (PAHs) from alkyl benzenes to benzoperylene. Over 90 different compounds were identified in combustion effluents from polystyrene."
When burned without enough oxygen or at lower temperatures (as in a campfire or a household fireplace), polystyrene can produce polycyclic aromatic hydrocarbons, carbon black, and carbon monoxide, as well as styrene monomers." From wikipedia.
Polystyrene contains both styrene and benzene, which can leach out when the material comes into contact with hot or oily foods. The risk of the former is uncertain (source), but benzene is a known carcinogen.
According to a 1986 EPA report, polystyrene manufacture is the 5th largest generator of hazardous waste. 57 different chemicals are emitted during the combustion of polystyrene foam.
Global production of polystyrene in 2010 was 15.4 million metric tons.
Expanded polystyrene, may degrade from intense UV light, chemicals and heat. Therefore it needs to be sealed for outdoor use.
Plastic Pollution In Our Seas
Other Uses For Styrofoam
Styrofoam is good as drainage in the bottom of flower pots.
Donate large pieces to a community theater or school.
Find a recycler who compacts polystyrene for reuse.
How To Find Styrofoam
Furniture stores regularly throw away big sheets.