Baking helps make your house into a home and is a lovely way to show the people in your life that you care for them. And there is no better time than the holidays to start (or begin again) with baking traditions. But if your baking supplies could use a bit of an upgrade – or if you're guiding another baker on their journey – this is THE gift guide to get you started.
This list is handpicked to include sustainable, organic and vegan options. The list of items includes the basics, the delicious and the whimsical from around the web. Some of the items are based on my own personal experiences and baking needs, with support from smart sites across the internet.
1. A Proper Cake Stand
The best bakers need the best cake stand to show off their work. This gorgeous upcycled cake stand is perfect for everything from the fanciest wedding to serving a simple coffee cake for breakfast.
Find it at MittenMadeWoodcrafts On Etsy
2. Kitchen Scale
All bakers will benefit from a proper kitchen scale for precise measurements, but it's nearly a requirement for those bakers that focus on gluten-free baking. Since almond, coconut, sorghum, chickpea and white rice flours all have such different weights, a kitchen scale can ensure you're getting proper measurements each time. Kitchen scales can be high-end or low, and this OXO brand seems to be right in the middle.
3. Silpats Silicon Baking Mats
Silpats are silicone mats that take the place of parchment paper and are infinitely reusable. These are great for ensuring even baking and no sticking for all the cookies, croissants and bars you might create. This particular one from Williams-Sonoma has marks for perfectly sized cookies every time.
4. The Cutest Aprons
Keep your clothes clean with these funky, handmade, organic aprons. They come in an array of colors and fabrics and will help your favorite baker be able to be just a little bit messier in the kitchen.
5. Donut Pin
Cuteness overload for the carb-loving baker in your life. Sweet pink donuts can adorn your jackets or backpacks to let everyone know how sweet you are.
Find it at TotallyyTubular On Etsy
6. Crepe Pan
For fancy French breakfasts or perfect Indian dosas, a crepe pan is next-level kitchen awesomeness. A crepe pan will heat evenly for super thin pancakes, and the small rim allows you to spread the batter perfectly. Choose a greener pan to ensure you're not getting any toxic Teflon.
7. Custom-Made Cookie Cutters
For the baker that already has it all, custom cookie cutters might be the cutest thing to offer them. Choose from 3 different sayings: Happy Holidays, Merry Christmas, or Love.
Find it at ScissorMill On Etsy
8. The Most Beautiful Sprinkles
These sprinkles are just the cutest: they feature pearls, stars, sugar strands, crystal rocks and nonpareils to make any cookie, cake or bar look incredibly festive. Ingredients are vegan and gluten-free and made with natural colors.
Find it at BakingTimeClub On Etsy
9. Oven Thermometer
The cheapest but perhaps most important item on the list. A simple oven thermometer can make a world of difference in baking. Deep in my baking phase, I moved into a new house, and none of my breads or muffins were turning out. Seems my oven was a full 60º hotter than the dial would have lead me to believe. Invest, correct and bake away.
10. Vegan Baking Starter Kit
If you have a beginner baker on your hands, make a DIY baking kit that includes all the vegan baking essentials. After all my years of baking, I would choose the following items to get your favorite baker started: Earth Balance vegan margarine, Dr. Bronner's Coconut Oil, Enjoy Life's mini Chocolate Chips, Ener-g Egg Replacer and/or some ground flax seeds, baking soda, baking powder, and a few bags of flour, like spelt, whole wheat pastry flour and all-purpose flour. Find all of them at your local natural foods store or at Vegan Essentials
11. Clay Bread Baking Pot
I use a clay pot slow cooker and the results are awesome; I expect something else awesome with this clay pot bread-making magic. This gorgeous clay pot promises to cook bread evenly and perfectly.
12 & 13. Donut Soaps And Cupcake Candles
Take the baked goods into every room of the house with these super sweet soaps and candles. You can get pies, cakes, cupcakes and more in candle and soap form to keep the baking vibe alive after the oven is off.
Find it at CandlelitDesserts On Etsy
14. Gluten-Free Gift Pack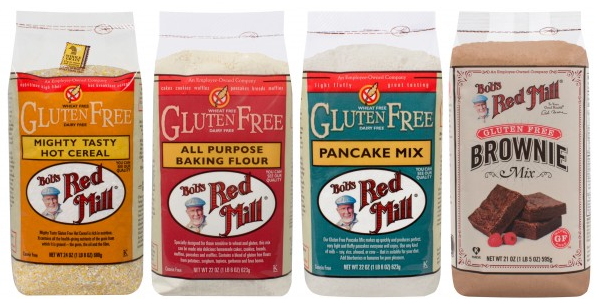 Get your favorite baker started with gluten-free baking with this GF starter kit from Bob's Red Mills. Bob's tests all their products to be certified gluten-free, and they offer a huge range of options for flours, grains and other baking essentials.
15. Decorating Sugars From India Tree
India Tree makes an extensive line of natural food colors, sugars, sparkles, sprinkles and other decorative goods. This gift set of decorating sugars is an easy start, but you can also shop for all their beautiful offerings on their site under their "Nature's Colors" line to keep it natural: http://www.indiatree.com/Category_Page.php?Category=NC
16. Convection Steam Oven
Years ago I moved into a house without an oven and bought a tabletop convection oven. To this day, it's the only oven I use. The convection function makes it just as good as a full-size oven, but its small size means it's super efficient and heats quickly. Most are about 12 square inches, so small batches of cookies, loaves of bread and 8-by-8 inch pans of brownies fit perfectly.
17. Kitchen-Aid Stand Mixer
The ultimate kitchen tool: the classic Kitchen-Aid Stand mixer makes baking and prep super easy and dare I say, glamorous? If anyone is shopping for me, hot pink is my first choice.
18. Silicone Baking Dishes
Silicone baking dishes are a super fun option to have around the house. Not only can you bake in them, but the adaptable nature of silicone means it can be baked, frozen or warmed. I loved having silicone muffin cups to make a large batch of dough, freeze it and then just bake a few muffins at a time.
19 & 20. The Homemade Vegan Pantry And DIY Vegan
Let the baker learn how to make homemade butter, jams, sauces and more to accompany their baked goods. Two of my favorite cookbooks focusing on DIY pantry staples include Miyoko Schinner's book (owner of Miyoko's Vegan Cheese) and Nicole Axworthy and Lisa Pitman's "DIY Vegan". Both books came out a few years ago, but pantry staples never go out of style.
21. Lovely Kitchen Towels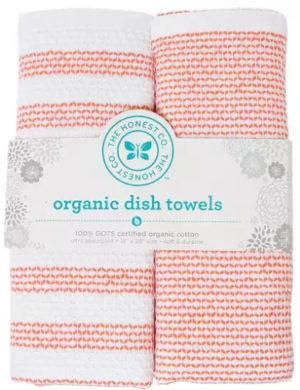 Hopefully, the baker gets to rest after baking, but someone's gotta clean all those messes, right? These cute organic towels from Honest Company will help keep your kitchen clean and happy.
22. Silicone Spatulas
Seriously, I don't think I could cook without my spatulas. I have a huge collection of them collected over many years, and I treasure them all. Silicone ensures that you get every bit of batter or dough out of the bowl, and these little 'spponulas' work on even the tiniest jars.
23. Engraved Rolling Pins
No longer will your baker have simple sugar cookies! With everything from dinosaurs to Christmas patterns, these engraved rolling pins will turn every piece of cookie dough into a masterpiece.
Find it at ValekRollingPins On Etsy
24. The Perfect Mug For Bakers
Bakers don't quit when the baking stops! This mug will tell the world what they'd rather be doing instead of working.
Find it at MariaBMakes On Etsy
25. Kitchen Conversion Chart
Even the most seasoned of bakers can have a tough time trying to remember exactly what conversion they need for an ingredient. Not only is this kitchen conversion chart super handy, but it's super cute and the perfect addition to a kitchen.
26. Embroidery Hoop Art
If you're all about giving crafty gifts but aren't necessarily the craftiest person, this embroidered hoop art is the perfect gift! And I mean, c'mon, who says you can't give a crafty gift that someone else made?
Find it at TheBarmyFox On Etsy
27. Personalized Bakery Cutting Board
Personalization can be key in any gift, and this cutting board definitely isn't lacking any personality.
28. Spiced Pumpkin Pie Bakery Candle
Yeah, pumpkin spice is all over the internet in fall and winter, but nothing compares to the smell when it's in candle form. Cuddle up with a book next to the fire with this candle bringing a wonderful aroma to the room.
Find it at CandleConfectionary On Etsy
29. Silicone Bamboo Baking Set
Again, spatulas are key in every kitchen, and you can never have too many! Not only is this set made from silicone and bamboo, it includes other helpful kitchen tools like a whisk and a pastry brush.
30. "Bake The World A Better Place" Keychain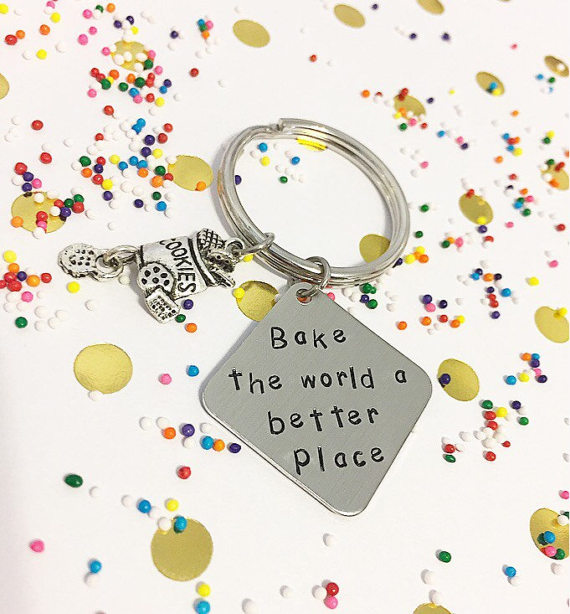 Looking for a smaller gift that is still perfect for the baker in your life? This keychain fits the bill! Choose from a cookie jar charm, cupcake charm, donut charm or pie charm.