Use trees that no one wants (overcrowded, diseased, fallen, invasive, wind-bent, young growth) and create amazing buildings with them.
Pioneering Whole Tree Architect Roald Gundersen of Whole Trees Architecture and Structures

Roald Gundersen, of Stoddard, Wisconsin, has been using whole tree round timber technology to construct beautiful, strong, economical and extremely green buildings for the past 20 years.
Gundersen founding partner and CEO of Whole Trees, received his Bachelor of Architecture and a BS in Environmental Design from the University of Minnesota, (1984). His work as a project architect on the Biosphere 2 in Arizona focused his architecture on integrated living systems. On returning to his native Wisconsin, Roald has spent the last 20 years creating a place-based architecture from abundant, local and low energy materials. He has pioneered the use of whole trees/round timbers in residential, institutional and commercial construction projects, inspired by the 140 acres of forests he stewards near La Crosse, WI.

This Gundersen-designed farmhouse in Avalanche, Wisconsin, was built almost entirely from trees taken from within 500 yards of the house. The house features a slab on grade foundation with in-floor heating tubes to take advantage of the solar gain in the winter from its large southern exposure. The envelope is straw bale, but the structure is entirely "whole tree" with branching columns supporting it and framed with round wood poles under the second floor and roof. The attached solar greenhouse on the south side of the house adds heat in the winter and serves as a gray water recycling system to treat water from the kitchen and shower. The trees for this structure were skidded out with the farm draft horse.
Inside view… "It's a design challenge as well as a construction challenge, because we're very much in a machine age," says Gunderson. "While machines are good at straight lines, trees love to do curves."
The Kara Woods Residence is a new home for two Franciscan Sisters at the Christine Center, a Natural Sanctuary in Willard, WI. Their desire for a home that provided space for their artistic, intellectual, creative and spiritual pursuits has resulted in this design of a low sod-roofed Whole Tree structure with a round workshop space and an encompassing living area extending eastward into more private areas. Construction was completed in Fall 2010. wholetreesarchitecture.com
Whole tree round timber buildings compete favorably with conventional construction while offering a more durable and fireproof structure. From the perspective of the community, whole tree round timber construction invests a greater proportion of its costs into local jobs and materials than conventional construction and also promotes healthy forest management for local timber resources. wholetreesarchitecture.com
Gundersen states that; "(milled) wood comes from British Columbia and Indonesia, but who in Iowa doesn't have standing dead elm on their farm? For a lot of local farmers, woods are a non-profit part of the farm." Young growth forestry offers builders an affordable, local alternative to expensive, far-away materials. "In the future, if people do start using this material more and in a much bigger way, there can also be this whole economy that doesn't now exist in each local community." wholetreesarchitecture.com

Whole tree railings, wholetreesarchitecture.com

Myrick Hixon EcoPark building. Whole Trees installed a 26′-0" structural round timber column, large wooden slab benches and a round timber stair leading up to a new mezzanine space. wholetreesarchitecture.com

Whole Tree Framing
wholetreesarchitecture.com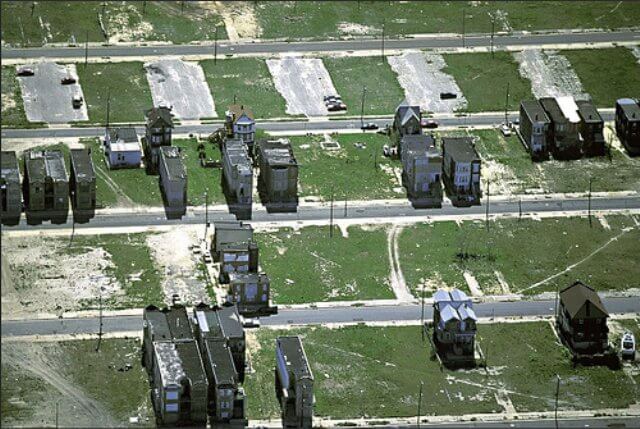 Urban Plans
wholetreesarchitecture.com

WholeTrees modular eco-kit design. Under a thousand square feet, the Tussen Taak Residence divides its space between a high ceiling living/dining/kitchen space and a more private bathroom and bedroom area with a loft space above. The internal structure is Whole Tree and the perimeter walls are constructed from re-purposed shipping pallets to reduce the amount of new materials needed. The arching shed roof angles up to the south to take full advantage of passive solar design principles. wholetreesarchitecture.com
This whole tree greenhouse, completed in 2010, was prefabricated during the winter and erected on site in a series of concentrated construction site visits. It has a round wood, whole tree structure and polycarbonate paneling and vents on both the south façade and the north roof. At Troy Gardens, a 26 acre urban property in Madison, WI, with community gardens, an organic farm and restored prairie and woodlands. See lots more greenhouses here: wholetreesarchitecture.com
Whole Trees has designed and constructed a two-story playscape with a swinging bridge leading out to a free-standing "bird's nest" platform, inviting children to experience the varied levels of the forest (floor, trunk zone, and canopy). The pentagon-shaped platforms frame views to nearby marsh and bluffs. wholetreesarchitecture.com
Amazing Examples Of Whole Tree Architecture

Whole Tree Building in Minneapolis.
Interior design by Gabberts Design Studio, yet architect not stated.
houzz.com
Whole Tree Building in Minneapolis.
Interior design by Gabberts Design Studio, yet architect not stated.
houzz.com

Whole Tree Building in Minneapolis.
Interior design by Gabberts Design Studio, yet architect not stated.
houzz.com

Whole Tree Building in Minneapolis.
Interior design by Gabberts Design Studio, yet architect not stated.
houzz.com
Whole Tree Building in Minneapolis.
Interior design by Gabberts Design Studio, yet architect not stated.
houzz.com

Structural testing of small diameter round timbers conducted by the USDA Forest Products Laboratory found that small diameter round timber is 50% stronger in axial loading and bending than a comparable cross-sectional area of milled lumber. This is due in part to the fact that milling violates a tree's concentric, continuous and spiraling fibers removing the strongest outer layers of the tree, which are naturally pre-tensioned to resist wind shear. wholetreesarchitecture.com
Local ash trees used for whole tree architecture.
Quebec, CA. Macrae-Gibson Architects.
Image: ArchtecturalDigest.

Whole tree supports in home in the Poconos by Josh Jackson.
timberhomesllc.com
Corallo House / PAZ Arquitectura
Guatemala. Unbelievable house!
archdaily

Structural testing by the USDA Forest Products Laboratory has found that "small diameter round timber" or "whole tree round timbers," in comparison to steel, are comparable in their weight-to-strength ratio in compression and are twice that of steel in tension.

Whole tree rafters at the Gatehouse.
envisioneer.net

Maharishi University of Management's new Sustainable Living Center in Iowa is a model of environmental excellence. The zero energy classroom building, by Innovative Design, will feature a roof full of PV panels, a rainwater catchment system, natural ventilation and local and regional sourcing for all materials in accordance with the Living Building Challenge. Whole Trees is providing a structural colonnade for the central hallway, which will sequester tons of CO2. Visit the Sustainable Living Center website: mum.edu

Maharishi University of Management – central hallway. mum.edu

David Vandervort Architects.
Key Peninsula Residence, vandervort.com
Whole tree kitchen – Kara Woods
Tree limbs support kitchen shelving.
Hornby Island Caravans
hornbyislandcaravans.com
Treehouse House.
Photo from Thomas Cundiff Facebook.
Whole Tree Architecture In Wales by Simon Dale

Home by Simon Dale (man hours 1500, cost $4700). simondale.net

Whole Tree House by Simon Dale (his second). simondale.net

Whole Tree rafters and framework. Main tools used: chainsaw, hammer and 1 inch chisel, little else. simondale.net

simondale.net
Key Design And Construction Points by Simon Dale
Dug into hillside for low visual impact and shelter
Stone and mud from diggings used for retaining walls, foundations etc.
Frame of oak thinnings (spare wood) from surrounding woodland
Reciprocal roof rafters are structurally and aesthaetically fantastic and very easy to do
Straw bales in floor, walls and roof for super-insulation and easy building
Plastic sheet and mud/turf roof for low impact and ease
Lime plaster on walls is breathable and low energy to manufacture (compared to cement)
Reclaimed (scrap) wood for floors and fittings
Anything you could possibly want is in a rubbish pile somewhere (windows, burner, plumbing, wiring…)
Woodburner for heating – renewable and locally plentiful
Flue goes through big stone/plaster lump to retain and slowly release heat
Fridge is cooled by air coming underground through foundations
Skylight in roof lets in natural feeling light
Solar panels for lighting, music and computing
Water by gravity from nearby spring
Compost toilet
Roof water collects in pond for garden etc.
Simon is also an excellent photographer – check out his photos: simondale.net
Read an interview with Simon here: simondale.net