Folks on the street may call them "hobbit houses" in reference to J.R.R. Tolkien's work, but earth-sheltered homes have been around for far longer than 1937 when the novel was published.
Though the practice of using a protective layer of earth to embrace your home exploded in popularity in the 1970s, it's truly been around as long as humans have made their own homes, and is one of the most ancient forms of constructed human habitation.
There's a reason for that — it makes good sense, and it's beautiful to boot!
What is an Earth-Sheltered Home?

An earth-sheltered home is one that uses a large quantity of earth (dirt, soil, subsoil, etc.) as a protective barrier on a good portion of the exterior of the house. The exact portion varies greatly from one design to another as you will see shortly. However, in every case, many tons of earth will be piled around and/or on the home.
Some of these homes will even completely fade from view from several directions. Building with so much earth has many advantages over traditional building methods, but there are also several challenges that will need to be overcome by anyone who endeavors to undertake the task of building an earth sheltered home. But before we get to that, let's look at the two main categories of earth-sheltered homes: earth-bermed and truly underground.
Earth Bermed
The first sort of earth-sheltered home is one that piles up earth directly against at least one side of the home.
Oftentimes, three of the four sides of the home are covered by earth. In the colder climes of the northern hemisphere, the south-facing side of the house is not bermed and a large amount of glazing (windows) is used to permit the entrance of light and heat from the sun in the southern sky. In hot climates, this orientation can be reversed so that the south side is bermed and the cooler north side is left as the exposed side of the home.
In an earth-bermed home, the roof is not buried in a mound of dirt. Homes of this sort can utilize a conventional-style shingle or metal roof. Others opt for a living roof. And, no, even though a living roof has a thin layer of dirt, the roof is a separate unit from the earth berm surrounding the home, and so I would still not classify it as an underground home.

Underground
The second type of earth-sheltered home is one that is completely covered on three sides and on top with a thick layer of soil. These are the hardcore earth sheltered homes that take the tenets of this design style to their extremes. Some of these underground houses can be buried under feet of dirt.
This makes for a house that has extreme thermal stability. However, this benefit comes at a few big costs as will be seen further in the article.
Important Concepts Involved in Earth-Sheltered Home Construction
There are a few considerations and concepts when it comes to constructing an earth-sheltered home. Let us look at some of them
Thermal Mass
A material's ability to hold onto energy in the form of heat is known as its thermal mass. Materials that have a high thermal mass are able to absorb a great quantity of energy, while those with a low thermal mass are unable to do so. It is called thermal mass because it is the mass of the object that allows it to hold onto this thermal energy, so objects with a higher mass hold more energy. Materials that have a lot of thermal mass are dense and heavy for their size. This means things like stone, dirt, tile, and brick are all excellent materials with regard to thermal mass, while things like styrofoam, wool, and cotton balls are not so good.
Objects with a lot of thermal mass not only absorb large amounts of thermal energy, they also release all of that energy slowly over time. This is specifically why it is used in alternative building design. With a large enough thermal mass and a strong enough heat source, you can heat the mass for only a few hours and it will release that warmth over the next couple days and keep the space comfortable.
Stability of Underground Temperatures

If you have ever come across a cave while hiking in the sweltering heat of summer or the frigid cold of winter, then you will be familiar with this second design concept. The idea here is that the temperature of the earth several feet underground changes very little during the year. Sure, the air temperature of the area can range from 0ºF to 90ºF, but the temperature of the ground 6 feet down may have only gone from 40ºF to 60ºF, if that.
The homes that utilize earth-sheltered design use this thermal stability to help keep their houses at a more comfortable temperature with much less energy than a conventional home.
Benefits of an Earth-Sheltered Home
Building Material is Dirt Cheap
The main material used in the construction of these homes is obviously earth of some sort. Usually, this dirt is taken from the house site directly or from somewhere else on the same property on which the house is being constructed. This means that the cost of this material is only the price of renting a backhoe or other dirt-moving machine – unless you are very handy with a shovel, in which case it is free!

More Consistent Interior Temperatures
The biggest benefit of earth-sheltered homes is that they remain at a much more consistent interior temperature. This has huge implications as to the energy required to heat and cool your house. A house that naturally stays cooler in the summer and warmer in the winter will require far less fuel to heat and cool than a standard house.
Blends into the Landscape
Many conventional homes stand out like a sore thumb, and not a pretty sore thumb. These homes are also bland in the sense that the exact same home can be plopped down pretty much anywhere in the world without thought to the surrounding landscape. However, these earth-sheltered homes meld with the earth itself – oftentimes disappearing from view completely from several different vantage points.
This makes for a home that nestles into its place as the landscape hugs the house, becoming almost one and the same.
Design Challenges of an Earth-Sheltered Home
Admittance of Light
All earth-sheltered homes are going to have to overcome the problem of getting enough light into the house. Many of these homes naturally only admit light from one cardinal direction (generally south). This makes any rooms that are not directly on the southern wall dark, and even the rooms on the south side will have strong and harsh shadows as everything is lit from only a single direction. To remedy this, you will need to either use skylights or cut through the berm on the other sides of the house so that you can place windows there.
Weight of Earth
Dirt is heavy. Wet sand and clay can be upwards of 110 pounds per cubic foot. That is both a boon and a difficulty that needs to be overcome. Structures that are completely buried in it will need some strong structural support. Many underground homes will have a poured concrete roof that is then waterproofed and covered in a thick layer of earth. While a wooden framed roof of adequate size can support a lighter living roof, only concrete will be strong enough to support a thick layer of earth.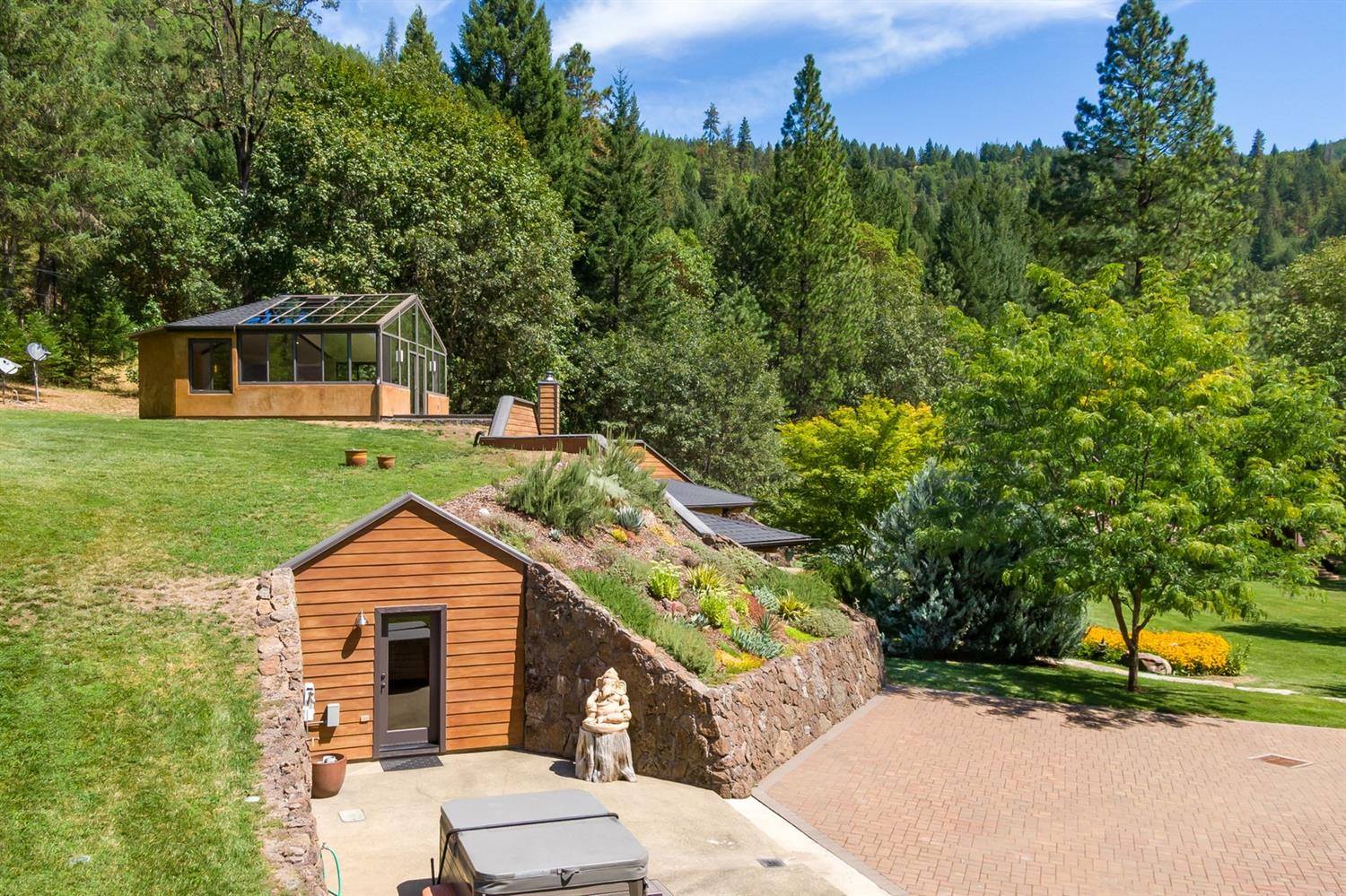 The walls that have earth piled up against them will also have to be specifically designed to handle the forces of the dirt on the wall. An average stick-framed wall won't hold up to the pressures exerted. These walls will need to be designed like a retaining wall because that is exactly what they are. Some of these walls will include buttresses, and others may be circular as a circle is much stronger than a long straight wall.
Moisture Issues
In some ways, these houses resemble the average basement or cave, neither of which is known for being dry. And unless you are in a very arid region, like the American southwest, a buried or partially-buried house is going to have moisture issues that need to be dealt with in the planning stages. The building needs to be completely wrapped in a correctly placed waterproof membrane. This is especially true for the roof. There are many different choices for a waterproof membrane from bitumen, to EPDM, to specially-designed woven plastics. Each of these comes with different strengths and weaknesses (and price points), so do your research on them.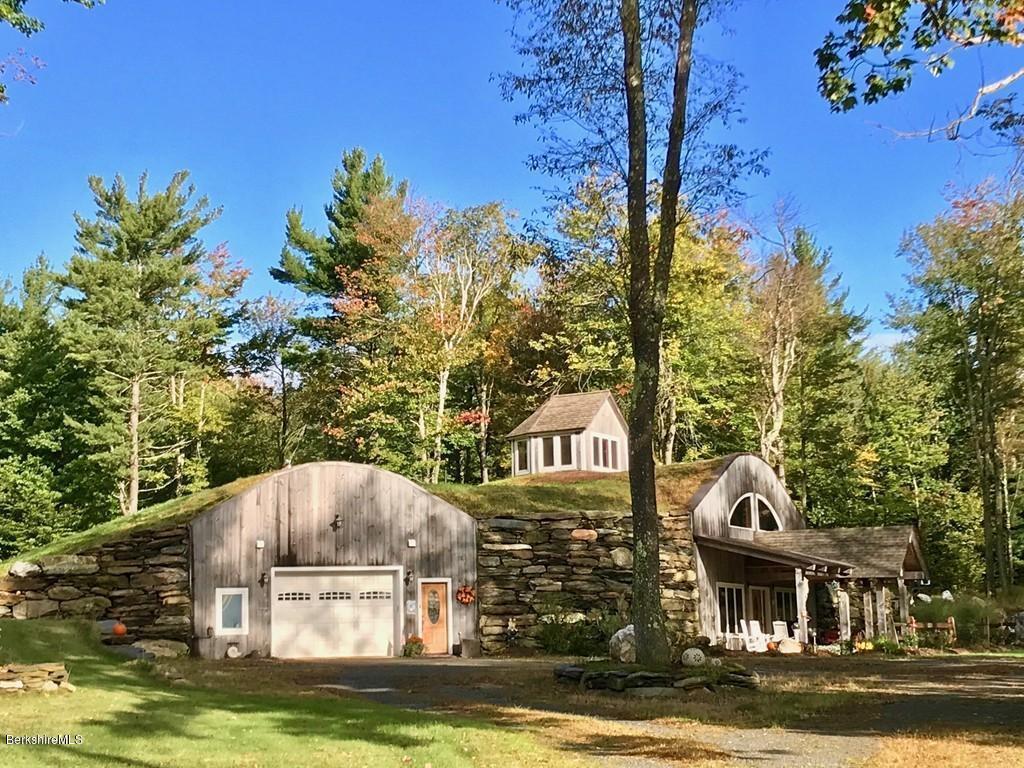 You also need to be careful where to place insulation as improper placement can cause condensation to form on the interior walls. Where you place the insulation (or don't place any) influences where the dew point will be reached, and this dictates where the liquid water will condense out of the air onto a surface.
Egress Requirements
This is one issue that will cause big problems in areas where building inspectors prowl. Code requires certain rooms in the house to have windows or doors of certain sizes in order for the occupants to be able to escape in an emergency where the main exits are blocked. This will cause big problems if you place bedrooms on a bermed wall (which they often are). Plan for this, or have a big headache later.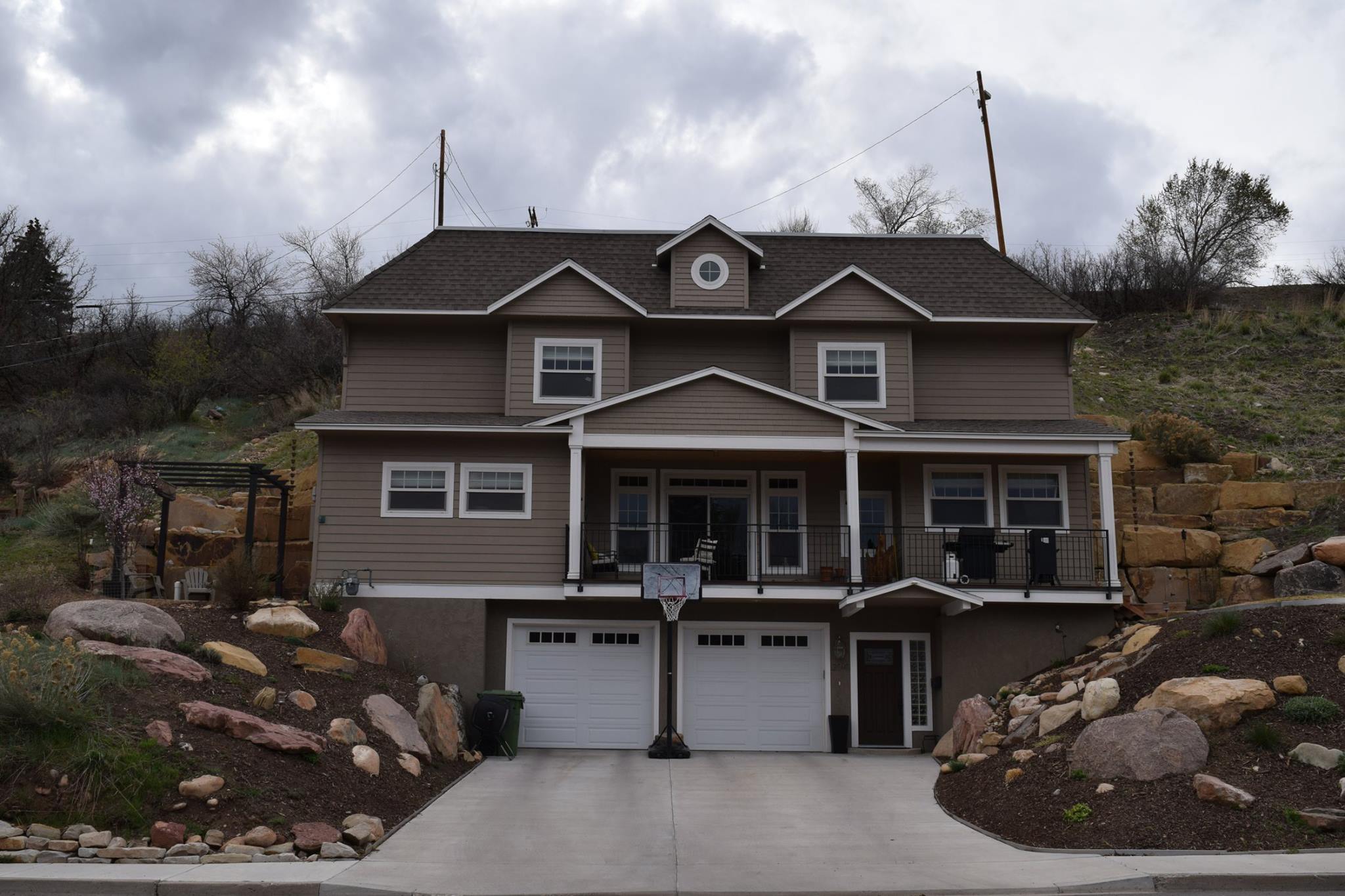 Inspirational Pictures
So now that we have gone through the technical details of building an earth-sheltered home, let's look at some examples of these homes that people have built around the world. No two are alike, as you will quickly see.
Earth Sheltered Home Plans And Design Notes
Reference Books On About Earth Sheltered Homes