Herbs, lettuces, and strawberries do not need as much soil as many other plants, so they are good candidates for vertical gardens.
20 Of The World's Best Vertical Herb Gardens
1) Atlanta Botanical Garden's Herb Wall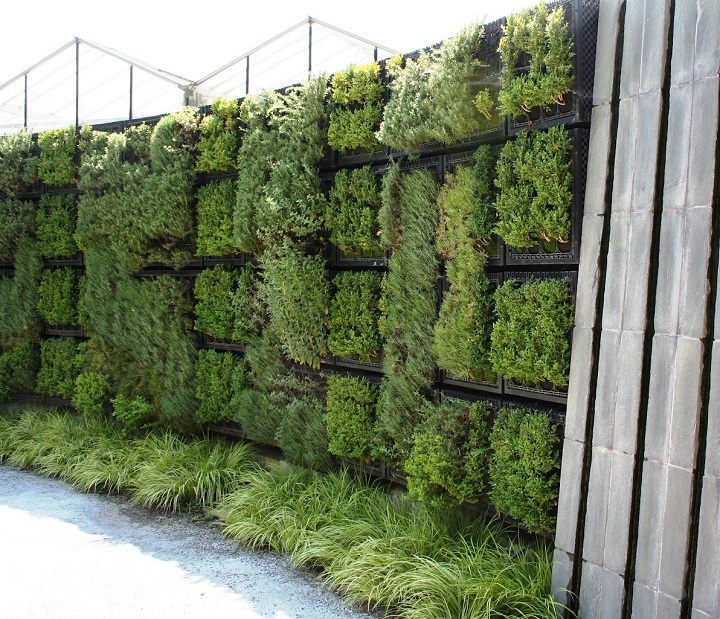 Vertical herb garden in the edible garden at Atlanta Botanical Garden. The section to the right is a water wall. Photo copyright Tim Martin. You can find out more information at achefinthegarden.blogspot.com.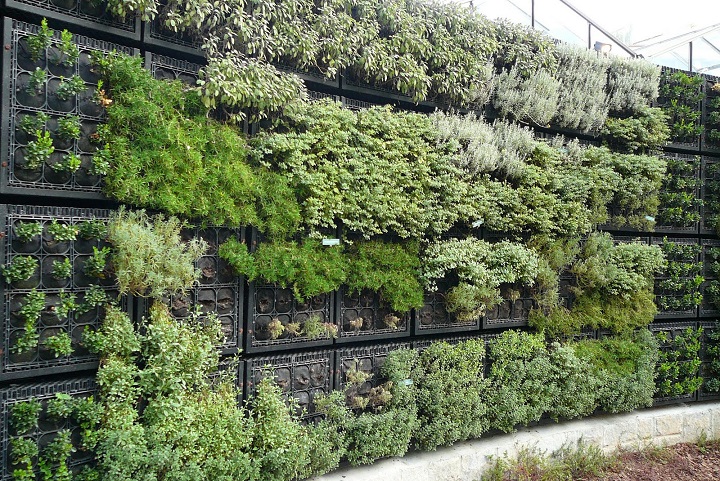 Another vertical herb garden at Atlanta Botanical Garden. Landscape fabric surrounds the plant stems and keeps the soil in place. The gardens webpage is atlantabg.org.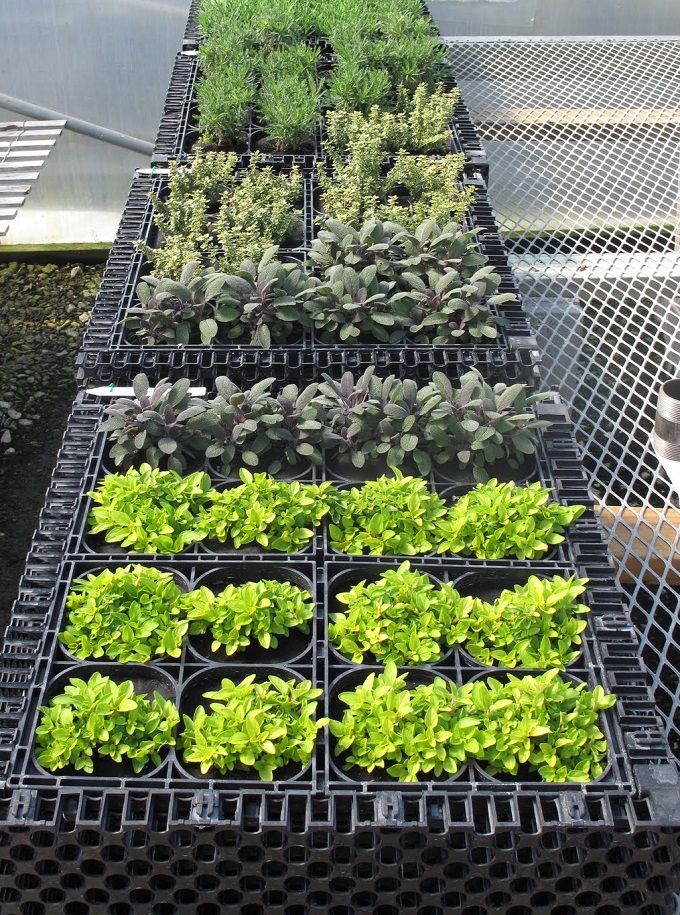 Herb Wall, Atlanta. These units can be taken down for maintenance. By Los Angeles-based AECOM; Atlanta-based Axios Architecture; and Dallas-based MESA Design Group.
2) Vertical Garden At Le Virtu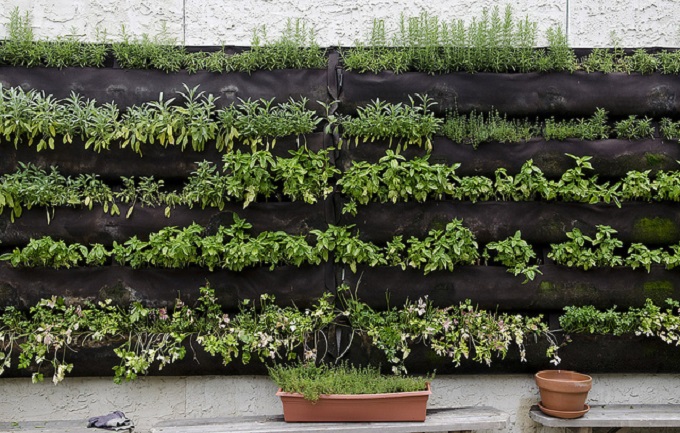 Pocket wall planter. At Le Virtu Restaurant Philadelphia. Their food is said to be inspired by the Abruzzese traditions.
3) Homegirl Cafe's Vertical Garden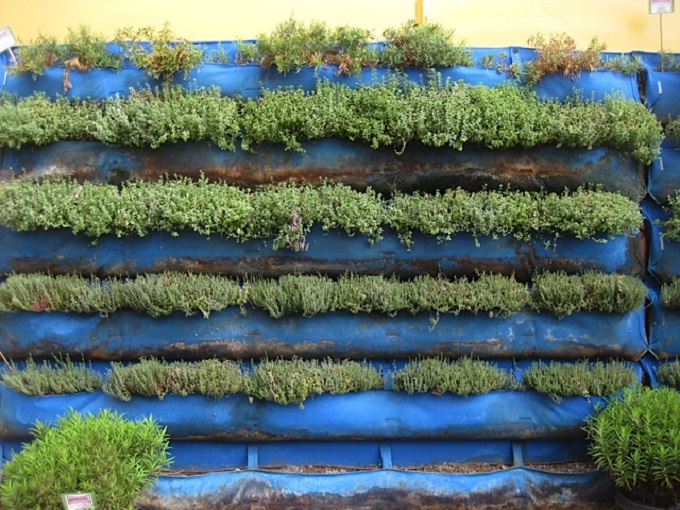 A vertical wall garden supplies herbs for the Homegirl Cafe at Homeboy Industries, LA, Calif. Such an excellent organization, training kids to work in the restaurant industry.
4) Vertical Garden From A Pallet
https://www.instagram.com/p/BVdSHt4AULn/
By using an old pallet on its side, this creative gardener has created a functional vertical garden. Instructions to make your own pallet vertical garden can be found at the end of this post.
5) Pocket Herb Garden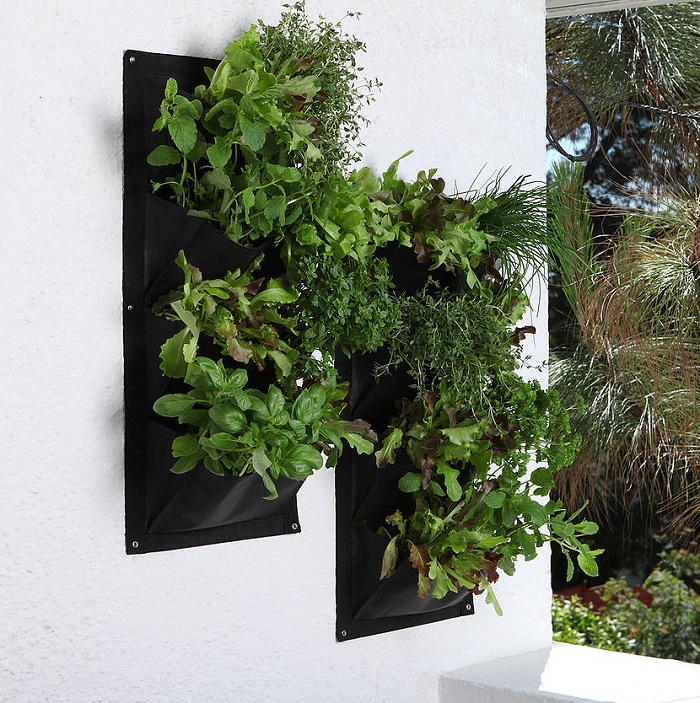 Pocket vertical garden. 4 pocket: dotzila.com  You don't even have to use these planters outside, you can install one in your kitchen for easy access to fresh herbs during the winter!
6) Vertical Planter With Pockets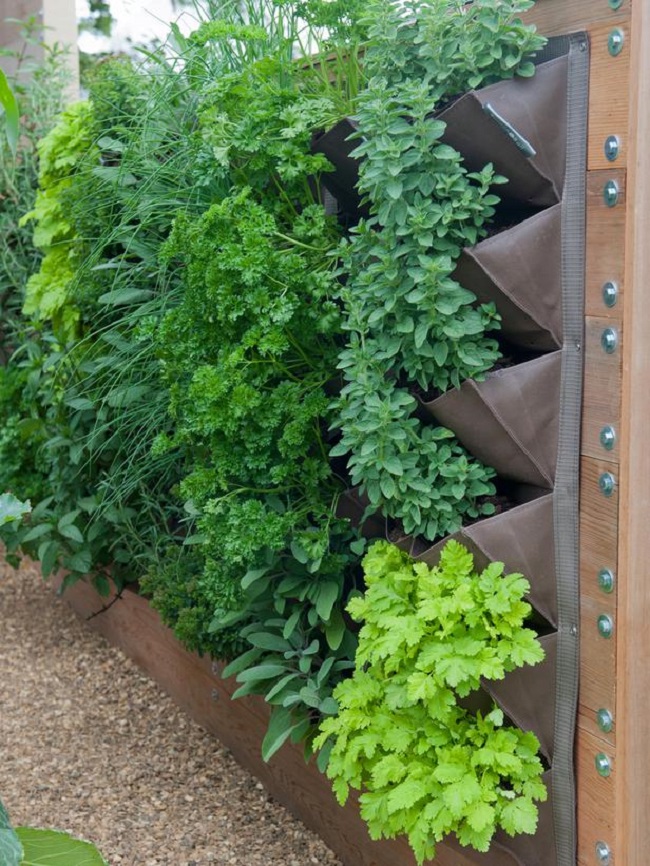 Pocket planter full of herbs. Found on diynetwork.com, you can use this planter to make the most of your space.
7) Aquaponic Vertical Garden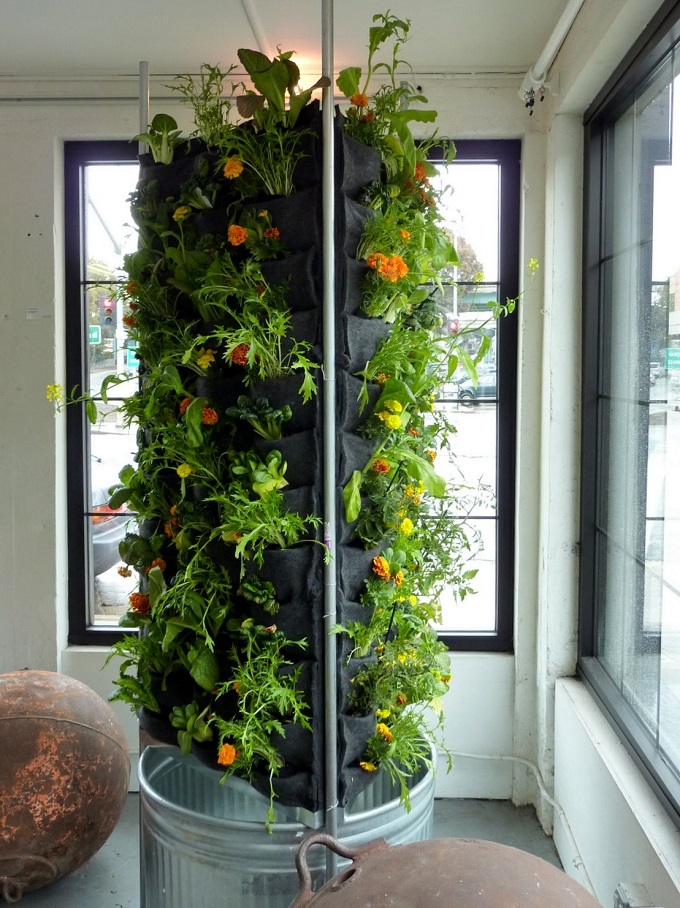 Aquaponic Vertical Vegetable Garden. Water is recirculated through the panels from the tank below. Goldfish create the fertilizer needed by the vegetable garden. The tower is made from 9 PlantsOnWalls Full 12-Pocket Vertical Garden Panels threaded together with picture wire to form a triangle. The panels were attached to galvanized pipe and placed over a 36″ Stock Tank. A fountain pump recirculates the water through the felt panels. James Snidle Gallery San Francisco. More pictures can be found at plantsonwalls.blogspot.com.
8) Vertical Planter By Wooly Pocket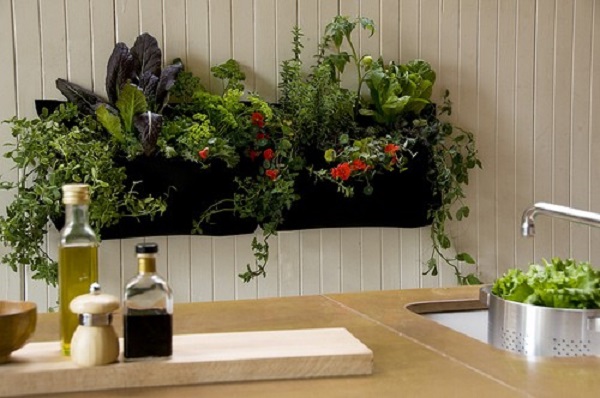 Pocket wall planter. Woolly Pocket makes indoor and outdoor planters. Two Wally Ones or one Wally Three. woollypocket.com
9) Herb Garden From Fiber Felt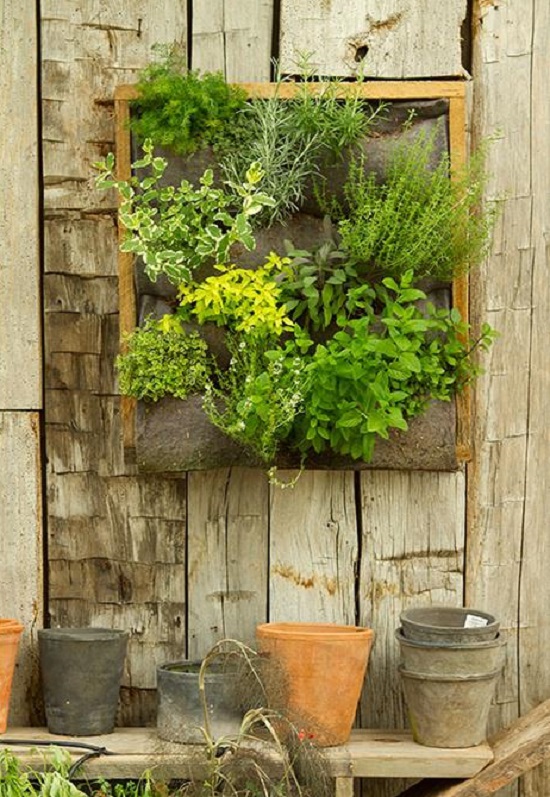 Pocket wall planter made of fiber felt. $178 and $278. Remodelista.com also has other gardening products on their site.
10) Vertical Herb Garden In West Michigan

Vertical herb garden attached to wall. Modular living wall systems by Live Wall. Made in West Michigan: livewall.com
11) Garden Made Of Gutters
Gutters are a great material for making a up-cycled vertical garden. The metal material also causes the garden to be good at retaining heat for the plants.
12) Flourishing Herb Garden By Live Wall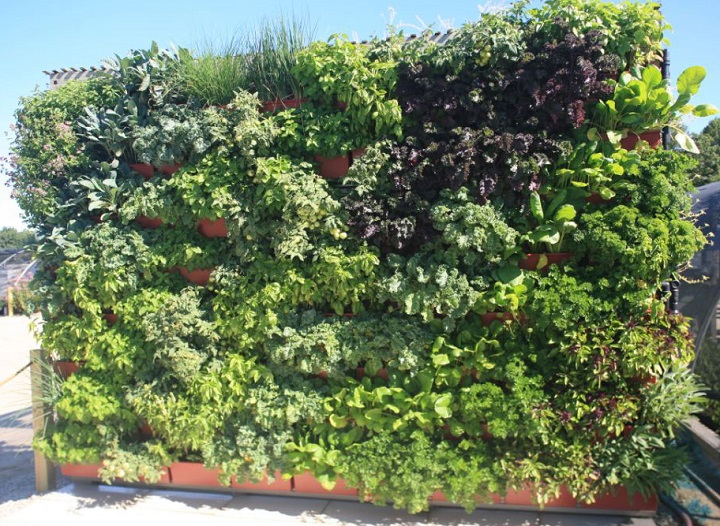 Vertical herb garden on a frame. Modular living wall systems by Live Wall, Michigan. Got to livewall.com for more information.
13) Portable Vertical Garden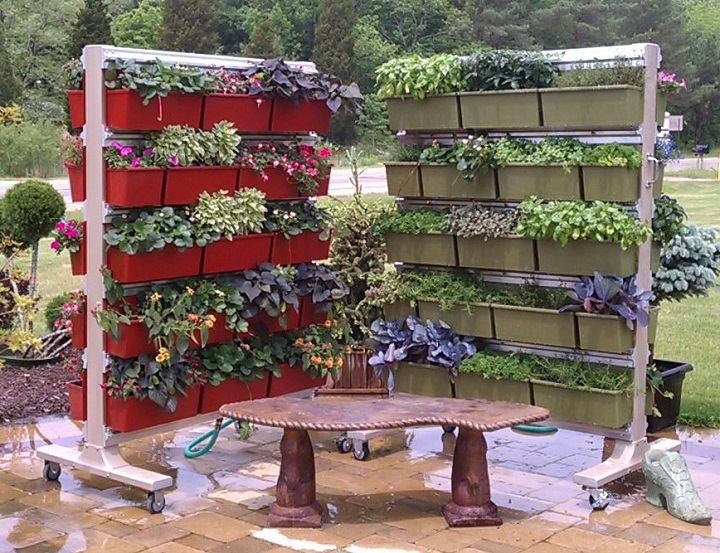 Modular living wall systems on wheels by Live Wall. At Bloomin' on Blue Star in Saugatuck, MI. Available in six colors. Use on a frame or a wall. Made in West Michigan. Livewall.com has more information on their site about the LiveWall.
14) Vertical Garden With Edible Plants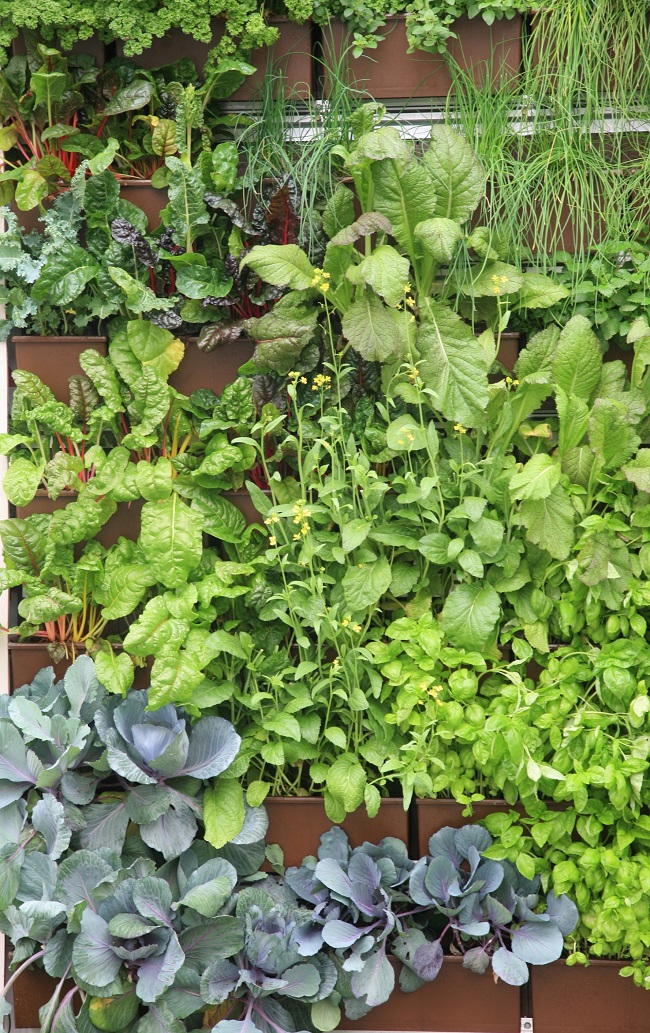 Edible vertical garden. Modular living wall systems by Live Wall. Yet again a great example of a thriving vertical garden, found on livewall.com.
15) Wooden Vertical Herb Garden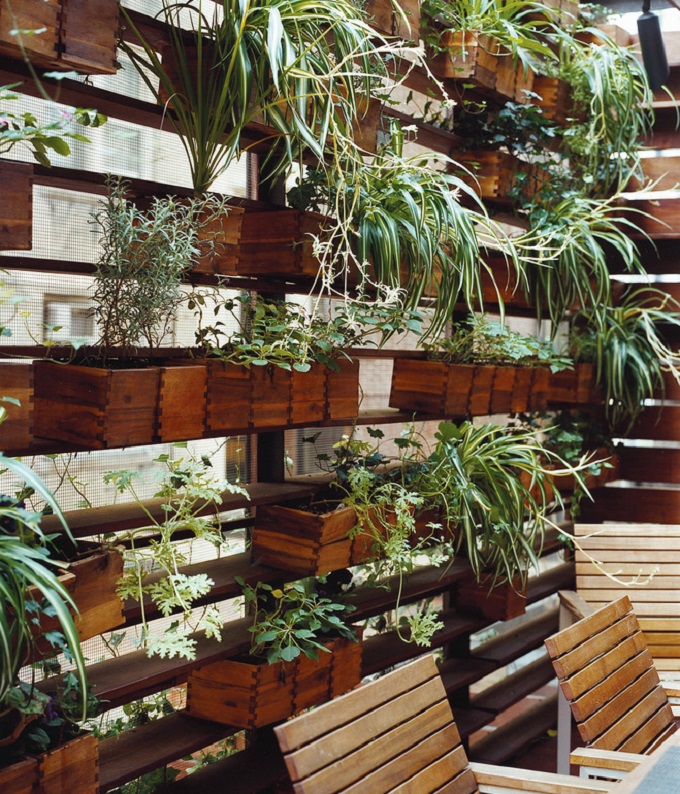 Movable wooden planters on a plant wall. Zizmor House, Upper West Side, NY, NY. Used on their patio, this garden makes the most of their space, find out more at www.dwell.com.
16) Painted Herb Garden
Painting a vertical herb garden can help bring color to your property. If you are using wood, the paint can also seal and protect the structure from rot.
17) LYFE Kitchen's Vertical Garden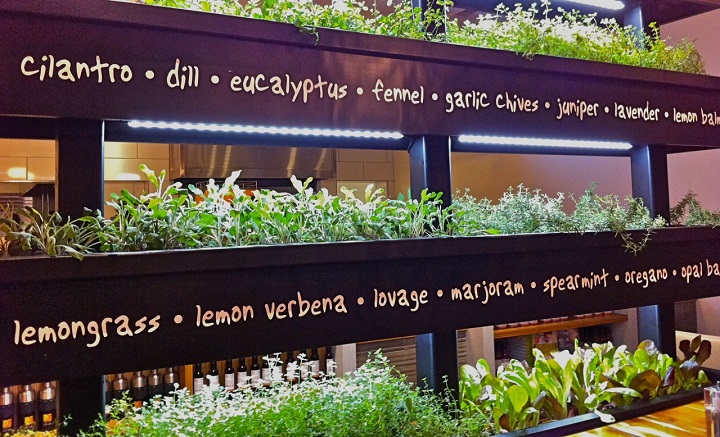 Indoor Herb rack at LYFE Kitchen in Palo Alto, Calif. Nice lesson in herb plant identification. photo originally found on liveloveyoga.wordpress.com, you can now find information on AFAR's article.
18) Plastic Bottle Vertical Garden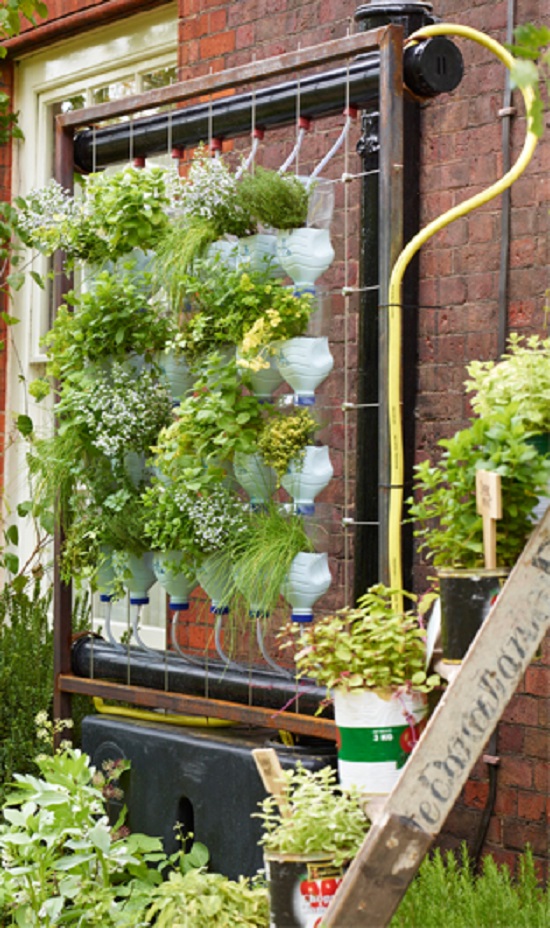 Vertical Herb Garden at Clarence House. By PU+H Landscape: petherickurquhartandhunt.com
19) Steel Vertical Garden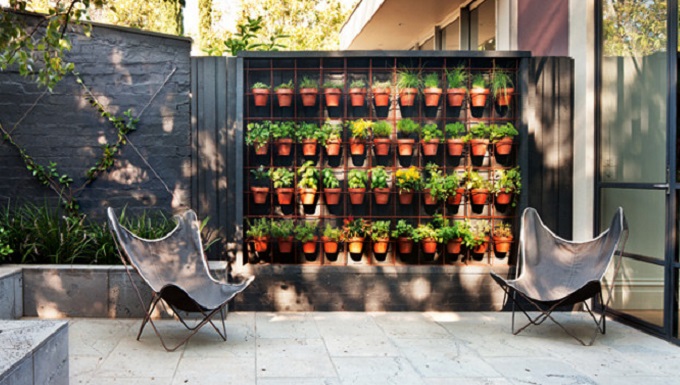 Vertical herb garden. Reinforced steel holds the clay pots by their lip. www.homelife.com.au. More of this type: byjoost.com
20) Indoor Vertical Herb Garden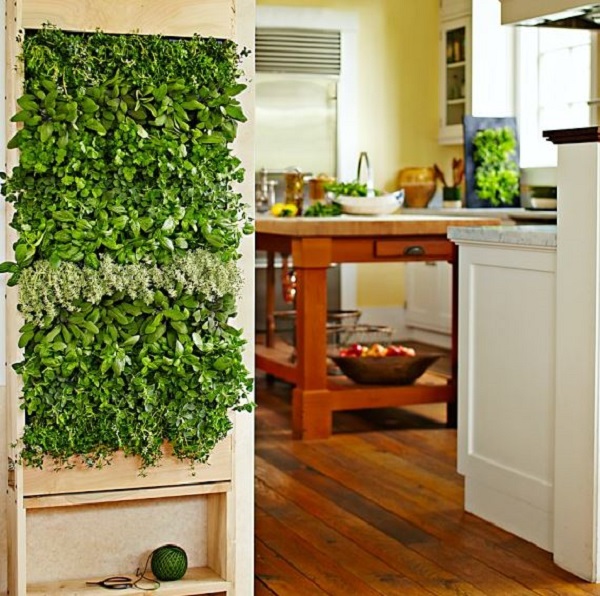 Freestanding Vertical Garden by Williams-Sonoma. williams-sonoma.com
How to Make a Vertical Herb Garden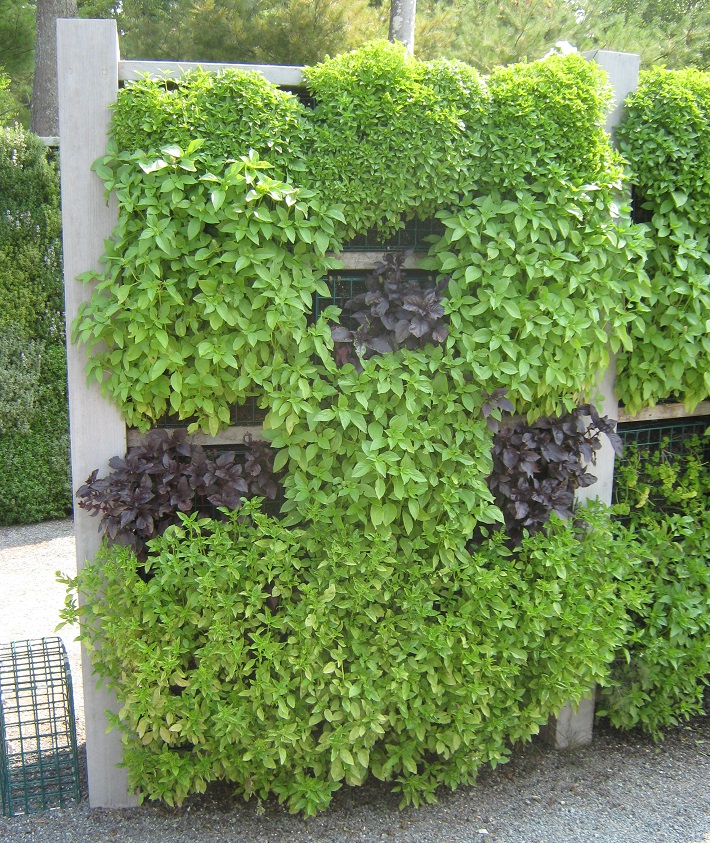 Herb wall. Here the soil and roots are held in wire cages which are placed in a framed wall. See cage, bottom left. Wrap the bottom, back and sides of cages in landscape fabric. This design seems a good starting point (inspiration) for other similar designs. At Coastal Maine Botanical Gardens. Via: argoknot.com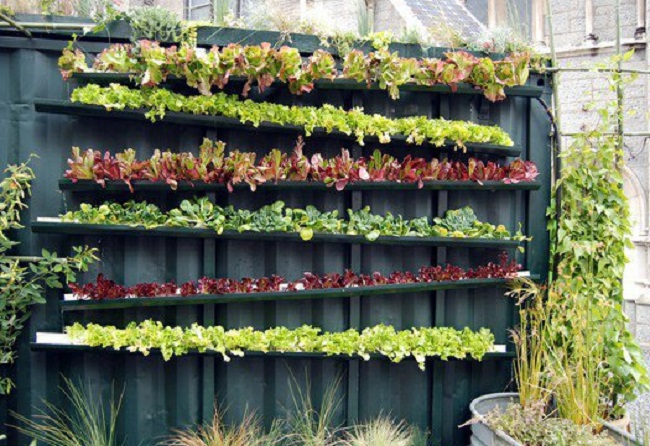 Rain gutter herb garden. Slant gutters and water will drip down to gutter below. You could also take gutters and attach them to wood. A 1×4 or 1×6 would be a good size, paint as desired. Attach mounting hardware for easy hanging. Don't forget drainage holes if hanging straight. Galvanized steel or copper is a better choice for the environment than PVC. Find out more at aquaduckraingutters.com.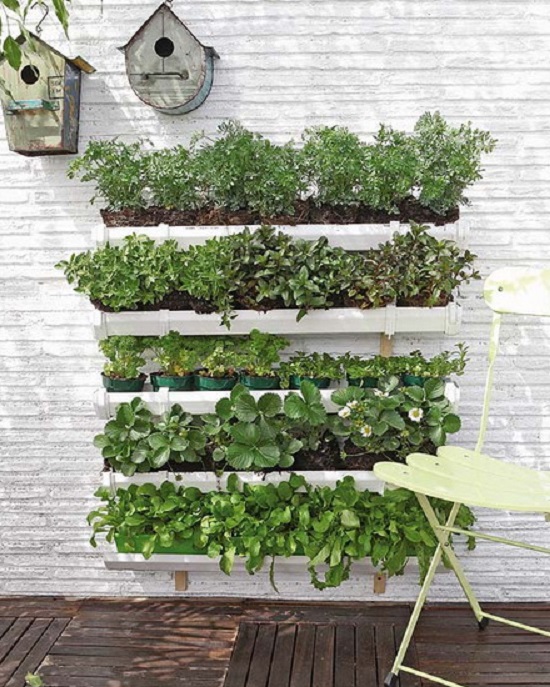 Gutter herb garden. Step by step – how to: diy-enthusiasts.com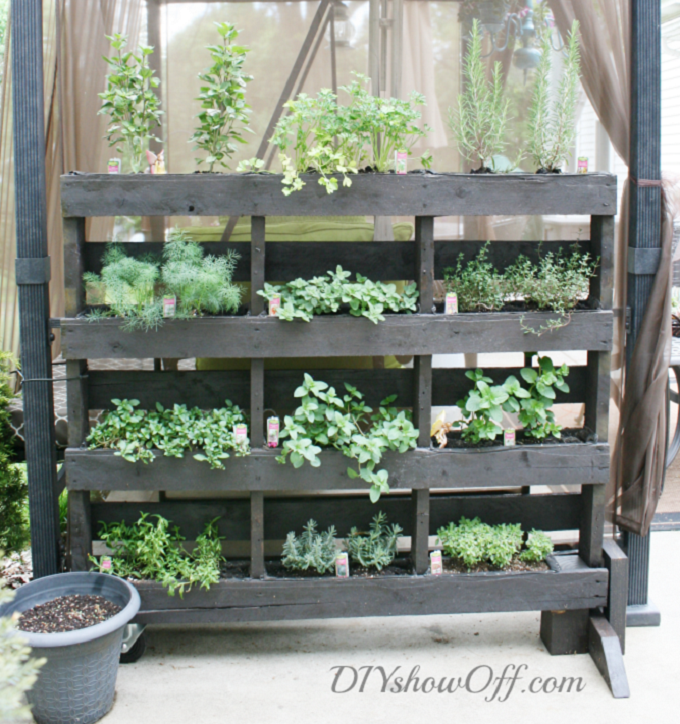 Free Standing Pallet Herb Garden.
Be certain your pallet was heat treated (HT) and not treated with chemicals (MB). Step by step – how to: diyshowoff.com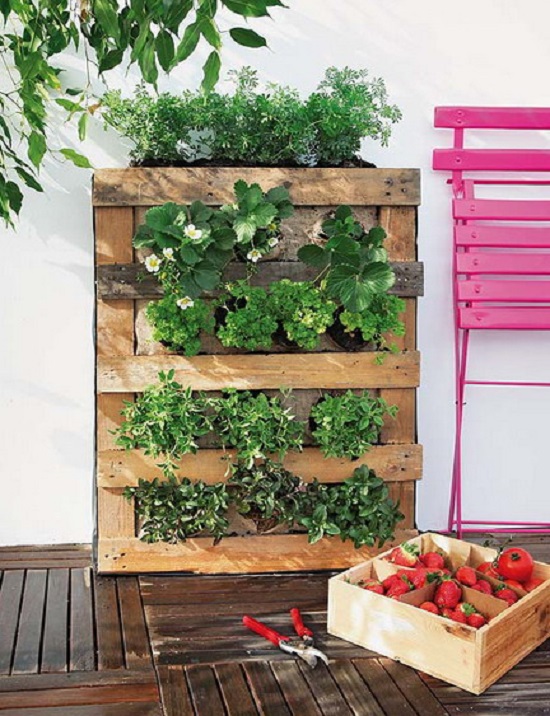 Pallet herb garden. Step by step – how to: diy-enthusiasts.com
Another how to here: onehundreddollarsamonth.com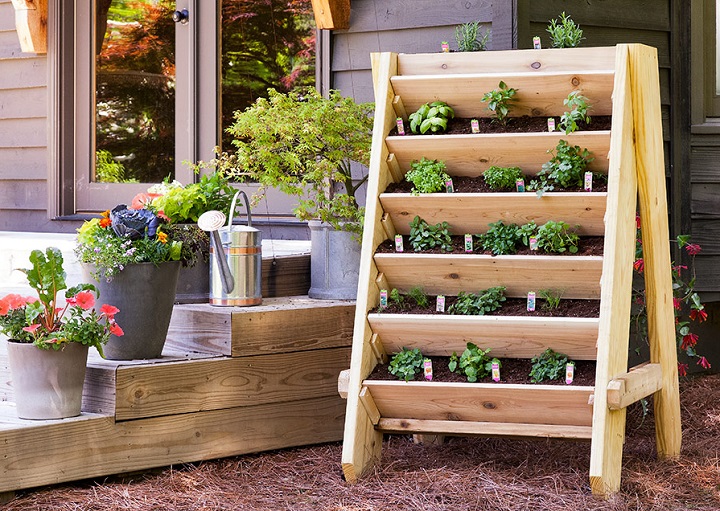 Vertical Herb Planter. Step by step – how to: bonnieplants.com
Vertical Herb Gardens from Recycled Plastic

Vertical garden from cut plastic containers. A great example found on lasfotosmasalucinantes.blogspot.com.

Plastic bottle herb garden at Clarence House, September 2010. Growing in recycled and re-used items on a vertical plane. By PU+H Landscape: petherickurquhartandhunt.com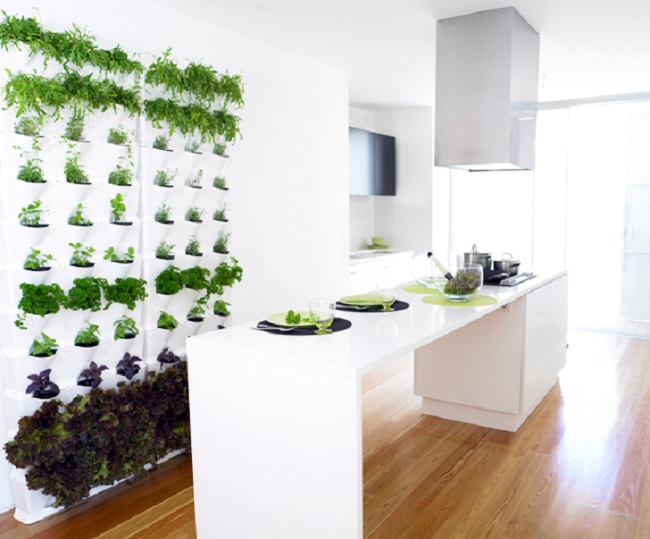 Minigarden vertical. Made of recyclable polypropylene, 5 colors. Available in Europe. This garden, and others, can be found on uk.minigarden.net.
One-of-a-Kind Vertical Herb Gardens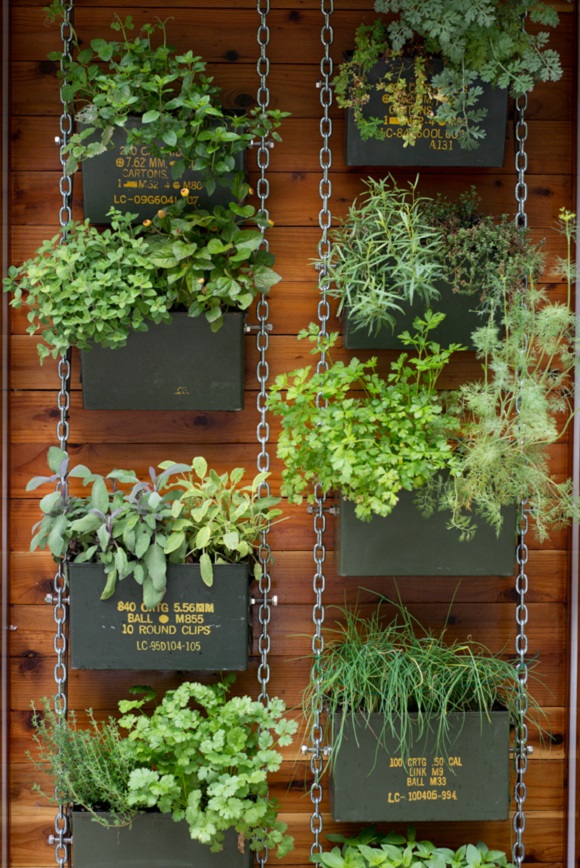 Ammo cans as herb planters, in Chantal & Ryan's backyard. More pics in the post. Go to ryanbenoitdesign.com to see more.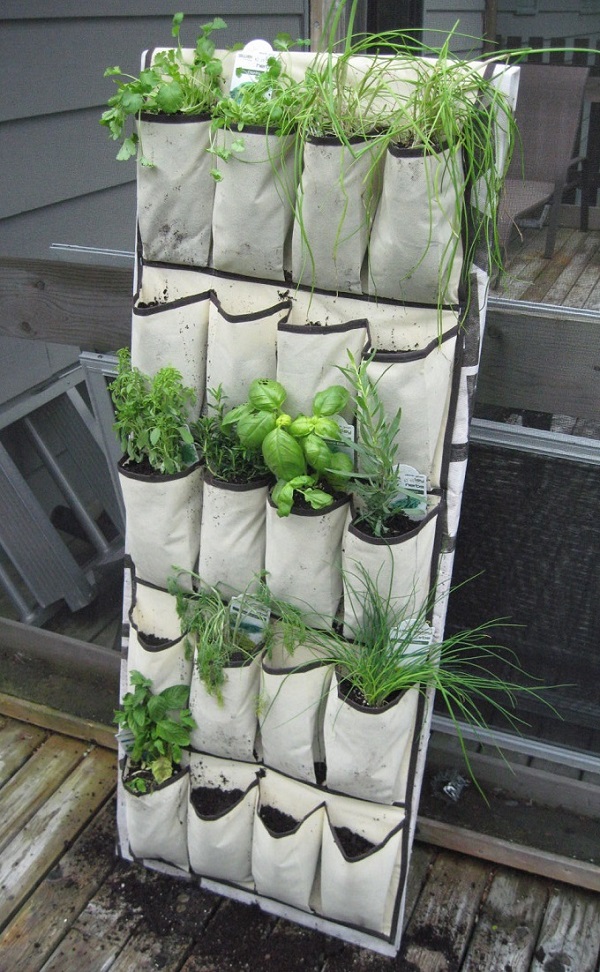 Shoe bag herb garden. Via: hydroherbafrica.co.za The slots are the perfect size for growing fresh herbs.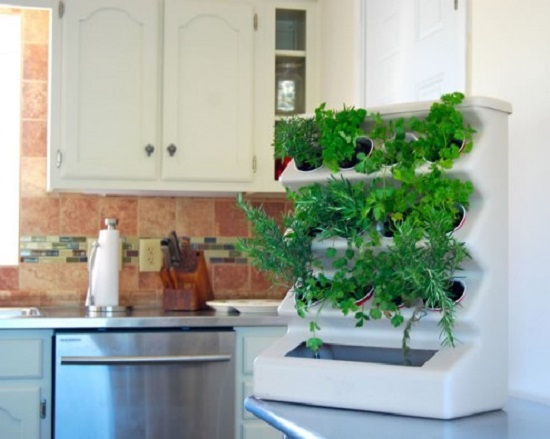 Aria Tabletop by Evo Organic. This product was originally found at www.evoorganic.com, but has since been discontinued. However, you can find more pictures on Facebook, or the reviews left on QVC.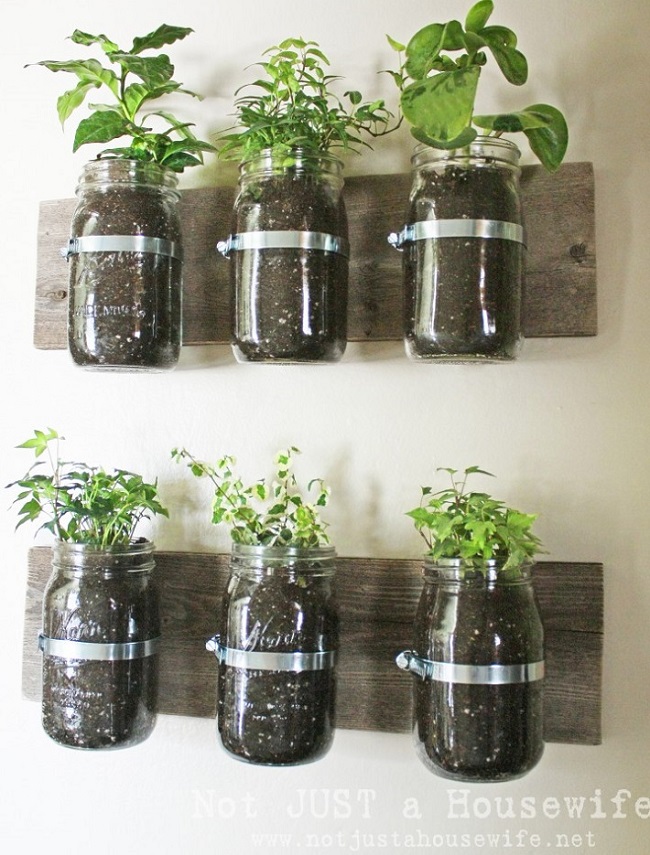 Mason Jar Wall Planter. With black rocks on bottom for drainage. Seems a good idea to keep a mason jar filled with dirt on the kitchen counter, ready to receive unused fresh herbs. The instructions can be found on notjustahousewife.net.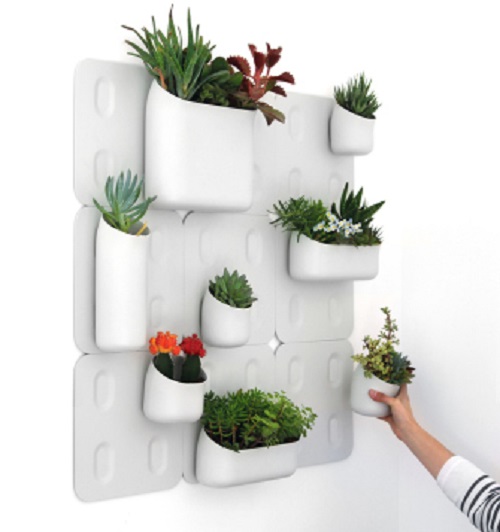 Magnetic wall systems. Largest vessel can hold up to 14 pounds. Their other products are on their site www.myurbio.com.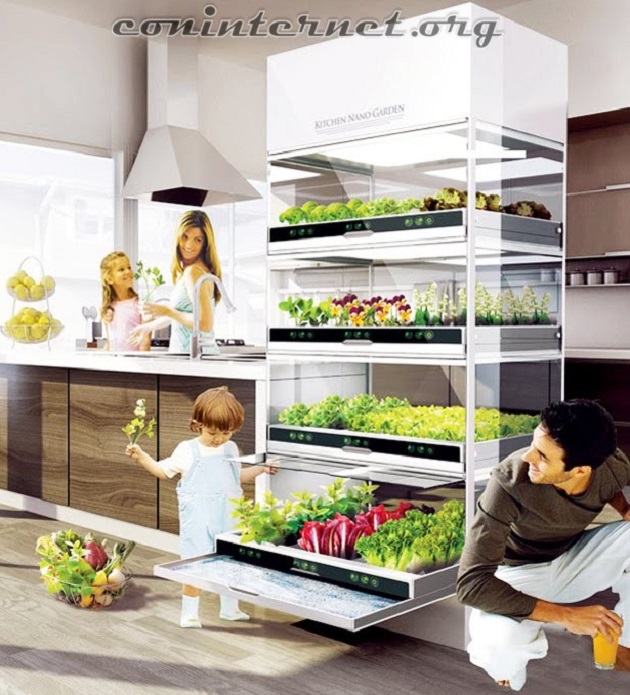 Kitchen garden of the future by Hyundai.Discover more on Small Garden Ideas' site.
Planters For Your Vertical Herb Garden
How to Make a Pallet Garden
How to Make a Plastic Bottle Tower for Your Vertical Herb Garden