Outdoor beds are trending, but you may be wondering, "Why an outdoor bed and not just a hammock, chair, or bench?" Prepare to list your bench set for sale, dear reader.
Aside from the most obvious use for outdoor beds (the ability to lay down outside on something other than grass, dirt, brick, concrete, or insect homes), these magical structures offer a rare and invaluable opportunity with every installation: the chance to slow down. If you are caught up in a do-do-do lifestyle, an outdoor bed might be just the push you need to take life on down a notch.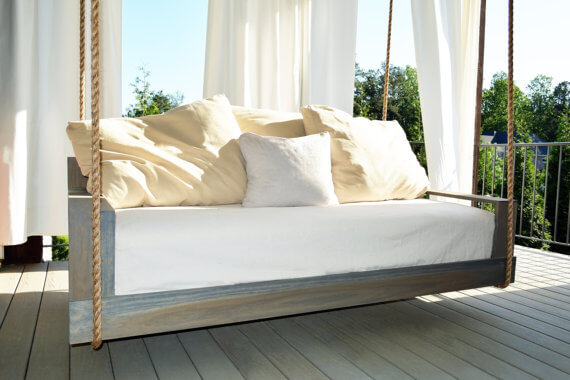 Feel free to take in the following outdoor bed uses as inspiration, or add them to your to do list.
Take more time to practice the art of being. Outdoor beds serve as a constant, in your face reminder to take time for life's little pleasures. These incredible inventions are literal support systems for: laying down outside and watching the clouds pass, soaking up summer nights (or summer days for that matter) with your favorite drink in hand, looking cool while strumming the guitar you never use, or sipping your morning coffee a little more slowly. I would argue that outdoor beds are simply playgrounds for life enhancement.
Reward yourself for your gardening efforts. The best payoff for the hard work you put into your magical yard? Gazing at it. Spending time in it. Enjoying it. I would recommend placing your outdoor bed right smack dab in the middle of your beautiful plein air homestead or on a terrace overlooking something that makes you happy. If you don't have either of those options, rest assured that placement isn't important if your outdoor bed is topped with the most comfortable cushions and/or humans you can round up.
Cuddle with your sweetheart or sweetpet more often. Taking time to cozy up to loved ones in the great outdoors increases happiness by 123%. (That may or may not be a made up statistic, but doesn't it make you feel good?)
Enjoy more naps… because you deserve them. No further explanation needed.
Recap: Here's the formula for a great outdoor bed:
Yard or porch
+Bed Frame
+Mattress
+>1 Pillow
+Optional Pets Or Additional Favorite Human
________________________________________________
Pure Bliss
Finding Your Outdoor Bed
Outdoor beds come in all shapes and sizes, from wrought iron to wooden to wire versions. Whether you come by your outdoor bed via your own sweat equity or the other kind of equity (cha-ching), consider it a lifetime investment. I know… some of these are stupid expensive, but let's be real — if you had one of these, would you ever leave it? (And would it ever leave you?)
If that little nudge didn't convince you, there is always the DIY pallet furniture option. Oh, and my personal favorite: the option to just take an extra bed from inside and place it outside. We can't all be Beyoncé, but we can exercise our right to nap among nature.
Outdoor Bed Options
Geometric Swing Outdoor Bed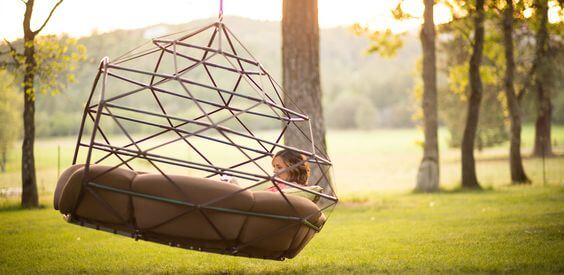 Kodama Zomes can hang from trees of course, but with an additional suspension frame, they can swing anywhere else in nature. Plus, their promo videos do not disappoint (sorry, bank account). Via Kodama Zomes, starting at $5,400.
Better-than-a-Tepee Outdoor Bed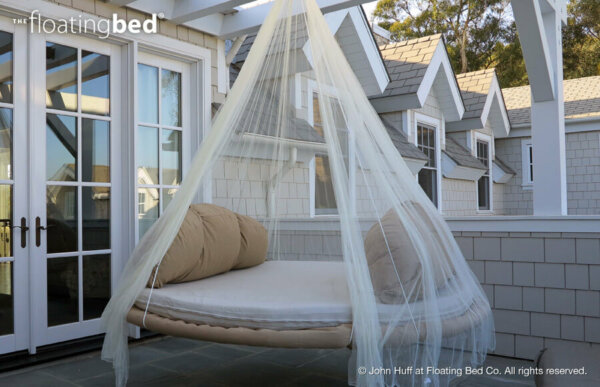 Two words: floating bed. Adding the pendulum motion of this setup to your summer nap fits right into the equation for the perfect outdoor bed. Via The Floating Bed, starting at $3,995.
Rustic-Chic Outdoor Bed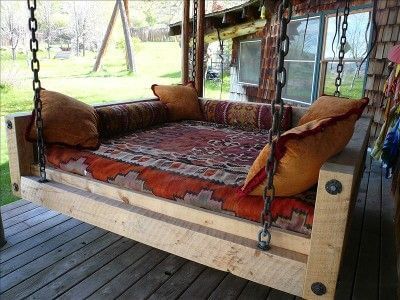 While it's slightly irritating to see people in the world with homes that look like Pinterest come to life, I've got to hand it to these craftspeople for their impeccable execution of rustic-cozy-Southwest-chic. Reupholstering your outdoor bed to match your decorating taste is always an option! Via VRBO.
Outdoor Bed with an Ambience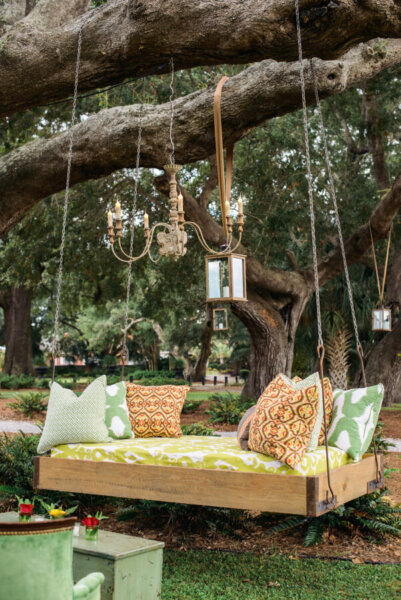 Add a slight breeze, a snack plate, and a mojito, and you'll be set for a staycation. Style Me Pretty inspires the addition of a chandelier and lantern lighting to enhance the ambience (making it even more reasonable to stay a little longer). Via Style Me Pretty.
Swinging Pod Outdoor Bed

The woman in this picture says it all. The pod-like shape and emphasis on cushions make it so easy to dive right in for some midday shuteye. Via Lushhome.
Understated Outdoor Bed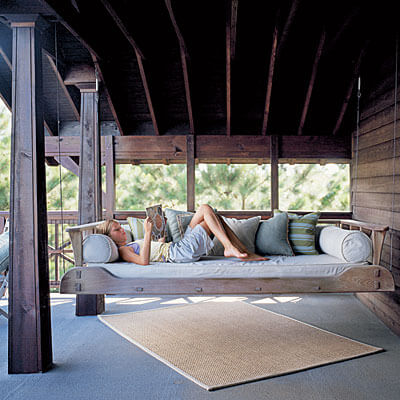 If you're into understated furniture, staining the frame of your outdoor bed is a great way to create a sense of incognito comfort. Via Coastal Living.
Hidden Outdoor Bed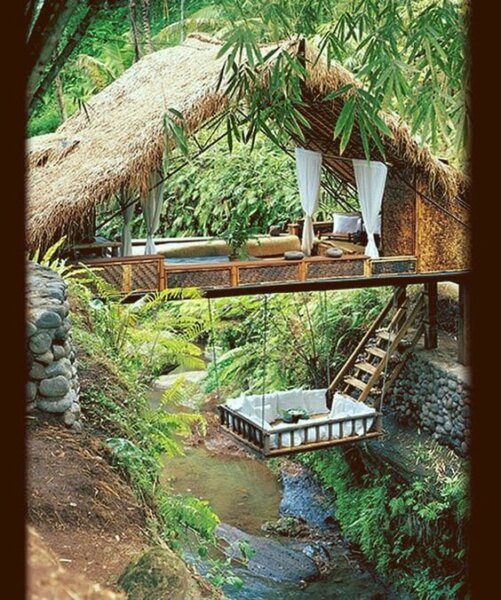 Well, just take me away. If you happen to have a glam tree house, why not add a hanging outdoor bed over your personal babbling brook? Via Buzzfeed.
Sleeping Porch Outdoor Bed

Outdoor beds can also function as your only bed when strategically placed on a sleeping porch. Enjoy the cool summer nights with a simple, nature-oriented set up. Via Bourbon and Boots.
Garden Immersion Outdoor Bed

Remember how I mentioned placing your outdoor bed right smack dab in the middle of your hard-earned garden? Holi Coffee got that right, with an added roof for shade and a beautiful bright color scheme to boot. Via Holi Coffee.
Hamptons Outdoor Bed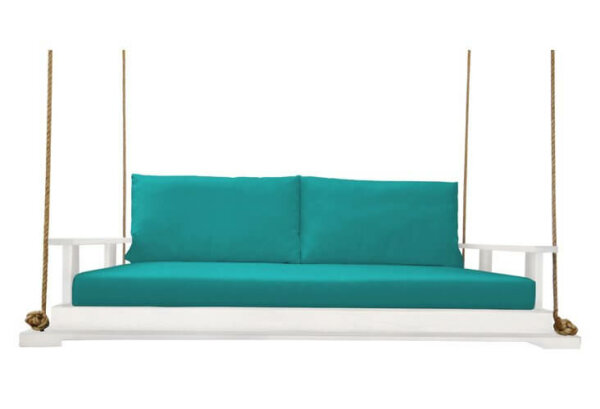 Can't make it to the Hamptons this year? Forget the travel fuss — One Kings Lane offers a ready-made, stylish opportunity to bring a slice of the Hamptons to your homestead. Via One Kings Lane, starting at $4,755.
Shaded Pod Outdoor Bed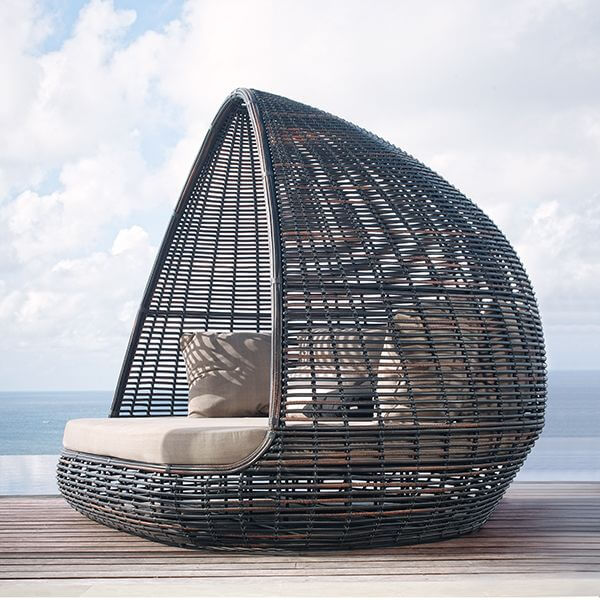 "The Shade" outdoor bed is moisture-resistant to suit humid or rainy climates, and bonus: it comes in only 3 pieces. If you're not into taking on an assembly situation, this one is for you. Via Home Infatuation, call for price.
Oversized Cushion Outdoor Bed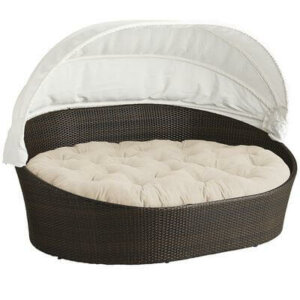 There's nothing more inviting than a tufted cushion on a warm afternoon. Simply crawl in, pull the shade down, and prepare to embrace a new siesta routine. Via Pier 1 Imports, $799.
Double Up Outdoor Bed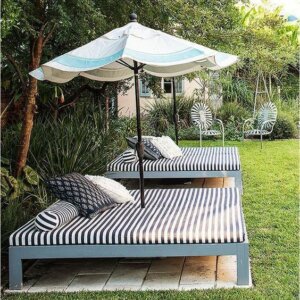 As simple as this bed is, it would be a chic addition to any yard and easy to customize. And the idea of two outdoor beds? Better than one. Via Centsational Girl.
Easy Breezy Outdoor Bed

Easy set up, easy relaxation, easy to relocate. This minimalist outdoor bed has a lightweight feng shui vibe that will fit in anywhere your heart desires. Via Wayfair, $444.
Cabana Outdoor Bed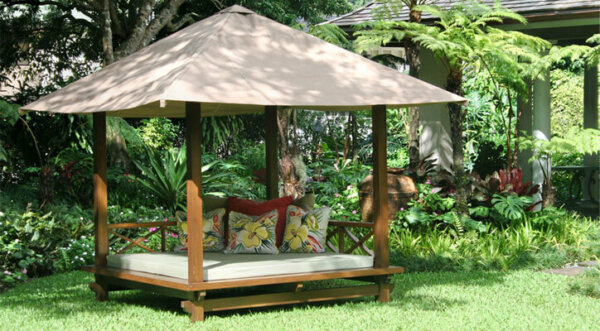 This is more like a personal hideaway than an outdoor bed, well-suited for those who are looking forward to extended happy hours and sleepy Sundays. Add some twinkle lights and hire a live band for a truly magical Sweet Water Cabana experience. Via Sweet Water Cabana, starting at $5,500.
Hang Out Hybrid Bed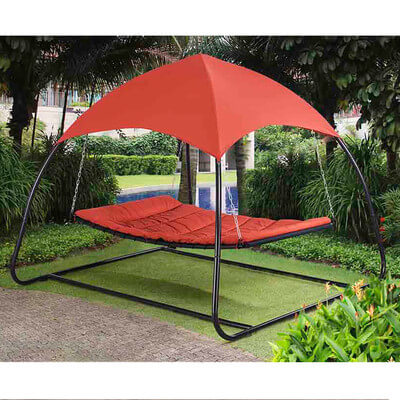 This easy-to-assemble outdoor bed is deserving of its own nook in your yard. It offers the shade and sharable size of an outdoor bed, coupled with the sway of a hammock. Via Wayfair, $1,059.
Poolside Outdoor Bed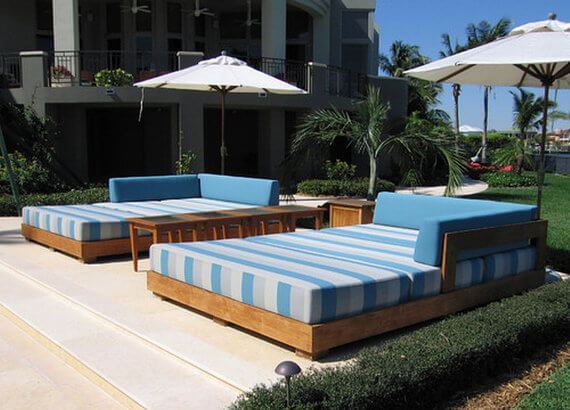 The Low Country Swing Beds Etsy shop sells an outdoor bed that seems to be made for a poolside space. Handmade with cedar, teak, and pine, this work of art would be a beautiful statement piece. Via Etsy.
Dressed Up Outdoor Bed

This DIY hanging version is a perfect example of how adding your favorite comfy nesting materials can make a pallet bed look like a million bucks. The addition of a divider wall and greenery says, "Do Not Disturb" in the most polite way. Via My Scandanavian Home.
Southern Summers Outdoor Bed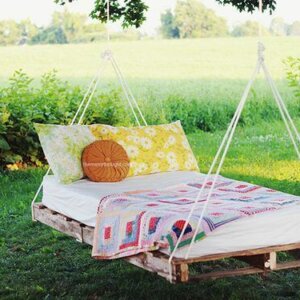 Modern DIY doesn't have to be tedious or complicated. With both visual and written instructions from The Merry Thought, making a hanging outdoor bed is as simple as pie. DIY tutorial via The Merry Thought.
Boho Outdoor Bed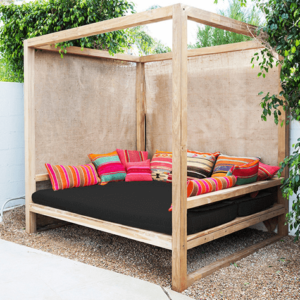 Add some exotic pillows from Barrington Blue, and your outdoor bed is dressed up for your nap party. A canvas addition to the simple frame is a great way to block the bed from falling leaves. Via Design Lovefest.
70's Throwback Outdoor Bed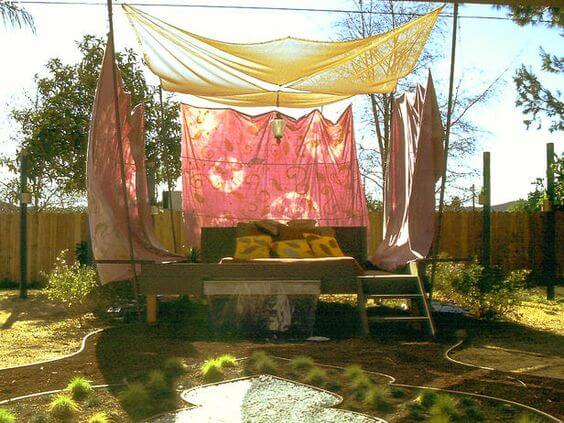 With a garden path designed for this outdoor bed, its placement looks meant to be. Adding steps at the entrance provides an additional sense of place to this dreamy 70's-vibe nook. Via Green Gardens Group.
Modern-Rustic Outdoor Bed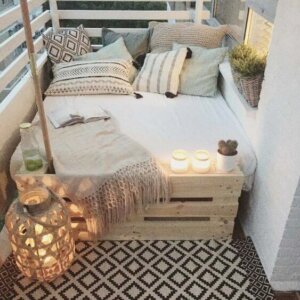 One Kindesign never disappoints with ideas for combination settings. The stylish rug and lantern at the foot of the bed make this setup inviting for solo afternoons of reading or a romantic couple's happy hour. Via One Kindesign.
Grounded Outdoor Bed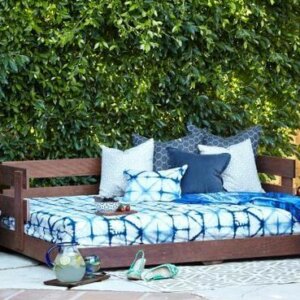 An ultra-accessible outdoor bed, this version plays on the idea that simplicity is king. Use an old top bunk or extra daybed from inside, add some moisture-wicking pillows, and you're good to go. Via Pinterest.
Related Post: 17 Awesome DIY Platform Bed Plans
Tiki Hut Outdoor Bed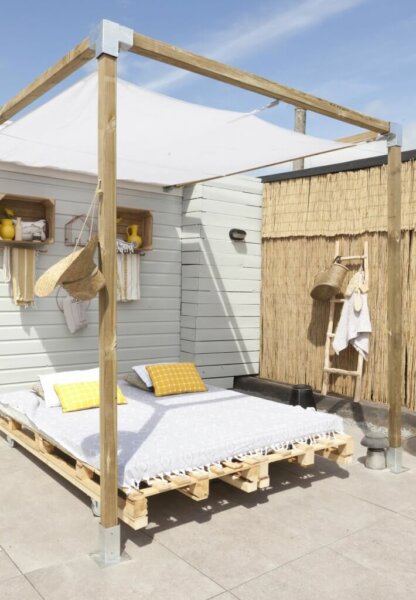 Vtwonen adds a basic, shaded frame and straw divider to this outdoor dream, which calls for extended sleeps. A day of taxing yard labor? This bed is there for you. Via vtwonen.
It's a Party Outdoor Bed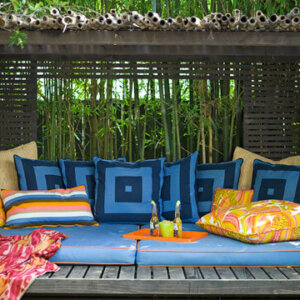 Setting pillows upright transforms an outdoor bed from a snooze-pad to a party nook. Add your favorite drinks and some low outdoor lighting for best results. Via Pillow Perfect.
Cozy Lounge Outdoor Bed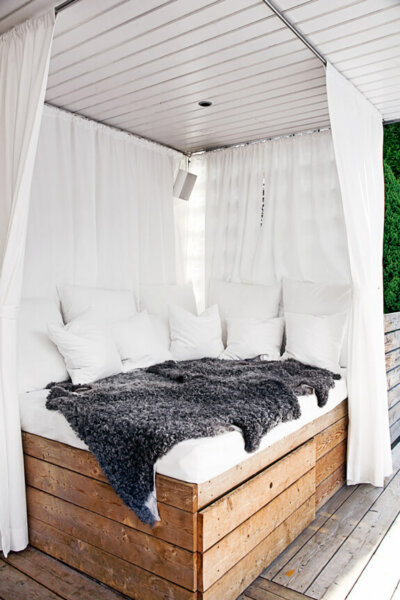 Belle Maison obviously understands cozy outdoor living. Add your favorite throw and curtain sheers, and your outdoor bed becomes a reading nook and happy hour lounge. Via Belle Maison.
DIY Patio Daybed

This is the cutest darn thing, with added storage and a color scheme that enhances the surrounding greenery. Lovely Greens makes this dreamy daybed accessible for even a first-time DIYer. Via Lovely Greens.
The Outdoor Bedroom

For those who are lucky enough to live in climates where sleeping outside full-time is an option, don't hesitate to transfer your entire cozy bedroom from the great indoors to the great outdoors. Via Service Central.
Summer Slumber Outdoor Daybed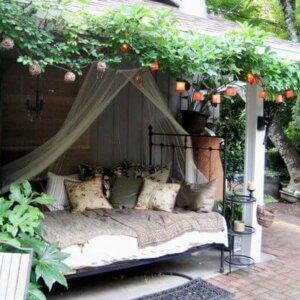 The Robin and Sparrow blog highlighted a neighbor's outdoor daybed, perfectly placed for use as a couch, hideaway, or reading lounge. Add some mood-enhancing lantern lights for additional bliss. Via The Robin and Sparrow.
Ambience Outdoor Bed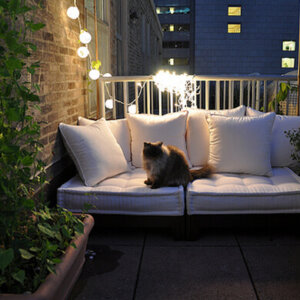 Shelterness shows us that even in an urban homestead environment, a cozy outdoor nook is achievable. They have all elements of the perfect outdoor bed equation here, with bonus points for including the cuddleable sweet pet. Via Shelterness.
Romantic Outdoor Bed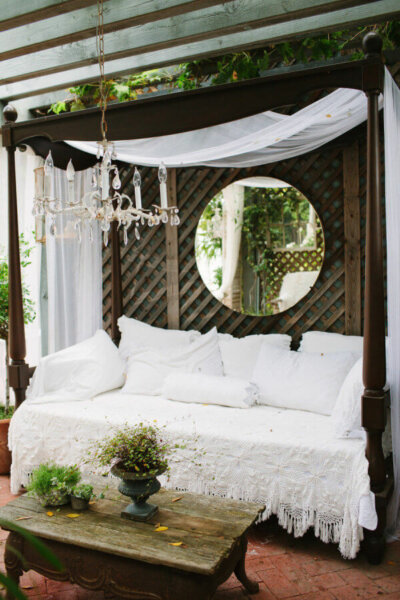 Chandelier! Flower petals! White bedding! This sweet set up is picture-perfect romantic, ready for an afternoon of Netflix (The Notebook, anyone?). Via Style Me Pretty.
Oolala Outdoor Bed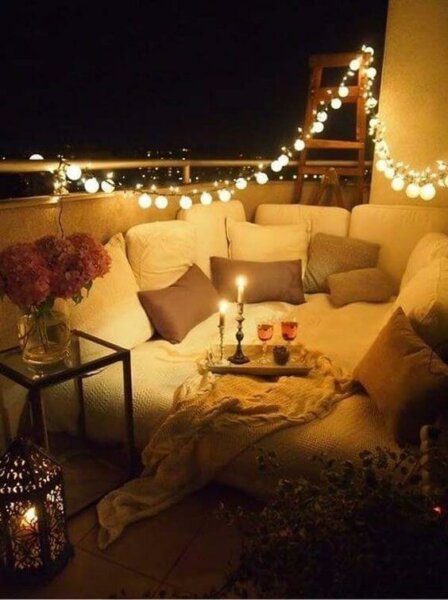 Woohome understands everything necessary for a couple's outdoor boudoir. In this gorgeous showcase, the triple threat of lighting is used (hanging lights, lantern, candles) to support deep conversation and endless cuddles. Via woohome.
Dressed Up Outdoor Bed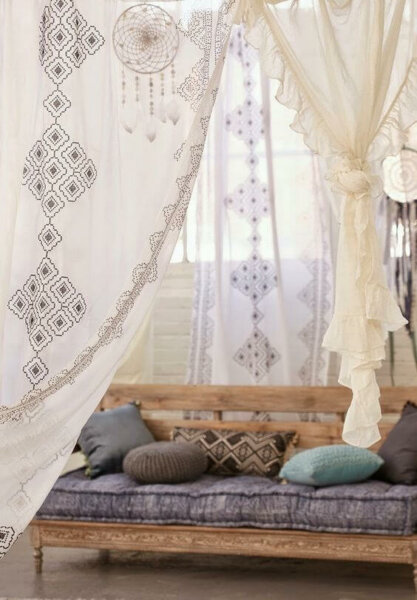 All dressed up and no place to go—hooray! This pretty bohemian outdoor bed reveals what a unique frame can do for an already inviting space. Via Sheer Luxe.
All in the Details Outdoor Daybed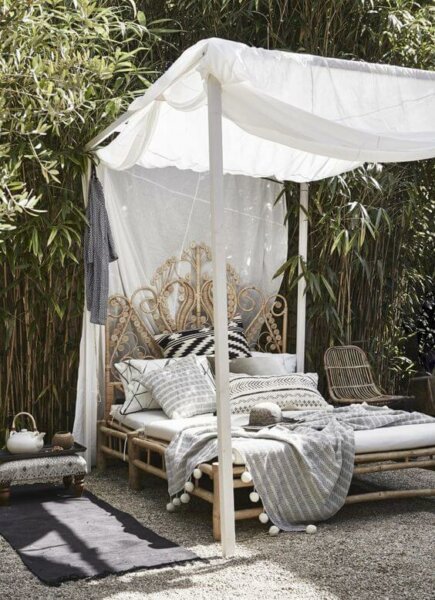 With the combination of a hand-carved frame and simple DIY posts for shade, vtwonen has created a lush escape. Note the use of a rug, chair, and bedside ottoman for extended stays. Via vtwonen.