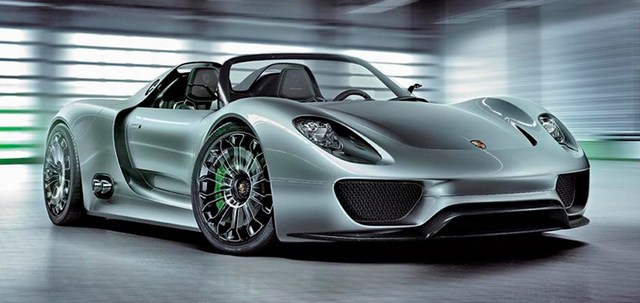 Porsche 918 Spyder Plug-in Hybrid prototype (all of Porsche's concept cars have been brought to market) has emission levels of just 70 grams CO2 per kilometre on fuel consumption of three litres/100 kilometres (equal to 94 mpg imp). Acceleration from a standstill to 100 km/h in just under 3.2 seconds, top speed of 320 km/h (198 mph) plus, faster than even the Porsche Carrera GT.
Related Post: Biofuel
A button on the steering wheel allows the driver to choose among four different running modes: The E-Drive mode is for running the car under electric power alone, with a range of up to 25 km or 16 miles. In the Hybrid mode the 918 Spyder uses both the electric motors and the combustion engine as a function of driving conditions and requirements, offering a range from particularly fuel-efficient all the way to extra-powerful. The Sport Hybrid mode uses both drive systems, but with the focus on performance. Most of the drive power goes to the rear wheels. And Race Hybrid mode. With the battery sufficiently charged, a push-to-pass button feeds in additional electrical power (E-Boost), for example when overtaking or for even better performance. 3.4-litre, seven-speed, front-wheel electric drive with range manager. Coming soon. More…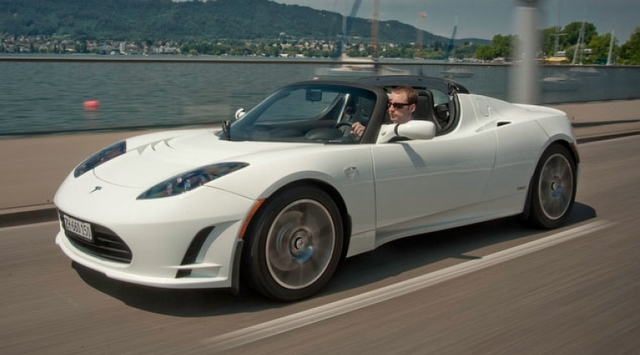 Tesla Roadster. The zero-emissions Roadster can drive 245 miles per charge. It plugs into nearly any outlet, anywhere in the world. The hand-built, carbon fiber Roadster goes from 0 to 60 mph in 3.7 seconds. Tesla is now working in cooperation with Toyota. From $101,000 or 1658. per month lease. More…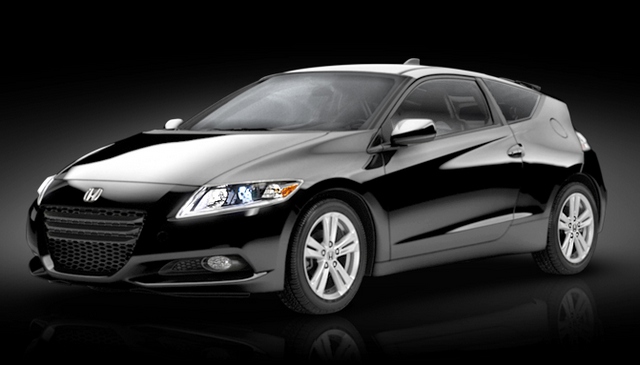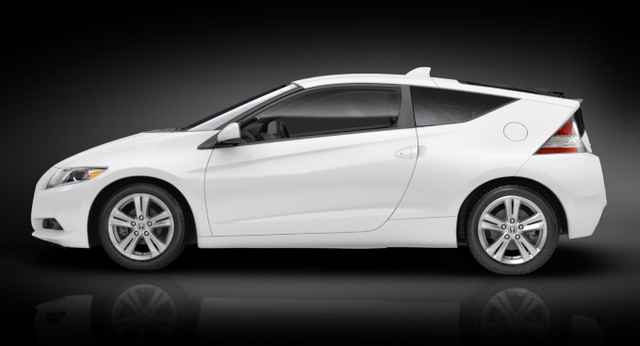 Honda CR Z Hybrid
3-mode drive system. Normal mode, which provides standard settings for all systems. Sport mode uses the electric motor more aggressively, providing quicker acceleration and throttle response. Sport mode also provides a sharper steering feel—great for a curvy stretch of open road. ECON mode. This will optimize vehicle power and accessory load for maximum efficiency.
The CR-Z is powered by a 1.5-liter i-VTEC® 4-cylinder engine with Integrated Motor Assist IMA®. This combination delivers both spirited performance rarely seen in the hybrid world with impressive fuel economy. 6-speed manual transmission—the first production hybrid vehicle ever to be equipped this way (31 city/37 hwy) or automatic (35 city/39 hwy/37 combined).  From $19,200. More…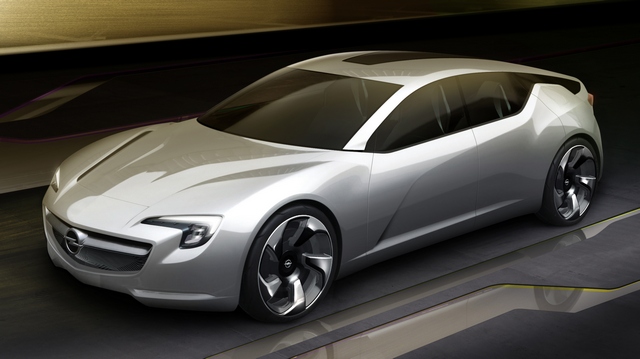 Opel GTE
The Flextreme GT/E. This hybrid-electric plug-in (General Motors owns Opel) uses the Volt powertrain. Despite its greater size and a maximum speed of more than 200 kilometers per hour, the Flextreme GT/E is projected to have fuel efficiency similar to the Ampera/Volt's (combined city/highway fuel economy at 93 miles per gallon gasoline equivalent in all-electric mode, 37 mpg-US in gasoline-only mode, for an overall fuel economy rating of 60 mpg-US). The GTE will have a battery-powered driving range of 40 miles, plus an additional 300 miles on gas-assisted hybrid driving. The body is made of carbon composites and the design has a drag coefficient of 0.22 (really good!). This car will be available in Europe as an Opel and in the U.S. as a GM car.  More…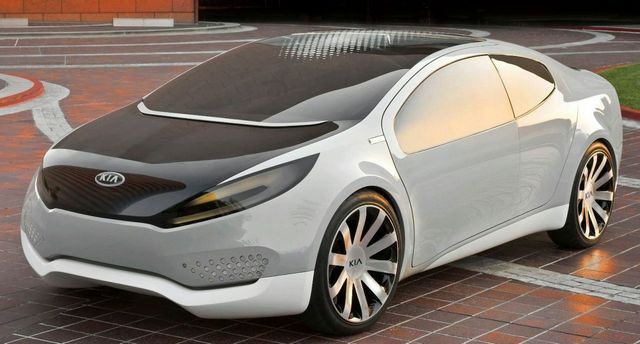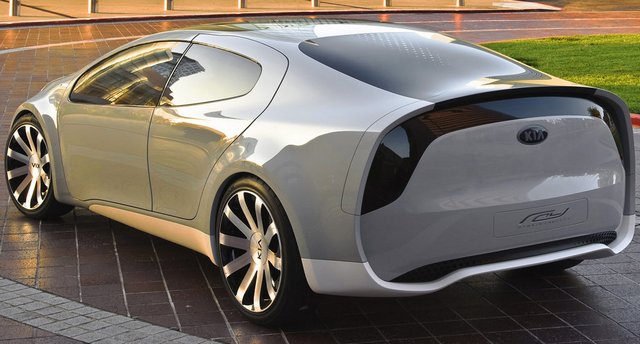 Kia Ray PHEV Concept
The Ray features a 1.4-liter engine and a 105 horsepower electric motor. Kia says the electric motor is designed to propel the Ray up to 50 miles on a charge before the gas engine needs to kick in. Kia claims 202.3 mpg equivalent when driving in electric only mode and 77.6 mpg when running in hybrid mode. With a total range of 746 miles. An exterior film of nano-laminate and solar cells on the roof, that generate a small charge to run a fan, keeps the interior cool. Not available yet. More…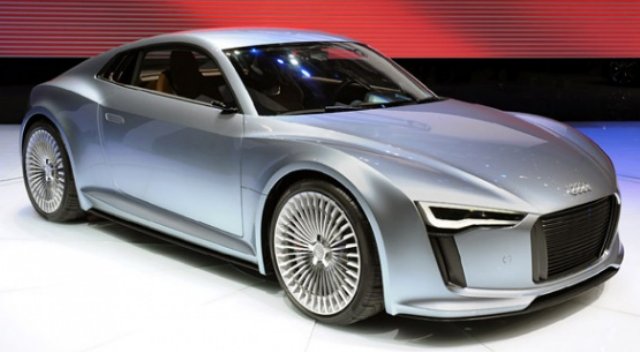 Audi e-tron
A high-performance sports car with a purely electric drive system. The e-tron II has two motors, each turning one rear wheel. An algorithm decides how much power to send to each wheel depending on sensor input, correcting oversteer and understeer during cornering. The two motors driving the wheels, along with the 880-pound lithium ion battery, give the car 204 horsepower getting the e-tron to 60 mph in 5.1 seconds. The 45 kilowatt-hour battery also gives the car a range of 155 miles. The spyder is a convertable. E-tron is Audi's new electric car platform. On the market in 2012,
over $100,000. More…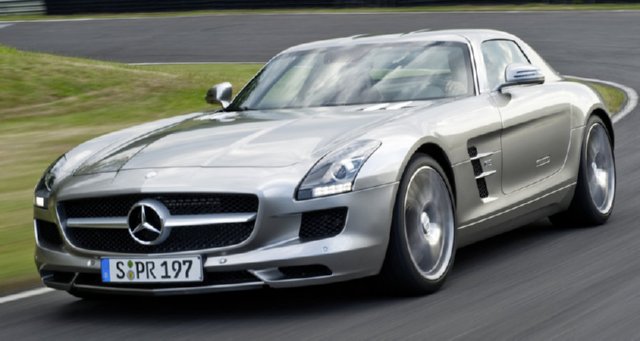 Mercedes-Benz SLS AMG E Cell
Four electric motors placed near the wheels make this Gulfwing a four-wheel drive model. With an equivalent of 526 hp, estimates are a zero to 100 km/h (62mph) time of around 3.7 seconds. The 400-volt, liquid-cooled high-voltage lithium-ion battery pack is rechargeable under braking to keep the cells fed in between charging. Available in 2012. $200,000 plus. More…


Fisker Karma
(the Sunset version is a convertible)
Fisker Automotive's plug-in hybrid luxury sports car. 50-mile (80 km) all-electric range, 125 mph (201 km/h) top speed and 60 mph (97 km/h) from a standstill in 5.8 seconds. A solar paneled roof is an option that not only aids in the recharging of its Lithium-Ion batteries but also aids the cabin climate control system. The solar roof is capable of generating a half kilowatt-hour a day and is estimated to provide up to 4 to 5 miles of additional range a week assuming continuously sunny days. Additionally, the car will offer a set of solar panels for the garage/house which may charge the Karma entirely 'off the grid'. US $95,900 for the basic model, and $109,850 for the top model. Taking orders for delivery Spring, 2011. More…


Ferrari Hy-Kers
Electric Hybrid Prototype. The compact, tri-phase, high-voltage electric motor of the HY-KERS weighs but 40 kgs and is coupled to the rear of the dual-clutch 7-speed F1 transmission. It operates through one of the transmission's two clutches and engages one of the two gearbox primary shafts. Thus power is coupled seamlessly and instantaneously between the electric motor and the V12. The electric motor produces more than 100 hp. When braking the electric drive unit acts as a generator, using the kinetic energy from the negative torque generated to recharge the batteries. Not yet available. More…