The best ear, nose, and throat doctor may not be able to do what a humidifier can. These wonder devices can relieve symptoms of colds, flus, and allergies, as well as skin dryness, chapped lips, sore throats, and difficulty breathing. They diffuse water into the air, making it—you guessed it—more humid! The extra moisture in the air helps your body heal itself.
Get The Capacity You Need
One of the most important features of a humidifier is its capacity. When you go to sleep at night, you'd probably like to know that the unit has the capacity to operate throughout the nighttime, and maintain the level of air moisture you need to stay comfortable.
Consider Automatic Shutoff
When a humidifier runs out of water in its reservoir, you don't want it to keep running, because that can damage the unit. An automatic shutoff becomes a necessity if you plan to run your humidifier all night while you sleep.
How Much Noise Can You Stand?
Some people have difficulty sleeping when there's a persistent noise in the room, so noiseless operation would become a very desirable quality for these users. Even if the unit diffuses mist efficiently to help you sleep better, it won't do much good if it's a noisy unit that keeps you awake by the sound it makes.
The Best Cool Mist Humidifiers On Amazon
Ultrasonic Cool Mist Humidifier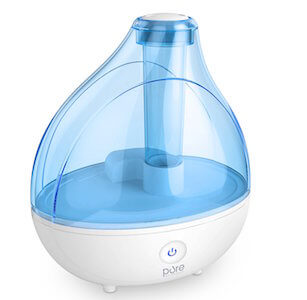 Estimated Price: $50
The Ultrasonic Cool Mist Humidifier provides up to 16 hours of continuous air moisturizing to help you breathe easier and be more comfortable.
It has a 1.5 liter capacity tank and a control nozzle which rotates a full 360 degrees for easy directional misting.
Safety features include an automatic shutoff when tank is low, and a night light to help relax you for bedtime and provide a useful light source.
---
URPOWER 2nd Version Essential Oil Diffuser
Estimated Price: $20
A second-generation model, the URPOWER 2nd Version Essential Oil Diffuser produces considerably more mist than the original model, and is even better at helping you avoid skin dryness and chapped lips.
Adding a drop of oil will enhance the air freshness of whatever room it's stationed in, and the 7 color-changing lamps impart a soft, appealing glow.
It comes with a night light, and has programmable on and off cycles for controlled operation.
---
VicTsing 300ml Cool Mist Humidifier
Estimated Price: $30
The large capacity of the VicTsing 300ml Cool Mist Humidifier allows it to run continuously for up to 10 hours, and its unique wood-grain exterior makes it an attractive addition to any room.
Super quiet in operation, this model can diffuse either water for air moisturizing, or essential oils to bring freshness and a desirable fragrance to the room of your choice.
---
TaoTronics Cool Mist Humidifier
Estimated Price: $65
An easy-to-read LED display and a microporous filter cartridge help to distinguish the TaoTronics Cool Mist Humidifier from the competition.
With this feature, all impurities in the water tank are trapped in the filter, so they won't be released into breathing air.
It has ultra-high capacity, holding a gallon of water, and this permits as much as 15 hours of continuous operation.
It's almost silent during operation, and it has a 360-degree nozzle for controlling the misting direction.
---
Travel Humidifier Stick
Estimated Price: $20
Portable operation is the hallmark of the Travel Humidifier Stick, providing moisturizing service when you're on the go and don't have access to an electrical outlet.
Its simple operation requires only a water-filled glass or bottle, insertion of the humidifier stick, and connection to a USB power source.
The stick length is adjustable to fit the size of the cup or bottle that you're using.
This is the perfect way to solve your humidifying needs when you can't be at home.