Ever wonder about the differences between cabbage vs. lettuce? Which is more nutritional? Tastier? Easier to grow? Easier to store? In this cabbage vs. lettuce debate, you no longer need to wonder.
Cabbage Vs Lettuce: Varieties
Richard W. VanVranken, of the Rutgers Cooperative Extension in Atlantic City, NJ notes that there are many types of lettuces and cabbages. Nearly all come in either green, red, or variegated colors.
Epicurious.com categorizes lettuces into four types:
Butterhead – round, but the leaves are looser and have a smoother texture (Boston, butter, bibb)
Crisphead – round head is composed of tightly packed leaves (iceberg)
Romaine – elongated leaves, thick white rib (romaine)
Looseleaf – loosely gathered, growing as a rosette, enabling the grower to just remove the leaves rather than harvest the entire plant (oak-leaf)
Other greens commonly believed to be lettuces, but are not, include chicories, spinach, watercress, garden cress, and dandelion greens.
As for cabbages, they also come in a variety of types:
Common green
Common red
Savoy heads
Asian cabbages (Napa/Chinese, Bok Choy)
A variety of loose leaf types — generally called mustards
Cabbage Vs. Lettuce: Nutritional Value
When it comes to nutrition, both cabbage and lettuce have a lot going for them. However, according to VanVranken, there are a few differences. VanVranken says, "Both have lots of phytonutrients, but cabbages have a little more fiber and a higher content of major vitamins and minerals than lettuces."
And if you've ever heard that the darker the leaves, the more nutrient-rich the lettuce, that's true according to EatRight.org. They add that "romaine has seven times more vitamin A and C than iceberg lettuce."
Freshness Counts
Like all vegetables, cabbage and lettuce begin to lose their nutrients as soon as they're harvested. "Nutrient degradation starts to occur in your typical head of lettuce as soon as it's cut from its roots," notes Pete Overgaag of Pete's Living Greens.
Overgaag is excited about his new "living" lettuces that come with roots still attached. You may have seen them in clear, clamshell packaging in produce sections. Overgaag says living greens are more nutrient-dense and can remain up to 18 days in the fridge, lasting longer than the 3-5 day lifespan of your typical head of lettuce. He says living lettuces are better able to hold onto their vitamin and mineral counts since the roots maintain freshness longer.
Cabbage Vs. Lettuce: Texture And Taste
One of the most obvious differences in the cabbage vs. lettuce debate is texture. Then comes taste.
Alice Waters, a groundbreaking chef, built her career on lettuce. In Chez Panisse Vegetables she wrote that her most cherished goal was to offer guests a plain garden salad tossed with a simple oil and vinegar dressing. It was the early 1970s and it seemed "almost impossible." Then came the 1980s with lettuces that were too tough, strong, or overpowered by spicy tones.
Nowadays, lettuces come in all textures and flavors. Waters still has her favorites:
Almost no crispheads ("too bland"), although some romaines make the cut
Occasionally butterheads
Mostly loose-leaf which she calls "delicious," favoring variously colored oak-leaf lettuce.
However, her guiding principle is follow the seasons:
Early spring — loose-leaf lettuces
Early summer — dandelion greens
Late Summer — "when they've had more time to develop," she moves to romaine
Fall and Winter — "sturdier, more bitter" chicories
Cabbage: Worthy Of The Most Refined Preparations
"Cooked-well, cabbage has a wonderful texture and lots of spicy, sweet flavor," write Alice Waters in Chez Panisse Vegetables. Waters defends the much-maligned food calling it "worthy of the most refined preparations."
So why the bum deal? Waters suggests that cabbage's availability in winter when fewer vegetables can be found and its ability to be grown almost anywhere gives it a reputation as a coarse, commonplace food. She begs to differ, noting:
Cabbage's sweetness complements the richest of foods
It's surprisingly good wrapped around fish, used as a steamer
Fermented as sauerkraut, it's "a new vegetable altogether"
It's "a treat by itself" when braised, steamed, or stir-fried
When eaten raw, cabbage has a sweet, spicy flavor and crunchy texture. Good Mood Kitchen Cookbook author Leslie Korn, notes that cabbage's thicker, crunchier texture and stronger flavor are a result of fiber and sulfur compounds in the leaves.
Those of us who enjoy raw cabbage, might say: but what to do about the, um, gas? Korn notes that the gas caused by eating detoxifying sulfur-rich cabbage is normal and actually a sign of good health; nourishing those incessantly hungry "psychobiotic" bacteria makes your brain happy and relaxed. To reduce some of the gas, consider adding gas-reducing spices like fennel and black pepper.
Cabbage Vs. Lettuce: Keeping And Storing
In general, cabbage tends to last longer than lettuce, because lettuce contains much more water. Cabbage, when stored correctly in the fridge, can last up to two months. Of course, the flavor is better when it's cooked and consumed fresh.
Lettuce, on the other hand, has a matter of a few days usually before it turns into a smelly mess in your fridge. Again, when stored correctly, your lettuce has more of a fighting chance.
Storing For The Best Results
Waters suggests the following gentle storage method for lettuces:
Wash leaves in cold water to "perk them up" in hot weather
Drain and dry in small batches
Refrigerate clean leaves, layer between towels in an airtight container or plastic bag
If needed, use a knife (not your hands) to trim imperfections or remove leaves from a head
For cabbages she suggests:
Look for cabbages that are tight, firm, and heavy for their type
Look for cabbages with shiny crisp outer leaves
Remove loose or wilted leaves
Rinse in water to remove any dirt
Refrigerate
Cabbage Vs. Lettuce: Growing Differences
In terms of growing, VanVranken notes that lettuce requires cooler temperatures to mature than cabbage. As a result, local production seasons for lettuce come a little bit earlier in the spring and later in the fall.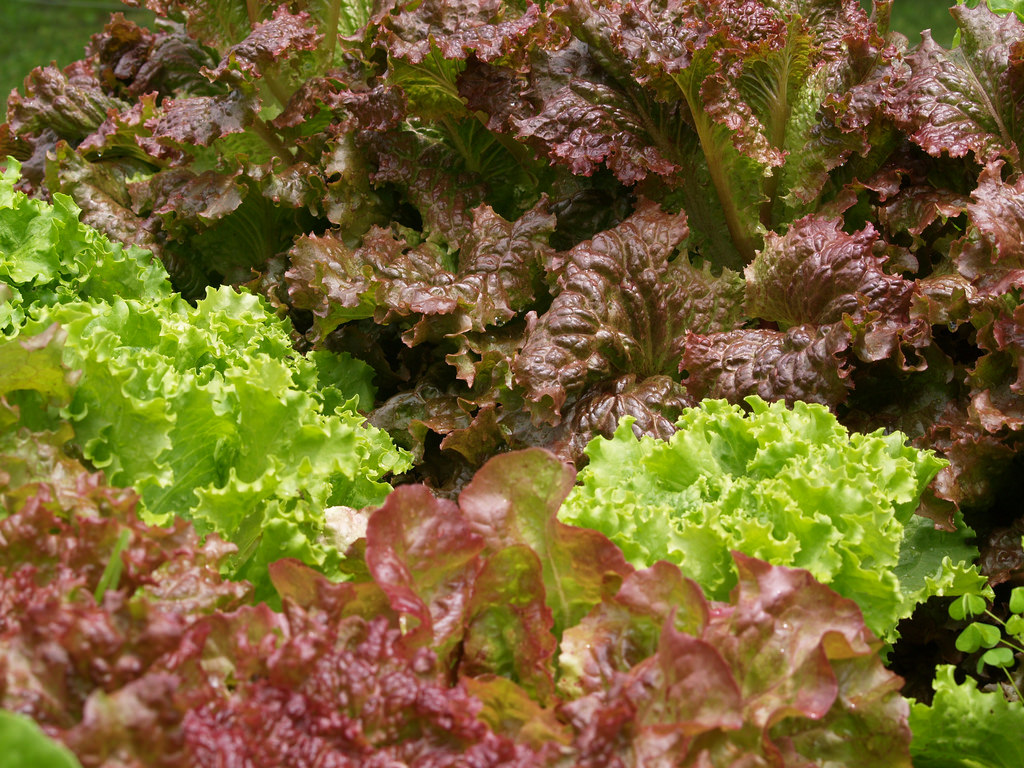 Since cabbage can take a little more heat, but not the peak temps of summer, they too are typically grown in spring and fall, just a little later in spring and earlier in fall.
Growing Lettuce
Chef Marcus Mueller notes that lettuce is very quick-growing and does best in loose, sandy conditions. While lettuce needs at least 6 hours of sun a day, lettuce generally does well in shady conditions. Too much sun will dry out the lettuce, causing it to bolt and go to seed.
Therefore, it is important to keep lettuce rows well-watered and protected from the sun either by a high growing plant such as cucumbers or covering with a cloth-like mesh. Lettuce grows fastest in warm weather but tolerates cool temperatures quite well, especially if grown in a cold frame or greenhouse. This makes lettuce a great year-round vegetable.
Growing Cabbage
Mueller notes that cabbage can be grown in almost any type of soil, as long as it is not too acidic. It does best in cool weather, yet requires a fair amount of sunshine and therefore is usually grown as a late summer and fall crop. Cabbage is a heavy feeder and requires a good amount of fertilizer and water to do well.
Cabbage vs. Lettuce: Recipes
No discussion of lettuce is complete without a nod to salads. As Marcus Samuelsson once said, "Salad can get a bad rap. People think of bland and watery iceberg lettuce, but in fact, salads are an art form, from the simplest rendition to a colorful kitchen-sink approach." We couldn't agree more. Add to that the advent of salad restaurants (Sweetgreen, Tossed) as well as cookbooks dedicated to the ish (Salade), and the humble salad has finally risen to the status it deserves.
Lettuce: More Than Salad
That said, lettuce is for so much more than salad! For non-salad recipes try romaine lettuce which is among the most nutritious lettuces.
Romaine is excellent in smoothies, and as lettuce wraps and un-wiches. If you're looking for ideas, check out 8 tasty non-salad lettuce recipes.
Cabbage: Raw Or Not?
When eaten raw, cabbage is sweet, spicy, and crunchy. This constellation makes cabbage perfect for raw slaws and salads. There are too many recipes to list here, but some favorite recipes include Asian slaw and Sweet and Tangy Herbed Cabbage Salad.
If raw cabbage is too gassy for you, Korn suggests fermenting or steaming. Fermented cabbage, a.k.a. sauerkraut, is high in nutrients and probiotics. Terrific for both intestinal and brain health, there are many easy and inexpensive recipes for making sauerkraut including this sweet and briny sauerkraut recipe from Vibrant Wellness Journal.