High fat is a term that often scares people away, I know. We've been told for decades that fat is bad for us, and because of ad campaigns and flawed science, there is a fundamental misunderstanding that leads us to believe fatty foods means fat on the body – but this is just not true.
Science now shows that fats from whole food sources (nuts, seeds, avocados, olives, coconut and more) are quite good for us, and it's actually processed carbs and sugars that are one of the major culprits when it comes to weight gain.
Over the past few years, I found that switching out my carb-heavy morning oatmeal or toast for high fat, high protein chia pudding (see my recipes below) kept me fuller longer and kept my energy levels high during the day. I also make an effort to include fats and protein at each meal. This has led to more balanced energy throughout the day, even through the dreaded afternoon slump (most of the time!).
During the late afternoon slump, many of us reach for sugar or caffeine (or both!). But these stimulants offer a quick boost and don't do anything to supply your adrenal glands with the energy you need to get through the afternoon.
Snacks that contain protein, fat and fiber (found in all plant foods) break down slower in your body, keeping your blood sugar steady for longer periods and keeping your energy levels up, unlike quick carbs like bread and oatmeal that can burn off quickly and leave you hungry, or worse, with a blood sugar crash that drains your energy. Sarah Britton of My New Roots has a great discussion of why adding more fats and protein into your diet can deeply affect our hormone levels, which play a big role in energy levels too.
I have found that increasing my fat intake throughout the day in the form of healthy snacks can make the most difference. So whether it's a late-morning snack to hold you over until lunch or a late-afternoon slump-buster, these 10 sweet, high-protein vegan snacks and 10 savory, high-protein vegan snacks can really help you feel your best and power you through the rest of the day and night.
10 Sweet High Protein Vegan Snacks
1. Smoothie Bowls
The trick to smoothies and smoothie bowls is – as you might imagine from the info above – fat and protein. Fruits are the easiest way to make your smoothie taste delicious, but that boost of quick sugars might leave you crashing after.
Be sure to include some greens (spinach, kale, greens powders) and lots of protein into your smoothie bowls to make the energy last longer. Protein additions can include nut butters, high-fat fruit like açai or avocado, ground flax or chia (don't go overboard or you'll have a cement-like smoothie!), protein powders and using a base of high-protein, plant-based milk instead of juice.
2. Chia Pudding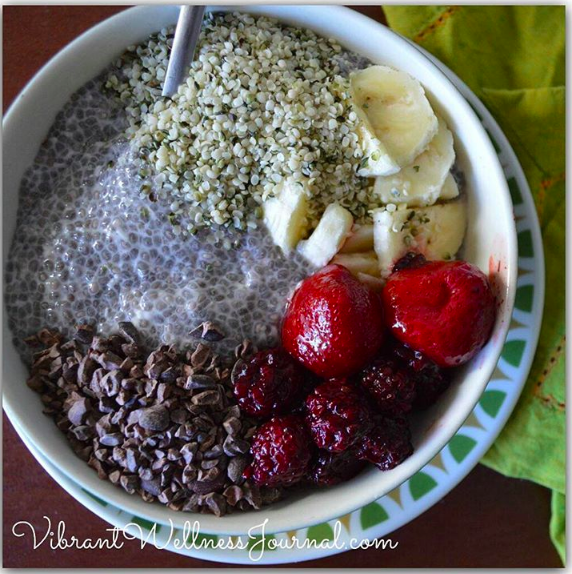 Chia pudding is my go-to breakfast and sometimes afternoon snack too. Chia seeds – though tiny – are nutrition powerhouses, full of fat, protein, fiber, calcium, magnesium and iron. I like to make a large batch a few times a week and then just scoop out what I need. And I make my chia bowls super awesome with some fresh or frozen fruit, cacao nibs, hemp seeds, and coconut milk or coconut yogurt, all of which adds flavor and more fat.
3. Nuts And Seeds (Trail Mix)
I keep a bag of plain nuts, seeds and dried fruit with me at all times. Really, it lives in my backpack every day! Whether I get stuck at an event with no vegan options or just have a few more hours of work before I get to eat a proper meal, nuts and seeds are the easiest option for a quick snack.
I opt for more nuts (walnuts are my current favorite) and seeds (roasted sunflowers for the win) and just a few pieces of fruit. Currently, I'm enjoying dried cherries in my mix, but raisins, prunes, plums and apricots all work well too. Sometimes just a handful is all you need to give your grumbling stomach a bit of a break and ward off a 'hangary' afternoon.
4. Homemade Bars
If you have some time to whip up some bars at home, there are lots of options. Many commercial brands are made with processed carbs and sugar, but when making at home you have the opportunity to boost the protein, fat, and fiber content to make sure your bars serve you well. I really love these Hemp Protein Bars, made with hemp protein and pumpkin seeds. When I don't have time to prep homemade bars, I like KIND bars and Health Warrior Chia Bars, both of which are high-protein, low-sugar options.
5. Nut Butter Packets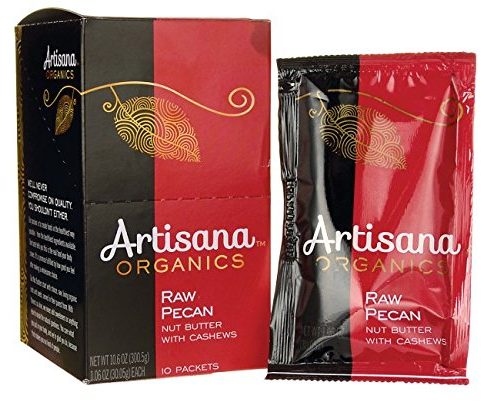 Another way to get quick fats and protein into my body are those little nut butter packets that are now so widely available. These are imperative for vegan backpacking trips, but I also find them great for a super simple snack at the office or while on the airplane. I like Artisana brand, but Justin's are much less expensive and more widely available.
6. High-Protein Balls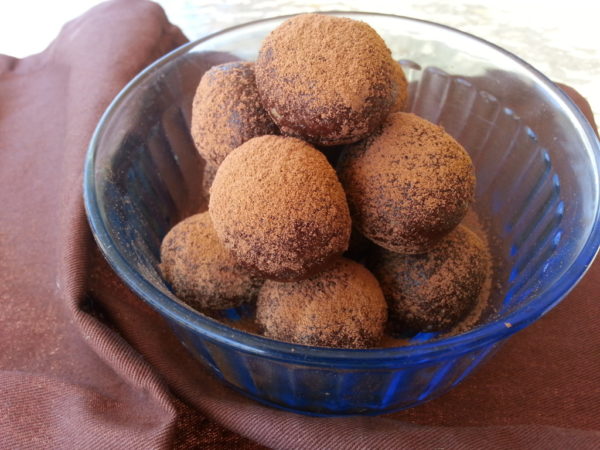 Another homemade option, these high-protein energy balls are totally worth the time it takes to whip them up. Use whatever nuts you have on hand, along with some protein powder to make these rich, chocolatey balls. I like to crumble them atop chopped fruits or just eat out of hand. Perfect for a sweet afternoon treat that won't ruin your night.
7. Vegan Yogurt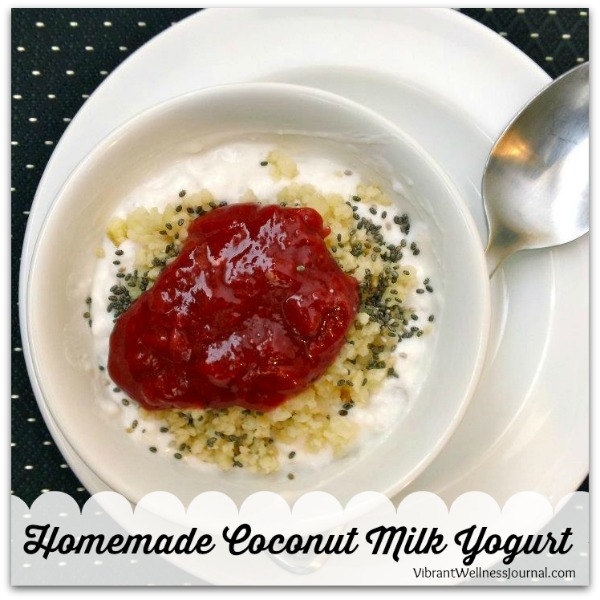 There are lots of vegan yogurt options out there, and many of them are quite high in plant-based protein. Be sure to read the labels to ensure there is no sugar and a good amount of protein. Many commercial brands are loaded with sugar and lacking much else. But if you find the right brand (I like Kite Hill unsweetened) or make your own vegan yogurt, it can be paired with some fruit, granola (like the high-protein granola below), blended into smoothies or – of course – eaten as is.
8. Protein Powder Brownies
Sometimes you want your snacks to taste like health food… and sometimes you just want brownies. I loved this recipe from Chocolate Covered Katie using protein powder, peanut butter and just a handful of other ingredients to make a sweet yet protein-rich brownie bar.
9. Quick Protein Shake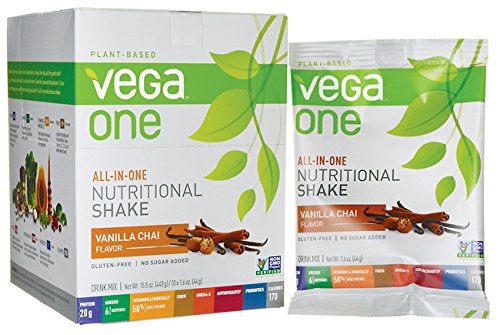 I listed this separately from smoothies because there are so many great options now for quick smoothie mixes that just need water and a jar to mix it. I like Vega chocolate nutritional powder, which is super sweet (with stevia), but makes a lovely late afternoon sweet treat. Amazing Grass Amazing Meals are also quite yummy and have the added boost of enzymes and probiotics.
10. High-Protein Granola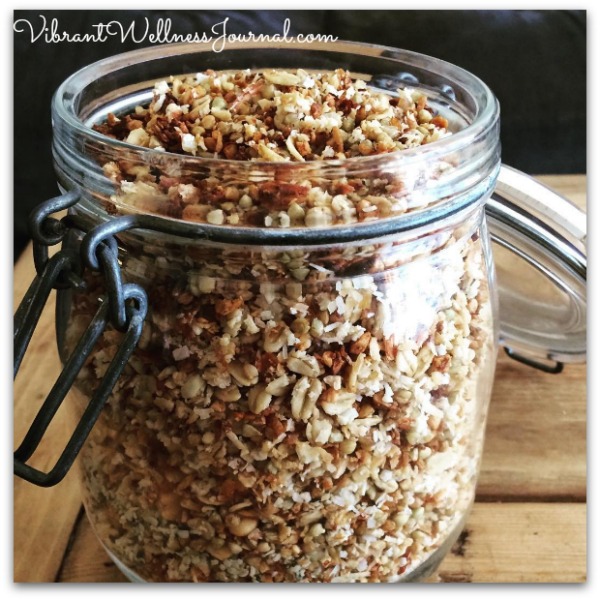 Granola is usually made with heaps of sugar and oils, but this high-protein granola alternative uses leftover almond pulp from homemade almond milk along with gluten-free, high-protein buckwheat for a much healthier alternative to store-bought granolas.
Savory High Protein Vegan Snacks
1. Baked Or Roasted Chickpeas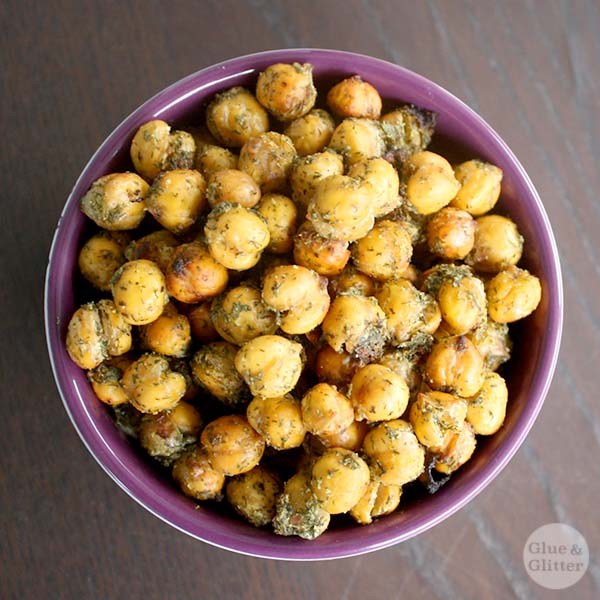 Legume-based snacks are one of the best trends I've seen pop up in recent years. I love our local brand Chic Naturals, based in Maui, but if you're not on the islands, make your own like these Vegan Ranch Roasted Chickpeas from my friend Becky. Just a few easy ingredients go into making these yummies, and you'll have a quick, protein-rich snack to eat out of hand or to include atop salads.
2. Salad In A Jar
You'll need a fork for this snack, but it's quick and easy and can keep your belly happy for in-between meals. Be sure to include veggies, dressing and some high-protein options like quinoa, nuts or seeds. I like this easy tutorial from Oh She Glows. Bonus points because it's super cute and ready for Insta.
3. Socca (Chickpea Flour Flatbread)
Socca is a traditional Italian flatbread made with high-protein, gluten-free chickpea (besan) flour. It's just a few ingredients and comes together quickly. I like to serve with a light tomato-based dip, but it can also be seasoned on its own for built-in flavor. Try adding caramelized onions, leeks or roasted veggies to the batter.
4. Flax Crackers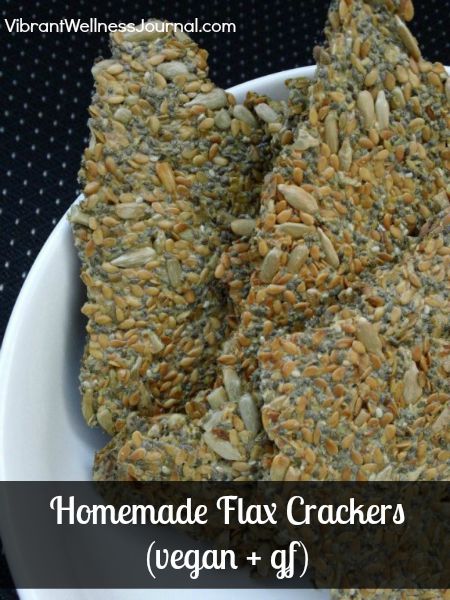 These simple flax crackers can be sweet or savory, and they work as a stand-alone snack or used in dips. They would also be good crumbled over salads or roasted veggies. Flax is high in fat, fiber, and protein, so it's a perfect little snack alone. However, it's paired with chia and sunflower here for a gluten-free, high-pro snack alternative to regular crackers.
Related Post: Healthy Homemade Homestead Snacks
5. Tofu Bites
Tofu is an awesome snack to have around. It's super high in protein and fiber, so if you're in a time crunch, a few slices of pre-made tofu can be your hunger solution. I love this idea for pizza tofu from fried dandelions, which uses a tomato-herb base for a crunchy baked tofu. These would be perfect on their own or with some vegan, ranch dipping sauce.
6. Hummus & Veggies
Hummus is the ultimate vegan snack because of its versatility and deliciousness. It's simple to make, but if you can't find the time, it's easy to find at nearly every store. I like to blend veggies into my hummus for a bonus health benefit, including roasted carrots, zucchini and beets for a hot pink treat.
7. Bean Burgers Or Bites
Homemade or store-bought veggie burgers (or bites) are an awesome snack to have on hand for quick protein boosts. Serve atop a salad or just with a little bit of ketchup if you're in a hurry. I like Hilary's burgers or Amy's, both are made with grains, nuts and seeds and offer a nice little protein boost.
8. Cashew Cheese
Cashew cheese is a lovely way to enjoy the creamy texture of cashews in dippable form. Cadry's Kitchen has a yummy cashew cheese made with jalapeños for a sweet-spicy option. This recipe comes together quickly with just a few ingredients and would be excellent alone or as part of a fancy vegan charioteer plate like she features here.
9. Nut & Seed Bread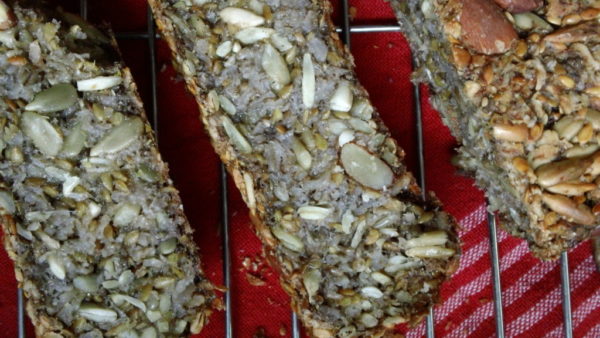 This is one of my all-time favorite recipes: it's easy, super healthy, and is just so dang yummy. This gluten-free bread uses only oats, nuts, seeds, and a few binding ingredients like psyllium husk and chia seeds to turn itself into the heartiest loaf you've ever had.
10. Sweet & Savory Edamame (Green Soybeans)
Edamame are young green soybeans that are infinitely customizable and travel well for hikes or shoving into your bag for a day at the office. I like a sweet-savory combination for my edamame with some sesame oil, agave and soy sauce, but you can play with whatever flavor you love. Naturally high in fiber, fat, and protein, these are almost the world's most perfect snack.