Ideas are cheap, art materials are expensive. One artist didn't get his start until he was able to find plastic bottle caps he could use for free.
The Plastic Bottle Cap Art Of El Anatsui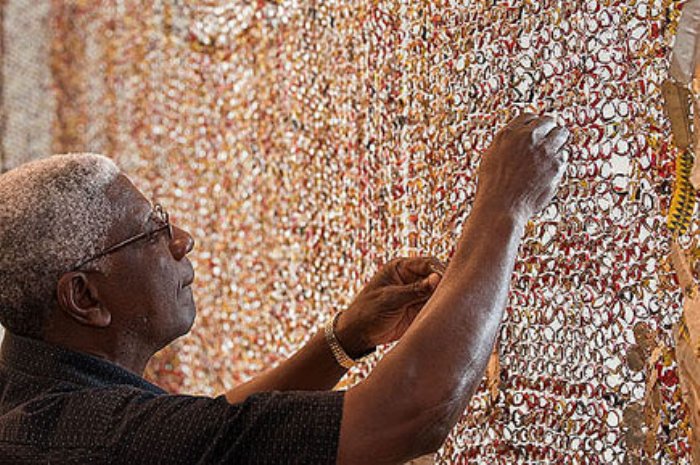 El Anatsui was born in Ghana before its independence in 1957, but since 1975 he has lived in Nsukka, Nigeria where he is a professor of sculpture at the University of Nigeria. Image by Nash Baker. africancolours.com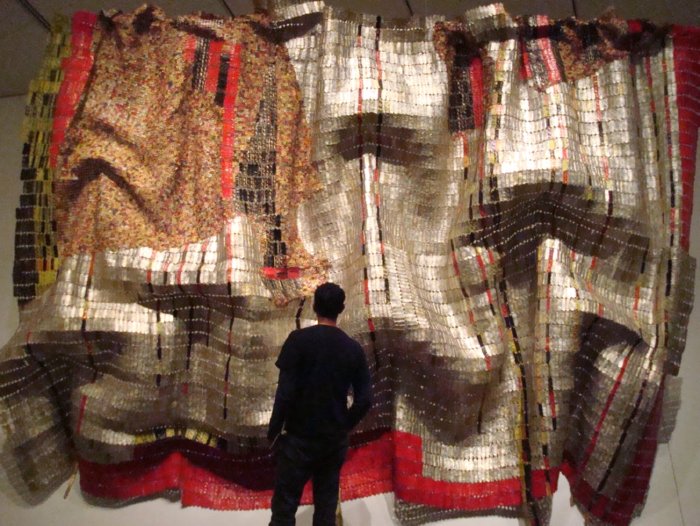 El Anatsui – "Rain Has No Father" colorcreates.blogspot.com
In 1999, the artist happened upon a bag of bottle caps thrown in the bush. He inquired, and found that the local distillery removed the metal caps and seals from used liquor bottles before refilling the containers. And so a steady source ensued.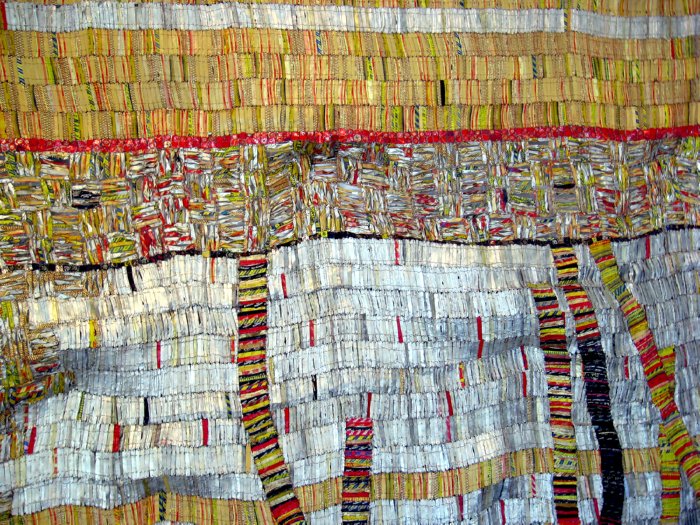 El Anatsui mostly uses aluminum seals from the tops of liquor bottles, but also incorporates flattened or rolled bottle caps as well. All are meticulously wired together.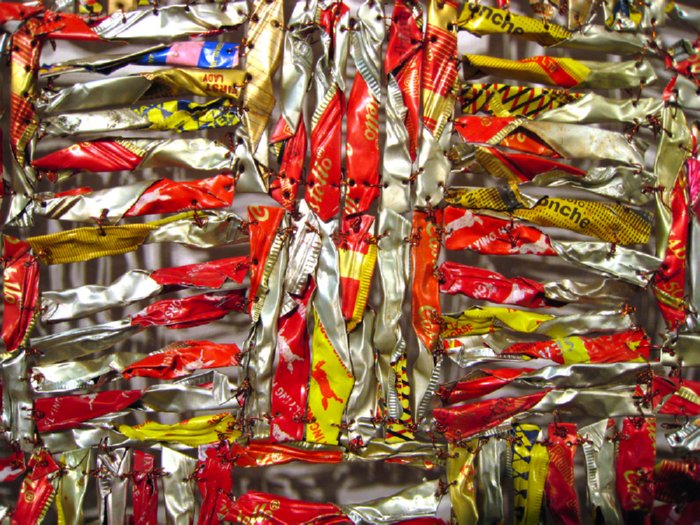 El Anatsui eatdaily.com
With the help of numerous assistants, Anatsui flattens the seals and folds them into strips that are then woven together with copper wire.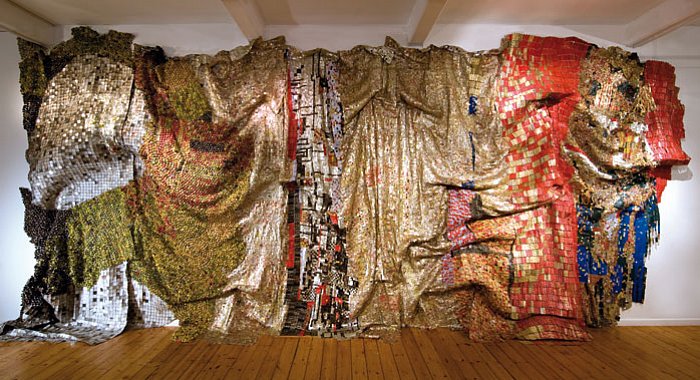 It takes almost two months to finish one sculpture.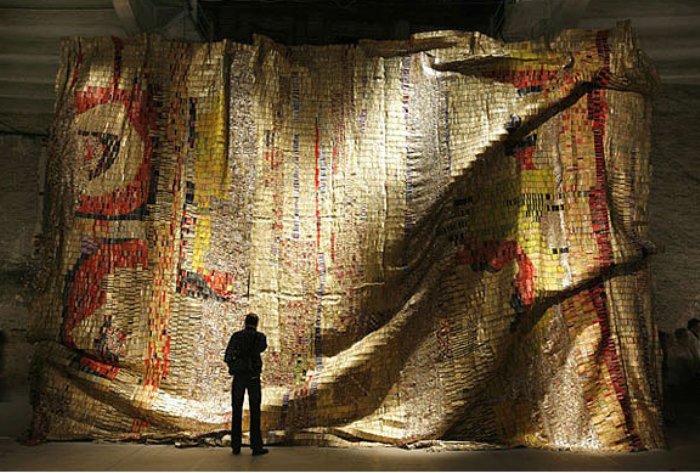 El Anatsui – aumultiples.blogspot.com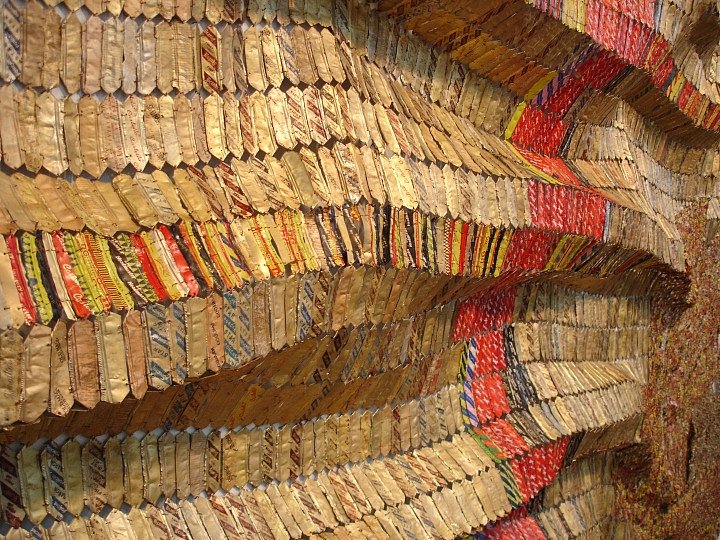 El Anatsui – representingplace.wordpress.com
Thousands of strips of aluminum taken from the seals used on liquor bottles.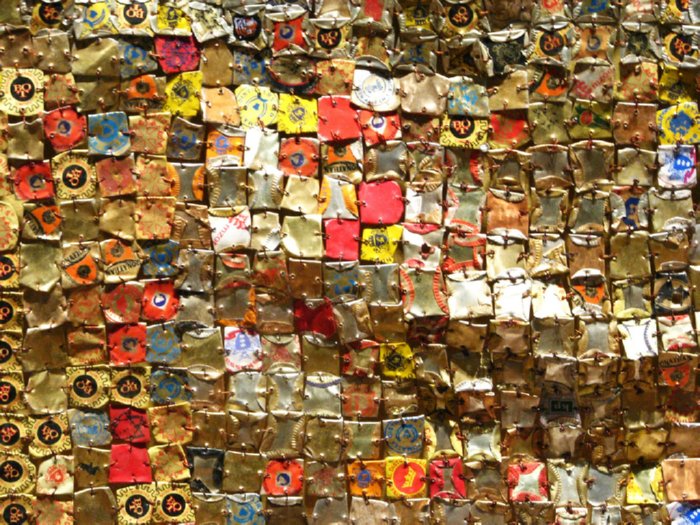 El Anatsui – C-Monster flickr.com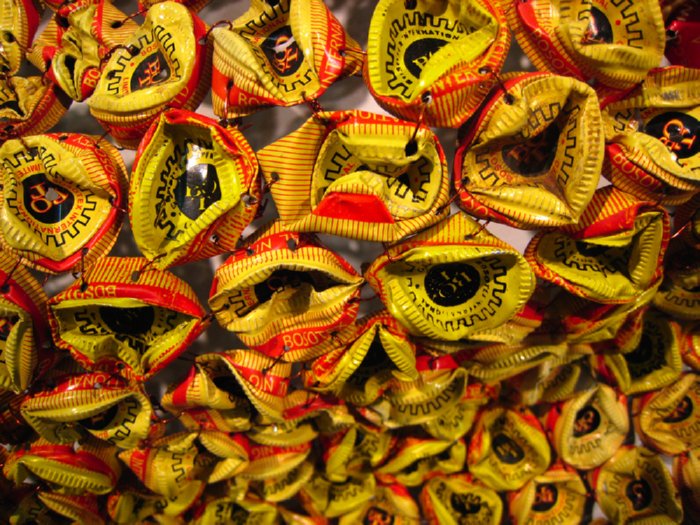 El Anatsui eatdaily.com
El Anatsui: When I Last Wrote to You about Africa, was the artist's first career retrospective. The 2012 exhibition featured some sixty works in wood, metal, ceramic, painting, print and drawing. For a slide show of works in the show: thephoenix.com
More Amazing Plastic Bottle Cap Art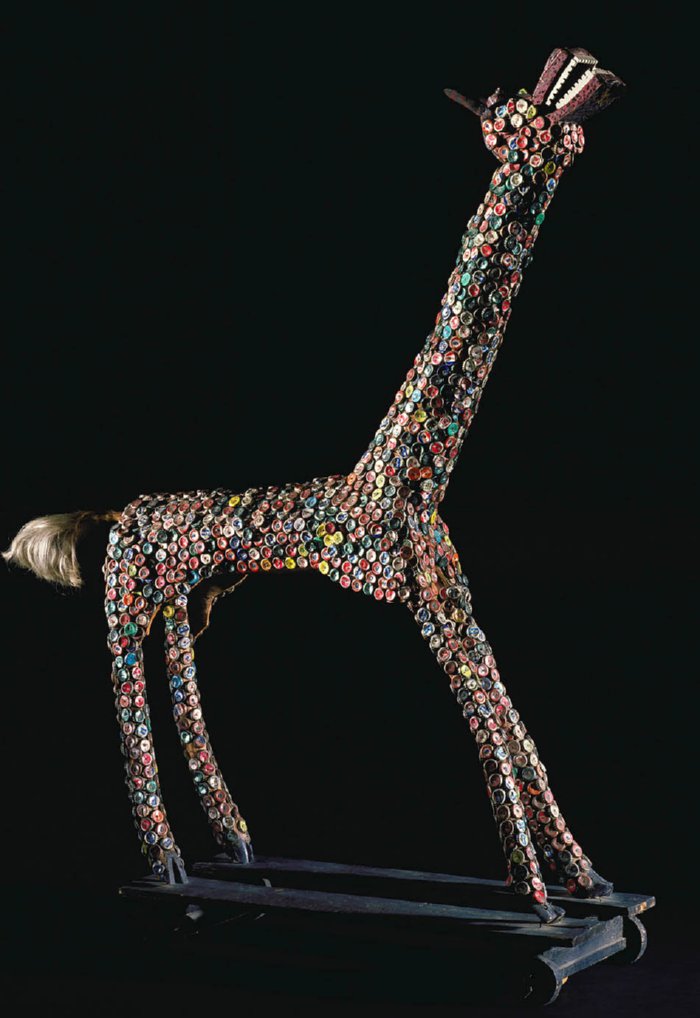 Bottlecap Giraffe – Unidentified, 1966, the Smithsonian – americanart.si.edu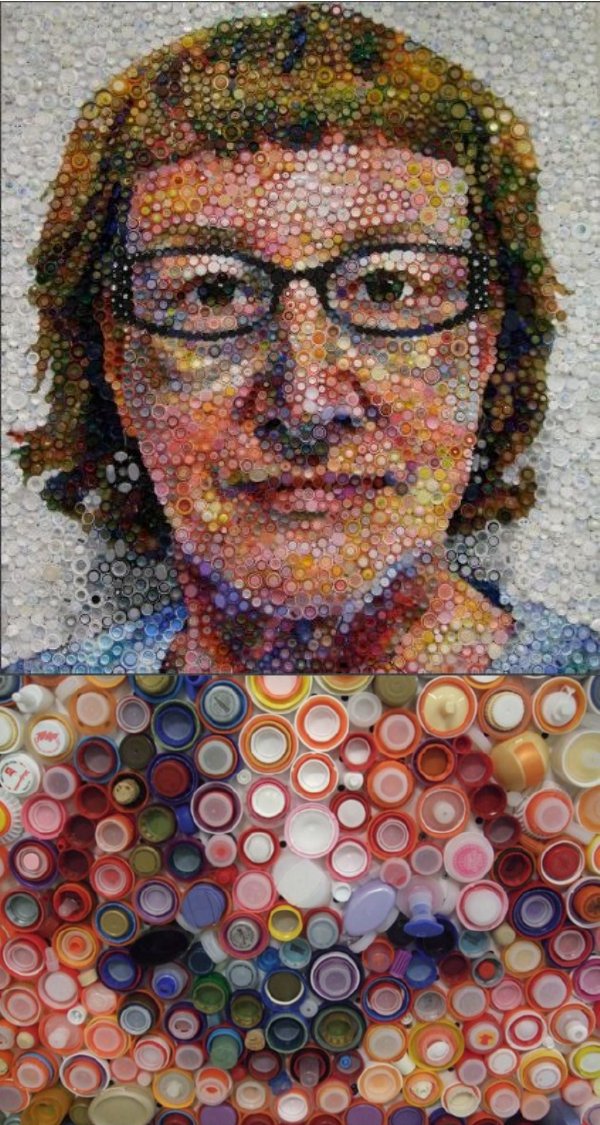 Plastic Bottle Top Portrait by Mary Ellen Croteau www.maryellencroteau.net
Bottom is detail of nose area.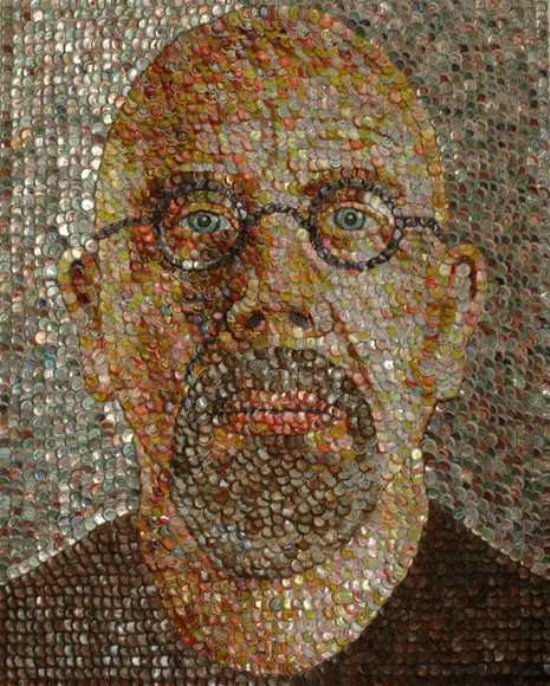 Chuck Close by Molly B. Right mollybright.com
The bottle caps overlap and date from the 30′s to the 70′s. Transparent washes of glaze are often used to further define the image. Most of the portraits are 4′ x 5′ and are on sheet metal.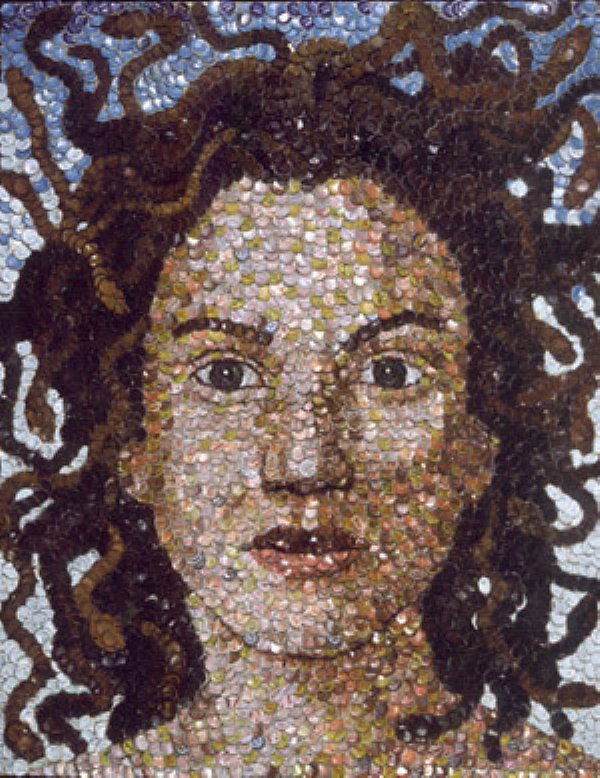 Medusa by Molly B. Right mollybright.com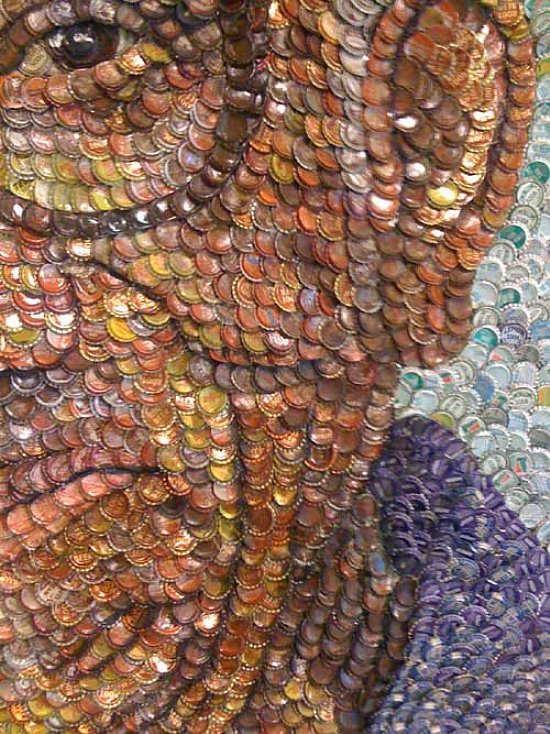 Philip Simmons by Molly B. Right mollybright.com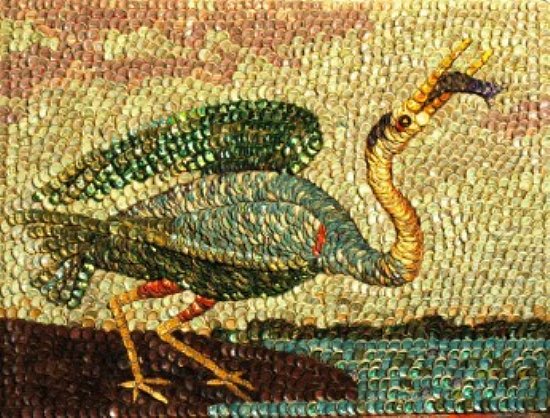 Great Blue Heron – Molly B. Right mollybright.com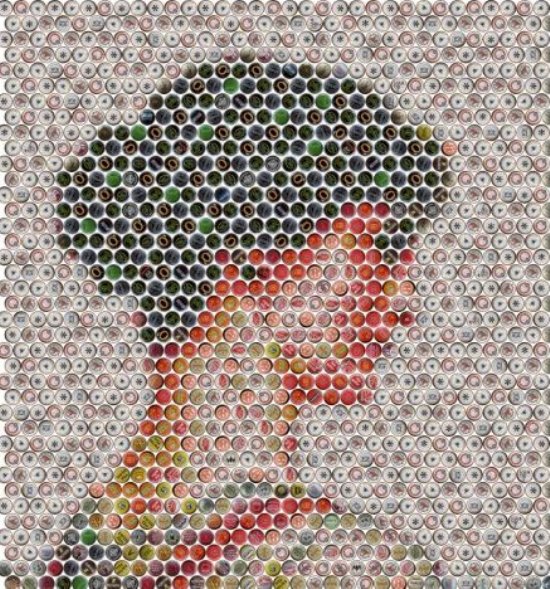 Bottle Cap Mosaic with help – send this company an image of what you would like to create, they will send you back a template, you supply and attach the caps! tilemosaicmaker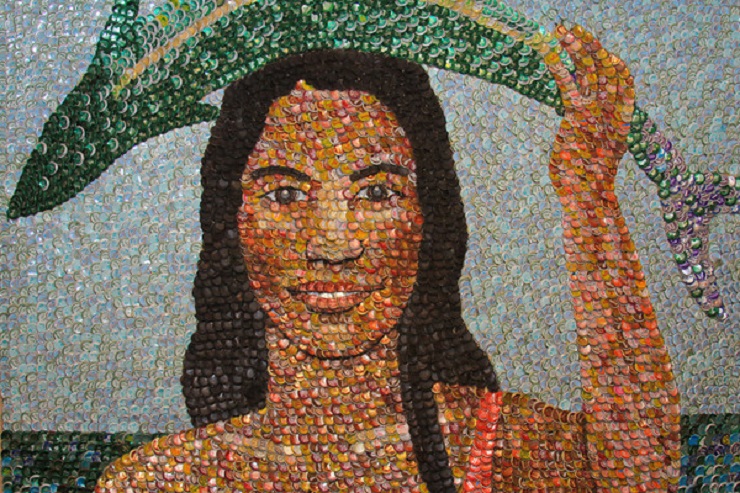 Bottle cap mural at Fish Restaurant, Charleston.
charlestondailyphoto.blogspot.com

Gilbert Whyman – Bottle tops on mesh. anthonywilsonsculptor.blogspot.com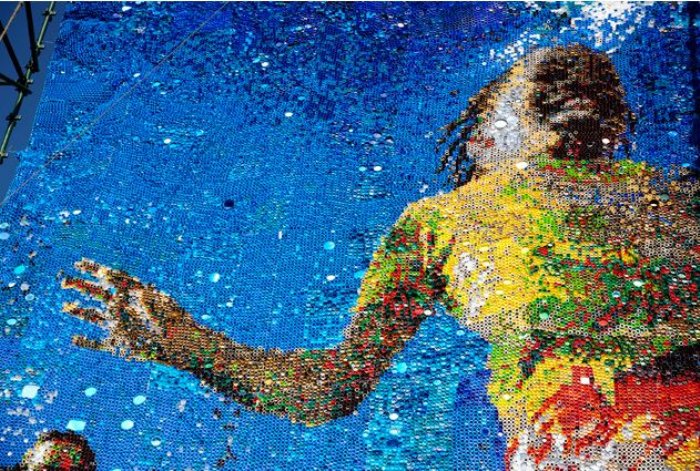 Plastic Bottle Cap Mosaic. A 100m2 mosaic from approximately 90,200 discarded plastic bottle tops. Created for the world cup during 14 June 2010 – 13 July 2010. More pics: suchinitiative.org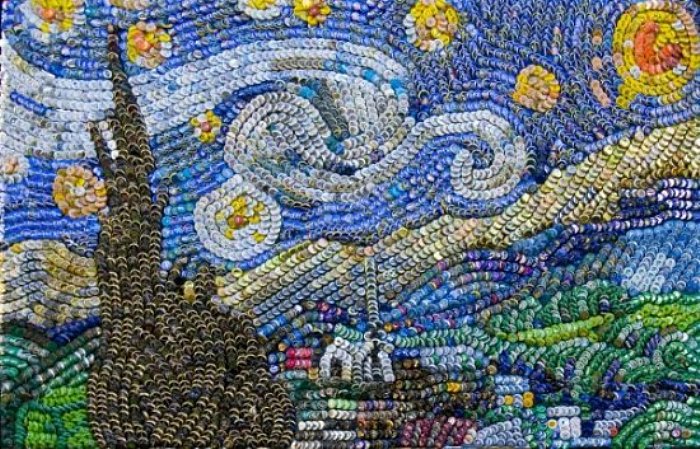 Aaron Buehring – fineartamerica.com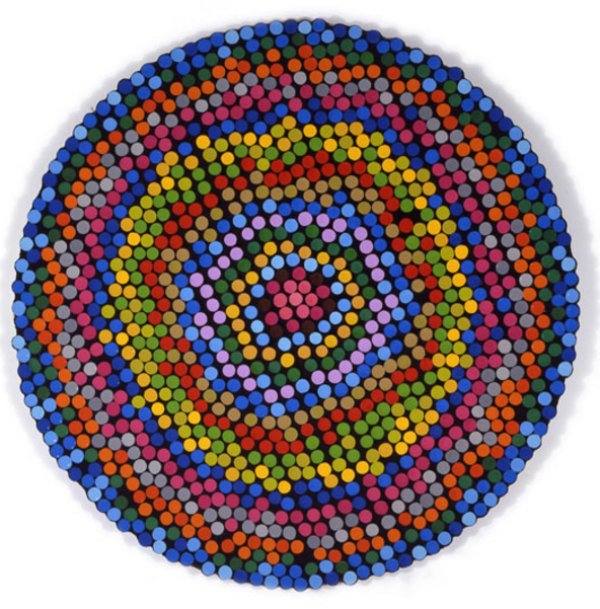 Robert Melee, Enamel, plaster, bottle caps on wood – andrewkreps.com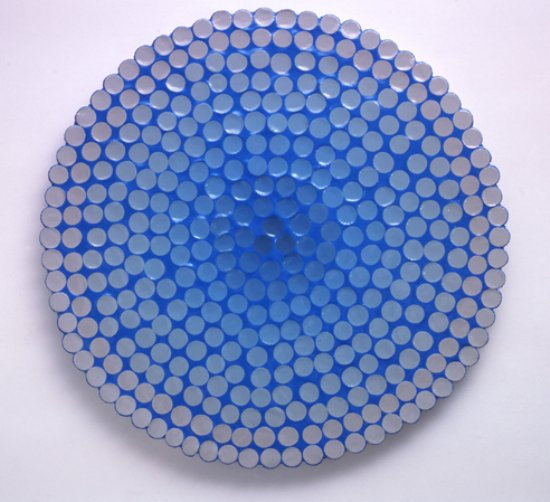 Rick Melee – Redefined Gradual Substitution, 2000 enamel, plaster, beer bottle caps, on wood 25″ diam, 20 X 30 inches edwardwinkleman.com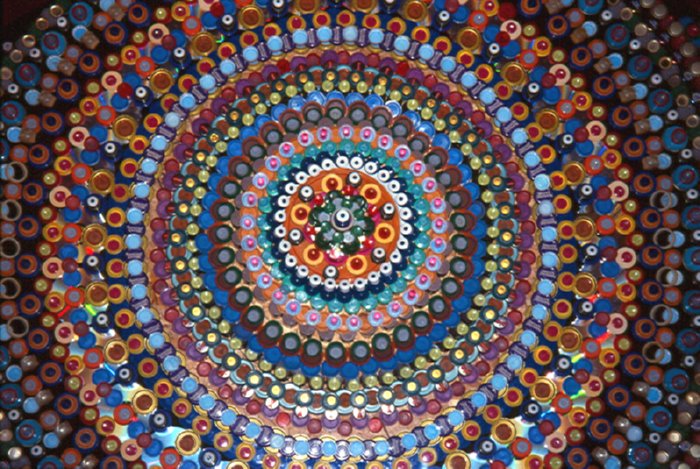 Tom Denninger – tomdeiningerart.com/statistics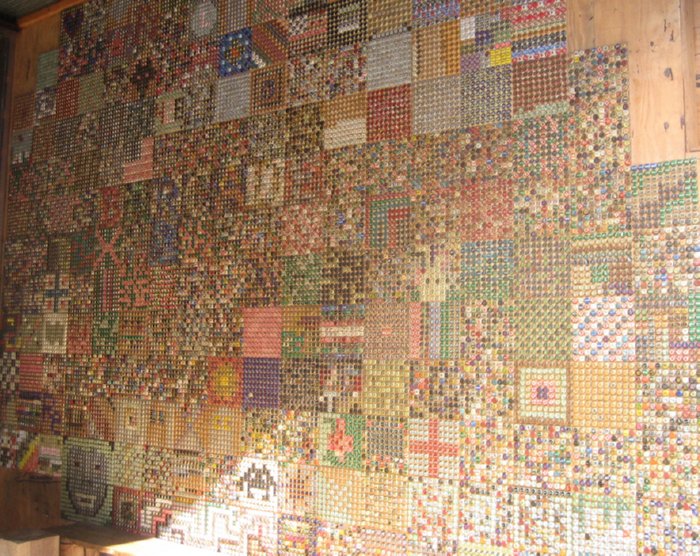 Barcade, Brooklyn, NY pic by Joshua Reid flickr.com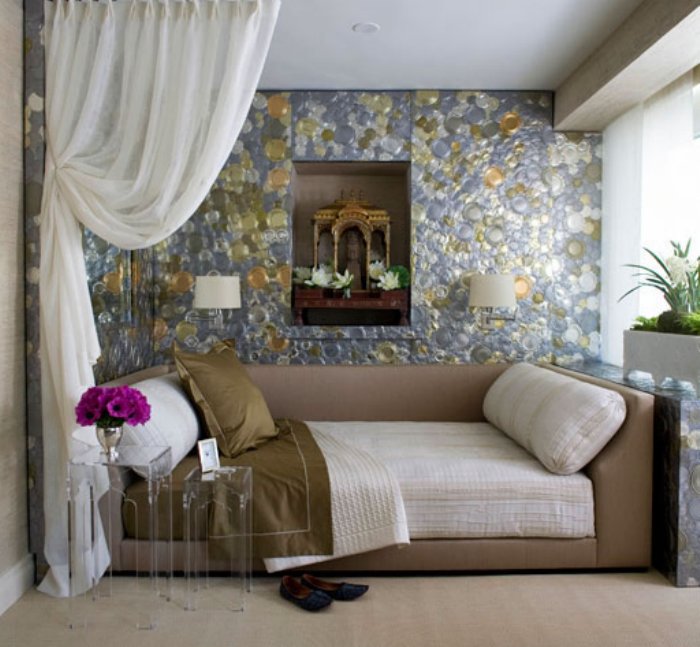 Kipps Bay Decorators' House
Tin can top panelling made by Clare Graham, in area designed by Matthew White
and Frank Webb. nytimes.com   Close up below…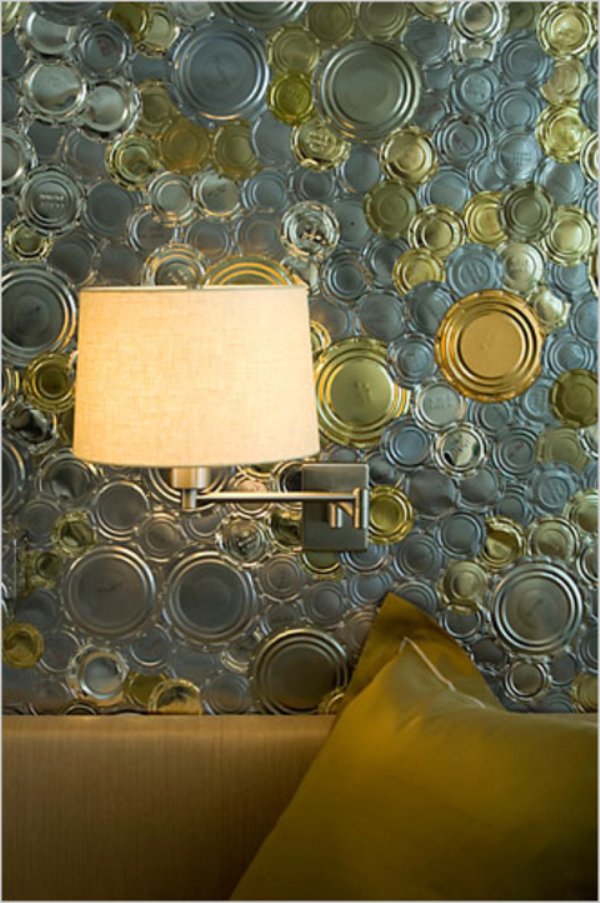 Kipps Bay Decorators' House
Tin can top panelling made by Clare Graham, in area designed by Matthew White and Frank Webb. nytimes.com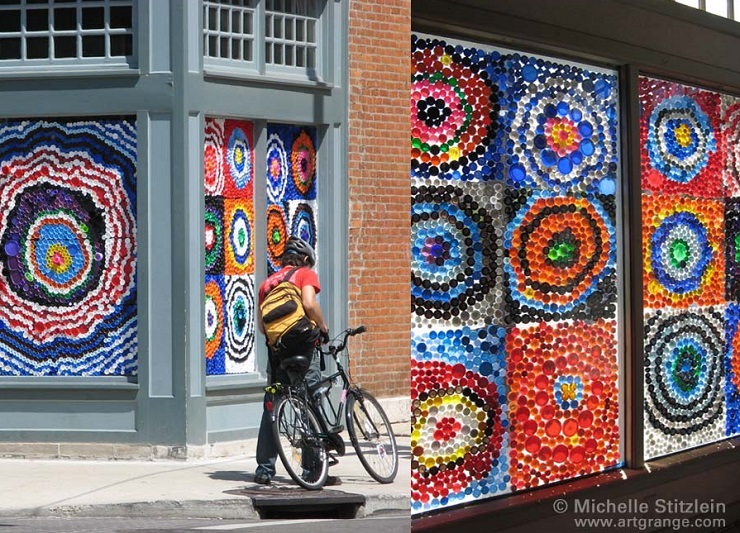 Bottle cap windows in Columbus, Ohio
and how to plastic bottle cap crafts book: artgrange.com
© Michelle Stitzlein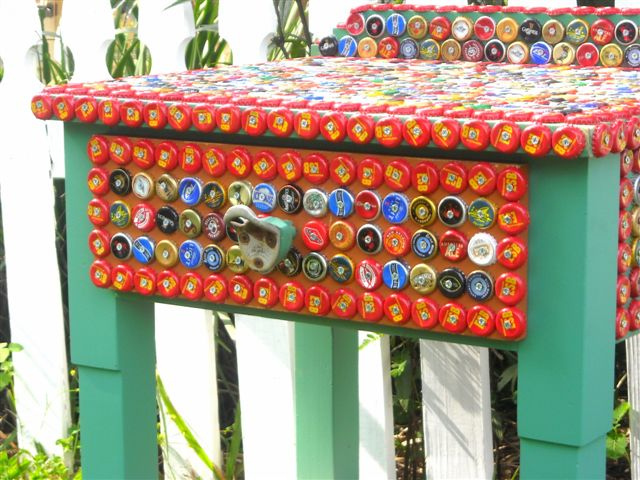 Bottle Cap Table

Bottle Cap Backsplash
travelobsession.wordpress.com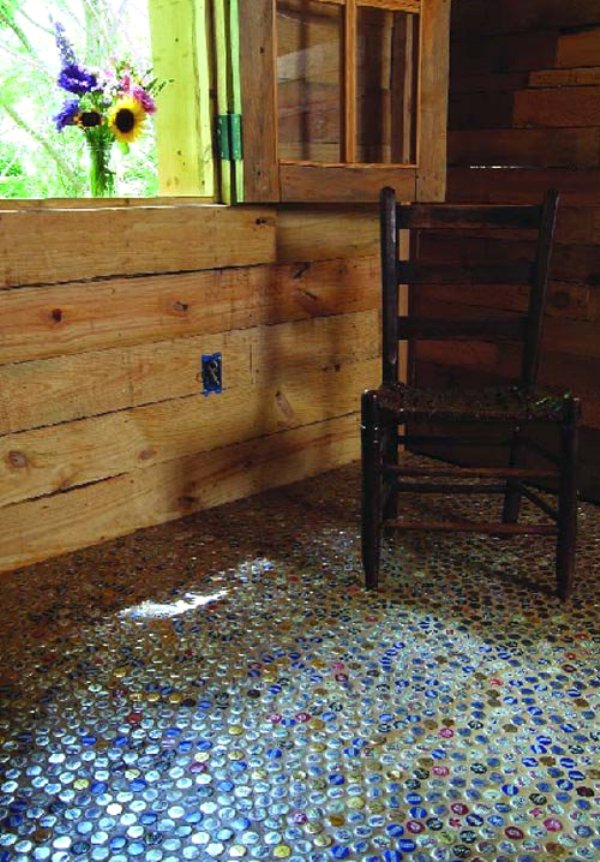 Phoenix Commotion Home.
Beer bottle cap floor. Image by Miro Dvorscak.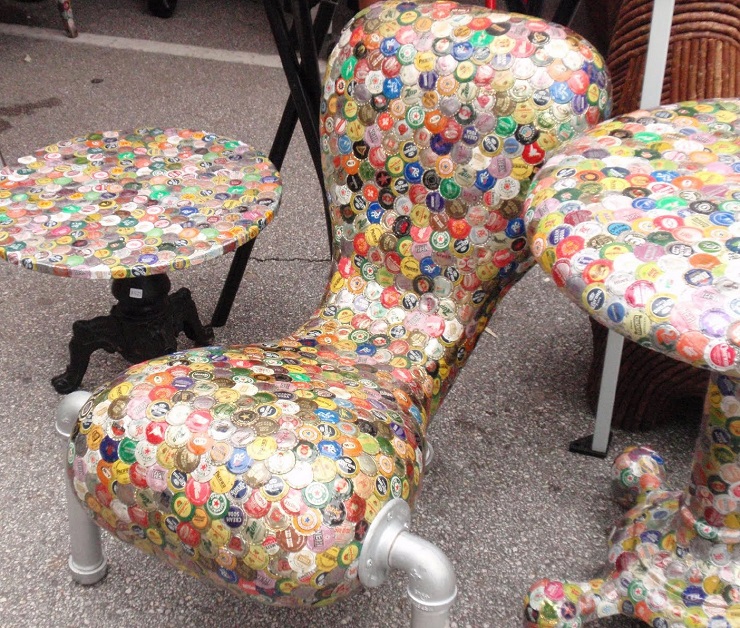 Flattened Bottle Cap Chair and Table.
tes.com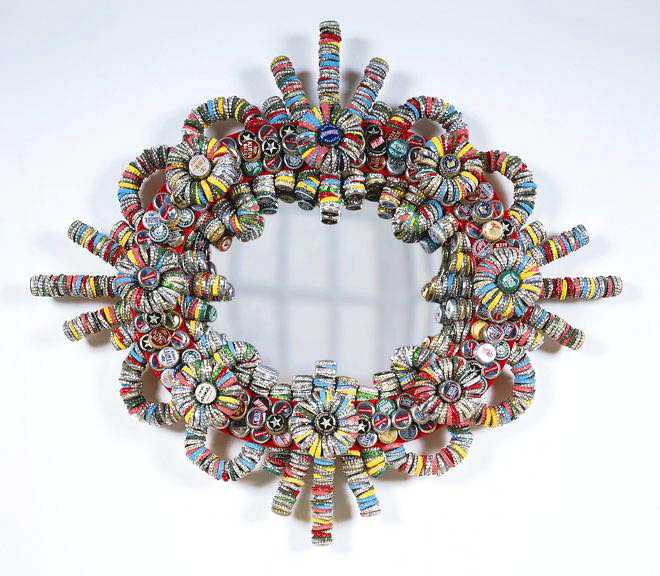 Rick Ladd – motley-focus.com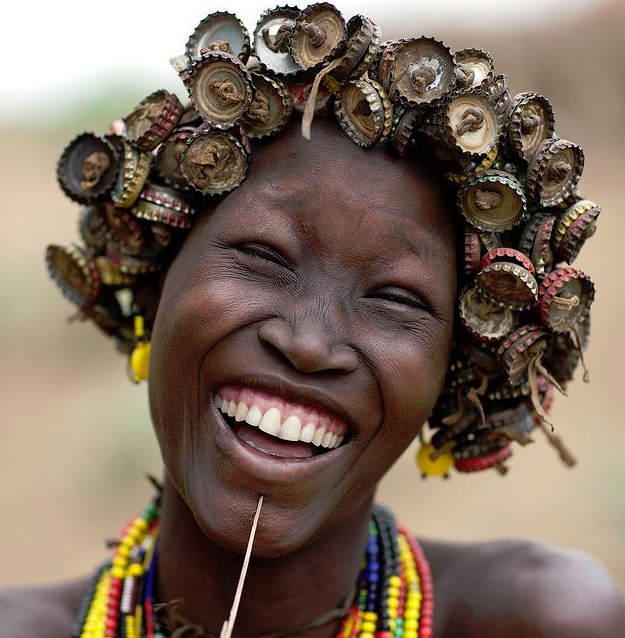 Bottle cap do.
Photo by Eric Lafforgue.
ericlafforgue.com