Type: Annual
Region: Native to the Americas, India, Australia, and South Africa
Used For: Food, medicine, fodder, bioremediation
When it comes to good advice for what you should eat, including dark, leafy greens is always at the top of any list. But with greens like organic spinach sometimes being sold at a wallet-busting $8 a pound, what is one to do? Why, turn to the backyard, of course—there's a veritable feast of free, organically grown, nutrient-dense greens out there for the eating, and none of them, in this author's opinion, are more delicious and versatile than Chenopodium album.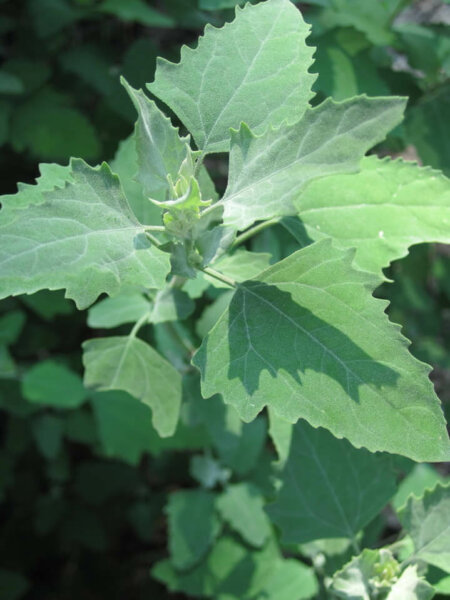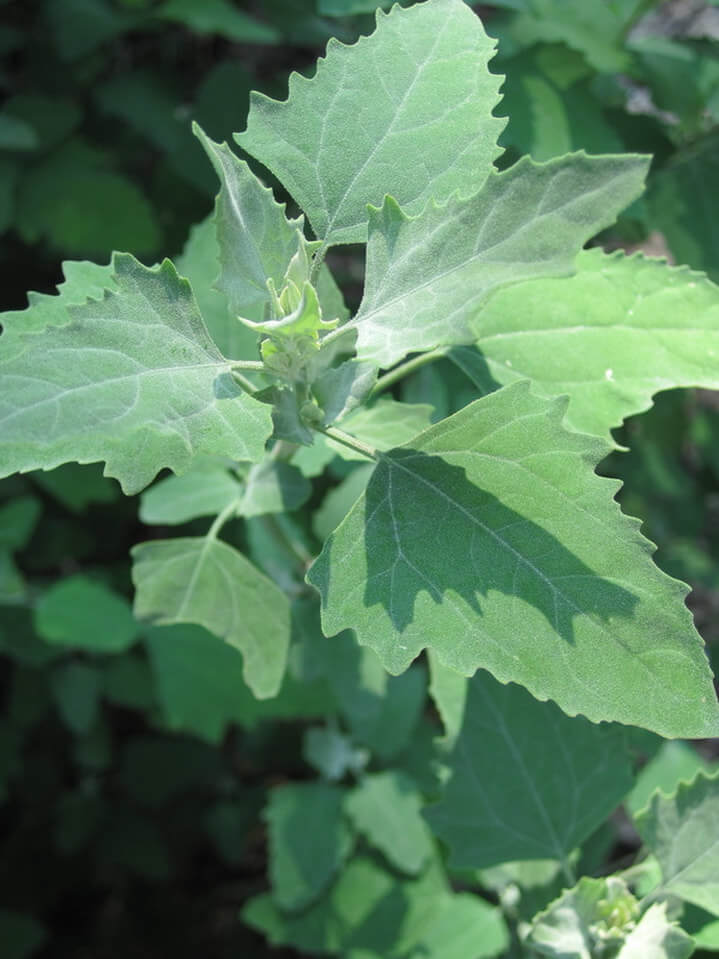 The common names of this wonderful weed are many and varied—sometimes called wild spinach, lamb's quarters, goosefoot, pigweed, melde, bathua, or fat hen. I take its multitude of titles as a marker of how useful this plant has been in the past for both human and animals alike. For those willing to give it a well-deserved chance in their modern kitchens, pleasant surprises await. The flavor is very reminiscent of conventional spinach when cooked, but it lacks the mineral-weird, tooth-squeaky feeling that classic spinach creates in my mouth. There is, instead, a more wild, almost floral note that I haven't tasted in much other cultivated food.
Bringing wild spinach into your diet is hardly a new idea, though. According to my favorite wild-food expert Samuel Thayer goosefoot (as he calls it) was once widely cultivated across the Americas. Most of the cultivars seemed to have been discontinued as time passed and other plants were given priority, but one specimen of the Chenopodium genus has stood the test of time and is gracing the shelves of health-food stores everywhere. Commonly called quinoa, the seeds of Chenopodium quinoa plant have been making the rounds in health food stores for decades.
So, if I have intrigued you enough, here are some tips on finding, using, and eating this most delicious of leafy greens if you're located in the midwestern U.S. As with any wild edible, exercise caution before you go out chewing on the turf. Wild edibles are nothing to be afraid of, but if you're new to plant identification, I would definitely get some outside confirmation before you eat it.
Foraging For Wild Spinach
In sunny areas, abandoned areas, or even the edges of forests, look for a dark, blueish-green, alternately placed leaf with very clear veins. In sunny spots, I've found that leaves exhibit very deep teeth, but I've seen specimens with more shallow ones in shadier areas.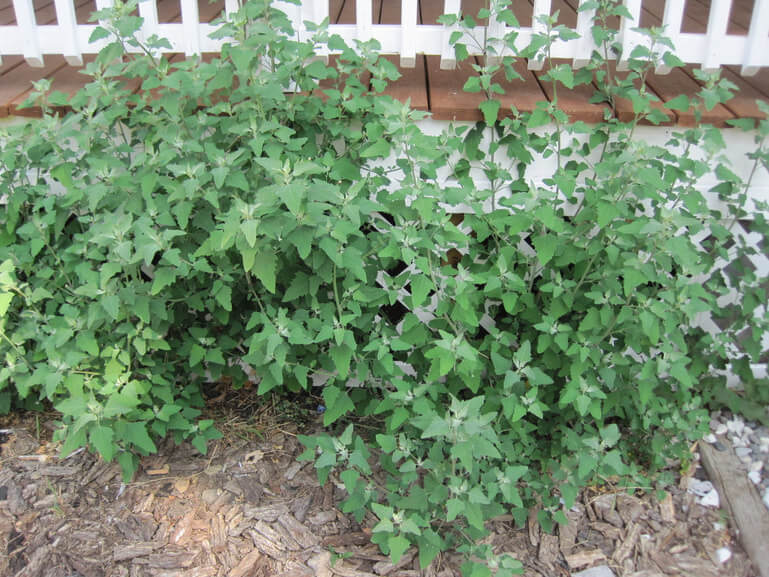 It is also a fan of making its way into freshly cleared garden beds, so give all your "weeds" a second look before you toss them in the compost pile! There is an absence of hairs on every part of the plant. The defining characteristic is the presence of a white, powdery substance on the underside of the leaves—particularly on the tips of vigorously growing plants.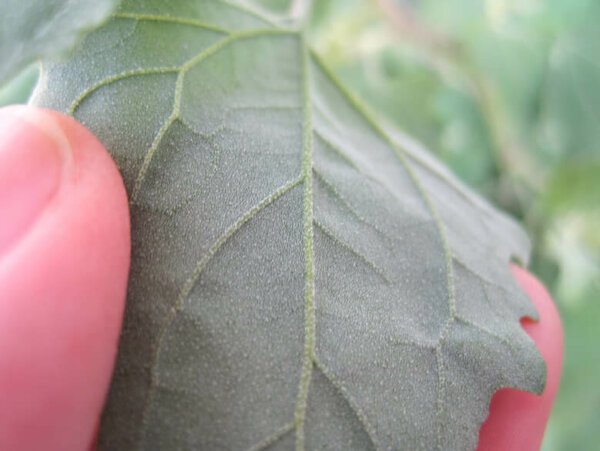 It can make the undersides of the leaves look almost glittery, and it can be rubbed/washed off once they are harvested, though it's not harmful. The plants can be found once the threat of frost is well past, and the days are warm, all the way until the first cold snap in the fall. The young plants are entirely edible, and once it has grown to size, the young growth and leaves are always edible, but I have found that the main stems become unpalatably tough. I have read that the seeds are also edible and similar to their quinoa compatriots, but Thayer writes that the harvesting/drying/threshing of the seeds is very time consuming and results in a relatively small amount of food.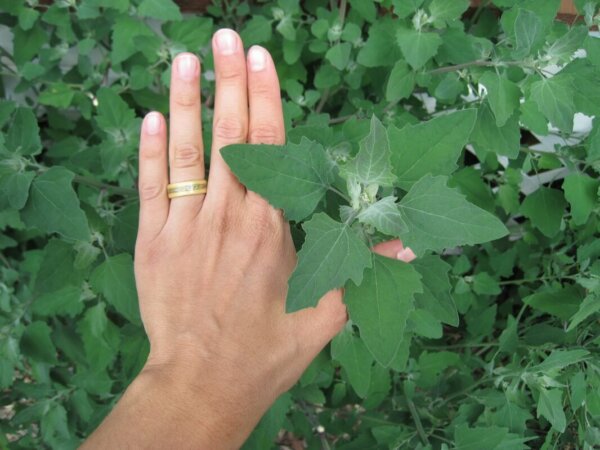 As a safety note, you should only harvest wild spinach from ground that you trust. Apparently, another awesome feature of this plant is its ability to remediate toxic soil. It can grow where few other plants can and help heal the ground where there was pollution. However, it does mean you shouldn't go to an abandoned battery-manufacturing factory and get your dinner from its parking lot.
I have also heard that some people's tongues get irritated when they eat too much spinach, and the same could apply to mass consumption of wild spinach. I have never experienced this, even after enjoying a large helping for dinner, so take that warning with a grain of salt.
Now, once you've gone out and harvested a delicious haul of early summer greens, what does one do with it?
Related Post: Foraging for Wild Spinach
Using Wild Spinach
As one might guess from colloquial names like lamb's quarters or fat hen, this plant makes excellent livestock fodder. Though to be honest, I find it so tasty I have a hard time imagining giving it all to my chickens.
For human use, however, there's a lot to love! Medicinally, it can be steeped in a tea to treat diarrhea, crushed into a poultice for bug bites and burns, or even used to help with skin problems. Packed with vitamins and minerals, it offers plenty of options for the dinner table. Basically, any way that you can use spinach, you can use wild spinach. Raw in a salad? Tasty. Stir-fried with some garlic? Another helping, please! Blended up into a green smoothie? Absolutely. Baked in a savory pie crust with cheese?
Fatayer-Inspired Wild Spinach Pie
With a nod to Vanessa Barrington, author of the fabulous book DIY Delicious, I have merged her savory spinach pie recipe with my memories of the Lebanese/Egyptian fatayer pastry. Her recipe is simple and delicious, and you should check out her book from the library and rethink how you do meals in your house forever more. My recipe is not authentic, but tasty enough to give it a shot!
No-Fuss, Olive Oil Piecrust
Ingredients
2 c. whole-wheat flour
1 tsp. sea salt
1/3 c. extra-virgin olive oil, plus more for brushing later
2/3 c. warm water
Directions
Mix together the flour and salt.
Pour in the 1/3 cup olive oil and mix with either a wooden spoon or your hand until the oil is incorporated and the flour looks like moist sand.
Add the 2/3 cup of warm water slowly, stirring until the dough starts to come together.
Knead the dough in the bowl until it is smooth and elastic (it should not be sticky).
Divide into two portions, one larger than the other.
Flour your counter surface, then roll out the larger portion of dough into a shape slightly larger than your pie pan.
Carefully shape it inside your dish, gently stretching and shaping as needed.
The smaller portion of dough will be for the top crust. You can either roll it out now or wait until you've filled the bigger piecrust.
Filling
Ingredients
2 large eggs
at least ½ c. of some sort of soft cheese. I have used feta and goat cheese before, and I imagine ricotta could also work really nicely.
1 tbsp. cumin
1/2 a large onion or 1 medium onion, diced
3 cloves of garlic, minced
1 tbsp. coriander
1/4 tbsp. cinnamon
1 tbsp. oregano
1 tbsp. hot pepper flakes (optional)
Salt
Pepper
Enough wild spinach to fill a plastic shopping bag (before trimming the leaves from the stems). If you can't find enough, you can supplement with other veggies like mushrooms, kale, or even other wild greens like dandelion and ramps!
Directions
First, preheat your oven to 400 degrees Fahrenheit.
Warm some olive oil in a pan or wok, then add the onions and cook until they are starting to turn translucent.
Add the garlic and cook until all is fragrant and wonderful.
Add the cleaned spinach, any other veggies, and spices, and sauté until the all the spinach leaves have turned dark green.
Taste and adjust spices as needed. When all tastes good, turn off the heat and let the mixture cool for at least 5 minutes.
In a large bowl, mix together the eggs and cheese until they are well blended. Then, add the spinach mixture and mix well.
Spoon the green, mashy mess into your prepared pie crust and spread out evenly. Cover with your top pie crust and pinch the edges together. With a fork, poke some vent holes into the top pie crust.
Bake for 40 minutes. Pull it out of the oven, brush the crust with a little more olive oil, then return to the oven for 15 more minutes or until the crust is nice and golden.
Let the pie sit for 5 minutes before you cut it to serve. If you are making a vegetarian meal of this, I imagine it would pair beautifully with a chunky and fresh Israeli salad.
Wrap and refrigerate any uneaten portions (if that even exists) and save for tomorrow's breakfast, because this pie reheats fantastically in a toaster oven.
So as you go out and get your gardens ready and stretch those winter-stiff muscles in a nice, long hike, keep your eyes open for this amazing and versatile weed! It may very well just become a favorite for you as well.