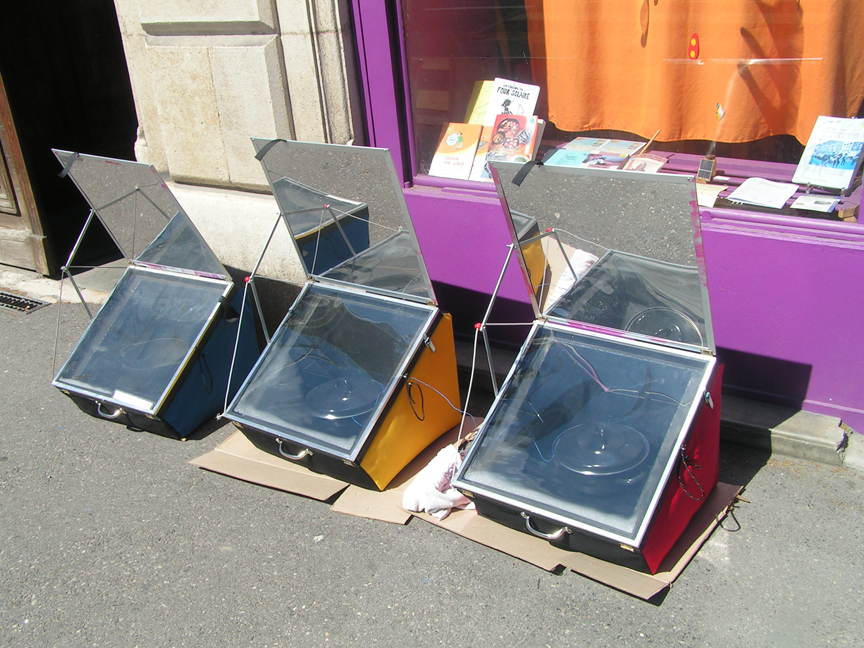 In most homes and apartments, cooking takes place on a stove, in an oven, or, on those nights when you're just too tired to think, in the microwave. But these aren't the only ways to prepare a meal, and they're certainly not the most energy efficient.
You know those hot summer days when you can see heat waves rising from the sidewalk, and people say things like "that sun's hot enough to fry an egg"? Well, there's more wisdom to that statement than you might think.
Solar ovens are simple devices that capture heat from the sun with a reflective surface that's angled or curved towards a cooking pot. Because they can be easily made from cheap materials like scrap cardboard and tinfoil, they are widely used in areas of the world where trees and fossil fuel are scarce or expensive. Once made, they can be used to cook food and boil water in a reasonable amount of time for absolutely no cost.
Cooking with solar energy is just one of the many topics featured in Eric Smith's new book, DIY Solar Projects: How to Put the Sun to Work in Your Home. Smith was nice enough to let us publish a few excerpts from this book so that we can learn more about how to cook with the clean energy of the sun instead of coal-fired electricity or natural gas.
On the next few pages, you'll find easy to follow directions for building your own solar oven. Then later this week, we'll feature some of Smith's favorite tips for cooking on a solar powered stove!
Tools and Materials Needed
Straightedge
Circular saw
Jigsaw or plunge router
Tape measure
Drill/driver with bits
Speed square
Stapler
Eye and ear protection
#8 countersink bit
¾" × 4 × 8-ft. BC or better plywood
2 × 12 × 8-ft. SPF SolaRefle× foil  or heavy-duty aluminum foil
1⅝ and 2½" deck screws
Clear silicone caulk
Contact cement, or white glue and brush, optional
Mid-size black metal pot with glass top
Wire rack
¼ × 17¼ × 17¼" tempered glass
No-bore glass lid pulls (Rockler item no. 29132)
¼ × 2″ hanger bolts with large fender washers and wingnuts
Cutting List
Key                        Number               Dimension                          Part                        Material
A                             2                              1½ × 11¼ × 19″                 Base                      SPF
B                             2                              1½ × 11¼ × 16″                 Base                      SPF
C                             1                              ¾ × 19 × 19″                        Bottom                 Plywood
D                             1                              ¾ × 10 × 17″                        Adjustable leg   Plywood
E                              1                              ¾ × 20 × 33¾"                    Back                       Plywood
F                              1                              ¾ × 10 × 25¼"                    Front                     Plywood
G                             2                              ¾ × 20 × 31¼"                    Sides                     Plywood
H                             1                              ¼ × 17¼ × 17¼"                Cover                    Tempered glass
>>UP NEXT: How To Build A Solar Oven – Steps 1 – 7