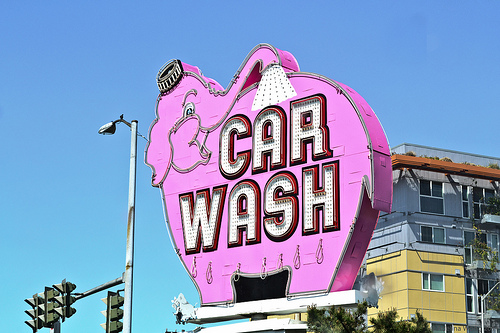 Did you know that the average home car wash more than 500 gallons of water?  That's equivalent to taking a 5-minute shower every day for 20 days!  This water usage can quickly add up to 6,000 gallons a year if you happen to wash your car at home once per month.
Here are some ec0-friendly ways to keep your car clean while saving some water from going down the drain.
Commercial Car Wash
It might seem silly to leave home just to wash your car, but commercial car washes use only around 32 gallons of water per wash.  And the waste water will actually get treated before entering back into the environment since they are required to drain it into the sewer system.  At home, the waste water could drain back into your soil, taking all the soapy chemicals with it.
Eco-Friendly Car Wash
The better option would be to choose an eco-friendly car wash that recycles and reuses the water.  Some commercial car washes even have an on-site filtration system to treat waste water so that it can be used in future washes. By choosing an Eco friendly car wash to make your car squeaky clean throughout the year will help the environment tremendously by conserving water, preventing pollution and protecting our natural resources.
Waterless Wash
It might seem impossible to wash anything without the use of water, but there are several innovative car washing products on the market that allow you to do just that. Check out Freedom Waterless Carwash,  Eco Touch, and DRI Wash.
No Wash
The greenest option would be to avoid washing your car altogether. Make an effort to clean out the inside of your car and vacuum often to keep it sanitary to drive in.  Especially when fall and winter seasons come along, it's not necessary to wash your car at all as the rain and snow will just come back in a few days to make your car dirty again.
Image via apwong